Week 6 of the Sankalpa has completed. Some of us are trying to keep up with this sankalpa AND balance a sadhana for Shivaratri AND with the demands that life puts in our way to test our sincerity and resolve in this sadhana!
Shivaratri – reminds me of a Swamiji story. Swamiji had gotten badly scorched at a fire ceremony several years ago, one that he never fully healed from. This Shivaratri, during the chanting of a text, he got more blisters on the same spot that he had been scorched, but to paraphrase his own inimitable words "a little burn is no reason to break one's asana or sadhana"
May we all derive the inspiration from Swamiji's sadhana to keep at our tapasya this year . May our minds be filled with that firm determination of Shiva, the Consciousness of Infinite Goodness.
Here is a photo taken at the Dharamshala at the Mandir, in early Jan 2007 – with our friends from New Jersey, learning to pronounce the mantra for this sankalpa. Guess who is who ?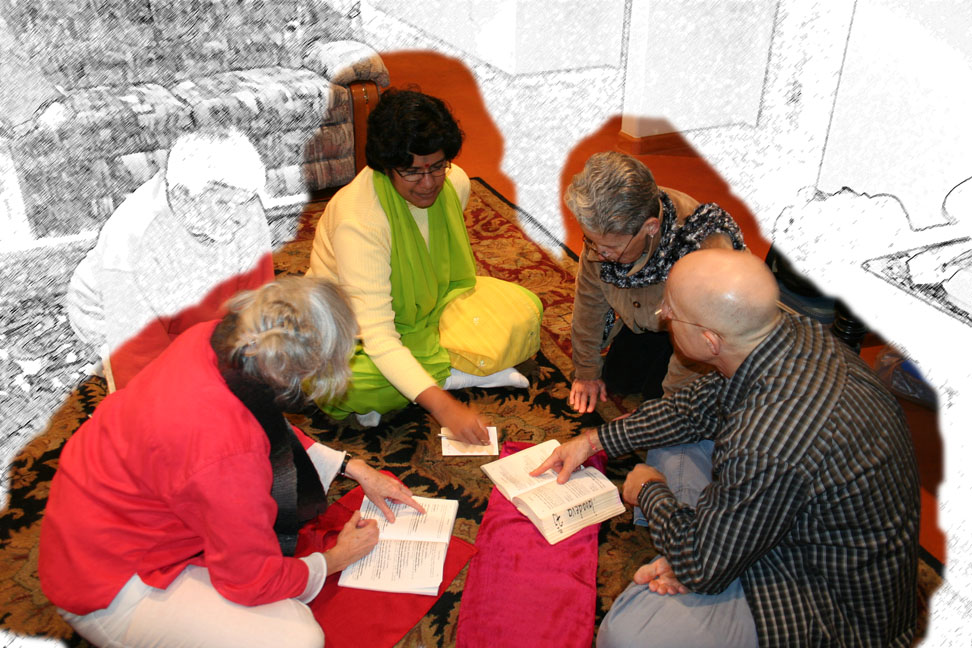 As of Feb 18 2007, here are totals of those of us that prefer to do the sankalpa at the fire
| | |
| --- | --- |
| Name | Number of Mantras |
| Michael | 12960 |
| Janitri | 4084 |
| Total | 17,044 |
and below are the counts for those of us that do the sadhana without a fire
| | |
| --- | --- |
| Name | |
| Babu | 1296 |
| Bharata | 32000 |
| Bharati | 8640 |
| Brendan | 2150 |
| Carie | 618 |
| Chocatane | 13068 |
| Chris K | 11448 |
| Chris W | 12120 |
| Debi | 36828 |
| Donna | 15690 |
| Durga | 4752 |
| Egyirba | 6048 |
| Eric | 32508 |
| Gauri | 5832 |
| Georgiann | 4117 |
| Henny | 17496 |
| Janitri | 7584 |
| Jayadeva | 13824 |
| Julia | 10860 |
| Kalachandra | 9072 |
| Kaliananda | 11988 |
| Kamalaji | 9770 |
| Kanda | 12960 |
| Karen | 14000 |
| Kathy | 11044 |
| Marsha | 7884 |
| Maruthi | 23000 |
| Mausumi | 11880 |
| Michael | 7884 |
| Michele | 4218 |
| Morningsong | 15120 |
| Muktimaa | 9936 |
| Nirmalananda | 9300 |
| Nanda | 10115 |
| Papia | 11880 |
| Parvati | 6480 |
| Patty | 13365 |
| Prasana | 9568 |
| Prathibha | 10617 |
| Raghu | 15444 |
| Rebeca | 8100 |
| Rick Veda | 43740 |
| Robin | 9900 |
| Rolf | 10800 |
| Rukmani | 6048 |
| Sadhu Maa | 7668 |
| Shubal | 7884 |
| Sitara | 1124 |
| Sundari | 11340 |
| Shankari | 6048 |
| Surya | 73224 |
| Susan | 11664 |
| Usha | 32724 |
| Vasantha | 21000 |
| Wendel | 10200 |
| Wendy | 17712 |
| Vinay | 2160 |
| Visveshwar | 31512 |
| Yogini | 35640 |
| Total | 820,892 |