Though the main event in Digboi was our visit to Shree Maa's school, we still had quite a few more things to do!
In the evening, after the program at the school, we went to the local Kali Temple, which Shree Maa often visited when she was young. As we drove there, the traffic seemed quite heavy, which was surprising for these small town roads.
As I looked closer, I could see there were many trucks driving and playing music. They were surrounded by people, some just walking, others dancing.
To my surprise, there were large beautifully crafted murtis of Kali in the back of many of the trucks!
Swamiji and Shree Maa explained that this was the Visarjan Ceremony following Kali Puja and Diwali, where they dissolve the murtis in the local lake.
These beautiful murtis had been crafted by artisans just for the specific occasion of Kali Puja on the night before Diwali. Now the images would be dissolved back to the elements from which they were fashioned.
It was incredible to see just how many people had come to attend the ceremony. It seemed like everyone from the entire town was a part of the celebration.
There is one other tradition in Bengal which is quite precious to Shree Maa. On the first or second day of the Kali festivities, they celebrate Bhai phonta (Bengali :ভাই ফোঁটা). In this celebration, sisters invite their brothers for a sumptuous meal, often including their favorite dishes/sweets.
Carrying forward in traditional style, sisters perform aarti for their brother and apply a red tilak on the brother's forehead signifying the sister's sincerest prayers for the long and happy life of her brother. In return brothers bless their sisters and remember their duty to protect their sisters.
Shree Maa was elated that after 40 years, she was with her brother on Bhai Phonta. Shree Maa gave him a blessing, tilak, cloth, dakshina and prasad.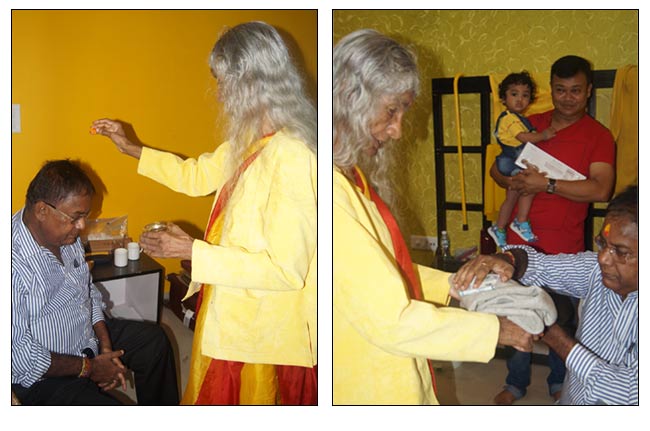 Eventually, we made our way by some small side streets to the Kali Temple.
After arriving, we first went to pay our respects to the image of Kali and then to the shrine for Shiva, which is just a few steps away from the shrine for Kali.
The image of Kali was still decorated with the large shining necklace Shree Maa had offered to her two years ago during our previous visit. Shree Maa and Swamiji offered a short worship to the Shiva Lingam. We then sat down to sing songs for mother Kali.
Though most of the town was out in the streets traveling with the Kali Murtis that were going to be dissolved, there was still a small stream of devotees entering the temple area having heard that Shree Maa was coming.
The temple pujaris gave Shree Maa their microphone, which sent her divine songs over loud speakers, so that anyone nearby would hear. It was certainly the right night to do so, with all the Visarjan celebrations of Kali going on in the town.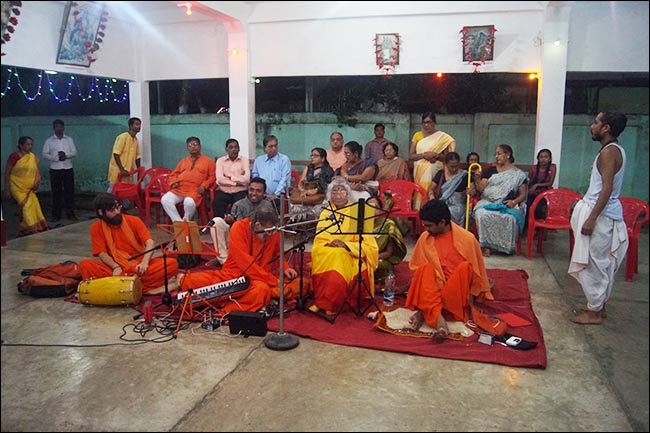 Shree Maa sang one song after another and everyone was fully delighted. When Shree Maa began singing, I saw one of the pujaris place his phone nearby her, hoping to record the songs so he could enjoy listening to them again and again. The temple complex echoed with the sound of Shree Maa's enthusiastic singing for Mother Kali.
We realized that it was almost time for the temple to perform their evening arati and so brought our singing to a close. Shree Maa looked around at everyone and asked them to all please dance during the arati.
One of the pujaris waved the offerings before the Divine Mother, while the other played a large drum with a rapid beat.
Shree Maa was one of the first ones to stand up and start dancing. We all soon followed suit. This was the first time we had stayed to witness the temple arati and we didn't know quite how long it would go. We danced and danced as they played the drums and waved the lights before Kali Maa.
Eventually, Shree Maa, still dancing, led everyone up to the shrine of Kali and we began to dance and circumambulate the shrine. We had gone around maybe five or six times and still the arati continued.
Next, Shree Maa paused in front of a window, where the Murti of Kali could be seen near the front of the small temple building. We all stood there dancing, quite determined to not stop until the arati did. It was Shree Maa's inspiration that kept everyone going.
Despite being of delicate body, Shree Maa did not hold back from celebrating the Divine Mother, and neither did anyone else. When the drum beat finally stopped and the conch shell blew, many of us were quite covered in sweat (mostly from the dancing, but it was warm outside too!)
We returned to the area where we had been singing and began packing our things to depart. As we were getting everything ready, all the devotees gathered around to bow down to Shree Maa and Swamiji. When everyone had gotten their chance, we returned to our hotel as it was getting late. We still had more plans for the next day.
We awoke early and chanted the Chandi Path together in Shree Maa's room, where she had made a small altar. When we finished, we had breakfast and then made our way back to Shree Maa's ancestral home.
Shree Maa had decided to perform Vishnu Puja there, to bless the new extension on the home her uncle had built, and also to install a new picture of Krishna, which Shree Maa had brought for them from America.
We arranged the room to make space for everyone and to establish a prominent place for the picture of Krishna, so we could perform our worship.
Many of Shree Maa relatives were there, as well as acquaintances, including her old school teacher! Swami Pranavananda sat in the front and performed a beautiful puja to Lord Krishna, while Shree Maa and Swamiji led the rest of us in chanting the Satya Narayana Vrat Katha.
When we finished the Satya Narayana Vrat, we chanted the Vishnu Sahasranamavali (Thousand Names of Vishnu) together, offering flower petals with each name.
The room was filled with people such that many had to stand outside and peer in as best as they could. When the Sahasranam had finished, we began the arati. People had to rotate in and out of the room so that everyone could get a chance to wave the lights before the image of Krishna.
Then, of course, came prasad! Again, people rotated in and out of the room, making sure everyone got blessings.
Shree Maa's uncle had been sitting in the back of the room and somehow missed getting a tilak. He looked at me and asked me to please give him a license (to eat that is), jokingly referring to the tilak.
I gave him the tilak on his forehead and realized that I had heard Shree Maa make the same joke/reference about tilaks after puja many times. It seems that it was an old traditional family joke!
As Shree Maa's family had arranged prasad for everyone to eat, we all sat to eat after the puja.
Pravir, a long time devotee of Shree Maa and Swamiji, who lives in Calcutta, was also present. Swamiji told me that Shree Maa and himself, in their earlier days traveling together used to stay in Pravir's home, which was located in the railway station colony. It was apparently quite spacious. He was so loving and supportive of them, that he allowed them to transform his home into a temple for the three Goddesses, Mahakali, Mahalakshmi and Mahasaraswati.
Pravir described how Shree Maa and Swamiji had constructed at least three large murtis of the three Goddesses in his home where they performed worship. Pravir was really delighted to be able to offer that seva, and did not mind in the slightest.
Pravir reflected on those events and said, "You can't imagine from where they have come and where they are now. It seems impossible! At that time they had absolutely nothing. Now look! They have an ashram, books, CDs, apps and a global satsangha. Swamiji is not a normal person at all, he can do so much! Anything he sets his mind to he accomplishes completely."
In the evening, several devotees gathered at the hotel. Shree Maa's school teacher in particular, Vina Pani, had requested to learn about the meaning of the Siddha Kunjika Stotram. Swamiji gave a class in Bengali on the Siddha Kunjika Stotram, which we broadcasted and recorded. This would be the first of a new series of classes in other languages Swamiji started during our travels. Listen in:
Now Swamiji's vast knowledge on the meanings of the scriptures is becoming available to even more people! Vina Pani throughly enjoyed the class, and all the devotees present felt blessed to receive Swamiji's wisdom. Swamiji then showed them a slide show of our own Devi Mandir.
Having known Shree Maa when she was a student or a wandering Sadhu, everyone was very impressed to see what kind of temple she had now been able to inspire and create. Everyone departed and we packed our bags, as we would be leaving the next morning.
There were a few other events that took place in Digboi. Shree Maa and Swamiji visited the mud house of a devotee, where they established a trishul in the temple room.
On another occasion, Pankaj, the owner of the hotel, had asked Shree Maa and Swamiji to perform Bhumi Shuddhi on a part of his property where he was building new rooms for his hotel. Shree Maa and Swamiji seeing his devotion and eager request happily agreed.
The construction of the building had only just barely begun. There was a hole in the ground and a support beam being constructed there. Next to it, on rough ground, Pankaj made a small tented area with sheets on the ground for Shree Maa and Swamiji to perform the ceremony.
He tried to gather all the materials for the Puja as best he could so that Shree Maa and Swamiji could just sit down and begin without any difficulty. There were many beautiful flowering plants surrounding the hotel and Pankaj had some of the most beautiful flowers picked for the Puja.
We all sat down and began chanting. Swamiji performed Ganesh Puja and then Kalasha Sthapana (establishing a pot as a container of the energy of the deity). Pankaj sat looking on as we performed the worship. If anything was needed, he would make sure it was quickly brought.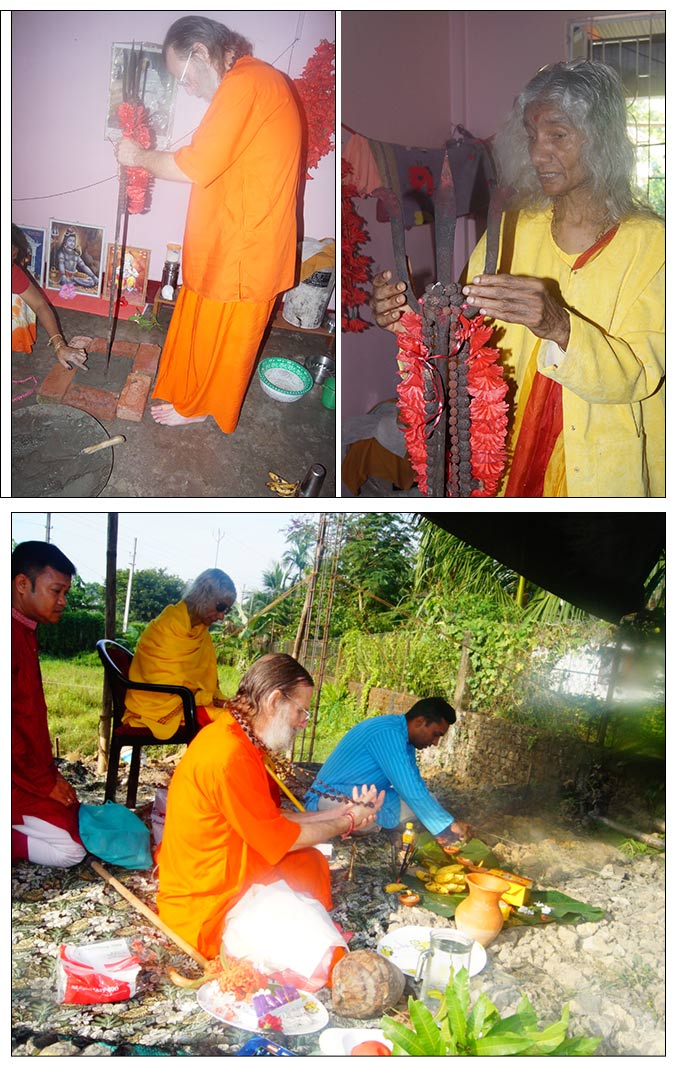 When our Puja was finished, Swamiji performed Visarjan (removing the Divine Energy that had been established in the pot back to the unmanifest). As the ground was too rough for Swamiji to walk around the property, he instructed Pankaj to have the water spread around the area, rather than doing it himself.
There was a small bowl of concrete sitting near us where we worshipped that was to be used by the men working on the construction. Swamiji took a scoop of concrete from that bowl and offered it into the hole, where the support pillar was being built, while saying the Gayatri Mantra.
Shree Maa also offered a scoop of concrete with the Gayatri Mantra. Pankaj was sure now that his new building project was certainly blessed. Indeed, I am sure anyone who came to stay in such a building, whose construction had been began by two realized souls, would surely be blessed!
We concluded the ceremony and headed to the airport. Along the way, we again stopped at the Manasa Devi Temple, which we had visited on our first day in Assam. We paid our respects to all the deities and then were on our way.
What an incredible program we had in Digboi! It had only been a few days, but they were jam-packed. It seemed each morning and evening Shree Maa and Swamiji went somewhere to perform worship and share their blessings.
I marveled at Shree Maa and Swamiji's dedication to sharing love and divinity with everyone. It was not that they did not become tired, but rather that their love for God is so great, that it gave them the strength and inspiration to share with everyone, despite any circumstances.