~~OM~~
Hearing of Shree Maa and Swamiji's arrival in Ooty, devotees and spiritual seekers have begun to arrive to receive darshan and pay their respects.
One notable figure to visit was Mathaji Sannyasini Guru Priyananda of the nearby Sri Sarada Brahma Vidya Kendra Ashram, which provides critical services for helpless down trodden girls and women, as well as providing them with education in the spiritual tradition of Ramakrishna, Sarada Devi, and Vivekananda.
Guru Priyananda along with several young women from the ashram sang devotional songs and chanted scriptures for Shree Maa and Swamiji. Moved by the purity of their devotion, Shree Maa also sang several songs to the Divine Mother with strong bhava.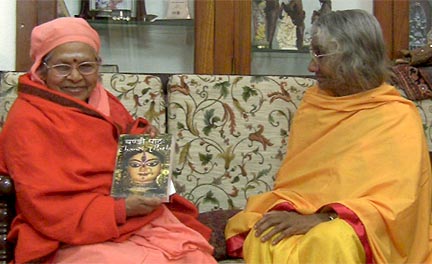 Mathaji receives a copy of Swamiji's Chandi Path
Shree Maa listening to the devotional singing