Exciting News!
Please tune in every morning and evening to join the sankalpa of the Devi Mandir Swamis, LIVE from India!
"Our goal is to share our sadhana to empower families, ashrams, and spiritual organizations, to achieve spiritual elevation and financial independence." ~ Swami Satyananda Saraswati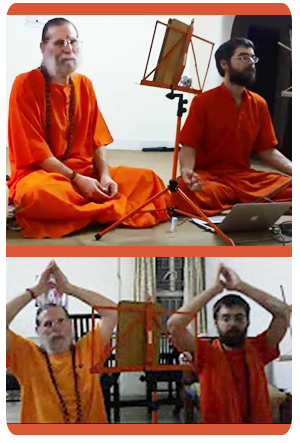 The typical daily schedule is as follows:
Swami Satyananda will be hosting a Global Satsangha every day, where we will chant, study, share knowledge, and answer questions on scriptures such as:
Bhagavad Gita
Pancha Ratna Gita
Chandi Path – Durga Saptashati
Spiritual Business
Other shastras of our tradition
Schedule
Swamiji will announce the sadhana for each asana on LIVE webcam prior to the beginning of the recitation. Please download the apps or purchase the books at Our Store. in advance so you are ready to join the fun.
5:30 AM PST in Califonia/6:00 PM in Delhi
5:30 PM PST in California/6:00 AM in Delhi

Please note that the timing of satsangha may be up to 1/2 hour delayed depending on ease of setting up the electronic equipment and getting an internet connection. Please stay patient.
Broadcast:
Our daily broadcasts can be received by 152 countries and viewed on mobile, computer, iOS, and other devices at Live Webcam, Tour Broadcast.
Devotees from around the world can chant with us online or in person (locations through India will vary), and can also ask questions through email or our online chat room. You can find us at: phone # 011 +918006092881.
Dakshina
Your generous gift of any amount in any currency will empower us to continue broadcasting around the world and support the sadhus who believe in this tradition. Your generous contributions are tax-deductible under 501-c-3: EIN 68-0065591.
To Donate Online using Paypal
To Donate By Check
Make check payable to 'Devi Mandir' and mail to:
Devi Mandir
5950 Highway 128
Napa, CA 94558 USA
Phone and Fax 1(707) 966-2802

We thank you for all of your love and support.
Jai Maa!