~~OM~~
Patal Bhuvaneshwar looks over steep green valleys to the Himalayan foothills, beyond which lies the glorious view of the snow-capped mountains from Kailash to Yamunotri. Between Gangolihat and Berinag in Pithoragarh District, the atmosphere remains pure and uncompromised from when rishis performed their tapasya over several hundreds of years ago.
View of the Himalayan Village
The cave is such a powerful experience. The first flight of steps descends fifty-five feet vertically upon small steps cut into the solid rock formations. In many instances visitors must lie flat against the rocks to squeeze through the tight formations.
Inside the Cave
Once inside there is a wonder of amazement. The tunnels and grottos comprise an entire underground community, which obviously dates several millenium before our present era, sort of a Kishkinda for meditating sadhus. The largest of the halls can seat perhaps fifty or more meditators. Where they sat, their backsides rubbed the stones perfectly smooth, so that it is possible to find the perfect indenture to fit any size. They are extremely comfortable to sit in, and the vibrations are extremely conducive for meditation.
Chamber of the Main Deity
The rock configurations depict perfectly all of the deities of the Hindu Pantheon, and water drips from various sources, making streams and channels throughout. All the Gods and Goddesses are present, and even today visitors can feel the presence of the meditating rishis. Rishi Markandeya wrote the Chandi Path while sitting in this cave, and the main deity of Shiva was established and given life by Shankaracharya.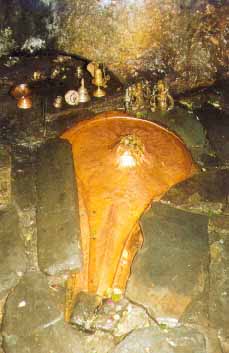 Shiva at Patal Bhuvaneshwar
Near the mouth of the cave is a howan kund, where I have performed the Chandi Yagya on several occasions. The view while sitting there looks out over the Himalayas. What a thrill to see the sunrise on the snow-capped mountains, to watch as the mountains glisten in the morning sun, how they change color. Straight ahead is Kailash, a little to the left Nanda Devi, Trishul, Badrinath, Kedarnath, Gangotri and Yamunotri. One peak is more glorious than the next, but all together the vision and ambiance inspires pure devotion.
I first visited Patal Bhuvaneshwar in 1971. At that time it was a seven mile walk from the nearest jeepable road. Now it is only a two mile walk. In 1971 I slept on the porch of the Pandit's house. Now there is a Dharmashalla and other facilities for staying. What a place to do tapasya, where since thousands of years other sadhus have been visiting to add to the spiritual vibration.
It is said that the darshan at Patal Bhuvaneshwar yields a thousand times the fruit of tapasya at Kashi, Baidyanath or Kedarnath. In the Skanda Purana, Manas Kanda, Chapter 103, there is a description of the blessings to be attained in visiting Patal Bhuvaneshwar.