Travelogue: Raghunath (Ram) Mandir of Rishi Kund at Triveni Ghat
After our morning Sadhana, we walked with Swamiji along the banks of the Ganga.
We came to an area called Triveni Ghat, which is the center of the older part of Rishikesh.
There were many beautiful sculptures erected depicting Ganga Maa and other divinities.
After walking a little further, we reached a place called Rishi Kund. The word "kund" means pond, or a place that holds water.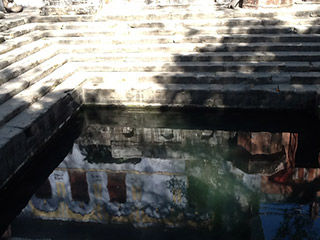 According to Hindu legends, Rishi Kund is a water reservoir which was built in honor of an ancient Rishi.
It is estimated to be about 500 years old and it is one of the most ancient & significant places among the tourist attractions in Rishikesh.
This beautiful pond mirrors the temple of Raghunath, which is devoted to Lord Rama and Sita Devi. Though the temple has been refinished many times, it is one of the oldest places in Rishikesh.
Long ago, the people of Rishikesh would let the water from the Ganga flow into this Kund. Upon letting the water sit for some time, it would become warm – much warmer than the cold water flowing in the Ganga. People would then use this kund to bathe, as it was warm, inviting, and much more convenient than the river.
We entered the Raghunath temple and took darshan of Lord Ram and Mother Sita and then proceeded to pay respects to Maha Lakshmi and Lord Narayana.
We had this ancient temple all to ourselves, but for an elderly pujari who was tending to the temple duties. He was a beautiful, kind soul and was so pleased to hear that we had come to recite the Vishnu Sahasranam.
Swamiji, who now carries the broadcasting equipment with him on all of his outings, quickly set up the broadcast to share our chanting with the online family.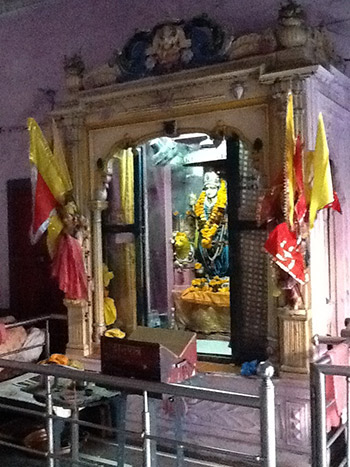 We chanted together in beautiful unison, one page of names per breath.
As we continued, I noticed that our worship felt so intimate and so sentimental.
Imagine, sitting in that ancient Vishnu temple, chanting with Swamiji the Lord's One Thousand Names, and offering every name with pure intent and intense devotion.
As we approached the end of the recitation, the speed of our chanting increased and Swamiji's bhava became even more intense.
The temple, which we initially had all to ourselves, now started to attract people who were observing our worship.
Upon completion, Swamiji showed his love, respect and gratitude by gifting his very own orange sweater to the elderly temple priest. That priest is indeed very fortunate!
(Being in close proximity to Shree Maa and Swamiji on this trip has, without a doubt, shown me the art of giving. Shree Maa and Swamiji never stop giving! Whatever they have, wherever they are, and with no second thoughts – they give, they give more, and they keep on giving! What an excellent example for us to follow.)
The ecstatic priest was then given the opportunity to answer Swamiji's questions, which was broadcast live for our family.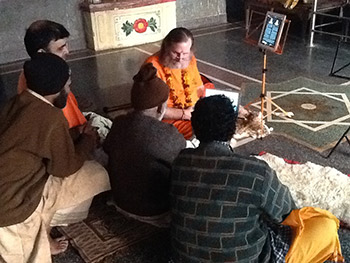 Swamiji asked the priest about his worship and what it was like living in the temple. The priest responded saying "Satyam Shivam Sundaram": True Exsistence, Infinite Consciousness and Beauty.
The priest then told that his sadhana consists of the Vishnu Sahasranam, the Durga Saptashati, and sometimes he performed a Lakh (100,000) or more of his guru mantra japa every day.
Swamiji then asked if he could think of any other profession he would rather do for his livelihood, to which the humble pujari responded, "Only God would know if there was a better job than this!"
When the interview was finished, Swamiji thanked him and the gentle pujari bowed down, gave his pranams, and also blessed our online viewers.
Jai Maa! Jai Swamiji!