Shree Maa and Swamiji have just blessed us with a new group sankalpa to continue our efforts in praying for world peace. The collective effort in chanting the sankalpa mantra at the same time as other devotees creates special benefits for the whole universe.
This is a special three-part sankalpa – it involves the chanting of a mantra, and/or the practice of a few yogasanas, along with reading of Maa's biography "Living with the Soul."
A sadhana to cultivate bhakti, jnana and raja yoga !
Read below for details:
---
Dates of the Sankalpa
Start Date: March 8th, 2014
End Date: April 15th, 2014
---
Goal of the Sankalpa
The group sankalpa is three-fold :
1) Participants will complete 10,008 malas of the sankalpa mantra during the sankalpa time period. All are welcome to participate in this prayer for World Peace.
2) Participants will do the first 10 postures ( Tadasana to Inverted Shavasana) of the yoga asana sequence as given by Shree Maa. Please see http://shreemaa.org/hatha-yoga-pictures/ It is recommended to do three repetitions of each pose a day.
3) Complete reading the book "Living with the Soul" within the 32 days of the sankalpa.
---
The Sankalpa Mantra
Chant this mantra as many malas as you can (One mala = 108 repetitions of the mantra):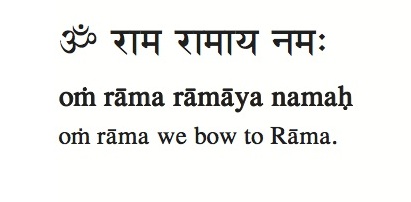 ---
The Audio Clip of the Mantra. Listen to the chant !
---
Interested in participating in the sankalpa?
Please click the link => SIGN UP FORM
You can contact Nanda Maa at sankalpa@shreemaa.org with any questions regarding the sankalpa .
---
What is the Value of a Group Sankalpa?
Here is what some of our participants around the world are saying: Please read their feedback.
---
Your Group Sankalpa Affirmations
Visit this page to remind yourself why Sadhana is important to you and especially Sadhana in the form of a Group Sankalpa. When motivation flags, this is the page to read and get strength. Here are the collected affirmations of the participants.
Sankalpa Counts Tracker
Goals – 32 days – A collective goal of 10,008 malas of the sankalpa mantra ,individual yogasana goals, and completion of "Living with the Soul."
Status – This sankalpa is now complete. Please see below for individual counts and totals.