If you have ever had the occasion to listen to the joyous bantering between Swami Satyananda and Swami Ramkripaluji, I am sure you will find our arrival at Swamiji Ramkripaluji's ashram quite amusing. As we arrive, par for the course, the joyous teasing ensued:
So began our delightful stay in Swami Ramkripaluji's ashram on the bank of the Ganga in Rishikesh.
This beautiful ashram always feels like home to us. Swami Ramkripaluji generously lets us reside on the third floor, which has a balcony which overlooks awe-inspiring views of Mother Ganga.
The interior of this space is ideal for Shree Maa and Swamiji because it has one big room which serves as a temple, satsang, and dining area. It is in this magnificent room that we perform our morning worship, invite guests for satsangha and kirtan, and also enjoy scrumptious meals with family and friends.
First and foremost after arriving, Shree Maa put all her focus on setting up the altar. Wherever Shree Maa goes, she first makes that place into a temple. Once she makes it into God's place, she is happy to stay there.
Shree Maa is a master at creating beauty in any space. She began with the most beautiful pink silk cloth and quickly attached it to the wall.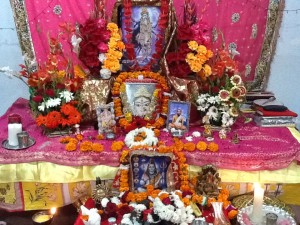 Then she made the altar. What at first glance looked like a plain table, in one moment quickly became a dazzling altar fit for all of the Gods and Goddesses.
After placing a yellow silk cloth, she followed it by a pink sheer overlay. Then came all of the pictures, murtis and flowers. Wow! It was simply gorgeous.
As Shree Maa created the altar, Swamiji and I set up some equipment and very soon, in addition to our beautiful altar, we had a working microphone system and a projector for the iPad. Not only had we made a divine temple, we had also made a very functional one as well!
This technical set-up has become a very important tool in the group worship which we perform in India. It allows us to share our worship with those in attendance through projecting the sacred mantras and songs on the wall. We also create videos so we can share the highlights of our journey with the rest of the family.
During morning worship, Swamiji projected the Cosmic Puja (Samashti Upasana) on the wall, and we all chanted together. We would then take turns in rotation as to who would be the pujari placing the flowers on the altar each day.
During the evening Arati he displayed songs, stotrams, and sahasranams on the wall, allowing us to sing and chant together. People from all over India, and other parts of the world, were able to join our singing, enabling the satsangha to be filled with enormous joy and devotion!
On one special occasion, a group of devotees from Romania, who were visiting Rishikesh, came to see us. Shree Maa asked them to join us in singing the English song "Mother of the Universe." We projected it on the wall and everyone happily joined in.
In between songs Swamiji explained to them the seven parts of Siddhantachara (Puja, Path, Homa, Sangeet, Nrit, Pravachan and Arpan) and the reason we perform them, which is to unite with God in all of our activities.
Swamiji's teachings in India are especially delightful because his global audience often speaks different languages. To get the message through, Swamiji shifts between languages, always speaking in the tone, moderation, and content that his audience can easily comprehend and quickly grasp. It is simply amazing to watch how everyone understands and nobody is left out.
In my opinion, Shree Maa and Swamiji's gift to the world is their global satsangha. Whoever is graced to be in their presence becomes sufficiently inspired and empowered to join in our worship.
No matter where devotees come from, Swamiji is able to communicate significant spiritual insights which will change the destiny of their lives.
Often, in her quiet silence, Shree Maa plants the seeds of divinity in their hearts, which will blossom at the right time and place.
This is what it really means to be Savarni – he who belongs to all colors, casts, creeds, and tribes. This is Shree Maa and Swamiji. This is their divine gift to the world.
Jai Maa! Jai Swamiji!