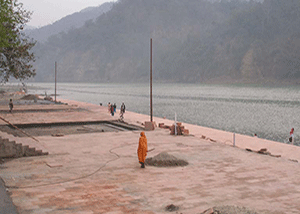 Tap….Tap….Tap…. was the sound of Swamiji's walking stick as we sauntered down the cemented sidewalk that runs adjacent to the Ganges River.
It was nice to breathe in the fresh air, which gently rolled off the river as if it were blessing us with its darshan. I felt doubly blessed this beautiful morning to also receive Swamiji's darshan.
The group headed on foot to some of the charming temples which are located in the center of Rishikesh, within 1/2 mile from Swami Ramkripaluji's ashram.
As we made our journey, whenever we passed by people who were walking in the opposite direction, Swamiji, with a huge grin on his face, would lift his hands to his heart in prayer posture and say "Namaste" or "Shubh Prabhatam," which means good morning in sanskrit.
Some in our group were new devotees, having just met Shree Maa and Swamiji a few days back. As we walked, occasionally one of them would ask Swamiji a spiritual question. Swamiji's answers were profound, as he shared his wisdom in such a way that all could understand. He always gives 100% to the extent of his capacity, and this time was no different.
We approached a small Durga-Hanuman temple located near the bank of Mother Ganga.
It had two peepal trees next to it, where sadhus can often be found sitting, sleeping, or doing sadhana. Peepal trees are considered sacred in India, so sacred that Lord Krishna in the Bhagavad Gita said, "Of all trees I am the Peepal tree."
Swamiji became quiet for a moment, and then reminisced that a long time ago he had placed his asana under these trees and performed countless hours of sadhana.
Seeing the twinkle in Swamiji's eyes as he recounted those glorious days, I felt spontaneously compelled to pray to the Divine Mother for one wish — that Swamiji be given the opportunity to spend time in quiet sadhana here again. And yes, I confess, I selfishly requested for me to be able to join him!
At the Durga Mandir, Swamiji led the group in chanting the Devya Kavacham. He chanted slowly and deliberately so as to teach them how to break the anusthup meter, and how to chant with pranayama.
After the recitation Swamiji asked Ritika, a young and energetic new devotee, to read the English translation of the beginning part of the Kavacham, which lists the Nine Durgas.
When Ritika was finished, Swamiji delivered a discourse on the Nine Durgas. With full attention, the group listened and absorbed Swamiji's explanation of how the Nine Durgas outline a path to perfection in any endeavor we choose to undertake.
Swamiji encouraged them to follow the path of the nine durgas: first we get an inspiration, then we begin studying, next we start practicing. Then we refine the practice, and that practice begins to nurture divinity. From there we get really good at it and it becomes ever pure. Next comes the giving up of the Ego, and then we become one with the Great Radiant Light in everything we do. The last Goddess is Siddhidhatri, the Grantor of Perfection.
It was a quick but powerful lesson, and Swamiji gently urged them to study our website article: Attain Perfection in All Endeavors – Understanding the Nine Durgas, which explains the path in greater detail.
As we headed to the next temple, I took advantage of the opportunity to chat with the new devotees, most of whom are from the country of India. They were astonished at Swamiji's wisdom of the scriptures. For so many years they had longed for a sadhu, a priest, or a guru to explain the essence of the scriptures in a way that they could understand. Now they have found Swamiji!
Through my travels with Shree Maa and Swamiji, I have heard this same line of thinking from many Indian devotees. They are deeply touched and immensely appreciative of Swamiji's interpretations of things that they had always taken at face value. I have to admit, I second their thoughts!
From the Durga-Hanuman Mandir we continued to the nearby Triveni Ghat. The root "Tri" means three and "veni" means to flow together.
It is in this sacred location of Triveni Ghat where it is believed that the three rivers, Ganga, Yamuna, and Saraswati, merged together.
Not surprising, this is Rishikesh's hot spot for taking a holy dip, praying, and offering flowers and ghee lights to the river.
Rishikund, one of the oldest temples in Rishikesh, is located right next to the Triveni Ghat. Inside this ancient temple is the Ram Mandir, and it is here where we planned to do our sadhana.
Upon entering the temple, we received darshan of Lord Ram, and a humble temple priest offered us prasad.
We quickly realized that there was not enough room for the group to sit in this location, so we decided to perform our sadhana at the Lakshmi-Narayan Mandir, which is in the same building, but right next door. It's hard to believe that we were here, in this very same temple, at about the same time last year.
We all took our seats and Swamiji led the group in chanting the Sundar Kanda. Rather than singing the Sundar Kanda, as we often do at our own Devi Mandir, we chanted it much like we do the Chandi Path, using pranayama.
As we chanted these wonderful verses Swamiji playfully started acting out the words to remind us of the meaning.
The powerful vibration of the mantras, along with Swamiji's joyous reminders of the meanings of the verses, filled us all with a great energy. So great it became that we started chanting louder and faster. It was so exhilarating that it became difficult not to burst into song.
There are always certain verses in the Ramachritamanas (Note: the Sundar Kanda is one episode of the seven included in the Ramachritamanas) which are so fantastic, so filled with wisdom, that they almost require some special emphasis. One of my personal favorites is this verse:
"Hey Dear One, take all the pleasures of heaven and even those of liberation and count them as one, all of them together cannot be equal to the pleasure gained from satsangha, from the communion with beings of truth" ~ Sundar Kanda, Doha 4
As we, ourselves, were amidst a great satsangha, we could not have agreed more with these words!
By the end of the recitation, it felt as if our hearts were leaping with joy, much like how Hanuman leaped across the Ocean of Worldliness in a single bound!
When we had completed the recitation, to demonstrate our appreciation, Swamiji instructed one of the devotees to give dakshina to the priest. The priest happily blessed us with prasad from the deity.
It was now early afternoon, the sun was directly overhead, and it was time to start the journey back to the ashram. We knew our beloved Shree Maa would be waiting for us, ready to feed our hungry stomachs and eager to hear all about our experiences.
We will all treasure the special memories of this satsangha with Swamiji, who sets a pristine example for all sadhus to follow. He not only genuinely cares about the devotees who approach him, but he also has a great passion for teaching spiritual wisdom.
This combination makes him extraordinary — so extraordinary that a few years back Shree Maa said to me, "Out of all the sadhus in India that I have ever met, Swamiji is the purest; you will NEVER find a better teacher than Swamiji." She was right!
Jai Swamiji!