Come join us in the bliss of worshiping Lord Shiva from dusk till dawn! Make your pilgrimage by train, bus, car, or plane, or tune in via live webcam. Festivities begin at 5:00 pm PST on February 13th. Click HERE for schedule.
Join us on live webcam or at the Temple located at 515 Garden Highway in Yuba City, California.
About Maha Shivaratri
Maha Shivaratri is the Great Night of Lord Shiva. In Sanskrit, Maha means great, and Ratri means night. And a Great Night it is! For Shiva devotees around the world Shivaratri is one of the most celebrated and important nights of the year. It's considered a special night for spiritual advancement, and you're invited to come experience its power for yourself!
Shivaratri always falls on the 13th night and 14th day of the dark fortnight of the lunar month of Magh. On one of the darkest nights of the year, this sacred festival signifies an inner shift from the darkness of ignorance to the light of Divine joy and wisdom — an event you don't want to miss!
Traditionally on Shivaratri sadhus practice special tapasya to get Lord Shiva's blessings — and we're doing the same! As we perform sadhana throughout the night — along with thousands, if not millions, of devotees across the world — the mantras, the sacred fire, the Gurus, and Lord Shiva himself weaken the bonds of our egos, and we get a taste of what it is to live with Shiva – Pure, Infinite Consciousness. But the beauty doesn't end at dawn…
Watch and Learn about Shivaratri:
In this one night we get an enormous dose of inspiration to give a little more, take a little less, and do more sadhana. When we worship on Maha Shivaratri, Lord Shiva himself encourages us to reach a little higher and try a little harder in our own lives.
On this one incredible night, we remember the unequivocal sweetness of the goal, and that pushes us onward. (It also doesn't hurt that Shiva is the Lord of Sankalpa…)
Being firm in that supreme wisdom which fills consciousness, that inner light of the nectar of bliss within all beings born, may we perform all action from that imperishable truth.
May my mind be filled with that firm determination of Shiva, the Consciousness of Infinite Goodness.
— Shiva Sankalpa Stotram, Verse 4
Carrying the Flame of Tradition
During Shivaratri in India the Shiva Lingam is worshiped all throughout the night with four separate pujas. Devotees and pujaris bathe Shiva with milk, yogurt, honey, sugar, and water, and offer fruit, flowers, bilva leaves, cloth, rudraksha, and various sweets.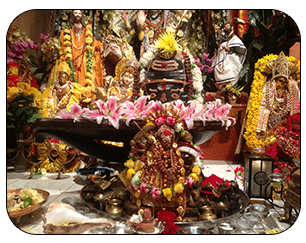 Rudrashtadhya​yi  — or Rudri as it's lovingly called — always proves to be a highlight.
The Rudri is especially beloved by Shree Maa and Swamiji, and its expansive Universal message can be felt with extra intensity on Shivaratri. When we chant this blessed scripture, we not only feel connected to Lord Shiva Himself, but to the ancient story of devotion woven across time by thousands of devotees and sadhus who have chanted this very scripture. Here is what Swamiji has to say about the Rudri:
The Rudrashtadhya​yi emanates from the Sukla Yajur Veda, the oldest expression of spiritual wisdom known to mankind. It is one of the most acclaimed and celebrated hymns to Lord Shiva in the world, chanted continually at all of the jyotir lingams.
The first chapter is a prayer to receive the sankalpa, or determination and focus of mind of Shiva. The second chapter praises Shiva in His Omnipresence.
The third chapter is a blessing for the spiritual warrior within us, to prevail in the battle and defeat our own enemies. In the fourth chapter we praise Shiva as the light of wisdom.
In the fifth chapter, we bow to Shiva in all His forms. In the sixth chapter we ask for His blessings, and in the seventh chapter we make offering to His various manifestations.
In the eighth chapter we recite many of His divine characteristics that are within us and in the ninth chapter, known as the Santi Adhyayah, we ask for peace and offer peace to all existence.
~Swamiji
Eleven Reasons Why You Won't Want to Miss Shivaratri:
Lord Shiva is the Consciousness of Infinite Goodness. Infinite Goodness. 
Shree Maa and Swamiji will guide us into Shiva Loka — it's totally Cosmic!
It is incredibly fun to chant the Shiva Sahasranam and the Rudri with Shree Maa, Swamiji, and a Temple full of Shaivites…and a blazing Agni! Plus it's just incredibly fun period.
Your mind will be filled with light.
Your mind will be filled with Shiva.
You will be inspired to do sadhana and strive on your path.
You will get many blessings.
You will get even more blessings.
Your mind will absorb the mantra "Om Namah Shivaya," infusing your consciousness with Divine vibrations.
Shiva is Hara – He Who Takes Away! He will take away all your negativity and help you to be free.
Maha Shivaratri is one of the best nights of the year, without a doubt! Na samshayah!
---