Shree Maa and Swamiji have arrived in Southern India. They flew into Coimbatore, and were quickly escorted up to Ooty, a small town high up in the Nilagiri hills, known for its beautiful climate and abundant tea cultivation.
While Shree Maa and Swamiji have made numerous visits to India in recent years, this trip to the Tamil Nadu state is their southernmost journey in a long time.
As they arrived in Ooty, the Selvaraj family welcomed Shree Maa and Swamiji into their home with devotion and light.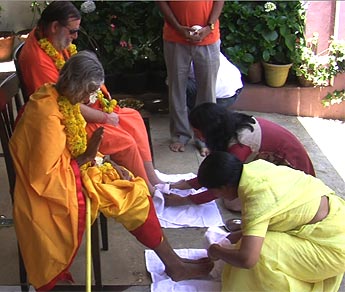 A ceremonial reception – washing the Guru's feet and offering light after a long journey