There is no reason this should not feel remarkably familiar. We have been doing this same sadhana, this same rhythm of life, even the same quality of life, for literally thousands of years.
We are sitting in the Arati Sthal, the covered veranda in front of the Ganesh Temple right on the bank of the river, just below Ganga Maa's Temple, with Ganga Maa rushing past us with a tremendous roar. We are literally a few steps from where Bhagiratha performed his tapasya to request Ganga Maa to come to the earth many thousands of years ago.
He may not have had an iPad, or a battery-powered microphone, but without doubt, he was reciting many of the same mantras that we are reciting these days, in much the same spirit as we are currently reciting.
She blessed him, and it is our every anticipation that she will bless us in the same way. I truly believe that she looks to the sincerity of the effort, and not just to the precision of the execution.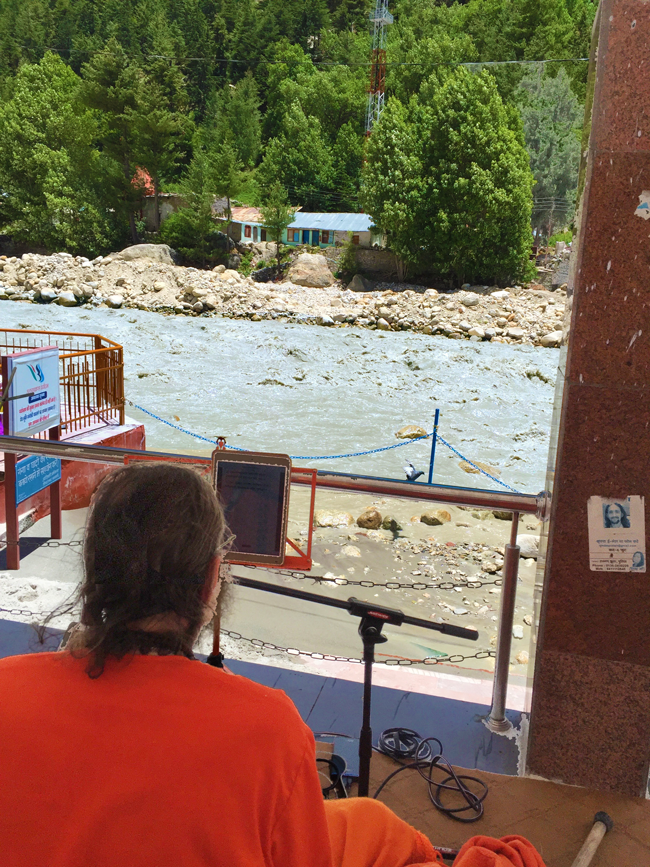 And that is why this feels so familiar. We have done this in so many times, in so many places, in the past. Today also we are producing the same effort, with the same integrity, with the same intensity, a firm commitment, seeking the same blessings of peace for all beings with whom we share this earth.
We are part of a lineage, supporting a tradition, with wisdom as our heritage, training ourselves to move beyond the attachments of the ego. We are expanding our capacity, redefining our nature, seeking to move beyond the limitations of body and mind, so we can reach the everlasting soul.
Only then will we be qualified to call ourselves Purusha – full, complete, and perfect Consciousness, as it inhabits a human body.
We are requesting all our friends and family, along with all the forces of nature, to bless us in our pursuit of these worthy goals.