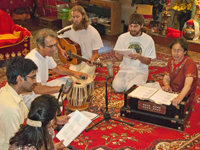 Divine love, longing, separation, and joy, has always been expressed through poetry.
We hope you find inspiration in this collection of poems, written by Devi Mandir devotees from around the world.

---
We have a Mother like no other!
Listen in — our beloved Shree Maa composed this beautiful Mother's Day Prayer for Her children to pray every day. This prayer will bring us blessings and merge our heart with the Divine Mother. Jai Maa!…read more
On Father's Day, devotees gathered in excitement for Swamiji to arrive at the Devi Mandir, but we knew he would not arrive until the end of our Chandi Path recitation, which would be close to 12 noon.
Even Shree Maa was in joyous anticipation, as She occasionally glanced over at Swamiji's asana during the last few chapters … read more
At times this world can seem so filled with torment.
In Laurie Susan White's personable take on what prayer sometimes is, and what it can ultimately be, we are reminded that the trials of the world are not necessarily to be avoided, that material possessions are not the answer to those trials, and that learning to Love with God's grace will take us further on our path to finding light in all things!…read more
The Devi Mandir was packed with people on Sunday, May 10th to honor our beautiful Mother Shree Maa on Mother's Day.
It was a day to demonstrate our love for Her. It was a time to say thank you for the special attention She gives to each of us. It was a time to honor Her as the Universal Mother through puja, and …read more
In this beautiful piece of contemplative poetry, written by Dancing Ramya, we are reminded to rejoice in the knowledge that God is with us, and that any fear which we may experience is senseless with that divine presence! …read more

The irks and pains of perceived separation from the Goddess in our daily lives can be deeply troubling.
In this articulate description of the true connection that we have with the Divine Mother, Vivekananda Saraswati's words perfectly reflect and embody the heart of a devotee longing to be with Her, only to be shown that She is everywhere! …read more
In this magnificent dialogue between devotee and God, we are brought to examine what defines a spiritual life. Though we may long for the day of God's boon, of gifts of attainment and the blessing long awaited, why not live the life that we have always dreamed of?
Dancing Ramya reminds us that every aspect of the way we live our lives is an offering. …read more
This poem in praise of Lord Narayana drips with the nectar of devotion. As spiritual aspirants, we find refuge in the name of our beloved.
May we all remember the names of the Gods and come closer to them through the Guru! … read more
It is impossible to capture the beauty of pure devotion in words, but this heartfelt poem, I Surrender My Life To Thee, written by Swarupananda, moves us all to a place of deep surrender to the Guru.
Experience his passion for Shree Maa and fall in Love all over again! … read more
As we continue to practice and broaden our sadhana, we cultivate a deep and personal relationship with God. Cultivating this relationship, and our discipline, allows us to move deeper inside to hear the silence between the mantras, between the breaths.
In this heartfelt poem, written by Vivekananda Saraswati, we are brought to contemplate the wonder of this silence, of this deep relationship with God! …read more
Enjoy this awesome photo gallery of our Mother's Day puja to Shree Maa. This event was so mesmerizing that it left everyone in a heightened state of devotion.
Words cannot describe how our offerings were so sweetly accepted by Mother. When we were done, Shree Maa looked down at Her feet and said, "How Cute!" …read more
One of the most important qualities of a devotee is faith. This poem, written by Julia Doughty, expresses the grace and importance of faith with elegant simplicity.
The accompanying music and video quaintly supplement the poem as they all culminate into one holistic work of art!…read more

For the spiritual aspirant, the Guru is a shining light, the great guide on the spiritual path. It is through love and devotion to the Guru that the disciple reaches and cultivates a relationship with the divine.
This poem, written by Chandana Saraswati, is a wonderful example of such love.
May we all be blessed to keep the Guru in our minds, their mantras on our lips, and their love in our hearts! …read more