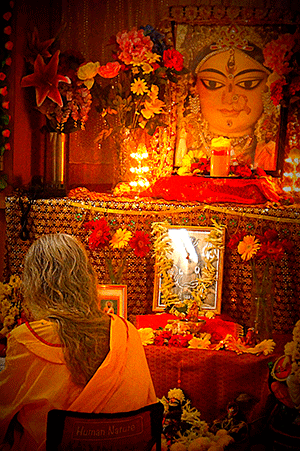 The morning came quicker than expected, and we all awoke, showered, and performed our individual sadhana.
It was an unusually quiet morning, as if everyone's heart was dampened with the realization that the time had come to say goodbye to Mother India, and to embrace our long journey home.
Srini and Ramya's altar glowed with the color of sindur this morning, and Shree Maa looked like a beautiful Goddess as She performed her final puja.
After breakfast, we began to pack.
There was so much to do, so much to organize prior to getting on the plane, but I cleverly managed to steal a few minutes of Swamiji's time.
During these precious moments with Swamiji, I asked him to share, from his perspective, what he thought were the major highlights and overall accomplishments of the 2014 Tour of India.
We invite you to relive these treasured moments with us, and hope you enjoy them as much as we did:
Though we accomplished a lot during our two month journey through India, there was part of the tour that actually got diverted. We failed to reach Uttarkashi, where we had hoped to perform worship in a familiar environment. Instead we visited Vrindavan, which was equally spectacular. Uttarkashi will be added to our next itinerary, along with the several other invitations that we received along the way.
The 2014 Tour allowed Shree Maa and Swamiji to teach, to inspire, to worship, and to move devotees closer to God. They touched the hearts and minds of devotees from all over India, making their investment of time and energy a huge success.
Our special thanks to everyone who empowered us to share along the way, and to all of our divine hosts who so graciously extended their time, their homes, and their resources to make this yatra possible.
We thank you from the bottom of our hearts.
Pranam!