Travelogue: Guru Maa's Ashram
The group received darshan of four saints today all at the same time, as Shree Maa, Swamiji, and Swami Ramkripaluji took us to the ashram of the well-known Anandamurti Guru Maa.
To witness the gathering of these four saints was a special treat for all of us and I was eagerly anticipating what key learning I would take away to share with the Devi Mandir family.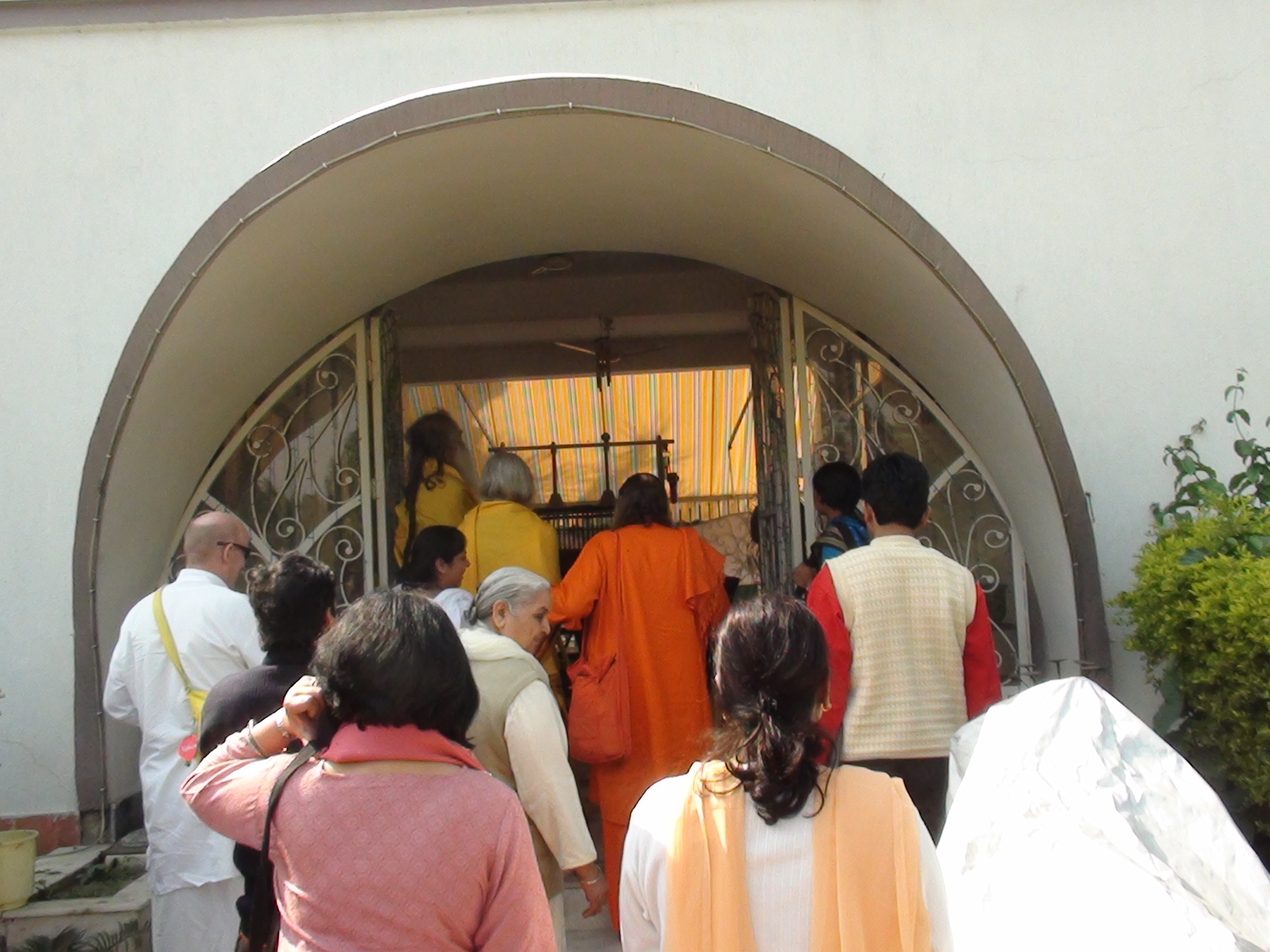 When we arrived, I noticed a quiet peacefulness, as if time "stood still" here in this beautiful ashram, which was located far away from the hustle and bustle of the noisy city.
Guru Maa's devotees kindly welcomed us all, gave us a Tilak of sandal paste, and offered us chai and water to drink.
They also honored Shree Maa, Swamiji and Swami Ramkripaluji with flower garlands.
After sitting down and greeting each other, our Swamiji joyously recited a special mantra for offering cloth as he gifted Guru Maa with a beautiful Sari that Shree Maa had picked out especially for her.
Then, Swamiji said the mantra for offering food and presented Guru Maa with sumptuous sweets.
Swamiji's offering was so full of love and so exuberant that the surprised Guru Maa broke out in smiles and a joyful laughter.
I learned that the offering of gifts amongst the saints is a recognition of mutual respect and love between them. This mutual respect and love became even more evident as they all began to talk.
I noticed how comfortable they all were with each other. It was so refreshing to see that there were no pretenses amongst them. They were all so "down-to earth" and "real", as if they had been friends in the past. It was a darshan that I will never forget!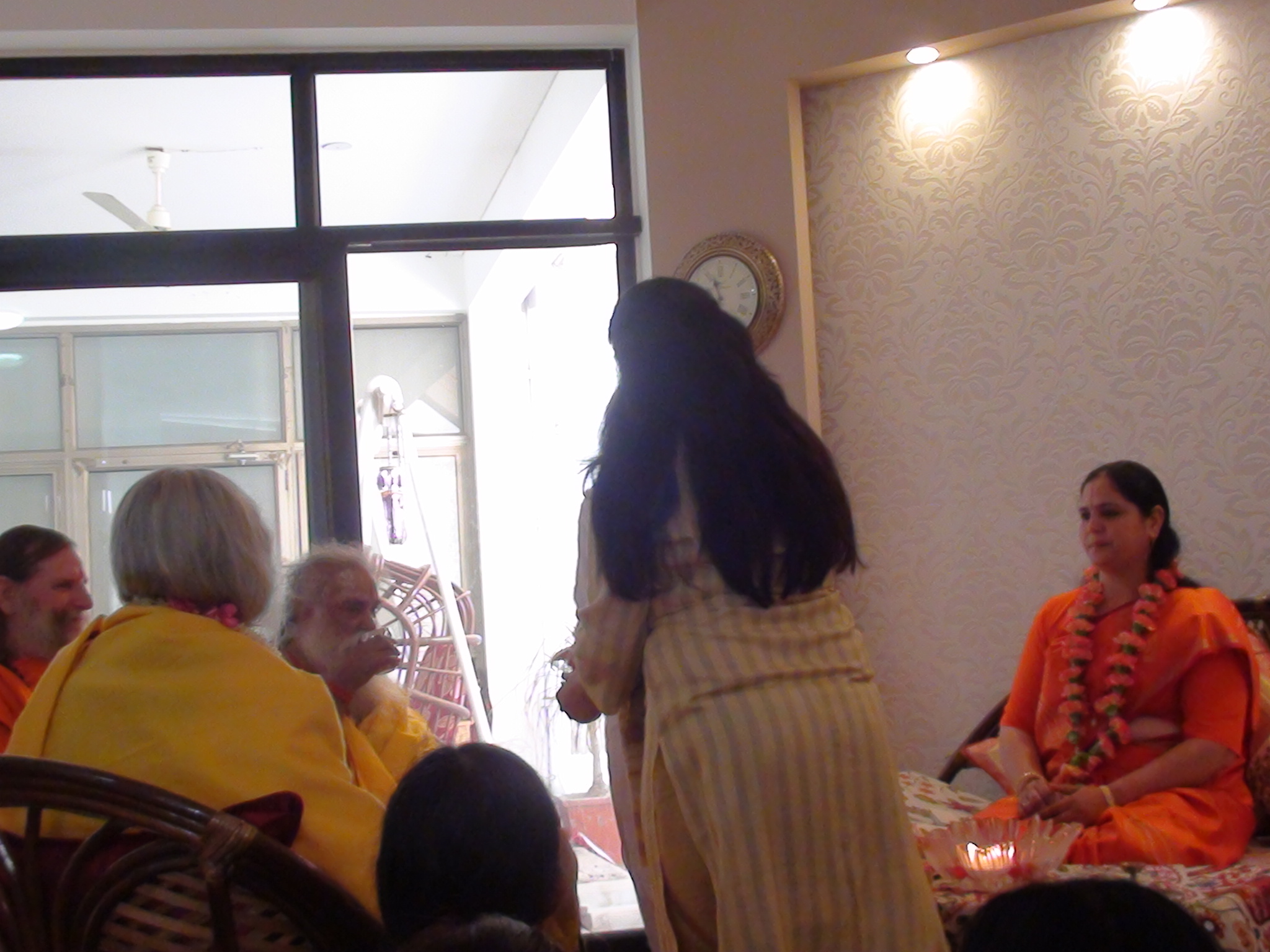 Apparently, I was not the only one feeling jubilation.
Even Swami Ramkripaluji, who absolutely loves the Divine Mother, was so overjoyed, that he expressed, "It is so great to sit between these two Mothers, Shree Maa and Guru Maa! It is like taking a "divine dip!"
As the sweet conversation between the four saints continued, suddenly, another one of Guru Maa's devotees came in with more flower garlands!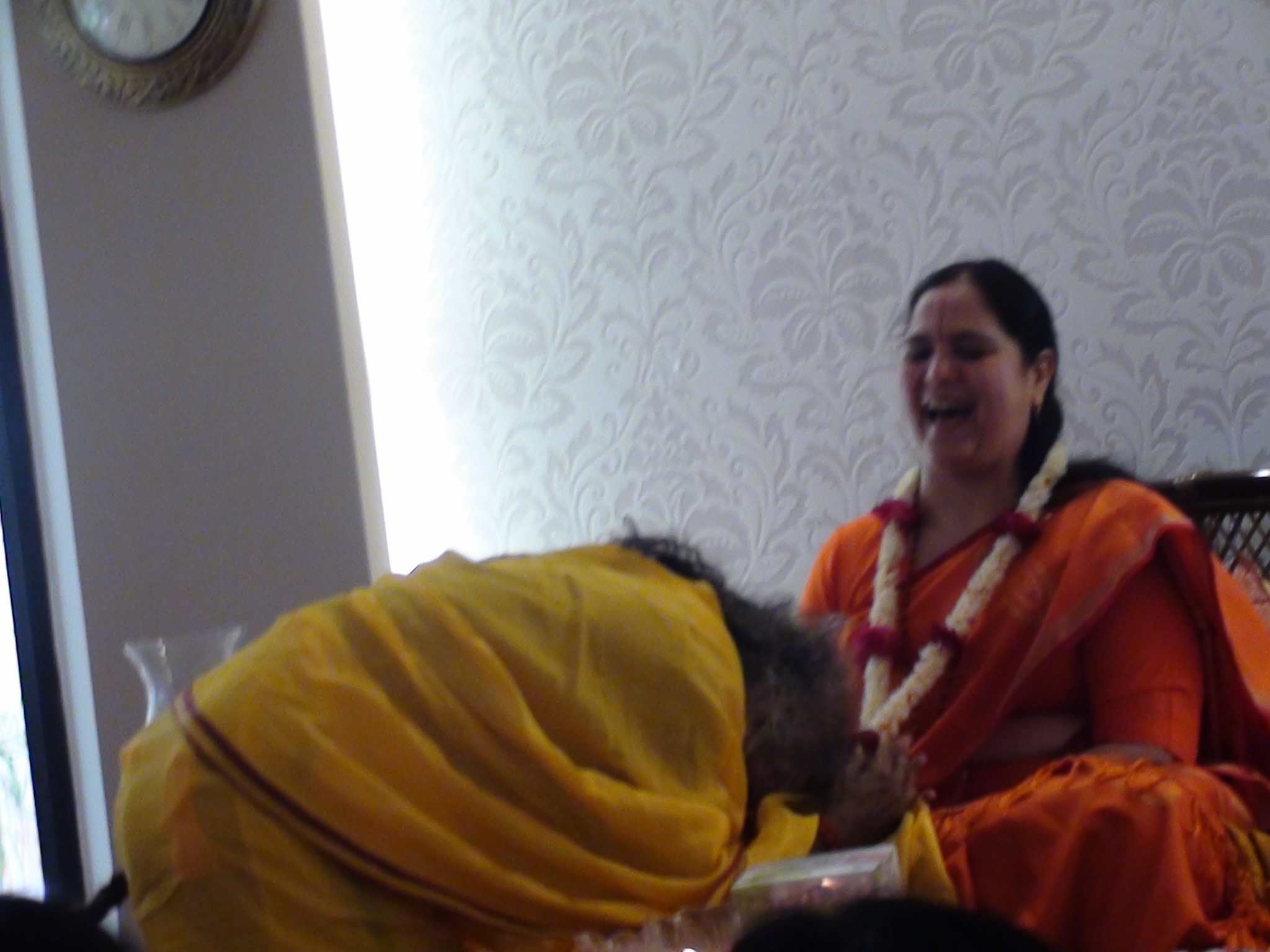 First, she honored Shree Maa with a bountiful garland of pinks flowers, so perfect for the Divine Mother.
Then, she went to Swami Ramkripaluji, who sweetly took the garland and offered it to Guru Maa!
Bowing to her, he said "Maa, it is more appropriate for you to have!"
Everyone chuckled and was amused at the humbleness of this divine saint, Swamiji Ramkripaluji.
After talking for some time Guru Maa asked if Shree Maa would sing a song. Shree Maa sang "Atmanivasi Ram", a favorite song of Swami Ramkripaluji.
Shree Maa then wanted to sing a song for Guru Maa, so we all joined Shree Maa while She sang "Jaya Guru, Jaya Guru."
After our singing, Guru Maa had to step away for a short moment to attend to something in the ashram.
There was a quite in the room for a short time – until our Swamiji, who has recently had a tendency to spontaneously break out in Krishna bhajans, suddenly burst out singing "Krishna Jai! Krishna Jai!"
The room filled with joy and Swamiji's bhava was infectious! We couldn't help but join him in singing to Lord Krishna.
When Guru Maa came back, she escorted Shree Maa and Swamiji around the temple and ashram grounds.
We came upon a beautiful murti of Lord Shiva, sitting in a meditative posture, with a blissful smile on his face. Shree Maa and Swamiji took a special moment to worship the Lord prior to our departure.
This special divine darshan reminded me of one of Shree Maa's beautiful teachings: "Be True, Be Simple, Be Free!"
In witnessing this divine interaction, I noticed that they all exuded these qualities. They were all so real, so pure, so true and with no pretenses. This fine example of humble, honest communication is one that I will endeavor to follow in my own life!
Jaya Guru! Jaya Guru! Jaya Sadguru!