Travelogue: Shree Maa's Puja to Mother Ganga
In India, the river Ganges is not considered to be just a river, but rather a living Goddess. Her waters play such an important role in the lives of everyone. From watering crops to providing drinking water, She takes care of Her children.
After the sun rose in the morning, we went down to the banks of the river with Shree Maa.
On the shoreline of this sacred river, we noticed a rock that someone had brought and previously worshiped as a Shiva Lingam.
Shree Maa, delighted in seeing this auspicious Shiva Lingam, choose this location for Her worship.
Shree Maa offered lights, incense, flowers and dakshina to the Divine Mother in the form of Ganga. She handed us flowers as well so that we could do the same.
Then, after worshiping Ganga Maa, we participated in a puja that Shree Maa does every day – we made offerings of water and flowers to the sun.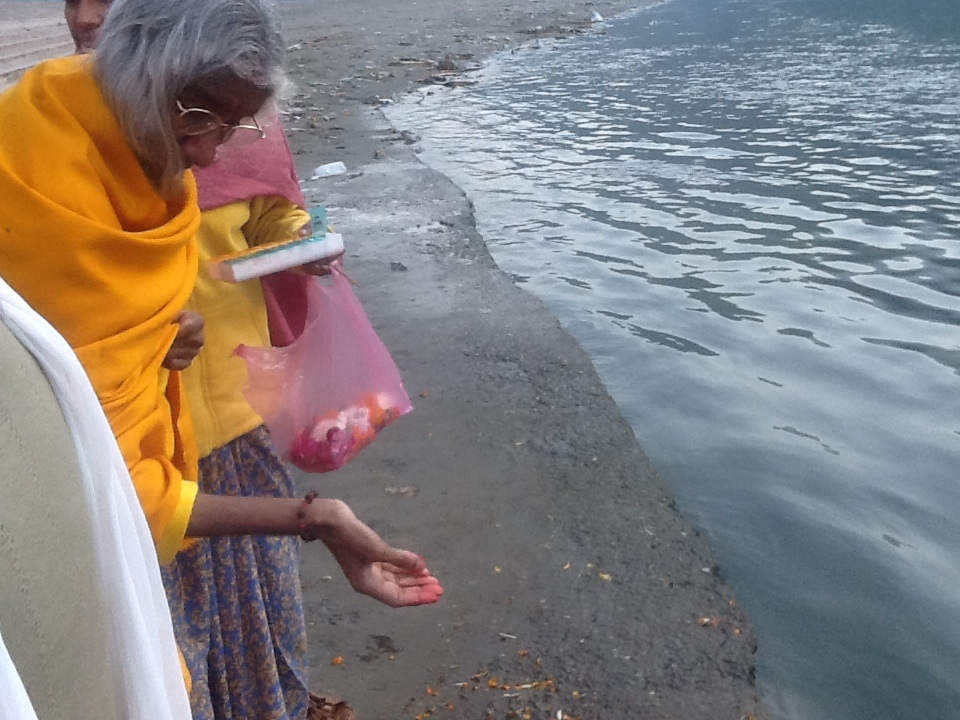 While we had been doing our worship, three dogs had been standing nearby.
While most people tend to either ignore the dogs, or try to scare them away, our beloved Mother set a perfect example.
She actually honored the dogs by including them in the puja!
She offered those fortunate dogs flowers and worshiped them as Bhairava, which is a form, or manifestation, of Lord Shiva.
We were all surprised and learned a great lesson of paying respect to the presence of God in everything. She showed us what the Vedic Rishis of old also knew: God is everywhere, in everything and everyone, you just have to become aware of it.
It was a profound and beautiful moment, yet Shree Maa taught these truths not in words, but in her own simple loving way. Her teachings shine through from the sincerity in Her actions.
We had worshiped God in every form we saw there, whether it was a rock, a river, the sun or a dog! In that moment, God's brilliant light shone in all forms of nature!
Jai Maa!