Travelogue: Sundar Kand and Sharing With All
After we performed the Chandi Yajna on the banks of the Ganga, Shree Maa and Swamiji were invited to sing the Sundar Kanda at the Ramananda Ashram.
At the entrance, there is a small temple for Lord Shiva in the form of Daridya Dukha Hara, meaning "He Who Takes Away Poverty and Pain." Shree Maa offered Her prayers here for the welfare of all Her children.
As we ascended the stairs to the main temple, there was a beautiful altar with murtis of Sri Ram, Sita Devi and Lord Hanuman.
We sat down in front of this precious altar and recited the Sundar Kanda.
As we typically do, to get internet access, we setup the broadcaster using a device which connects to the cellphone network.
Sadly, we were not able to get a connection, though we were not in a remote location!
It is not always easy to broadcast from the various temples which we visit. Some of the temples are on mountains or in caves, others are close to towns, while some are in remote forests.
But, our creative and ever efficient Swamiji came up with another game plan!
He had another device in his tool chest from a different network provider. After diligently working with the electronics, Swamiji achieved success – it worked!
We were up and running in no time!
On this trip, I have witnessed the power of Swamiji's determination and intent.
I have closely observed him as he goes to extreme efforts to implement the technology required to share the worship with our global family. Countless times I have watched him try again and again, to get the connection.
I surmise that, only someone who sincerely loves his family can demonstrate that level of commitment.
Upon further contemplation, both Shree Maa and Swamiji are trying to inspire the global family.
They are always thinking about us, blessing us, showering us with grace, and hoping for us to increase our devotion to God.
It does not matter where the devotee resides – it could be on the other side of the world – yet, Shree Maa and Swamiji are with us.
This is an inspiring testament to their love for us.
Thanks to Swamiji's efforts, we were able to broadcast the blissful recitation of the Sundar Kanda so everyone could join. The bhavana grew stronger and stonger as Swamiji and Shree Maa wove the Samputs, the mantras which come before and after each verse, throughout different parts of the recitation.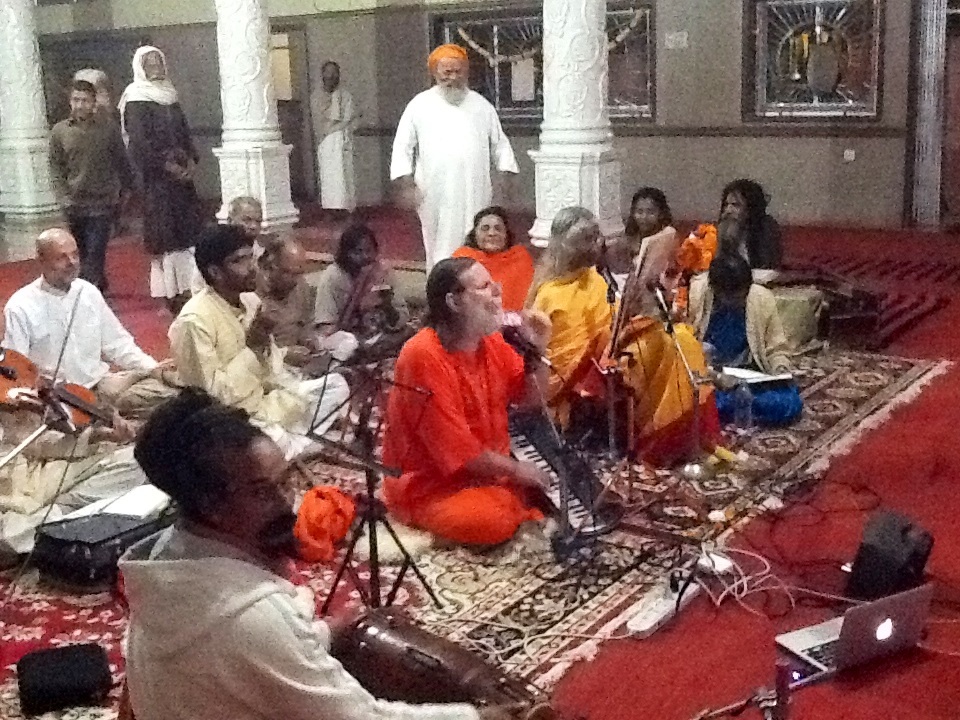 Sita and Ram sitting on the altar seemed to be especially delighted, as well as the devotees from the ashram who joined us.
This recitation of the Sundar Kanda was really unique in that Vairagis, in a Vaishnava Akhara, invited a Sannyasi to lead the recitation of their scripture in their temple.
Shree Maa and Swamiji have effectively become representatives of Savarni, who belongs to all castes, colors, tribes, by transcending all sectarian boundaries and uniting various branches of Hindu monks, who otherwise maintain strict separation.
Many visitors joined the chanting, along with the Vaishnava monks, and all were united in pure devotion to God!
Some people remarked that they had never heard the Sundar Kanda recited with such enthusiasm and devotion, and other naturally born Hindi speaking people were amazed at the clarity of the pronunciation and accents to the meaning.
After the completion, we were all invited for prasad, and we exchanged gifts.