Travelogue: Swami Veda Bharati's Ashram
One of our fascinating journeys while in Rishikesh was to an ashram of a very special Indian saint, Swamiji Veda Bharati.
Shree Maa and Swamiji, who had met Swami Veda Bharati previously, received a special invite to perform kirtan one evening. The group was fortunate to be included in this celebration.
Swamiji Veda Bharati, who is a disciple of Swami Rama of the Himalayas, is one of the key keepers and messengers of the ancient traditions taught by the Himalayan sages and teachers of the Vedic tradition. The traditions have been handed down from Master to disciple, generation after generation, for more than 5,000 years.
Shree Maa, Swamiji, and Swami Ramkripaluji were greeted by a huge crowd in a glorious manner.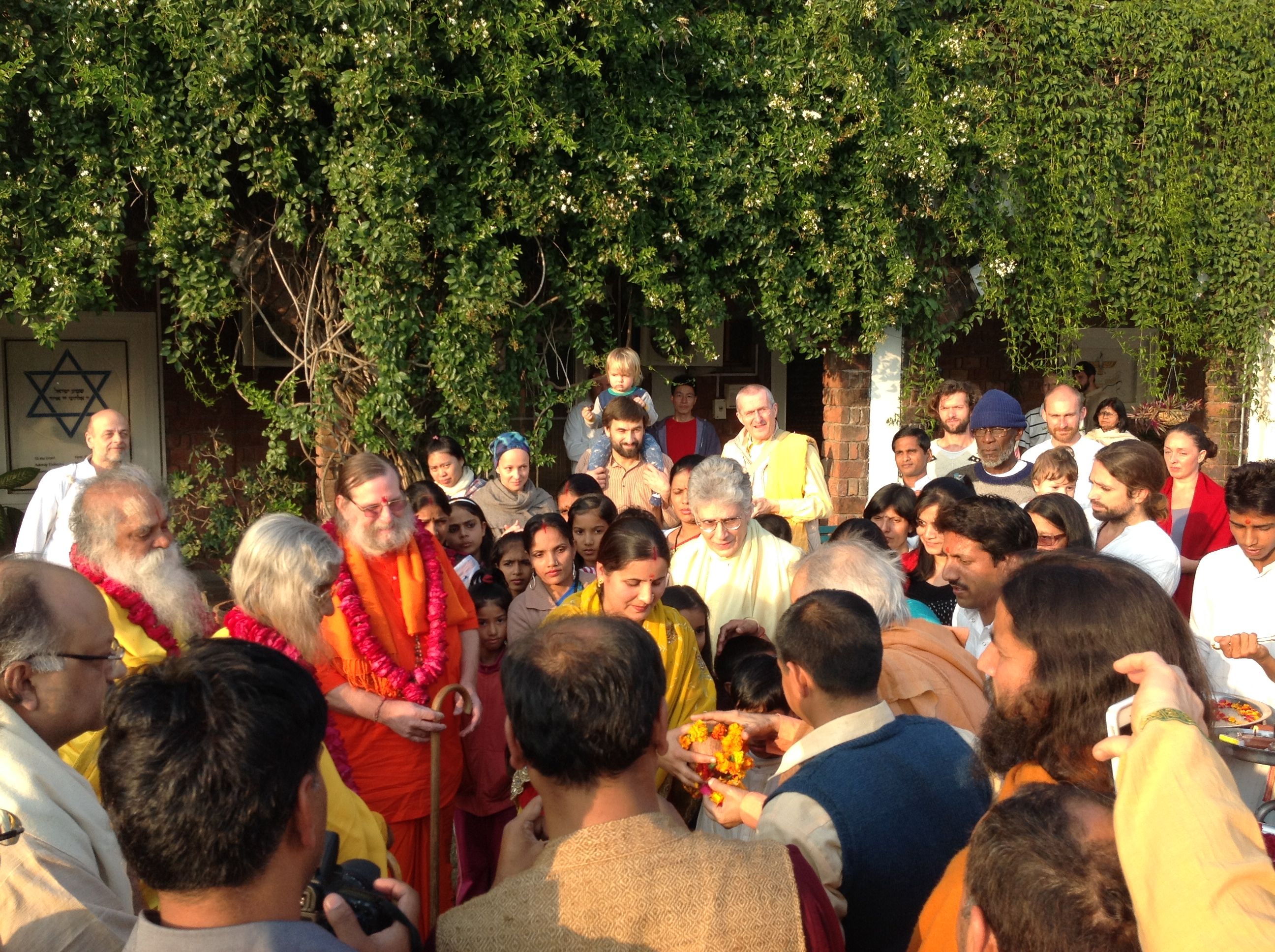 One group was singing hymns from the Sama Veda to welcome them, while others offered them a garland of roses.
It was a delight to see such a respectful and joyous welcoming.
Swami Veda Bharati himself came and offered flower petals in loving worship of Shree Maa and Swamiji. This significant Indian Saint recently took a five year vow of silence and so, when we met him, he was not talking. Though words did not flow from his mouth, pure love flowed from the heart of this sadhu.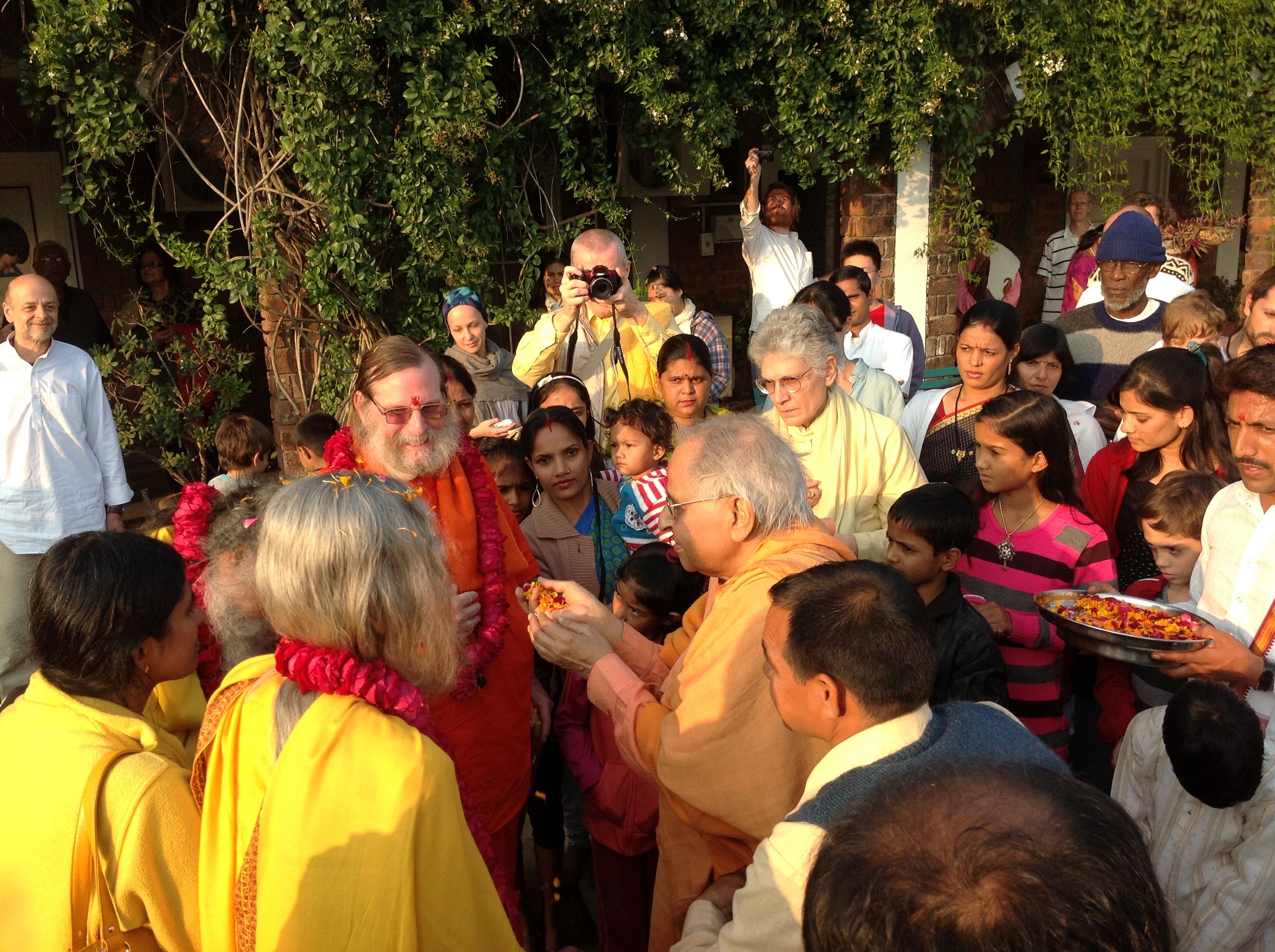 From our travels, it has become clear that the meeting of real saints is rarely a dull and distant affair, but rather, a joyous celebration of love at the privilege of being in the company of other pure souls. The love generated from their meeting each other overflowed into the hearts of the welcoming crowd gathered there.
We then entered the main building, which soon became completely packed with eager devotees.
One devotee, who had met Shree Maa and Swamiji previously, gave a short message of welcome and introduced them to the crowd. She prayed that Shree Maa show everyone, male and female, how to become more connected to the Divine Mother aspect within each of us.
As Swami Veda Bharati was in silence, to communicate he would type or handwrite notes. To welcome Shree Maa and Swamiji, He typed on the projector screen, "We welcome Shree Maa and Swamiji's holy feet in our Ashram." The feeling of connection and affection was so overwhelming!
After we settled in, Shree Maa sang the song Hari Nam. Her singing created a deep feeling of calm stillness through the room. Seeing everyone's state, she asked that we all mediate for a few minutes.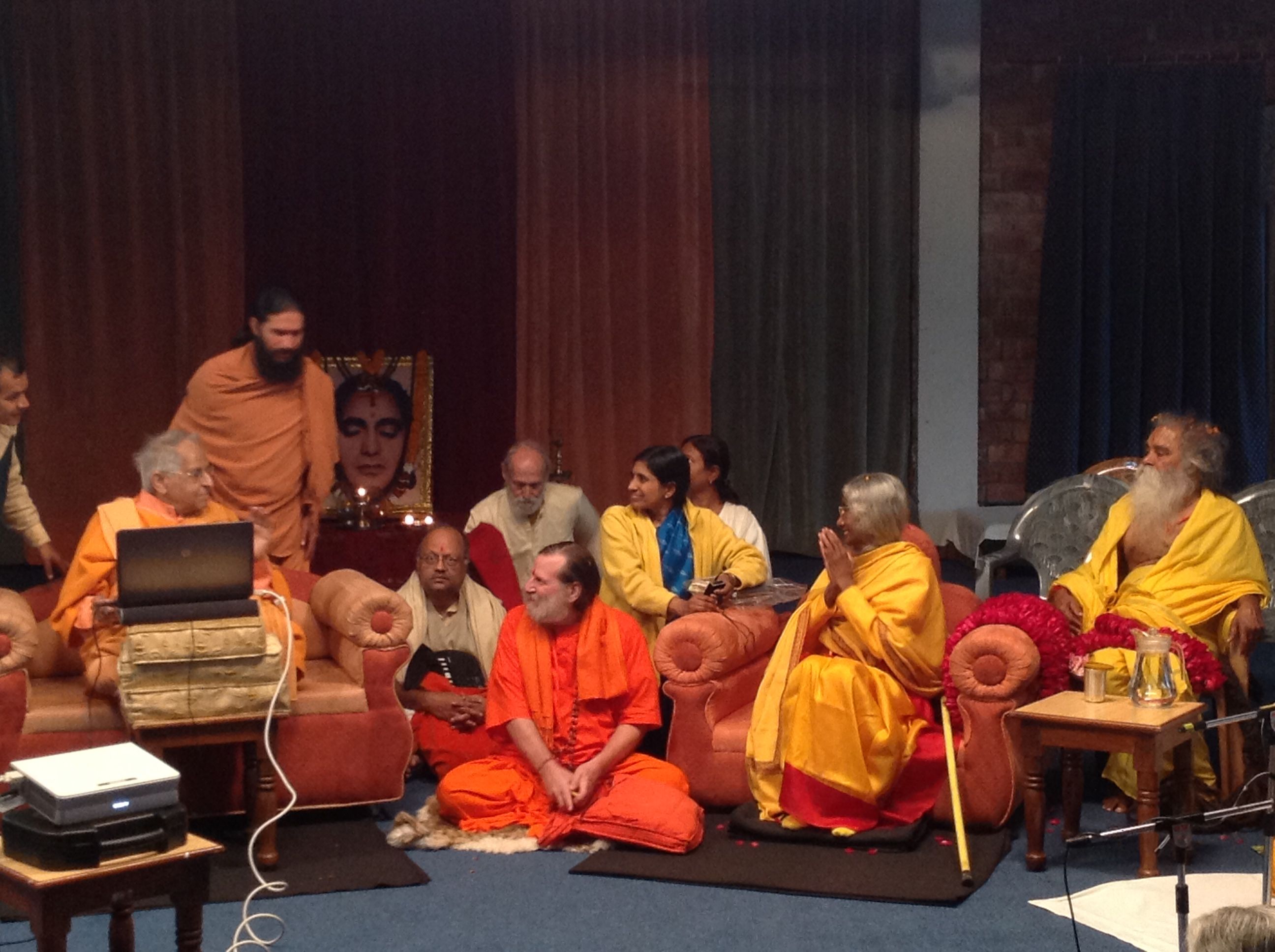 Shree Maa then offered the song Jaya Guru in honor of Swami Veda Bharati. It was Shree Maa's offering of love and respect to him. After the song she said smilingly, "Now I will sing a song for Guru's Guru, do you know who that is?" When no one responded quickly, Swami Ramkripaluji said enthusiastically, "Shiva!" Shree Maa jokingly scolded him saying, "Why did you give it away?"
After singing for Lord Shiva, she then sang a song for the Divine Mother. By this time in the evening, it was approaching the time for the Ashram's traditional mediation program. Swamiji, realizing this, asked Swami Veda Bharati if we should stop the kirtan so they could do their meditation. Swami Veda Bharati, looked at Swamiji and innocently shrugged his shoulders. It was clear that the meditation program could wait. Everyone laughed and knew he meant that Shree Maa should certainly keep singing.
When all the singing was completed, Shree Maa and Swamiji offered a cloth and dakshina to Swami Veda Bharati. Swami Veda Bharati rose from his chair and lovingly hugged Swamiji.
Of course, great saints think alike and, before closing the program, Swami Veda Bharati also made an offering to Swamiji and Shree Maa.
We were all left with the beautiful impression in our hearts of the true humility and love seen in the meeting of great souls. This love, this humility, touched the hearts of all present.
Jai Maa! Jai Swamiji!