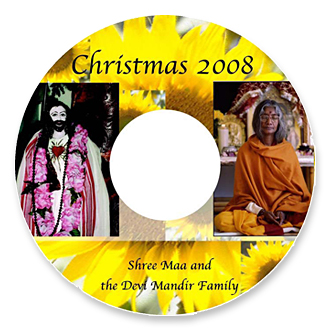 For Christmas, Shree Maa and Swamiji have a program that is very unique and special. This is a collection of songs that are sung during the program. It includes traditional Christmas songs such as "Little Drummer Boy" and "Silent Night" as well as songs in Sanskrit that are dedicated to Lord Jesus. Nowhere else will you find such an eclectic mix of Christmas delight.
---
Track List
Jisu Kristaya Namo Namaha
Jisu Krista Iswaram
Prem Mere Jisu
Jisu Krista Sharanam
Tumi Rama Tumi Krishna
Jisu Krista Naam
Esho Esho
Silent Night
Joy to the World
Oh Come All Ye Faithful
Little Drummer Boy
Angels We Have Heard On High
Amazing Grace
Your Love is the Ocean
Jingle Bells
We Wish You a Merry Christmas
Pranam
Product Details
CD Disc or Download: 70 minutes
Publisher: Devi Mandir (1998)
ISBN-10: 1-886088-26-8
Product Dimensions: 4.75 x 5.0 x .25 inches
Shipping Weight: 3.5 ounces
Reviews of "Christmas Songs"
By Abby
What a sweet and jolly CD to have around during the Christmas holiday! It is such a treat to hear how Shree Maa unites traditions and brings together all walks of life. Shree Maa, Swamiji, I love you!
---
Podcast: Play in new window | Download