Shree's Maa's Flat Rice and Potato recipe can be served as part of a meal or alone as light meal, or breakfast. Flat rice, which is also called poha, can be found in Indian Grocery stores.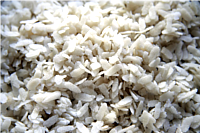 Ingredients
1 cup flat rice
2 potatoes
little but of hing (asafoetida)
handful of raisins and peanuts
a few green chillies
one small bunch of cilantro leaves
3 Tablespoons oil
salt to taste
Directions
1. In a frying pan, fry flat rice with a little oil until it is light brown. Remove from fire and keep aside.
2. Peel potatoes and cut in very small and thin pieces
3. Heat oil in a frying pan. Add a little but of hing and salt to taste.
4. Add potatoes and fry.
5. Add raisins, peanuts, and green chillies.
6. Add the flat rice to the vegetable mixture and decorate with cilantro leaves.