Ganesha Chaturthi is the celebration of the birthday of Lord Ganesha, the God of wisdom and prosperity.
Worshiping Lord Ganesh on this day brings wisdom, good fortune, prosperity, and most importantly, on this day, Lord Ganesha removes obstacles on the spiritual path.
Ganesha Chaturthi is observed on the fourth day of the bright fortnight in the lunar month of Bhadrapad (mid-August to mid-September). In 2016, Ganesha Chaturthi falls on Sunday, September 4th.
(Note: We request that no one of you look at the moon on Sunday, September 4th, because whoever looks at the Moon on that occasion will find a number of difficulties.)
Even though the official day of Ganesh Chaturthi is on September 4th, we will observe a special kirtan in honor of Lord Ganesh on Saturday night, September 3rd.
Please join us in the Mandir or on live webcam on Saturday night, when we will celebrate Ganesh with stories, songs, dancing, and a whole lot of Joy!
About Lord Ganesha
Lord Ganesha is known to be the Lord of Power, Lord of the Multitudes, wisdom, peace, and harmony. He takes away worldly attachments and blesses devotees with spiritual success, while removing obstacles.
He won the boon that He would be the first to be worshiped, for, without wisdom, no one can enter into the mystery of darshana, which is the privilege of receiving the vision of God. So in all our prayers and pujas, we invoke Sri Ganesha first.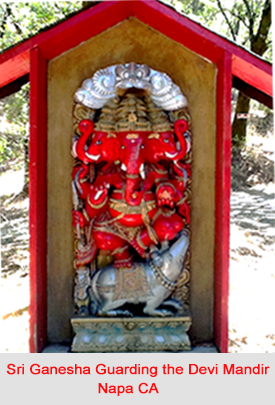 Traditionally, many Hindus also invoke Ganesha when starting any new ventures (job, marriage) or at the start of travel.
Lord Ganesha was created from sandalwood by Goddess Parvati, and with Her Shakti, She breathed life into him.
After Parvati created Ganesha, She gave him the responsibility of guarding Her door.
When Lord Shiva, Parvati's husband, returned to the house after several days of meditation, Ganesha would not grant him access.
In anger, Lord Shiva severed the head of the child. When Parvati learned of the fate of Her son, she begged Lord Shiva to revive the boy.
Lord Shiva did so by cutting off the head of an elephant and placing it on the boy's body. This is how Lord Ganesha became the elephant-headed God. It is also why he became known as the God of Power, because he was created from Parvati's Shakti.
Ganesha is commonly known as Ekadant (one-toothed), Lambodar (big tummy), Vikat (heavy), Vakratund (bent tooth), and Vigneshwar (remover of obstacles).
Ganesha Chaturthi Celebrations in India
In India, the festivities are so grand that, in some places, they celebrate Ganesha Chaturthi for ten consecutive days!
During these days, pujas are performed to Ganesha murtis, which are installed in temples, street corners, and in devotee's homes.
After the pujas are complete, the murtis are paraded through the streets and immersed into water.
Typical prasad offered to Ganesha are ladoos and modaks, which are some of Lord Ganesha's favorite sweets.
Related: Shree Maa's Modak Recipe for Ganesh
Suggested Worship
It is most important for spiritual aspirants to pray to Lord Ganesha to remove obstacles and bless us with success on the spiritual path.
Learn how to worship Ganesh by exploring the Ways to Worship Ganesh section.
You may elect to chant Ganesha Mantras, perform a Ganesha Puja, or, for the more advanced pujari, perform the Ganesha Puja Advanced.
These powerful Pujas are a combination of Vedic, Puranic, and modern worship. The recitation will leave the worshiper with the bhava of Lord Ganesha. For the puja, we may offer modaks, ladoos, fruits, and other articles of devotion.
May Lord Ganesha remove all obstacles and grant you pure devotion!
---