Ingredients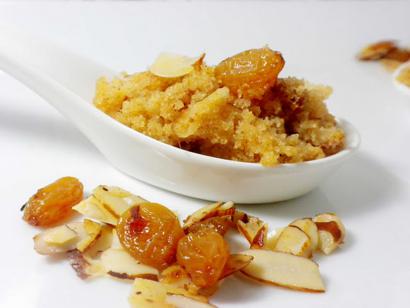 2 cups water
¾ cup sugar
1 teaspoon cardamom seeds, crushed
1/3 cup golden raisins
½ cup ghee
1 cup semolina
¼ cup sliced almonds
Directions
1. Heat ghee in a large nonstick pan and add semolina and stir-fry till grains swell and darken to a warm golden color, about 10 minutes.
2. Combine water, sugar, cardamom seeds in a heavy saucepan over low heat and, while stirring, dissolve sugar.
3. Raise heat and bring mixture to a boil. Add sugar syrup mixture into semolina. Add raisins and almonds.
4. Keep heat low and keep stirring until semolina pudding thickens.
5. Put in tray and cut in diamond shapes.