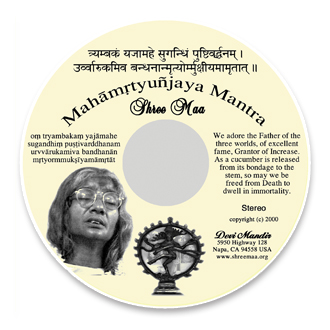 The Mahamrityunjaya Mantra is the mantra of the great victory over death. The translation is: Om the Infinite Beyond Conception, We adore the Father of the three worlds, of excellent fame, Grantor of Increase. As a cucumber is released from its bondage to the stem, so may we be freed from Death to dwell in immortality. On this CD, Shree Maa chants this extremely powerful mantra with devotees.
---
Track List
Mahamrityunjaya Mantra
Product Details
CD Disc or Download: 70 minutes
Publisher: Devi Mandir (1997)
ISBN-10: 1-886088-26-8
Product Dimensions: 4.75 x 5.0 x .25 inches
Shipping Weight: 3.5 ounces
Reviews of "Mahamrityunjaya Mantra"
By Vishwanath
This is one of the first mantras I learned, and I have chanted it since childhood. But hearing Shree Maa chant this mantra brings a whole new refreshed meaning to me. Every syllable she speaks stimulates consciousness!
---
Podcast: Play in new window | Download