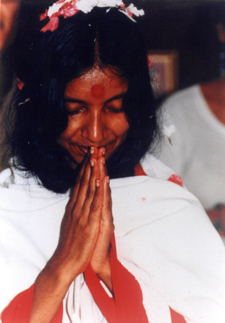 Shree Maa werd geboren in één van de meest bijzondere families in India, die zowel zeer rijke zakenlieden en zeer geavanceerde yogi's bevatten.
Vanaf haar jongste jaren was haar enige wens om te mediteren, om haar eigen wezen in God te versmelten. Haar spirituele uitstraling was zodanig dat als een jong kind, wanneer de lokale vissers haar langs het strand zagen lopen, zij uit hun boten met een houding van een groot geloof en gebed sprongen en snelden zich over het zand om van deze jonge Godin haar zegeningen te vragen.
Geïnspireerd door de 19e eeuw Bengaalse mysticus, Sri Ramakrishna Paramahamsa, Sverliet Shree Maa haar familiehuis, en ging naar de bossen en de heuvels van Kamakhya, voerde Sadhana in de regio's van de staat van Assam en in de Himalayas van India uit. Zij zat het grootste deel van de tijd in één asana in de stilte van diepe meditatie, sprak weinig, en at praktisch niets, alleen sandelpasta gemengd met water, Tulsibladeren, en af ​​en toe sap gevoed aan haar door discipelen en volgelingen. Door haar intense tapasya, werd haar lichaamsgewicht teruggebracht tot iets meer dan 60 pond (30 kilo). Mensen die haar gedurende uren in Samadhi zagen en noemde haar dagen achter elkaar de Godin van de Berg, de Godin van de Rivier, of gewoon Shree Maa, de Gerespecteerde Heilige Moeder

image2image3image4image5image6image7image8image9image10
Na verschillende jaren begon zij door heel India te zwerven, met het bezoeken van tempels, bossen, velden en huizen, voerde Pujas en Archana (het offeren) aan de Goddelijke Moeder, en las uit de Chandi Path, één van de meest frequent gereciteerde geschriften in India, die de Goddelijke Moeder Durga's anifestaties op aarde beschrijft. En zij begon te zingen. Soms zou zij de hele nacht Bhajans zingen, en toegewijden, gevuld met Bhakti, verzamelden zich om in de aanwezigheid van deze heilige vrouw, wiens stem steen kan smelten, te zijn en wiens hele leven aanbidding is.
In 1980, in een kleine tempel in Bakreswar, West-Bengalen ontmoette Shree Maa Swami Satyananda Saraswati. Swamiji herkende haar onmiddellijk als de belichaming van de Godin, die hij actief al zo lang aanbad. De twee reisden samen door India, deelden Dharma, zelfs wanneer, als gevolg van culturele botsingen en onrust, hun eigen leven in gevaar was. Het was in de vroege jaren tachtig dat Shree Maa, in bijzijn van haar goeroe, Ramakrishna, de opdracht kreeg om naar Amerika te verhuizen om de goddelijke liefde te verspreiden en om de betekenis van Dharma te onderwijzen.
In 1984, zonder geld en met weinige bezittingen, vertrokken Shree Maa en Swamiji van de kusten van India naar de westkust van de Verenigde Staten. Zelf promotie en publiciteit mijdend, leiden zij een zeer eenvoudig leven gewijd aan de dagelijkse verering, met de voorkeur om weinig te bezitten en alles aan God te offeren.
Zij hebben in elke plaats die zij hebben bezocht over de hele wereld tempels aan de Goddelijke Moeder opgericht. Samen hebben zij de Sahasra Chandi Yajna ten minste vier keer ondergaan, elk drie jaar vuurceremonie en aanbidding van de Godin, zonder voet buiten de nederige tempel te zetten die zij gevestigd hadden. De tempels bevatten tal van prachtige Murtis, beelden gevormd uit klei door Maa's en Swami's eigen handen, de vormen van de Goden en Godinnen voorstellend zoals beschreven in de Chaṇḍī verering.
Terwijl het woord van de aanwezigheid van Shree Maa's door het San Francisco Bay gebied verspreidde, hebben duizenden zoekers hun weg naar het nederige terrein van het Devi Mandir gevonden. Haar realisatie is een voorbeeld, een inspiratie, een geschenk. Haar Bhava komt uit pure intuïtieve ervaring. Haar boodschap overstijgt alle grenzen en religies terwijl zij een brug over de continenten, culturen en geloofsovertuigingen slaat.
 .
WEES ECHT. Zeg wat u bedoelt en doen wat u zegt. Als u echt bent, dan zult u vrij angst zijn. Als uw geweten zuiver is, dan zal uw hart stil zijn. Dat is Vrede. Ongeacht het resultaat.
WEES SIMPEL. Veel woorden zijn een last voor de ziel. De echte boodschap van u hart zal worden gecommuniceerd door uw daden. De woorden zullen alleen de daden toelichten. Maar zij moeten overeenstemmen, opdat wij niet hypocrieten worden, die prediken maar die niet zelf beoefenen.
WEES VRIJ. Laat uw egoïsme achter. De mensen wiens meningen gewaardeerd worden, zullen van ons houden voor wat wij zijn en niet voor wat wij hebben. Het respect dat gekocht kan worden is net zo nutteloos als een boom die noch bloemen, noch vruchten draagt. Wanneer de bladeren vallen en de stam verdort, zal niemand wederkeren.
NEEM TOEVLUCHT TOT GOD. Noch uw vrienden, relaties of anderen nemen u mee naar de hemel. Alleen Wijsheid zal onze redding zijn.
CULTIVEER WIJSHEID. Leer van iedereen, overal. Maak dan gebruik van die kennis die u in harmonie zal brengen met het universum.
ONTWIKKEL ONDERSCHEIDINGSVERMOGEN. Volg alleen die verlangens die u vrij maken. Laat degene los die U in de problemen brengen. Ken het verschil en herinner uzelf dagelijks hieraan. Vergeet niet dat de God die u zoekt in elke atoom zit. U kunt respect aanbieden aan elke atoom, zelfs terwijl u uw eigen discipline binnenin behoud. Dat u een spirituele zoeker bent is niet iets wat u naar buiten hoeft te tonen. Het zal zich manifesteren in uw gedrag, zonder dat u dat hoeft te proberen. Wanneer wij zacht, liefdevol, vriendelijk en eerlijk in onze omgang zijn, dan is dat spiritueel zijn. Uw spiritualiteit kan niet verborgen blijven. Evenzo, wanneer men vol van angsten is en probeert om zijn innerlijke emoties te verbergen, zo iemand is niet vol van geest. Dat is alleen het ego.
LAAT AL ONZE DADEN ONZE LIEFDE ZIEN. Werk is zichtbare liefde, de uitdrukking van liefde die wij kunnen zien. Mensen willen, bevrijding realiseren, willen verlicht worden. Denk niet dat het iets anders is dan het doen voor anderen zoals u wilt dat zij voor u doen.
SPIRITUALITEIT IS ERG SIMPEL. Ik ben overal, zegt de wijsgeer. Ik besta in elke vorm van de schepping. Wanneer ik welke vorm ook pijnig, dan bezeer ik mijzelf. Wanneer ik elke vorm naar een hoger niveau til, dan vind ikzelf vooruitgang. Het is gemakkelijk.
ZEGEN U!