Sri Ramakrishna Paramahamsa: 1836-1886
"Wanneer gerechtigheid afneemt en paden van slecht gedrag toenemen, neem ik geboorte om het toonbeeld van goddelijkheid te herstellen. Voor de bescherming van de deugdzame en de vernietiging van de goddelozen wordt Ik in ieder tijdperk geboren." — Bhagavad Gita.
"Hij die Rama was en Hij die Krishna was, is nu geboren als Ramakrishna." — Sri Ramakrishna, twee dagen voor zijn Mahasamadhi.
Sri Ramakrishna Paramahansa is in India, en in toenemende mate in de rest van de wereld, algemeen bekend als een Purna Avatara, een volledige incarnatie van God. Het kind dat binnen honderd jaar van zijn geboorte, in het algemeen erkend werd als een volledige neerdaling van het Goddelijke in menselijke vorm, van dezelfde statuur als Rama en Krishna uit de oudheid, nam geboorte in het kleine Bengaalse dorpje Kamarpukur, India, in het jaar 1836.
Toen zijn verouderende vader Khudiram op een jaar lange bedevaart naar Gaya was om de verplichte ceremonies voor zijn voorouders uit te voeren, had hij een droom waarin hij naar de tempel van Vishnu werd meegenomen in de vorm van Gadadhar (betekent "hij die een knots hanteert"), waar een goddelijke stem tegen hem zei:"Ik ben zeer tevreden met uw toewijding, ik ben steeds weer geboren om de goddelozen te corrigeren en de deugdzamen te beschermen. Deze keer zal ik in uw huisje geboren worden en aanvaard u als mijn vader".

image2image3image4image5image6image7
In datzelfde jaar stond op een dag zijn vrouw Chandra Devi bij de Shiva tempel in de buurt van haar huis toen hoeveelheid licht van het beeld kwam en haar lichaam binnen ging. Zij viel bewusteloos neer en toen zij bijkwam, voelde zij dat ze zwanger was.
Het kind, ook wel Gadadhar genaamd, later bekend als Sri Ramakrishna Paramahansa, huilde niet bij de geboorte zoals pasgeboren kinderen dat doen. De vroedvrouw legde het kind naast de haard voor warmte en zorgde voor de moeder, en toen zij terugkwam vond zij dat het kind zich in het koele as van de haard had gerold en rustig en stil bleef liggen, bedekt zoals Shiva, met de witte as van ongehechtheid. Gadadhar groeide op in het pastorale dorpsleven van Bengalen, charmeerde allen met zijn levendige persoonlijkheid, wijsheid voor zijn leeftijd, vroegrijpe ondeugendheid en grote repertoire van religieuze liedjes die hij leerde van de dolende minstrelen die de dorpen van Bengalen toerden in die tijd. Maar hij toonde geen interesse in school, afgezien van leren lezen en schrijven.
Op de leeftijd van 16 sloot Gadadhar zich bij zijn broer Ramkumar aan als een tempelpriester van Moeder Kali in het nieuw gebouwde tempelcomplex in Dakshineshwar. Deze dienst voerde hij uit totdat de aanwezigheid van de Goddelijke Moeder zo tastbaar werd en voortdurend echt voor hem was, dat formele erediensten wegvielen. Daarna Hij ging een periode van ononderbroken en ongeëvenaarde Sadhana tegemoet.
Gedurende de volgende twaalf jaar dat hij voortdurend visioenen van het Goddelijke in alle vormen, en onnoemelijke spirituele ervaringen. Gedurende deze jaren sloten zijn ogen niet tijdens de slaap, en slechts af en toe nam hij voedsel.
Één na de andere spirituele leraren van alle religieuze overtuigingen werden op mysterieuze wijze aangetrokken tot Dakshineshwar en Ramakrishna wierp zich van ganser harte in de beoefening die elk voorschreef, meestal kwam de ultieme ervaring van die traditie binnen drie dagen tijd. Steevast merkten degenen die hem kwamen onderwijzen al snel dat zij van hem leerden, en vertrokken onderricht en in eerbied voor de mystieke van Dakshineshwar.
Ten slotte arriveerde de Sannyasin goeroe, Tota Puri, om Sri Ramakrishna te begeleiden naar de hoogste onpersoonlijke Realiteit van de non-dualistische Advaita Vedanta, en zoals bij hem gebruikelijk was, ging hij binnen drie dagen in Nirvikalpa Samadhi tot verbazing van zijn leraar die zelf veertig jaar van zijn leven nodig had om die toestand te bereiken.
Deze periode van twaalf jaar is ongekend in de religieuze geschiedenis van de mensheid. En, aan het eind van deze Sadhana, ontstond bij Sri Ramakrishna het volledige begrip, geboren uit directe ervaring, dat alle echte spirituele paden van alle religies wanneer deze goed gevolgd worden, leiden tot dezelfde Goddelijke Werkelijkheid.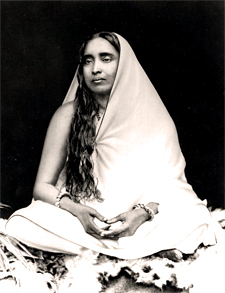 Tijdens zijn twaalfjarige periode van "goddelijke waanzin', in een misplaatste poging om hem terug te brengen naar een meer ordelijke toestand van de geest, had zijn familie hem uitgehuwelijkt aan het jonge dorpsmeisje Sarada Devi. Toen de cycloon van spirituele ervaringen enigszins afgenomen was en Sri Ramakrishna naar voren kwam als de ongeëvenaarde heilige die hij was geworden, en klaar was om zijn rol als wereldleraar op te nemen, nodigde hij zijn vrouw uit met hem mee te komen naar Dakshineshwar.
Toen Sarada aankwam, herkende hij meteen in haar de levende manifestatie van de Goddelijke Godin, en hun relatie bleef geheel op geestelijk vlak. Sri Sarada Devi leefde een zeer rustige bescheiden leven, en veel van de honderden bezoekers en toegewijden die al snel de pelgrimstocht naar de heilige van Dakshineshwar begonnen, wisten niet eens van haar bestaan.
Na het overlijden van Sri Ramakrishna, kreeg Sri Sarada Devi, of de Heilige Moeder zoals zij nu genoemd werd, meer bekendheid. Al snel zochten toegewijden van heinde en verre naar de heilige vrouw van de Grote Meester, en tijdens haar lange levensduur kwamen duizenden gelovigen naar haar om haar voeten aan te raken en haar zegeningen te ontvangen als de Darshan van de Universele Moeder.
Om echt te genieten van de zegening die op de mensheid afdaalde in de vorm van Sri Ramakrishna, moet men het hele verhaal van zijn wonderbaarlijke leven leren kennen, die in ons boek,  iPad App, and video class series en videolessen serie Ramakrishna: de Nectar van Eeuwige Gelukzaligheid.