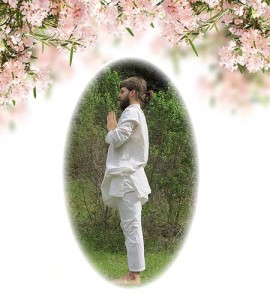 The Pose
Standing up right, with the natural "S" shaped curve of the spine, bring the hands together at heart center. The feet may be either together or apart depending on what is comfortable in your own body.
Effects and Benefit
Physical – This simple posture brings the body into its natural alignment, in preparation for the practice to follow. It helps to improve our posture as well. When most people stand, they put one leg out, lean to one side, or are misaligned in some other way.
Usually this misalignment is consistent, always favoring one side or the other. In the long term, this habitual misalignment can cause issues in the body. By practicing Prakshan, we become reminded of the body's natural symmetrical alignment, which can carry into our everyday life.
Spiritual – This posture, which is not physically strenuous, allows us to take a moment to center ourselves and establish the rhythm of the mantra. Bringing our hands together in Prakshan, which is a pose of great respect, reminds us to demonstrate respect while we are performing the practice.
We are taking care of the body in such a way that we can worship God and perform seva (selfless service) most effectively. We are taking care of our bodies in order to become sadhus and not become a burden to others.
Bringing the hands together also represents total balance, the left hand represents Consciousness and the right hand indicates Energy. Bringing the two together in union is the goal of Yoga.