Shree Maa's kitchen is often filled with aromas from a divine assortment of pakoras and sauces, and these roasted cashew pakoras with cream sauce are simply delectable.
Remember Divine Mother as you prepare this dish with peace in your mind and pure love in your heart!
Ingredients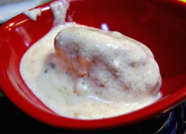 2-3 cups whole roasted cashews
1 tsp anise seed powder
½ tsp whole anise seed
¼ tsp turmeric powder
1 Tbsp olive oil
½ cup all purpose flour
1 tsp baking powder
½ tsp salt (adjust to taste)
12 oz whipped cream cheese
~1½ cup milk (as needed)
olive oil for frying
Directions
1. Soak roasted cashews overnight and grind into a paste with a food processor.
2. Add flour and baking powder and mix. Set aside.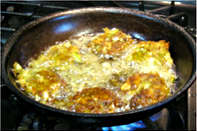 3. Fry asafoetida, whole anise seed, anise seed powder, turmeric, and salt in olive oil over medium-high heat.
4. Add spice mixture to cashew mixture.
5. Form 2 inch size patties and pan fry. Set aside.
6. In a medium size sauce pan, heat cream cheese, milk, and a little salt. Mix until you have a medium consistency sauce. Remove from heat.
7. Drop fried cashew patties into cream cheese sauce. Take care not to break the patties; mix very gently. Serve warm or at room temperature as a side dish.