Swami Satyananda and Swami Adaityananda are representing the Devi Mandir Family in a 10 week sadhana "yatra" through India. This travelogue shares their spectacular adventure and is sure to inspire us to deepen our sadhana.
Travelogue: Katyanani Mandir, New Delhi
The first major temple on our adventure in India was the Katyayani Mandir in New Delhi.
We had visited here in prior years, and I was joyful to think that I would get to see all of the beautiful Murtis there once more. All of the deities in the Katyayani Mandir are beautifully crafted. Before departing for the temple in the morning, we had already recited the Guru Gita and the Lalita Trishati at Sanjaya's house in New Delhi where we were staying.
We had thought that this might be our first chance to broadcast on this trip, though it turned out we were not able to, we didn't know that before hand, and so we came to the temple carrying all the equipment required, including mic stands, a small speaker, laptop etc. I was a little concerned because at the entrance of the temple there is a guard, and you have to pass through a metal detector before entering. I wasn't sure what they would think of all the different things we were carrying. When we went through the metal detector it beeped (how could it not)! When the guard saw us and all the things we were carrying, he was surprised for a moment, but then recovering himself, he folded his hands and let us pass as we were. I was quite relieved.
The Katyayani Mandir is a large complex, with several different shrines located throughout. We came first to the Shiva temple and offered a short worship to the Shiva Lingam there. The Pujari gave us water to offer to the Shiva Lingam. Swamiji and I recited the Mantras for the five faces of Shiva and offered the water to the Shiva Lingam.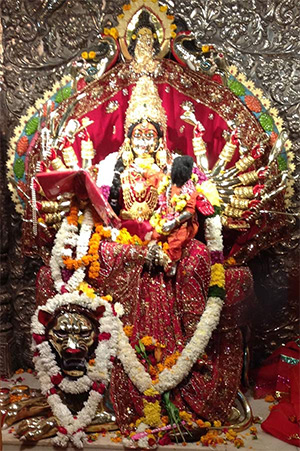 From there, we came to the temple for Katyayani. We had come to the temple quite early, and they were still performing their morning Arati and worship when we entered. We were able to follow along with many of the mantras in their worship.
Their Arati was almost identical to the Chandi Maa Ki Arati we sing near the end of the Chandi Path. When they were finished, most of the people left the room to follow the Pujaris as they went to the nearby Ram Temple to perform another Arati there.
We took the opportunity to sit down and began our recitation of the Chandi. As we chanted, many people entered the temple to offer their respect to the Murti of Katyayani, the Ever Pure One, and then continued on their way to the next deity in the temple complex. All the while we continued, focused on our recitation. Some people came to look at our iPads and see what we were chanting, and others sat quietly behind us, listening to our recitation.
When we finished the Chandi, we went to the front of the temple and were invited by the Pujaris to come and offer Arati to the image of Katyayani. They were all very happy with our recitation of the Chandi. We offered light and flowers to the Divine Mother and chanted along with the Pujari.
At the end of the Arati, Swamiji recited the mantra for offering Dakshina and offered it to the Pujari. He looked at Swamiji and asked him what was the need for him to offer Dakshina when he had already offered such a beautiful recitation of the Chandi to their temple. Nonetheless, Swamiji had already recited the mantra for the Dakshina and he was certainly going to give it to them! So he by passed the Pujari and put it in the donation box. The Pujari smiling folded his hands and accepted the offering. He gave us prasad from the worship in the form of sweets, flower malas and cloths that had been offered to the Divine Mother.
We started to make our way toward the exit. As we were going, one lady eagerly came up to Swamiji to say how much she appreciated our chanting in the temple. Next, we passed by the Murti of Hanuman. One Pujari was sitting in front of him giving Tilaks (the same spots Shree Maa puts on everyone's head after our Saturday Kirtans). We stood before the Murti and chanted mantras to Hanuman. The Pujari listened, and with each mantra we recited, a smile gleaned on his face. It seemed that he was delightfully surprised to hear each new mantra. He gave us Tilaks and we again were on our way toward the exit, which was now very close. Yet, before we could reach the exit, they requested us to come sit down in the main office. They asked us if we would like any chai or food to eat. We appreciated their offer, but declined, as we needed to head back. They then offered us some bottles of water, which we were very happy to receive. We gave our Pranams to each other and departed.
This was the very first temple on our way, and it was such a blessing to see how much people responded to the example of our performing Sadhana. We become inspired ourselves by chanting in these wonderful temples and equally the devotees passing through and even the Pujaris become inspired as well.
---
Daksha's Mandir and a Giant Storm
From Delhi, we traveled by car to Haridwar, where we would be staying at Anandamayi Maa's Ashram. Swamiji had stayed here before and chose it because it is about five minutes walking distance from Daksha's Mandir, a place we visit to do Sadhana every year.
When we arrived at Daksha's Mandir, we at first thought we would sit inside the temple. We entered inside and took darshan of the temple, but then seeing the temple busy with people and the outside weather pleasant and conducive to chanting, we decided to go back outside.
Just outside the temple we saw a large Banyan tree with a concrete Vedhi around it (like the one at our own Napeshwar). That seemed to draw us to sit under it. We happily took our seats there and set-up our webcam so others could join us in Sadhana from afar.
We decided to chant the Durga Dakaradi Sahasranam and the Shiva Sahasranam, along with the Durga and Shiva Chalisas. Daksha's Mandir in Kankhal is famous for both the demise of Sati and the appearance of Shiva, and so it is a thirtha for both Shiva and Shakti.
Soon we began our recitation under the shade of the divine Banyan tree, with many people passing by either to enter the temple, who's entrance was nearby, or to go to the Ganga, which was also close at hand.
We were immersed in the mantras and enjoying the divine atmosphere, and many people looked at us with great interest. They were surprised to see two foreign Sadhus wearing orange clothes, chanting so joyfully. Some people sat or stood nearby the Banyan tree listening, and others took pictures of what they saw as a surprising sight. After all, we certainly were an unusual sight – we were chanting from iPads, had a computer and a webcam broadcasting and on top of that we were actually performing Sadhana!
Besides the Pujaris, who were occasionally chanting in the temple, and us outside under the Banyan tree, no one could be seen performing Sadhana. Occasionally some Sadhus would pass us by, but they simply walked through the temple and then went to the Ganga for a moment, none of them sat to perform Sadhana.
Upon hearing us, some of the people standing or walking by would become curious as to what we were reading and would come to look at our iPads. Swamiji and I had recently completed Sanskrit only versions of most of our books, and both of us were using them for chanting.
Seeing that we were reading Devanagari and pronouncing so clearly, the people were greatly impressed and would explain to those who hadn't looked at our iPads "They are pronouncing so clearly and reading in Sanskrit!" Though many people looked on, we didn't pay them too much mind.
The power of the place and the mantras was too absorbing to think much of anything else. By the time we had completed the Durga Dakaradi Sahasranam, the sky outside had began to darken.
It was getting late, but it seemed some storm was also coming.
Occasionally, there were flashes of light in the sky, which I later realized was heat lightning, but at the time we thought nothing about.
As we finished the Durga Chalisa and began the Shiva Sahasranam, the wind soon began to blow quite strongly.
Some of the Pujaris were concerned and came to see us. Prashant, an Indian Devotee who was with us spoke with them, and they left us be.
Soon it was completely dark outside, and some people still lingered listening to our recitation. There were some outside spot lights, but occasionally the power would go out and there was only the light of the mantras on our iPads.
The winds picked up and suddenly we found ourselves chanting in the middle of a gigantic storm.
It began to down pour rain, but we didn't move. Then the wind started to gust with an incredable strength, so hard that we had to hold on to our iPads and music stands so they wouldn't get knocked over, and still we didn't move. All the people gathered around us ran away, but we didn't move. It was total bliss!
We finished our Sankalpa of both Durga and Shiva Saharanams and Chalisas, gave our Pranam and blessings, and the rain was coming down so hard, we could only move a few feet to under a nearby shelter, only a little better than the foot of the tree.
We stood there for around half an hour, before braving the continuous rain to walk home to where we are staying nearby in Anandamayi Maa's Ashram. When we had returned, I reflected that Swamiji had told me before the story of his chanting in Bakreshwar when a huge storm came, and how he continued his recitation despite whatever happened. Well, I got the chance to verify that story for myself! Inspired by Swamiji's example, I too was able to see that if we keep our selves focused on God, nothing can deter us from our Sankalpa.
We had the distraction of people taking pictures, as well as a continuous stream of people looking on to see what we were doing and the huge storm with powerful winds and rain as well. But, rather than any of that seeming like a difficulty or distraction, by continuing to focus on our Sadhana through it all, it only served to increase the bliss of our worship!
---
Worship at Daksha's Temple and Anandamayi Mandir
The experience of doing sadhana at Daksha's Mandir had been so wonderful that we again returned early in the morning and found a place to sit near the Ganga.
The branches of the large Banyan tree, which we had sat under the previous day, reached even to the river's edge.
Most places were still wet, due to the large storm from the previous night, so we sat on a small raised covered platform to chant.
These places are often used by pujaris, but as it was early, no one was there yet. We knew we may be asked to move, but took our chances.
We set up our broadcast and began to recite the Chandi, cover to cover.
The scene of the Ganga, with the branches of the Banyan tree hanging overhead, created a beautiful and uplifting feeling.
As we reached the Devya Kavacham, the sun began to rise, and its light danced and glimmered on the flowing waters of the Ganga.
The Banyan tree's hanging branches guarded us from the direct shine of the sunlight as well.
By the time we started the Devyatharvashirsham, people were coming to take blessings of the sacred river.
Not long after, one of the pujaris who was accustom to sitting on the platform where we were seated, came and, seeing we were chanting, he went away for sometime.
He again returned and asked if we were finished with our recitation. Swamiji told him we were not. He politely inquired how long our chanting would take. Swamiji responded that it would take around three hours.
His eyes suddenly opened widely, he was astonished. He asked us if we could please move to the base of the Banyan tree, where we had chanted the day before.
We didn't want to cause any trouble to the temple, so we moved our asanas and continued our recitation there.
Whenever we have to break our asanas before our sankalpa is finished, Swamiji always does Prayaschit at the end of the recitation. The Prayaschit is an offering made for requesting forgiveness in having to interrupt our sankalpa (as well as for anything else we might have done in our lives). It can take many forms, and generally we recite a sahasranam (in this case, we did Shiva Sahasarnam) as an addition to whatever we are chanting.
Just as on the previous day, many people were again interested to see whom the two foreign Sadhus were and what they were chanting. Some of the people listened to our recitation, while others took pictures and others looked to see what we were reading.
It was no issue to us, the divinity of the place, the setting, and the mantras, created an inspiration that was too pure for anything else to matter.
We finished our recitation of the Chandi and began the Shiva Sahasranamavali (the list of names where each one begins with Om and ends with Swaha or Namah).
People would again look at our iPads and say to one another, "They are reading in Sanskrit!" Upon hearing this, one lady responded, "Indeed, and listen to how clearly they are pronouncing!"
We continued on joyfully reading the names of Shiva. Even though it was Prayaschit, a prayer for forgiveness of our error, we thoroughly enjoyed the chance to recite more of the names of God. Indeed, in the past when Swamiji had suggested we needed to do Prayaschit at the end of a long recitation, I sometimes suspected that he simply wants a reason to chant more.
When we were within one hundred names from finishing, a large group of people suddenly came to the area outside the entrance to the temple, near to where we were sitting under the Banyan tree. Where they had come from I don't know, but they were carrying loud drums and horns. They began to play them loudly and all of the women with them began to dance in a large circle.
Even though I was sitting right next to Swamiji, due to the noise, it was difficult to make out which name of the Shiva Sahasranam he was on. It became an interesting test of how well I could follow Swamiji's rhythm, even when I could really only tell when he stopped to take a breath. Swamiji would make an expression of offering with his hand whenever the word "Swaha" would come in the text, which helped me to keep in pace with him.
We finished the recitation and sat there quietly, absorbed in the internal peace and quiet brought by the mantras, even though externally there was the loud noises of drums and horns. The procession slowly moved away from us, and Swamiji picked up his conch and blew it to signal the end of our recitation.
In the late afternoon, we made our way to the Anandamayi Maa Mandir, located in the Ashram where we were staying.
I asked Swamiji if he had ever met Anandamayi Maa.
He told me that he had met her several times and found her to be an inspiring being with a powerful presence.
I felt privileged to have the chance to chant in her temple.
In honor of a Chetan, a devotee of Shree Maa and Swamiji who had passed on, we had decided to chant the Vishnu Sahasranam there.
In the front of the temple is a murti of Anandamayi Maa, but the main sitting area is some distance away. We sat down and were offered a microphone by the pujari of the temple, who was glad we had come to chant there.
As had become our regular practice, we set up our broadcast and began our recitation.
Several people came in and out of the room during our chanting, sitting and listening for a while and then moving on to continue with their daily lives. But for us, this was our daily life, and we had nothing else more pressing to move on and do!
As such, when we had completed the Vishnu Sahasranam, we looked at each other, turned the page and began the Bhismastavaraj. It was just too much fun to stop with only one Sahasranam.
We finished our recitation, and the temple pujaris began their regular chanting of the Ramayana. They gave us prasad of fruits and sweets that had been offered in the temple and we returned to our rooms.
We were soon going to leave from Haridwar to go to Uttarkashi in the Himalayas, so we asked Prashant, who was with us, to see how much we needed to pay for the rooms.
When he went to ask them, they looked at him curiously and said, "How can we charge sadhus?" They took no charge for our stay there. They further inquired to Prashant about Swamiji. Who he was, what he was doing etc.
Prashant told them about Swamiji and his sadhana. They were all very impressed. Prashant told them we would be leaving in the early morning. They responded, "Where is he going? Why does he need to go there? Why doesn't he stay here longer?"
They were providing us with two free rooms and meals, and yet in appreciation of Swamiji's example and our sadhana, they were requesting us to stay longer. Anyone might invite paying guests to stay longer, but sincerely inviting guests to stay free of cost at your own expense, who could imagine that!
We greatly respected and appreciated the purity of their gesture, but knew we needed to make our way to Uttarkashi, and so declined the offer.
Early the next morning, we chanted in our rooms, put our bags in the car and began our journey to Uttarkashi.
---
Uttarkashi and Gangotri
From Haridwar, we traveled to Uttarkashi, where we would make our base camp. Uttarkashi, located in the Himalayas, is further north than Haridwar and Rishikesh. It is a wonderful place to perform sadhana.
We used the opportunity to increase the length of our asana by performing Bhagavad Gita and Chandi together each morning, and then reciting various sahasranams and other texts in the evening. Each day we added a little more to our recitation. It was such bliss to lose ourselves in worship that we just wanted to do more and more.
We had begun with the Bhagavad Gita and the Chandi Path, as we recite it on Sundays at the Devi Mandir. Every day we added more parts of the Chandi Path until we recited both books from cover to cover together in one asana.
Even though it would seem unlikely, Uttarkashi has a very good internet connection and so it is the perfect place for us to get our broadcast working properly. Several times we were able to broadcast our whole morning asana of Gita and Chandi – more than four to five hours!
We stayed in Uttarkashi for four days. On the morning of the fourth day, after completing our morning sadhana, we began our journey further north to Gangotri. The road from Uttarkashi to Gangotri takes the same path as the Ganga, and there is nothing but trees, mountains, and the river along the journey.
We reached Gangotri at around 5 pm. Gangotri was beautiful. The scenery was so enchanting with the mountains and the Gangotri Mandir within our view. It will definitely be an inspiring place to perform sadhana.

One beautiful sight in Gangotri is the Surya Kund (kund means pool). The Ganga rushing over the rocks made the Surya Kund look more like an Impressionist painting than an actual river.
We stayed at the Ishavasyam Ashram which has a small Hanuman temple where we chanted shortly after our arrival. The humble pujari was very happy with us performing sadhana there. Gangotri proved to have an even better atmosphere for sadhana than Uttarkashi.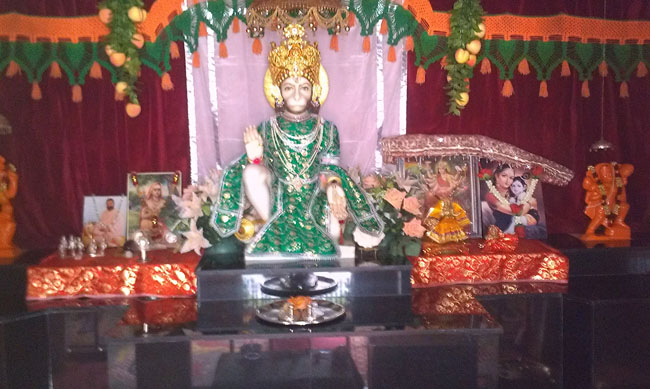 We asked the pujari when the temple opened each morning. He told us that the morning arati ends around 7 o'clock and after that we could chant there as much as we liked. We knew that this would be too late for us to begin our Gita/Chandi sadhana, so the next morning we found a place to sit outside overlooking the Ganga.
As we chanted the introductory mantras, I was drawn to look again and again at the majesty of the mountains and the powerful flowing waters of the Ganga. One could feel God's presence manifested in the natural world. The roar of the Ganga was so loud, that we setup a microphone for Swamiji, so he could match the tone of his chanting to the tone of the rushing waters of the river.
We continued expanding our asana each morning, with the cover to cover recitation of the Bhagavad Gita and the Chandi together. What a joy to spend more and more time in worship. After completing our morning asana at about 11:00, with a big grin on his face, Swamiji said, "When we are really in practice we will get up for breakfast at 3 pm!"
In the afternoon, Uttam, a sadhu and devotee of Shree Maa and Swamiji, took us on a parikrama (circumambulation) around Gangotri. Along the way, he took us to see his room, which was a small, cave-like structure, but felt perfect for a Sadhu. Looking out his small door, you could see beautiful snow covered peaks of the Himalayas.
During our parikrama around Gangotri, we stopped at the Harihara Ashram. It is a small ashram where about a dozen sannyasis live. The buildings are simple constructions with tin roofs and there is a small Shiva Temple in the center of the ashram.
Nearby the Ganga flows and comes to a particularly beautiful point called Gauri Kund.

The rocks at Gauri Kund have been smoothed by the flow and force of the water, and the water slides across their smooth surface like a funnel, making a small waterfall.
Swamiji sat and talked with the sadhus there for some time. Everyone there was expressing the greatest humility. When they sat together with Swamiji to talk, instead of it being a race to the top to make oneself the biggest and most important, it was a race to the bottom! Each person would only point out the greatness of the others in a sincere way. It made for a sweet and loving atmosphere as they sat together in satsangh.
They sincerely wanted to offer something to Swamiji, but Swamiji said, "I only want your love and blessings, that alone is the best offering." They all smiled and laughed, and continued to request Swamiji to take some tea or fruit. Eventually Swamiji ate a little fruit to respect their request. They were very glad.
After walking around most of Gangotri, we finally came to the Gangotri Mandir. They open and close the Mandir at different times during the day. We were fortunate to have come just 20 minutes before they would open it again.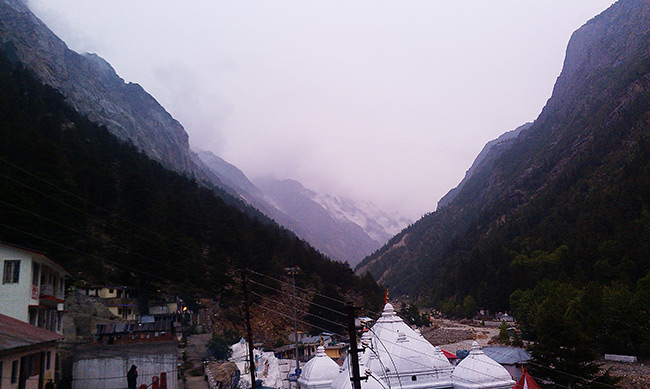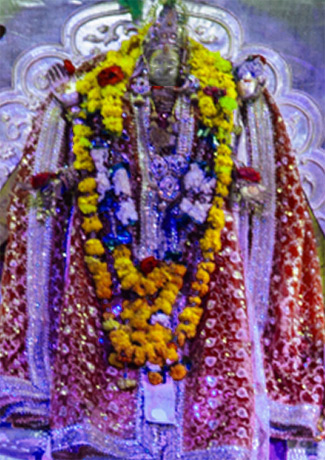 When they opened it they allowed all of us inside to take darshan of the murti of Mother Ganga. Many people were there waiting to give their respect to the image of Ganga.
Seeing the murti of Ganga Maa, I thought of the rishis of old, whose love of God was so great that they found him and worshiped him in every form they saw.
To see God in the rivers, the mountains, and the sky is truly a beautiful and inspiring sentiment.
The next day we again awoke early in the morning to begin our recitation of the Bhagavad Gita and Chandi.
When we finished worship, we ate breakfast, gathered our things, and made our way back to the Harihara Ashram where we had visited the previous day. Swamiji wanted to chant in their Shiva Mandir.

As soon as we came, the sadhus welcomed us back and invited us to do whatever worship we liked inside the temple. It was a divine setting for worship with the Ganga flowing close by, the mountains surrounding us, and in an ashram with fellow sadhus.
We sat down in the temple and set up our broadcast equipment and mic. The head of the ashram, Swami Atmananda, was very surprised to see all of our equipment. We showed him the computer with the broadcast equipment and he was quite impressed.
We began the Shiva Puja. I gave my iPad to Swami Atmananda so he could worship along with us. It is a small ashram of maybe ten or so people. Everyone there could easily hear our chanting and soon the small temple was packed with the residents of the ashram all peering in to look at the mantras on the iPad.
It was so much fun to watch them chanting from the iPad! Indeed, they enjoyed it to!
Swami Atmananda quickly caught on with the iPad and took over turning the pages. Some others who couldn't see sat meditating and listening. It was so wonderful and joyful; everyone was there just to sing to God. It was a beautiful feeling to be in the middle of such a satsangh. Though the buildings were old and humbly constructed, the devotion was brilliant and new!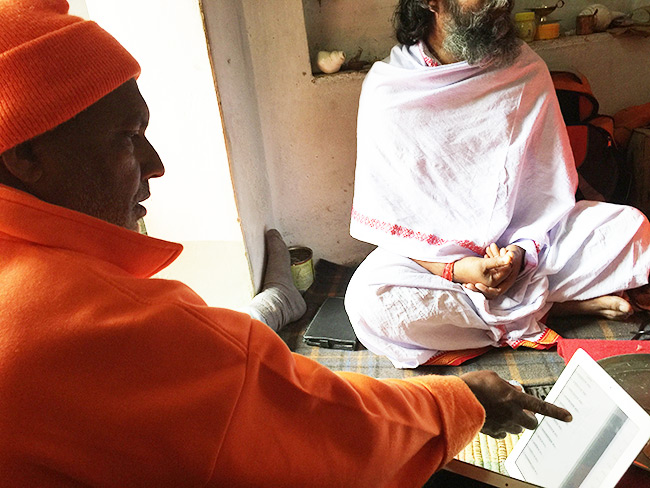 Swamiji offered sweets and dakshina to the ashram as a part of the Shiva Puja. Swami Atmananda looked at Swamiji and requested, "Swamiji, you please distribute the sweets by your own hand."
Swamiji agreed and each sadhu came one by one to take prasad from Swamiji. Swamiji offered them each sweets and dakshina and they all received it joyfully.
Afterwards we all took photos together, and they requested us to please drink refreshments with them. We all sat together enjoying the serenity of that ashram in the unity of the divine.

Swamiji then pulled out his iPad and started showing them pictures of our own Devi Mandir. Listening with rapt attention, the sadhus gathered around Swamiji when he started to explain our various apps and books.
As questions were asked, it was apparent that, indeed, we have a lot to offer the sadhus of India – from ancient scriptures on an iPad App to the fundamentals of spiritual business and how to run an ashram, we can provide guidance and support.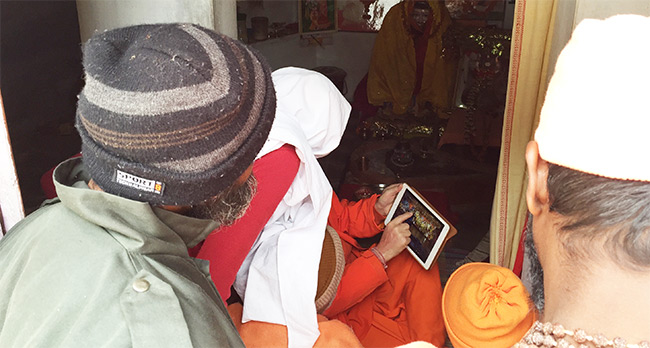 It was such an amazing experience to be able to perform sadhana together with those humble sadhus and to make an offering to them to help support their way of life.
They invited us into their ashram with the greatest respect and truly appreciated our knowledge and example of sadhana. Before departing, they asked us to please come see them again the next time we are in India.
Of course, it is our joy to visit such places where people's minds and lives are dedicated to God!
---
Sadhu Life in Gangotri: An Interview with Swamiji
The last travelogue on Gangotri, which included over 70 pictures, sparked several questions in my mind about the sadhu way of life in India.
I found myself wanting to learn more and more. Through the days, my thoughts were constantly migrating back to questions on Gangotri – trying to gain a better perspective and appreciation of the sadhu lifestyle. I even became eager to better understand Swamiji's objectives.
So I took a chance and wrote to Swamiji, requesting some of his time so I could interview him online. He agreed.
I hope this post satisfies some questions that perhaps you, too, were wondering. I hope it touches your heart as it did mine. I am most grateful to be able to share this with you.
Namaste Swamiji, I am wishing you well on your spectacular yatra through India. Can you summarize your mission? What are you hoping to accomplish on this yatra?
The objective of this yatra is to expand our outreach to the sadhus in the Himalayas. We want to help support them — through sharing our inspiration, worshiping with them, feeding them, and offering dakshina (financial support).
Ideally, we want to identify potential synergies where, together, we can mutually support each other. Together, there may be opportunities to make a more significant impact.
You have heard me tell the story of when I was a young boy, I had a vision that humanity joined hands in one circle around the earth in peace. My journey to India reminds me a lot of that vision.
This yatra is important because it is the foundation on which I will build a broader long-term plan which expands our outreach. This is really exciting!
This is exciting. What is the goal when you visit an ashram, temple, or geographic region?
As I discussed above, our overarching objectives are to share our inspiration, to support the sadhus, and even potentially join in partnership with fellow like-minded sadhus.
In addition to the joy of performing sadhana, we aim to show sadhus how spiritual teachings and ancient scriptures can be globally disseminated through modern day technology, such as internet broadcasting and the usage of Apps.
We wish for their collaboration to help us expand our teachings and to inspire more people to join in our sadhana. In turn, we would like to give them an opportunity to use our skills and technology to expand their outreach if they choose to.
So far we have been very well received and treated with the utmost of respect.
How do you know that you are having an impact in India?
It is difficult to quantify or measure our impact, but I get indications.
In fact, this morning we chanted the Gita and Chandi sitting overlooking the Ganga, which was really a delight. (I hope you had a chance to enjoy the many photos to get an idea of what we were looking at and the surrounding environment we are experiencing.)
When we rose from our asana, I met Tapasya, a lovely devotee from the Czech Republic. She reminded me that we met about four years before in Rishikesh (she knew the exact date). She explained that she was so inspired that she has since purchased all of our books and Apps and has been staying in the area of Gangotri and Tapovan, performing various practices.
Now that is an impact! To me, there can be no greater accomplishment than changing someone's life through sharing our inspiration and the knowledge inherent in our tradition.
I am encouraged that if we purposefully give more than we take, we will make an enormous difference. We will be one step closer to humanity holding hands around the world.
This is a very nice example. Thank you. Where are you staying? What are you eating?
We are staying at the Ishwasya Ashram, an ashram with adequate living quarters overlooking the Ganga. The Mahant (chief priest of a temple, head of the ashram) tried to make us more comfortable, and even made a private kitchen available for us. We do have two rooms between the three of us, with hot water and a private toilet.
There are no fresh veggies in the bazaar as Gangotri is located at an altitude above 10,000 feet. Whatever there was had to have been at least a week old, dying and decrepit, so mostly we passed.
People here eat mostly rice, dhal, and some beans. We did the same. Using the small kitchen with a portable propane stove, we cooked most of our own meals. We ate simple meals like black and white chana (garbanzo bean), rajma (kidney beans), mixed with some peanuts. We also made daal and occasionally a simple vegetable.
The ashram also provided lunch and dinner free of charge, and we sometimes ate there, except I stuck with my strict diet. They usually had rice, roti, dal and a vegetable.
On one occasion, some sadhus served us papaya, which I humbly accepted. To think that these kind and generous men would cut up a papaya for their visitors, when it is a struggle to cook a potato for themselves, filled me with the awe of respect.
I assume you drink bottled water? How is the local drinking water?
We brought bottled water with us and Adaitya and Prahsant are drinking that. I was quite sure we didn't need to do that, and that we could drink the local water, but we didn't want to take any chances of getting sick. I, myself, drank the local water without hesitation and had no problem.
Gangotri water is pure because it is far north with very few places upstream from it. In fact, Gangotri is the origin of the Ganges River. This is its significance. The water is very clean — very pure.
Anything more you would like to add on the significance of Gangotri?
Gangotri is split into two distinct areas. On one side of the river, the side where the Ganga Maa Temple is located, it is more commercial. Meaning, you get a constant stream of people who are there to visit Gangotri for just a few days. There are also many shops and guest houses on that side.
On the other side of the river, there are fewer people, it is not commercial, but rather it is where you find the ashrams. The Ishwasya Ashram is located after you cross the bridge from the busy side, and it is certainly one of the largest ashrams. Because it was constructed in the 1980s, it has a few more amenities than many other ashrams.
Further down the river (further away from the bridge) is the area where the sadhus have their ashrams. It is quiet there, with peaceful surroundings.
Anything more you would like to add about your accommodations?
Yes, the Mahant is so generous. He asked us to stay a few days more, which we agreed to. Then, he gave us another area for our morning sadhana overlooking the Ganga. I love the hospitality of India.
Note: Since the time of this interview, Swamiji has since checked out of the hotel. He wrote — There are many kinds of ashrams with many different standards, but so far, unequivocally, every place we stayed they said to us, "We are an ashram, not a hotel, and we will not charge sadhus! If you would like to make a donation, you are welcome, but by no means is it necessary for you!"
I can see that, Swamiji. You look very happy in the pictures. I very much enjoyed all of the photos, but the ones that struck me were the huts that the sadhus lived in. I am interested to understand their living conditions. What is the temperature like in the summer? What about the winter? Do they live there all year long?
I am glad you enjoyed the pictures of our Gangotri tour led by Panditji. We visited Surya Kunda, Gauri Kunda, and the cave where he is living. We met an old Nepali Mahatma, who shares the ashram with him, and then visited a sannyasi ashram named Harihara Ashram, which housed a Shiva Mandir.
The living conditions are very rustic as you can see from the pictures. It is one step up from living in a cave. Each of the sadhus live in rooms the size a little bigger than the wooden cots upon which they slept. They keep all of their possessions underneath their cot.
They mostly bathe in the Ganges. I did not see electrical outlets in their rooms, but there was an electric outlet inside the temple.
I feel bad about their poor living conditions. What can we do about that?
These sadhus were so polite, respectful and happy. It was a joyous meeting. Their richness in spirit far outweighs their poor living standards.
Please don't feel badly for them. Understand, the simplicity of their life style
is
their tapasya.
Their respectful language and loving welcome made me remember when Ram was wandering in the forest with Sita and Lakshman. They moved from ashram to ashram and received the blessings of all the great souls. It is so inspiring to be here.
I will try to keep your perspective. Looping back — what are the temperatures?
Oh yes, the temperature – in the summer time the high temperature is at most 70 deg F, cooling down to 45 deg F in the evenings. I started every morning with a shirt, sweater, jacket, shawl, hat, and muffler. By noon I was only wearing the shirt; but a light sweater was optional. After 3:00 in the afternoon it started to cool down, so we started to re-add the layers.
I would estimate that there are only about 1,000 residents in Gangotri. Nobody lives here in the winter time. They all drop down to at least 1,000 feet in elevation, and they move the Ganga Maa murti to a village near Harsil (a town located between Uttarkashi and Gangotri).
All of the priestly families have two houses, one in Gangotri, where they live for almost six months, and another in the lower altitude village to where they move the murti.
Who supports the sadhus? With only 1,000 residents I can understand why there isn't a lot of support.
There is a difference between the priests and the sadhus. The priests usually get a salary from the Temple. They are householders doing priestly functions as a full time employment.
The sadhus on the other hand, are unemployed and supported by free will donations from the pilgrims. You know, visitors, like us. This is why it is such an honor to get the privilege to offer them dakshina.
Also, many of the ashrams in India have become more like institutions, and many of these institutions support several sadhus.
I understand. But what sadhana do these sadhus perform? Do they typically worship together or individually? Do they have the same intensity and love of God as you do? Do the sadhus help serve the community? Sorry for all of the questions, I know it's a lot.
I assume you are talking about the sadhus at the Harihara ashram. So far we have met every type, ranging from people who were are just hanging out to those more scholarly and who tried to speak with me in Sanskrit.
One thing was common: so far, wherever we have gone to share our love and our sadhana, we have been treated with a remarkable respect, love, graciousness, which I can only call Divine Grace!
When we arrived at the ashram, there was a sadhu chanting in the Shiva Temple, and a few of them were in silent meditation. Also, some were reading from scriptures, like the Bhagavad Gita. One of the older sadhus was in mediation while he was awake. He never uttered a word.
They do perform arati together in the morning and evening and they have a resident pujari look after the small Shiva Temple.
Do you feel the sadhus and priests you have met are living the ideal of perfection? Are they giving more then they take? How are they contributing to the community and to each other's spiritual development?
I can only talk on an individual basis as there were just too many varieties of people to make a definitive statement one way or the other.
But looking at the generosity of spirit, one can conclude that, for the most part, they are contributing. For example, when we went to the Main Gangotri Temple, where the murti of Ganga Maa resides, the Head Pujari came out from the office, and upon seeing us, he invited us inside. We were treated with such respect.
The other temple priests were also curious about the sadhana that we were performing.
When they opened the temple, there was a long line of people who had been waiting for darshan. The thoughtful priests took us in through the Exit door so that we would be first for blessings and darshan of Ganga Maa.
This sounds so great. Swamiji, I know one of your goals is to teach how to manage an ashram. So this question is about ashram economics. Was Swami Atmananda, the head of the Harihara Ashram, a teacher, or a guru, to the sadhus living there, or is he running an ashram where a collection of sadhus stay? Do the sadhus have to pay to stay there? How did he make funds to keep the place going?
The head of that ashram was not a teacher. Someone from an institution put him in charge. I know he did not teach. But we were not there long enough to find out about the structure of how their economics work.
When we left, we made a donation to the temple, and to each of the sadhus individually.
Yes, I saw pictures of that. They looked very grateful. Did they speak to you in Hindi? Do they know English?
They were humble and very appreciative. Most of the sadhus spoke to me in Hindi. Only one sadhu in the Harihara Ashram, that I know of, spoke English. As for the local people, Hindi is most common.
Swamiji, this is such a fascinating trip. Thank you so much for sharing it with us. How can the Devi Mandir family inspire sadhus like these to progress more, both economically and spiritually?
By doing just what we are doing. Meaning, what we are doing here in Gangotri is doing just that!
By visiting them, chanting with them, inviting them, giving them some food, showing respect, and offering dakshina (financial support), I hope that has changed many peoples' lives.
The Devi Mandir family can help me support this effort.
When do you leave Gangotri? What is your next destination?
We leave tomorrow to travel by car to Uttarkashi. It will be a four hour drive through the beautiful Himalayas.
Thank you for answering all of my questions. Swamiji, do you have any final comments?
We send you all of our love and blessings to the family.
I sincerely thank you all for this opportunity to enjoy sadhana in the Himalayas. We are representing the family, all of you, and I believe we are making a difference in the lives of people we meet and greet.
---
Back to Uttarkashi and Meeting Babaji Sitaramdas
We descended from Gangotri by car and enjoyed the scenic travel to Uttarkashi. We followed the winding Ganga through quaint villages such as Harsil, where they situate the Ganga Maa murti during the winter season.
The ashram in Uttarkashi has become our home base from which we travel to different places through the Himalayas.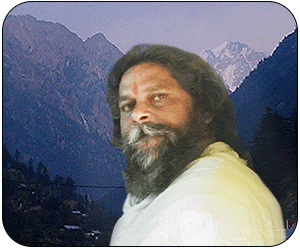 There are still many temples and ashrams in and around Uttarkashi that we have not yet visited. Again, we took the help of Uttam Pandit, who was our guide through Gangotri.
Uttam is familiar with the area and has been so gracious to give of his time. He knows of places to worship away from the ordinary tourists and has been essential to us on this yatra.
One temple Uttam took us to was a nondescript Sankat Mochan Hanumam Temple outside of Uttarkashi, a simple not very old construction on a very low scale.
The Hanuman temple itself was one room 8 X 10', with maybe four other rooms of similar size in the ashram. There was also a small Shiva Temple outside, near to the other buildings. Even though the ashram is on the bank of Ganga just outside of town, it is a very humble residence.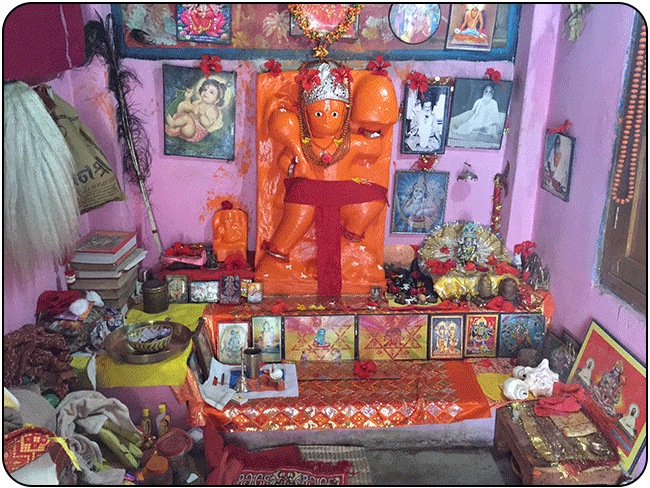 When we arrived there we were greeted very warmly by one of the long time sadhus who resides in the ashram. He wore a warm smile and offered us a place to sit and inquired if we would take any refreshments.
Swamiji declined saying that we would like to do our worship before taking prasad. The sadhu happily accepted and we made our way to their Shiva Mandir, close to the bank of the river.
We passed some of the younger residents of the ashram on the way, but they did not say anything or greet us. Rather, they just looked on for a moment as we passed by.
Swamiji commented that it is not uncommon for the older more distinguished sadhus to be more humble than the younger ones. Swamiji's point was later well proved when we met the head of the ashram, Sitaramdas, who conducted himself with the greatest of humility and sweetness.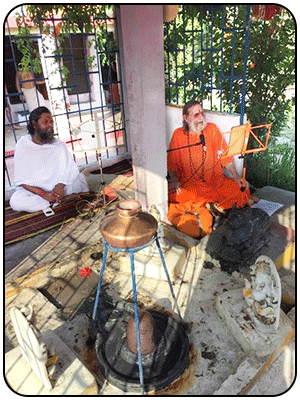 We sat down in the Shiva Mandir, setup our broadcast, and recited the Ganesh Sahasranam and other stotrams for Ganesh.
Swamiji was using a mic with a small speaker to project his voice.
No one was disturbed, or startled, by our chanting. They seemed to continue performing their regular ashram duties as normal.
Occasionally though, someone would stop to look or listen – they seemed particularly curious about our technology.
Just beyond and down from the Mandir, the Ganga could be heard flowing by and the mountains that surround Uttarkashi were shining in the distance. The Shiva Mandir is completely open to the outside air, but it had a roof over head to shade us from the sun.
When we completed our worship they invited us for chai and coffee. While we were accepting the refreshments, a man came down from upstairs and told us that Babaji, meaning Sitaramdas, would like to see us.
Words from Swamiji…
"After finishing our refreshments, we went upstairs, and found an 80 year old man who could have been everyone's Grandpa, sitting on a wooden cot, trying to straighten his fingers.
He had filaria (filariasis), an infection transmitted by mosquitoes that causes swelling of limbs. His leg was swollen and his fingers were bent, but he had a twinkle in his eye that was luminous with joy and laughter.
Because I too am an old sadhu type, they put a chair for me to sit in, directly in front of him. And then we started to party!
I don't know how long we were there; it could not have been more than half an hour. But when we stood up to leave, we were hugging, and laughing, and loving, and sharing what can only be labeled as sat sangh."
Their conversation had been completely in Hindi, but due to the expressiveness and enthusiasm in their speech, I was able to follow along quite well. Swamiji and Sitaramdas shared many common experiences and ideas.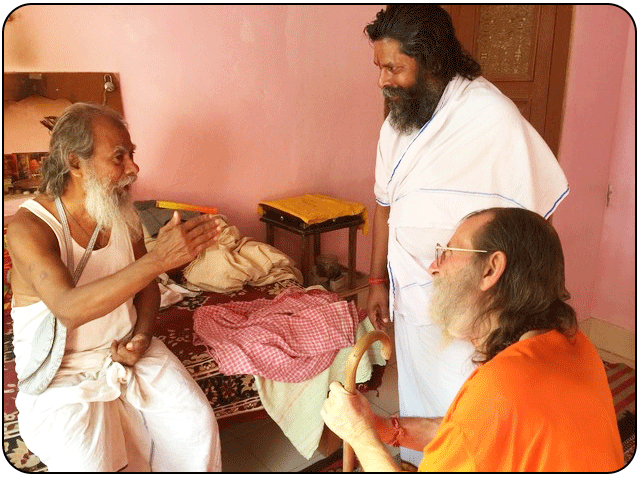 One particular statement from Sitaramdas comes to mind, "I don't need more than this one room, I don't even need to go outside of it. If you can't find God inside, then you won't be able to find him outside either. God is within, we must seek him within."
It was such an incredible privilege to be there together with both of them. Both beaming with light, both beaming with joy, and both beaming with wisdom!
Jai Swamiji!
---
Kedarnath Mandir, Uttarkashi and Bhagavandas
The next temple we visited in Uttarkashi was Kedarnath Mandir (not to be confused with the Jyotir Lingam by the same name, though there is a good reason for the name!)
The alley ways to reach the temple were narrow, and only navigable by the smallest of cars (generally they are a place of foot traffic and motorcycles). We reached the temple, and saw the Ganga was flowing nearby. Between the temple and the sacred river, there is a Banyan Tree with a concrete Vedhi built around its base.
Interestingly, there were some black cloths hanging from its limbs. I had seen many a Banyan tree decorate outside a temple with red cloths from Puja, but never black ones.
I asked Swamiji about it and he said he hadn't seen it before, but it was probably an offering for Shani (Saturn). We asked Uttam who was with us, and he affirmed that Swamiji was correct, they were offerings to Shani.
We came to the large doors of the temple and realized it was already closed. Some of the larger temples in the area close and reopen during certain times of day, while many of the smaller temples simply stay open. Luckily for us, Uttam was familiar with the temple and they allowed us in, despite it not being open to the public.
First, we went to meet the main sadhu who lives at the temple, Bhagavandas. He was seated in a small room with his few belongings in it. I could see there were also some puja materials here and there in his room.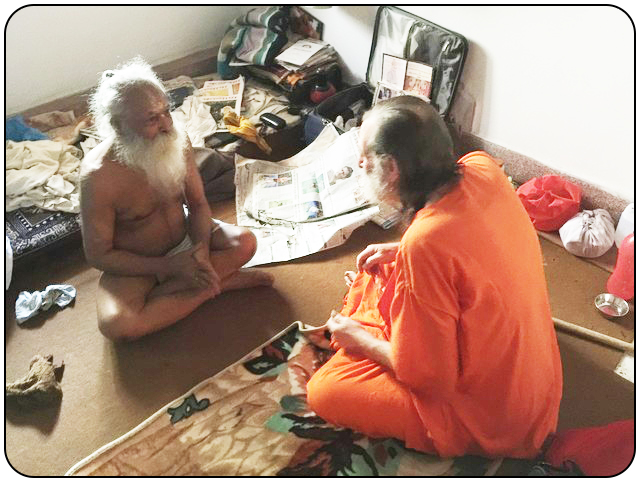 His eyes were bright and he had a humble and sweet disposition. He and Swamiji sat together and conversed for some time, enjoying each other's company.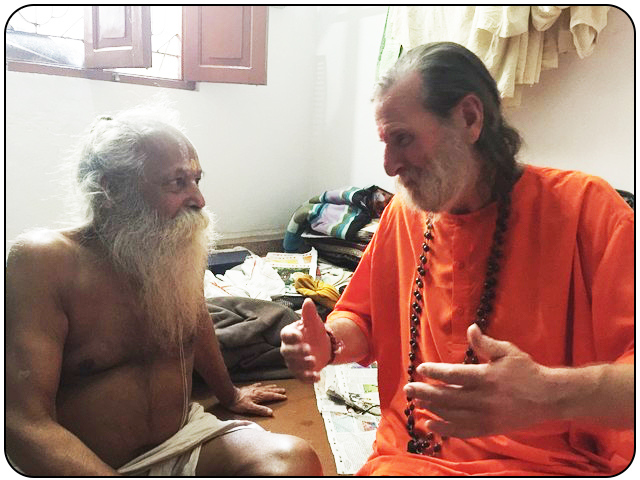 Bhagavandas explained that when the Shiva Lingam (which the temple is built around) had been discovered, they dug down almost 9 feet under the ground searching for its end. After digging so far and not finding the end of it, a number of snakes appeared from underneath the lingam, and they decided not to dig any further, but rather built the temple around it.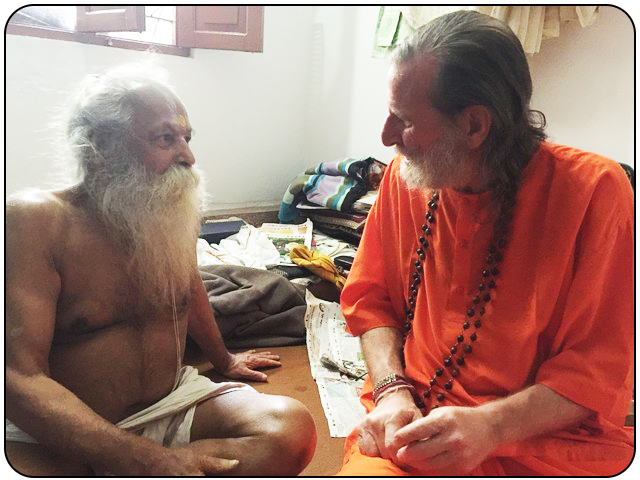 Though we were only with Bhagavanas for perhaps a half hour, he and Swamiji related as if they were friends for lifetimes as they posed for one final photo together.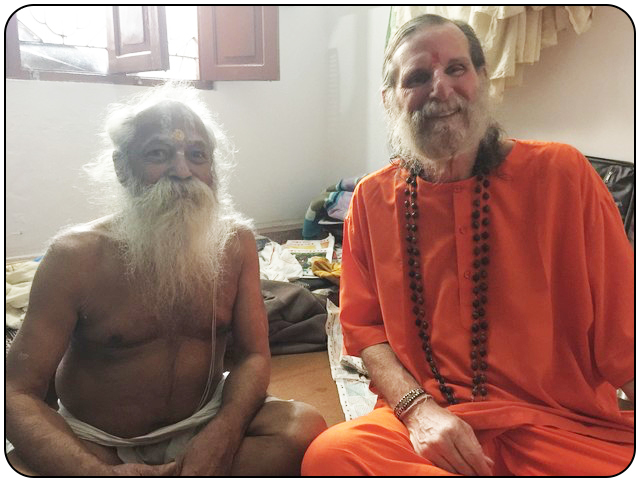 After hearing this fascinating story of the temple, we gave our pranams to Bhagavandas and made our way to the Shiva Mandir to perform our worship. Since the temple was technically closed, there was no one in the Shiva Temple, not even a pujari.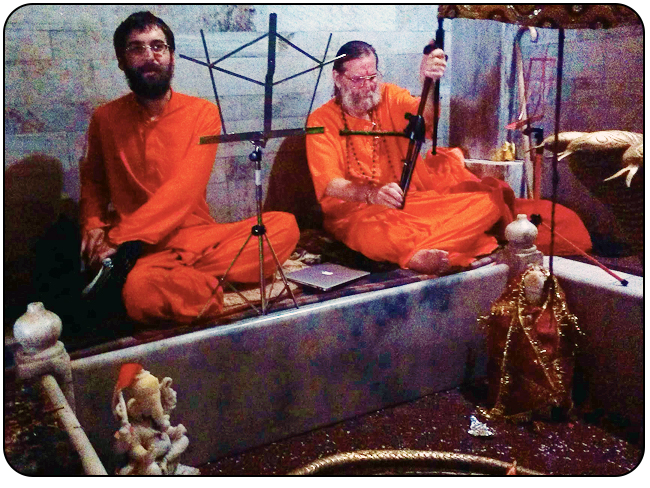 Usually the larger temples have a pujari constantly on duty. We felt very lucky to have the temple to ourselves! We set up our broadcast equipment and we were soon lost in the joy of worship. We recited the Shiva Sahasranam and other stotrams for Shiva.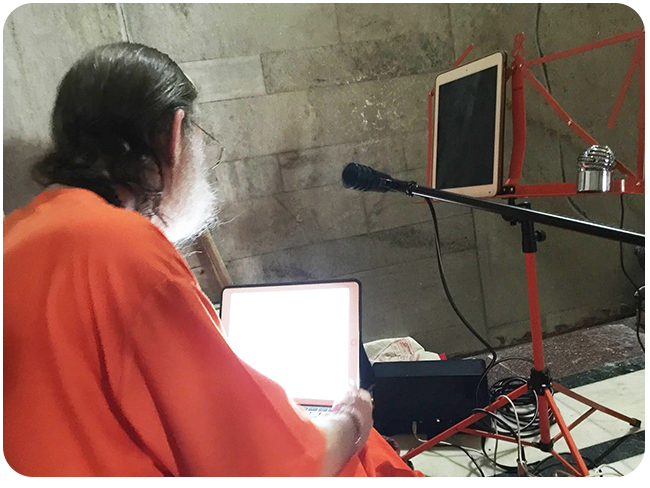 While chanting, eyes fell again and again on the Shiva Lingam, which had a very interesting form. It was a very powerful place to perform worship.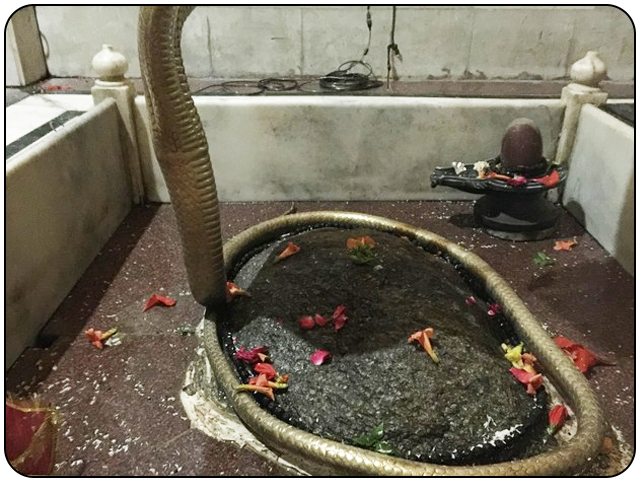 Again looking at the Shiva Lingam, I remarked to Swamiji that it was one of the first truly Swayambhu Shiva Lingams I had seen. Swayambhu means "self born", meaning, it is a Shiva Lingam which has come to be on its own, not carved or (supposedly) even placed there by man.
I have seen many temples that proclaim that the Shiva Lingam there is Swayambhu, though by and large, they are just claims. This one, however, was certainly a naturally occurring Lingam! Though its shape may seem strange to some, Swamiji recounted that it looked just like the Jyotir Lingam in Kerdarnath by the same name.
The small room built around it looked the same as well, and Swamiji commented that it also had the same bhavana (spiritual feeling or attitude) as Kedarnath. How amazing that we had this gem of a temple all to ourselves! No sound could be heard except for our chanting which echoed powerfully through the small enclosure of the temple.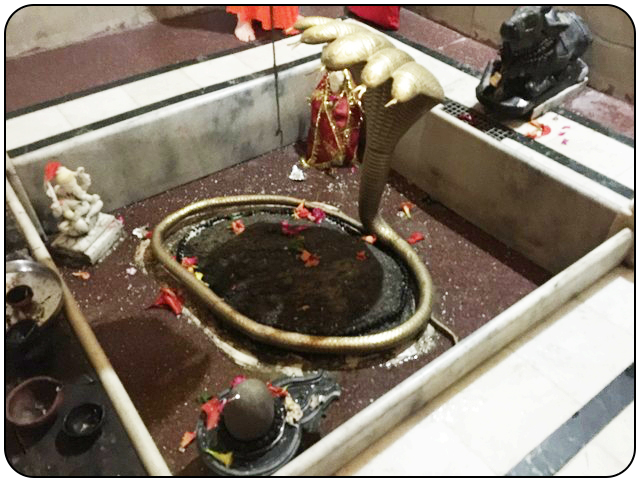 Adjacent to the Shiva Mandir, there was a beautiful Ram Mandir, where we made a small offering after finishing our Sadhana. After paying our respects to the Ram Mandir, we again returned to meet with Bhagavandas before leaving.
Swamiji made an offering of dakshina to him. He looked at Swamiji and said sincerely, "How can I accept this offering from you when I have not yet given you anything? You have come and performed worship in the temple and now are making this offering, but I have not yet been able to give anything to you. Please eat here in the temple."
Swamiji smiled, and said "I have only come here seeking your love and blessings, that is more than enough me. I am completely fulfilled with that."
Bhagavandas was contented with that response and smiled. We gave our pranams to each other and returned to the main temple area.
While we waited for Uttam's return so we could depart, we stood looking into the small worship area around the Shiva Lingam. On the wall outside the Rudrashtakam was written in Sanskrit. Swamiji began chanting it and I joined with him. We stood there happily chanting the Rudrashtakam, when Uttam came.
When Uttam approached, he did not realize we were chanting from the sanskrit on the wall, and he inadvertantly stood in front of the wall. Swamiji smiled and gently moved him to the side, and then Uttam looked around and realized what we were doing. He smiled and also began to chant with us. We finished the stotram, and took our leave of the temple.
During our travels, Swamiji constantly exemplified the teaching "Being spiritual means giving more than you take." He has given an example of sadhana, dedication, love, humility and inspiration everywhere we have gone.
Normally, pujari's collect dakshina for performing worship, but Swamiji gives dakshina to every sadhu, ashram, and temple we visit. This is his expression of appreciation for the opportunity to worship in the temples and to share his love.
Everywhere we go, the local people want us to stay in their ashram and will not even charge us for it. I am not surprised – who would want to send away a Swamiji who is really truly spiritual and who is always giving more than he takes?
---
Yamunotri
From Uttarkashi we made our next journey to Yamunotri, which is situated about 30 miles north in the Garhwal Himalayas at an altitude of almost 11,000 feet.
The village of Yamunotri is significant as it is where the Yamuna River is sourced. As with the Ganges River, the people of India worship rivers as the Divine Mother, so it is not surprising that there is a very special temple for the Goddess Yamuna located in Yamunotri.
It is this little yellow and red temple that pilgrims from all over the world trek up a steep mountain path to receive the grace of Her darshan.
Pilgrims journey by vehicle to the base of the mountain, then walk up the 5 kilometer (~ 3 miles) path along the side of the mountain. People of all ages make this journey, and there are various services to aid them in the walk, such as horses (donkeys) and palkis.
By the time we arrived at the town located at the base of the Yamunotri, from where the walk begins, the sun was setting and dusk was approaching.
We knew there was not sufficient time to make the walk uphill, so we stopped at a Government rest house, which was only 15 minutes away.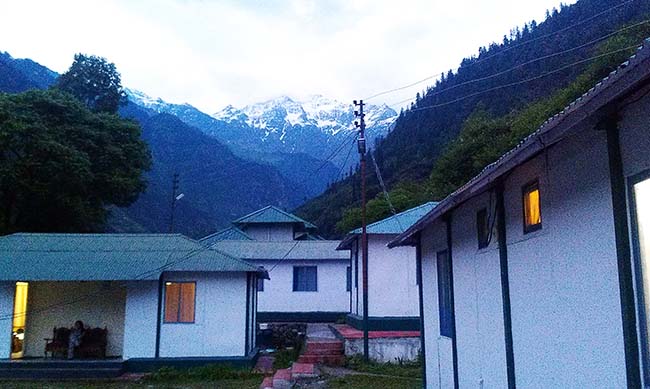 We could feel the divine atmosphere of Yamunotri and the housing afforded us a magnificent view of the snow-covered mountains from where the river flows in the distance.
With nothing but forest all around, we rested in this peaceful setting for the night and fell asleep with eager anticipation of our journey in the morning.
We woke up early in the morning and as we departed from the rest house we walked past some old buildings, which looked to be homes back in their day.
As we approached closer, we noticed that these buildings are still homes, not to people — but rather to cows!
A few cows have taken residence and were in restful slumber on what was once the front porch of the house — such an amusing sight to see these bovine householders.
We arrived at the parking lot at the base of the path to Yamunotri, and were struck by a surprising sight: a bus had been poorly parked and somehow drifted into the river!
Upon seeing this, I couldn't help but be grateful that I was traveling with Swamiji and not on that tour bus.
Our guide, Prashant, took extra precautions to make sure nothing like this would happen to our vehicle.
The time had approached for us to start up the footpath. Prashant, Uttam, and I had planned to make the journey on foot and Swamiji, by horse or donkey.
We came upon a donkey stable where, for a few moments, Swamiji could be seen sitting calmly, checking out his selection of vehicles (donkeys) while he quietly waited his turn.
The lucky donkey that performs the seva of transcending Swamiji up the mountain top is a fortunate donkey indeed!
The stable owners found the perfect white donkey for Swamiji, and helped him into the saddle. Swamiji was all grins and, of course, I couldn't help but take several pictures to share with you all!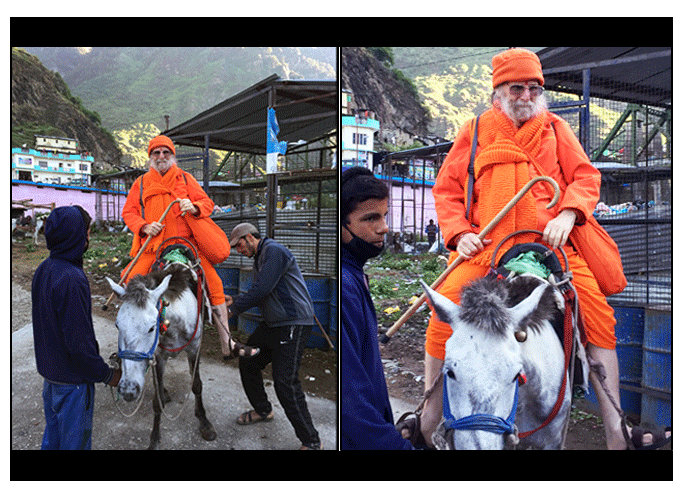 Then suddenly Swamiji started giving blessings while sitting on the donkey, so I snapped a few pictures of that as well.
"Click – cluck — click — cluck" were the sounds from Swamiji's donkey as his hooves slapped against the mountain path. Swamiji looked comfortable and happy.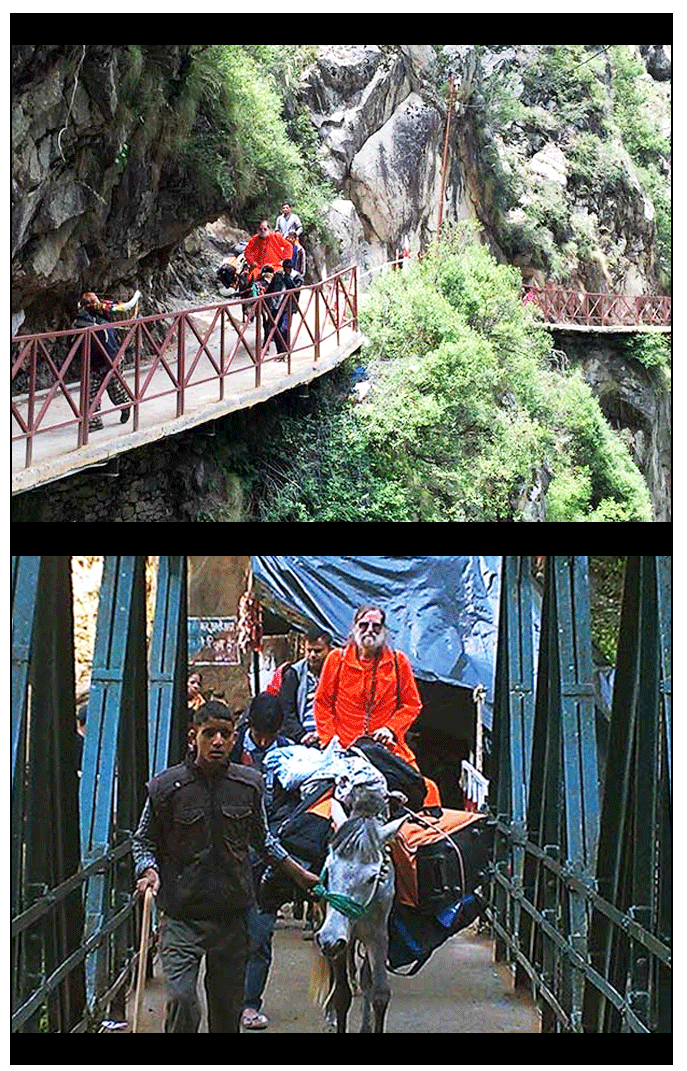 The donkey himself was a pure expression of dharmic seva (the ideal of perfection as it pertains to service) as he slowly, tirelessly, and with no resistance, ascended that steep climb not only carrying Swamiji on his back, but also our luggage, computers, and broadcasting equipment!
When we saw how steep the incline was in some places, we all thought that it was a good thing that Swamiji was on the donkey.
It was difficult for even me to walk in some places. However, the beauty of the surroundings as we ascended into the mountains far outweighed any difficulties we experienced during the climb.
Words and pictures cannot describe the magnificence of the Himalayas, but I found myself trying to capture it as I ran further ahead to snap a picture of Swamiji against a landscape backdrop. Can you find Swamiji in the picture below?
The majestic streams of the Yamuna flowed spontaneously down from the mountain with great freedom, as if it were calling to us to remember our higher nature, which is totally free, with no bondages and limitations.
The nature and scenery were so inspiring that I felt like singing to the Goddess – over and over and over again — if only I could catch my breath!
Swamiji was comfortable though, and I am sure he was singing and chanting mantras in perfect rhythm to the donkey's percussion.
Prashant became tired mid-way through the journey and his step became slower than a turtle's.
His slow crawl gave him an opportunity to notice a young girl, about eight years of age, who was coughing, wheezing, and having great difficulty completing the climb.
Concerned about the girl's well being, Prashant requested the girl's Grandmother to please put her on a horse.
The Grandmother responded that she didn't have the funds to hire a horse.
In a spontaneous act of kindness, Prashant then offered to hire a horse and take the girl with him.
This was a perfect solution for both of them!
We finally reached the top of the mountain and were looking forward to resting our weary bodies.
Having the luxury of the donkey, Swamiji was not tired and wanted to waste not time. So he and Uttam immediately proceeded out the door and over to meet Nepali Baba, who is the Mahant (religious superior) of the Akara (term of respect, excellence) at the Hanuman Mandir.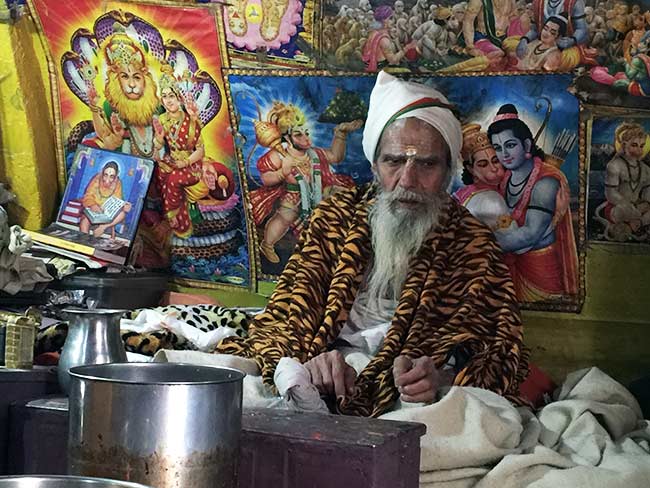 Nepali Baba, also known as Shri Ram bharose das Baba, has become famous amongst serious devotees seeking spiritual elevation. He is a very pure holy man who has stayed in Yamunotri for over fifty years — never leaving, not even in the wintertime!
Similar to Gangotri, all of Yamunotri closes during the wintertime and everyone descends to lower altitudes, but Nepali Baba and his disciple stay.
His blessed Hanuman temple is warmed in the wintertime by a very auspicious natural hot spring located adjacent to his temple, and under the Yamunotri Temple.
Nepali Baba is a true sadhu who spends his time in the temple doing sadhana, meeting devotees, praying, and reading scriptures. When I visited the temple, I watched him perform a homa in the morning, and then he met with devotees and read the Ramayana.
His life is very structured and disciplined, similar to Shree Maa and Swamiji, who have set times for worship and other activities during the day.
Also similar to our tradition, Nepali Baba offers a place to stay and food to all who come there, never asking for money.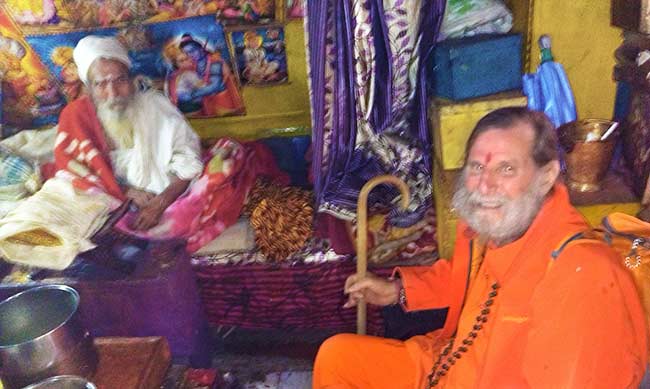 Watching him gave me a better understanding of what Swamiji is striving for as the ideal way of life for a sadhu. I now have a better appreciation for it and have profound respect for those that live this ideal.
In the evening, we took a short walk to the Yamunotri Temple and bathed in the hot springs prior to worship.
It is the tradition in Yamunotri to bath in the hot spring, which gets its water from the nearby Suryakund, and to perform a short puja to the Divya Shila, which is the rock from which the Yamuna River originates, prior to going into the Yamunotri Temple.
Also, devotees have the opportunity to boil rice and potatoes in the Suryakund and offer to Goddess Yamuna. The priest returns it to us as prasad!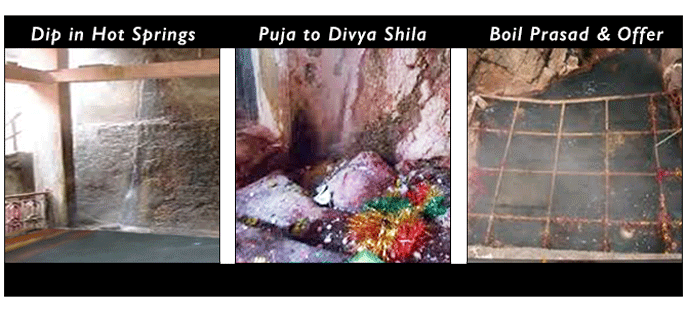 The hot spring warmed us up prior to chanting in the evening. What a delight! The water is hot, but the outside temperature is cool, so you feel warmed for a while after the bath.
When we entered the Yamuna Temple, Uttam explained to the pujaris that we would like to chant. The pujaris gladly accepted and put out a blanket for us to sit upon.
We setup our little mic system, and all the pujaris sat down with us and listened respectfully as we chanted Durga Dakaradi Sahasranam, Durga Chalisa, and Lalita Trishati.
Many people started trickling in for evening arati so they too listened to our recitation.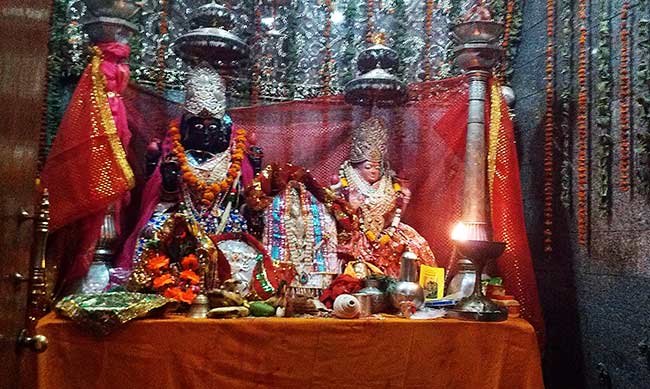 One pujari sat next to me so he could see my iPad screen to read along, but he also took on the duty of making sure none of the pilgrims to the temple knocked over our mic or music stands in their fervent bowing down and walking around the temple.
What wonderful respect they showed us! They really appreciated and supported our sadhana there.
When we had finished with our recitation, I noticed that a small pile of rupees had accumulated in front of us which passing pilgrims had offered as dakshina to us.
I asked Swamiji what should be done with it, and he told me give it to the pujaris sitting with us.
I turned to the pujari who had been sitting next to me, and began to recite the mantra for offering Dakshina. He was quite amazed to hear me chanting the mantra and spontaneously uttered "Wow!" We gave our pranams to each other and went to rest for the evening, as it had become night.
In the morning we immediately made our way to the hot spring and then back to the Yamunotri Mandir. We told the pujaris that we hoped to perform our normal morning sadhana there, which was then the cover-to-cover Chandi and the Pancharatna Gita, which typically took a total of six hours.
The pujaris were worried that with so many people coming in and out of the temple that our sadhana would be disturbed. Uttam suggested we go to the only other temple in the main Yamunotri area, Sankat Mochan Mandir (Hanuman Mandir), where Nepali Baba stayed. We agreed and made the short walk there.
We were warmly received and given a good place to sit inside where we would not be disrupted by pilgrims coming in and out of the temple.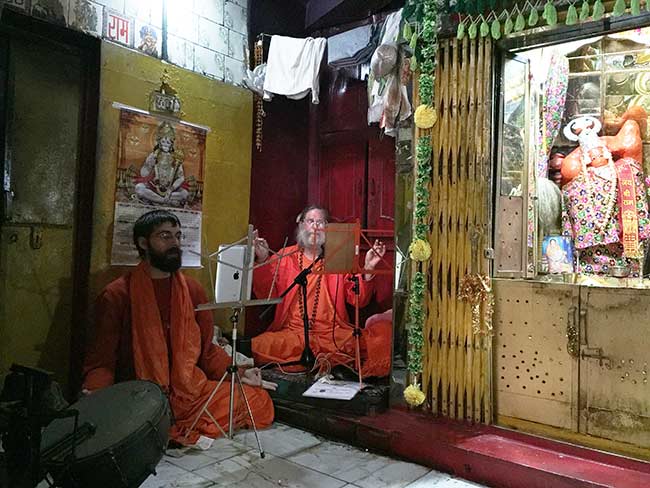 We began our recitation of the Pancharatna Gita. Nepali Baba after some time also began his morning homa and the temple atmosphere was filled with sadhana. Nepali Baba was chanting on one side of the small temple, and we on the other side.
After completing his homa, he took a break, but by the time we began our recitation of the Chandi Path, he began his reading of the Ramayana. How wonderful it was to be in a temple that was a place of active and vibrant sadhana.
As we chanted, though the temple donation box was not far away, some of the people visiting the temple offered their dakshina to Swamiji and me.
They were inspired to see sadhus chanting and keeping the power of these sacred places, and wanted to offer their respect and support.
When our recitation was finished, taking Swamiji's permission, I went to the front of the mandir and reciting the mantra, offered the dakshina to the temple. The temple pujari smiled in appreciation of the gesture.
The pujari had been speaking with two devotees who entered the temple at that time. As Swamiji and I were packing up our asanas and mic system, he explained to them, "They are devotees of the Divine Mother, and they have been performing a great sadhana here since morning."
It was close to noon by the time our chanting came to an end. Nepali Baba was then resting and did not see us depart. We heard later from Uttam that Nepali Baba had awoken and asked where we had gone.
Uttam told Baba that we had finished our sadhana and had returned to where we were staying. He asked, "Were they given dakshina and prasad?"
Uttam responded, "No, but they made an offering of dakshina to the temple themselves before leaving."
Nepali Baba said, "No no, they have come to our temple and performed such a wonderful worship, we must give them something!" He proceeded to stuff Uttam's bag as full as he could with prasad and asked him to please give some of it to each of us.
We are so appreciative of Nepali Baba's sweet offering. We hope to return soon, to stay longer, and do more sadhana in Yamunotri.
Jai Maa!