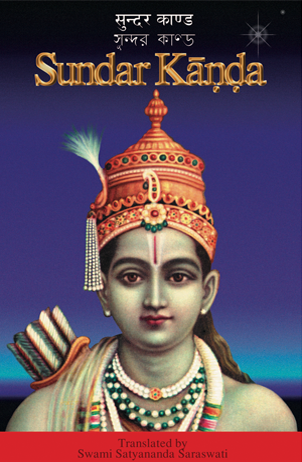 Sundar Kanda Android App
by Swami Saytananda Saraswati
Price=9.99
Coming Soon to iOS
---
The Sundar Kanda is the beautiful chapter from the Ramayana, which is a divinely inspired Indian epic. Ram has lost His wife Sita, and on his search for her, he meets a whole host of monkeys and bears who assist him in his search.
The Beautiful Chapter of Tulsidasa's Ramayana is filled with deep philosophy, examples and admonitions of how to behave with the purest ethical behavior.
It is great fun to chant, and the end of the book includes the Rama Stuthi, Hanuman Chalisa, Bajaranga Bana, Samkata Mochana, Hanuman Arati, Jai Jagdish Hare and Raghupati Raga, as well as other additions.
Roman and Bengali transliterations have been included along with the original Hindi and English translation. Now Devotees around the world can join in singing and understanding this fascinating scripture, which is both a depiction of the ideals of perfect behavior and an allegory of the odyssey of the Soul.
Product Details
App 95 pages
Publisher: Devi Mandir Publications
Language: English
ISBN-10: 1877795461
ISBN-13: 978-1877795466
Reviews of Sundar Kanda App
---