Swami Satyananda has found a modern solution to an ancient problem – how to share his ever increasing collection of knowledge as he travels around the world – and yet still be able to carry his luggage as he goes.
In order to enable seekers to join him in performing Vedic rituals – in this case the recitation of the thousand names of Shiva (Shiva Sahasranam) at a sacred fire ceremony in Southern India's Nilagiri hills – Swami Satyananda has found a solution that is far more manageable than carrying hundreds of books everywhere he goes. He brings his iPad.
Swamiji's prolific publications include over thirty books in English, many of which are translations and transliterations of ancient Sanskrit texts. Several of these books have also been translated into other languages including Portuguese, Spanish, French, German, Bengali and Tamil. As of this writing, seventeen of his books have already been made into downloadable apps for the iPad – with more soon to follow. So now as Swamiji travels his load is much lighter, he brings his iPad with his books in digital iPad app format. Add to that a portable projector, a white wall or screen in the local temple, a ten meter SVGA cable, and local participants are able to view and chant along with Swamiji on the screen.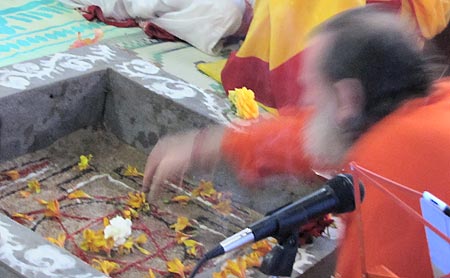 Swamiji worships the Yantra before lighting the fire
In Ooty, a town located high in the Nilagiri hills of Southern India, Swamiji was asked to perform a Vedic fire ceremony. The preparations including building a structure to hold the fire, called a hawan kunda, and drawing a yantra – a sacred geometrical symbol – onto a layer of sand where the fire would later be lit. After a short introduction, Swamiji began the ceremony around 6:30 p.m., and soon he was reciting a series of mantras while placing flowers at key locations on the yantra before enkindling the fire. Once the fire was established, oblations including clarified butter and grains were then offered to the fire with various mantras.
Swamiji's system of fire worship is chronicled in detail in his book "Shiva Puja & Advanced Yagna", which includes a section with the thousand names of Shiva. Loading the app of the Shiva Puja book onto his ipad, Swamiji projected those names – in the form of short mantras – onto the screen, and the devotees filling the temple were able to chant them together as Swamiji flipped through the virtual pages. With the recitiation of each name, ghee and grains were offered to the fire.
Swamiji offers mantras and ghee – clarified butter – to the fire, bolstering the flames. The ipod survives the high temperature
The participants read the mantras on the screen
The temple is filled for the ceremony
Shree Maa sees Shiva Shakti in this dual flame fire image.