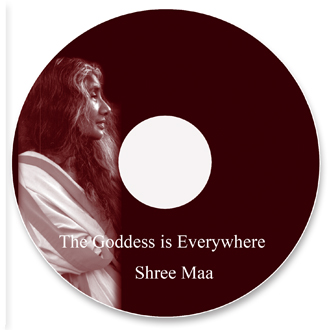 This compilation is a must have for anyone who feels drawn to Indian spirituality.  Shree Maa's singing of these songs, some of which She authored Herself, are intoxicating and wonderfully memorable.  Her Divine voice, the heavenly melodies, and the inherent power of the Sankrit vibrations make for Divine rivers of sound that arrest the wandering mind and bring it to rest in devotion at the feet of our beautiful Divine Mother.
Available in Digital Download or Compact Disc
---
Track List
Vedic Devi Shuktam
Jaya Kali Bhavani Maa
108 Names of Kalike
Jago Jago Maa
Jaya Tulasi
Narayana
Jaya Jaya Durga Maa Namami
Product Details
CD Disc or Download: 70 minutes
Publisher: Devi Mandir (1997)
ISBN-10: 1-886088-26-8
Product Dimensions: 4.75 x 5.0 x .25 inches
Shipping Weight: 3.5 ounces
Reviews of "The Goddess is Everywhere"
By Tim
Every track on this album oozes the rich nectar of the Goddess. This is the first album I purchased from the Devi Mandir, but it certainly won't be the last! I've never heard anyone sing like Shree Maa. Her voice seems to transcend all boundaries. My whole family loves this CD!
---
Podcast: Play in new window | Download