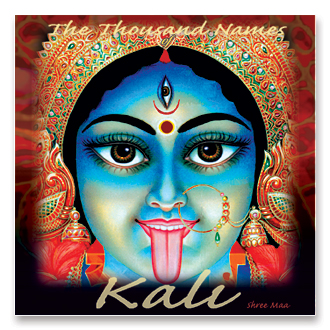 Kali is She Who Takes Away Darkness, and Her thousand names describe Her attributes and activities.  When we meditate upon Kali and learn to perceive only Her she dissolves our minds into the ocean of Pure Consciousness and Bliss.
Shree Maa's soulful chanting of the Kali Sahasranama with serence musical accompaniment beckons us into that mystery.
---
Track List
Thousand Names of Kali
Product Details
CD Disc or Download: 70 minutes
Publisher: Devi Mandir (1997)
ISBN-10: 1-886088-26-8
Product Dimensions: 4.75 x 5.0 x .25 inches
Shipping Weight: 3.5 ounces
Reviews of "Thousand Names of Kali"
By Jenny
I love praying to Kali Maa, so this CD is a perfect companion for me and it is a great way to unwind at the end of the day, or when I'm feeling overwhelmed by the world. Shree Maa, your love is endless! You are Kali Maa embodied! Thank you from the bottom of my heart!
---
By Shankar
Swami Satyananda Saraswati's translation of Kali Sahasranama, Sri Sri
Chandi and other texts are Inspired/interpretive translations. Only an
Advanced Upasaka like him can come out with such Inspired/interpretive
translations.

Podcast: Play in new window | Download