Trailinga Swami was a great embodiment of tapasya. His main teaching was the example of his life – the example of what it is to perform tapasya. Tapasya is any spiritual discipline we perform to move closer to God, to make ourselves more pure and divine.
There is a verse from the Rig Veda. It says that from Tapaysa, all the Gods originally became divine. Within tapaysa resides the entire existence. Therefore, perform your tapasya and realize the Ultimate. This is what Trailinga Swami symbolizes to spiritual seekers around the world.
By performing tapasya the Gods became shining ones. They became divine beings. Trailinga Swami showed us what it means to truly utilize the human life for God Realization – to live the reality of the scriptures – and to become Divine.
Trailinga Swami performed so many different kinds of sadhana, so many types of tapasya, and he realized the Ultimate. He truly became a Shining One, an illuminated visionary. He was such a luminous sage that he was an inspiration to Ramakrishna, Swamiji and our entire lineage.
Inspiration to Swamiji, Inspiration to the World
Swamiji says that Trailinga Swami's life inspired him to perform many forms of tapasya he might otherwise never have undertaken.
Trailinga Swami's life, however, is not only an inspiration to those performing intense spiritual discipline. "Spirituality" is more than sitting in front of the altar or wearing orange. Shree Maa and Swamiji say that spirituality means "giving more than you take," and Trailinga Swami is a perfect example of this.
Maa and Swami also say that the meaning of sadhu is "one who is efficient." Our goal as sadhus is to complete our worldy karma as efficiently as possible, so that we may spend more time sitting in one asana, working to realize the divinity within.
Trailinga Swami was a great Sadhu, an Avadhuta, who demonstrated supreme efficiency in both his worldly duties and his spiritual tapasya. He completed his karma with an attitude of service, surrender, and devotion. Only after this did he leave behind the world to live a life of renunciation, submerged completely in spiritual discipline for more than two hundred years.
Seva, Tapasya, and Walking into the Forest
When Trailinga Swami's father died, Trailinga Swami was still a young man, though his exact age at the time is uncertain. He told his mother that since his dad was gone he was going off to perform tapasya.
His mother inquired as to who would take care of her if he left to do tapasya. She told him to stay and take care of her until she left her body, and that if he did so, he would get blessings that he would not get from meeting his Guru or performing spiritual discipline.
Not only did Trailinga Swami stay – he was more than 50 years old when his mother finally passed away. For that period of his life, Trailinga Swami's only sadhana was taking care of his mother. His tapasya was performing her seva. And when she did pass,  he performed her last rights and walked off into the forest.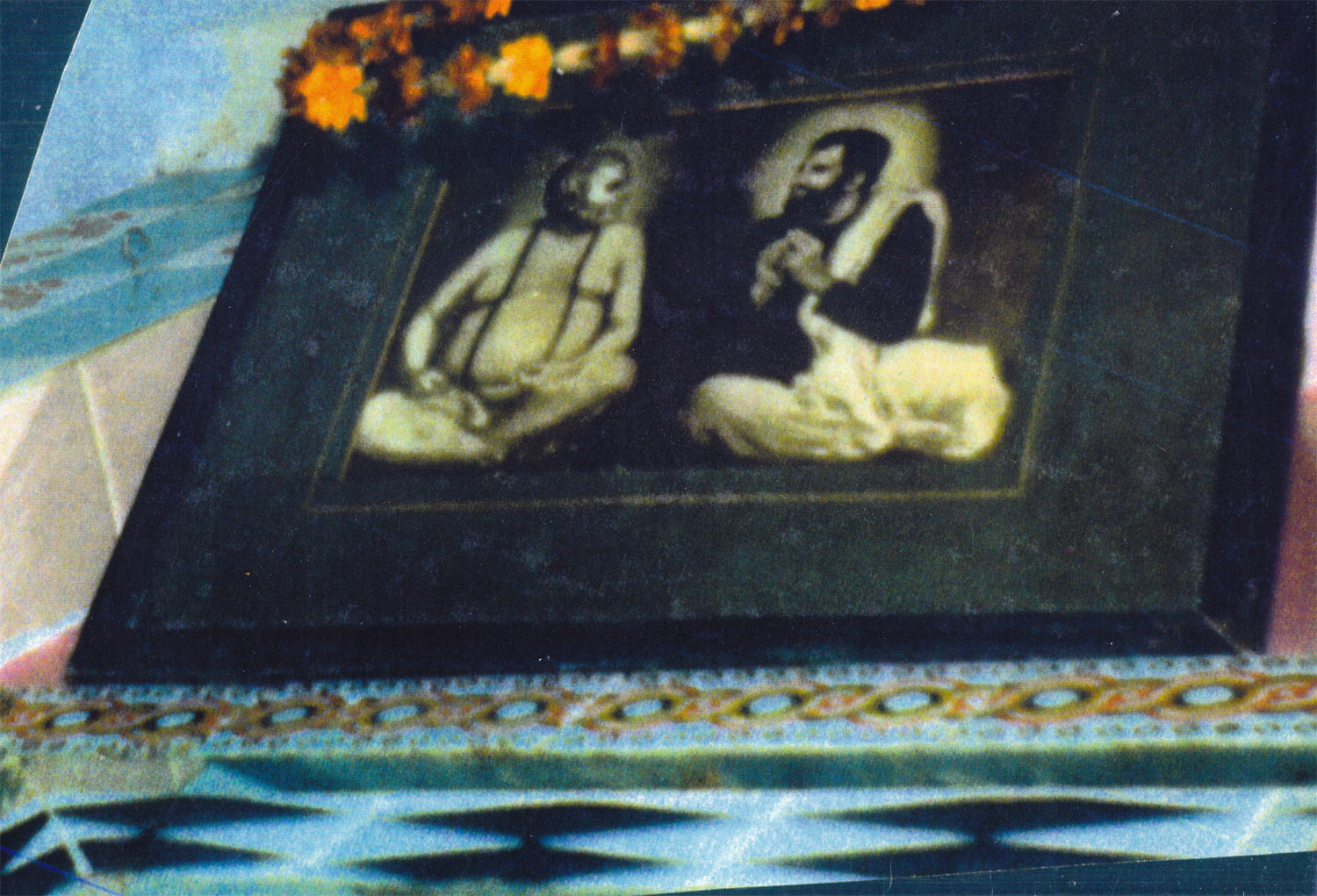 Above: A picture of a picture of an original photo that was retouched in the early 1900s, showing the meeting between Ramakrishna and Trailinga Swami.
The story is told that Ramakrishna cooked 25 pounds of rice pudding to present to Trailinga Swami. Swamiji ate it all in one sitting.