The Golden Temple of Amritsar
Our next journey was to the city of Amritsar in Punjab India. This is the home of the famous Golden Temple, one of the most sacred places of pilgrimage for the Sikhs.
Though Shree Maa and Swamiji don't follow the Sikh tradition, Shree Maa was inspired to visit because of her great respect for the first Guru of the Sikhs, Guru Nanak.
The motivation in constructing this temple was to provide a place of worship for everyone – all religions, caste, creed, and race. It is a beautiful reminder that we all worship God equally and humanity should live in peaceful equanimity.
Over 100,000 people visit the temple daily, where they also are fed from a community kitchen which offers a free meal.
In fact, when our Swamiji entered India more than 45 years ago, he entered through Pakistan and the Golden Temple was the first temple he came upon. When he went inside, he was offered free room and board.
Upon receiving such generosity, Swamiji exuberantly said, "I have been all around the world. I have toured many countries. This is the first place I have ever been that so generously offers free food and housing to any and all of its visitors. I will use this example of giving as a way of life, and will teach others the beauty of giving."
Shree Maa and Swamiji walked the streets of Amritsar as they made their way to the temple. The temple complex is large and walking around it would be tiring for Shree Maa, so they immediately brought her a wheel chair and they escorted her as they pushed the chair. Everyone was required to cover their head in a sign of humility — even Shree Maa.
At the entrance everyone has to wash their feet before entering. For this purpose they have a shallow section of flowing water. The man at the entrance of the temple, seeing Shree Maa sitting down, came and helped her to dip her feet in the water without getting out of the wheel chair. Then several people together helped to carry Shree Maa down the steps.
Though the worship traditions of the Sikhs are different from our own, the core values of love, generosity, and respect are identical.
The people at the temple were perfect examples as they took care of Shree Maa as if she were their very own Mother. What loving respect they showed in all of their actions!
We made our way around the complex, admiring the Golden Temple shining with the small lake all the way around it. When we reached to the entrance of the Golden Temple, we saw that the line was very long. On top of that, no wheel chairs were allowed in the line or inside the inner sanctum.
It would be too much for Shree Maa to stand and wait in the line so we approached the temple officer guarding the exit of the line. As a show of respect, he offered that Shree Maa and Swamiji could enter through the exit doors, and bypass the line. As Shree Maa and Swamiji made their way through the out-going line, everyone made way to accommodate them.
Even though there are no Sannyasis in the Sikh tradition, and Swamiji and Shree Maa with their orange and yellow robes were obviously not Sikh, many people came and bowed down to them. Whenever Shree Maa and Swamiji passed by one of the temple's officers on the way to the inner sanctum of the temple, that person would bow down and seek Shree Maa and Swamiji's blessings.
Even inside the Golden Temple's inner sanctum itself, many people came and bowed down to them with great sincerity.
Swamiji was greatly inspired by the people's devotion and reverence. Swamiji commented that he hoped we could bring that same inspiring respect to our own Devi Mandir.
Pranam!
---
The Durgiana Temple in Amritsar
Though Amritsar is mainly known for the Golden Temple, there is also a large Hindu Temple in the area named Durgiana Tirtha.
We first visited the temple in the evening with the intention of chanting. There are many Murtis in the temple complex, and the construction is very fancy. In many ways, its design is similar to the Golden Temple, with the main Mandir being in the middle of small kind of lake, and also having a golden top.
We had thought we would recite some scripture here, but as we came near the main temple, we heard very loud music coming from loud speakers. Inside, it would be impossible to hear ourselves chant so we offered Pranam to the deities and left, hoping to come back in the morning with a more suitable environment to chant.
Before leaving the premises, we discovered another small temple, the Shitala Devi Mandir, which is located in the same temple complex as the Durgiana Temple.
The Shitala Mandir is over 700 years old and is much older than the Durgiana Temple.
It is believed that Sita Devi, when She was staying at Valmiki's ashram, would come to this Mandir daily to offer flowers to Mother Durga.
Shree Maa was thrilled that when we arrived, there were devotees singing kirtan. The speakers were very loud and the music could be heard from far away, but the singing was a little disorganized and didn't sound appealing to the ears.
Shree Maa wanted to give them a pure example to follow, so she sat down with them and asked if she could sing a song.
They of course were more than happy to accept and Shree Maa proceeded to sing "Jai Jai Maa Durga Namami" as everyone clapped, followed along, and enjoyed Her heavenly voice.
The next day we returned to the Durgiana temple very early in the morning to recite the Chandi Path together. Sweetly, the temple pujari's offered us flower malas as we came into the temple.
We soon began reciting the Chandi and many people intently listened to us while they walked by.
There were some though that took a seat nearby, listened in, and meditated through the entire Path. It is great to serve God and humanity with our chanting.
The temple pujari also stayed near by listening as we chanted.
Swamiji led us in chanting two verses to the breath, with a slight pause at each quarter of the verse to make it easy to follow.
After the Chandi Path, they honored all of us with special cloth, but Shree Maa's vastram was the most flashy of us all, with bright pink, red and green sequins and fringe.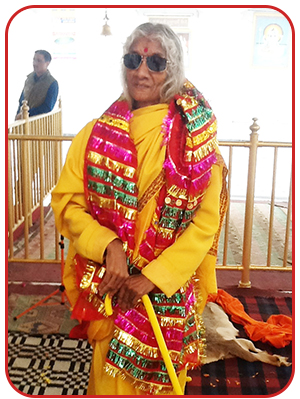 She confidently posed like a fashion model for the camera.
The Pujari was completely astounded and said to Swamiji, "I have never heard chanting like that before. You must have had the darshan of Mother and have received her Kripa (grace) to be able to chant like that! The way you chanted we could understand every word and we could also feel that you completely understood what you were chanting."
Swamiji smiled and pointed to Shree Maa saying, "She is our Guru and it was her grace that blessed us."
The Pujari came forward to Shree Maa with great enthusiasm and bowing down asked her to place both of her hands on his head and bless him.
---
Ram Tirtha Temple
We made one more trip during our short visit to Amritsar. We had been told of another temple nearby called the Ram Tirtha Temple. This temple is dedicated to Lava and Kusha, the sons of Sita and Rama.
It is believed that Valmiki's ashram had been located at this place, and it was here that a major part of his Ramayan had been written.
Additional special significance is given because this is where Sita Maa lived after her separation from Ram, and she gave birth to Lava and Kusha here.
When we arrived, there was not too much happening. There were a few people lighting candles, and some others walking around the area, but no sadhana was being done.
We walked into the dome shaped temple, where there was a murti of Valmiki, and some pictures of Sita Devi playing with Lav and Kush.
Inside, we met the Pujari, who was handing out prasad, and a few others from the temple who kindly gave us a tour of the grounds.
We definitely wanted to do some sadhana, so Shree Maa and Swamiji selected a shady place outside one of the small temple buildings to sit down and chant. The temple staff came and laid out blankets and we all sang the Hanuman Chalisa with the Samput of "Shree Ram, Jai Ram, Jai Jai Ram!" between each half of a verse.
As we began to sing with drums, keyboard, mandolin and other instruments, everyone's attention quickly turned to us. Suddenly the temple became alive with our chanting, where a moment ago nothing had been taking place.
Many people began taking pictures or videos, and others sat down and began to sing with us. Everyone became focused on this pure example of Sadhana that Shree Maa and Swamiji are always trying to show.
More people began to join in and everyone got caught up in the joy of singing the name of God. Swamiji ended the recitation with the loud shout of "Bajrang Bali Ki . . ." and everyone present responded in chorus, "Jai!"
One man from the local media was present and was very eager to interview Shree Maa and Swamiji. He was only able to get some basic information from the devotees present, as Shree Maa had no interest in publicity.
After our sadhana, we went back inside and met the temple pujari, who seemed very pleased with our singing. He gave us each a cloth and prasad as a token of his appreciation.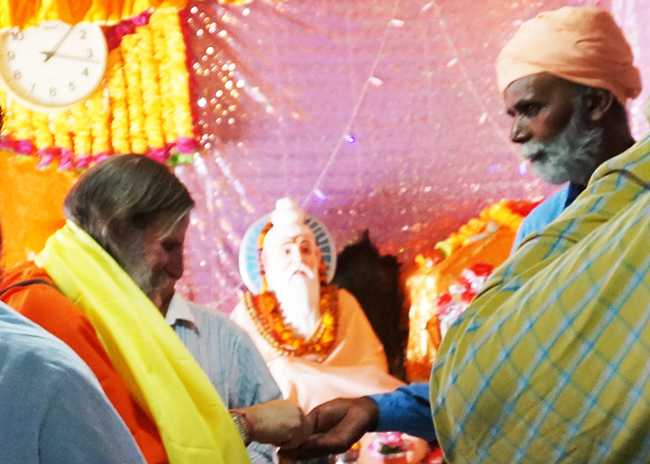 Without lecturing at all, Shree Maa and Swamiji showed everyone through their own sadhana and practical example what sort of attitude and action should be maintained in temples and places of worship.
Jai Maa! Jai Swamiji!
---
Mumbai Shiva Puja
After our wonderful visit to Amritsar, we traveled to Mumbai, where we would be staying at the home of Rashmi and Kishore, who are close devotees of Shree Maa and Swamiji.
They had arranged everything efficiently, so we had no trouble in traveling to their home. Upon arriving, Rashmi stood smilingly at the door waiting to greet us one by one, showering handfuls of flower petals as Shree Maa and Swamiji walked by. We were all delighted to stay at a place so full of love.
Their home already had a temple room, but Shree Maa and Swamiji decided it would be too small for the number of people who would be joining us, so she quickly began the process of turning their front living room into a temple. Shree Maa merely looked at the space and immediately knew how to create beauty there.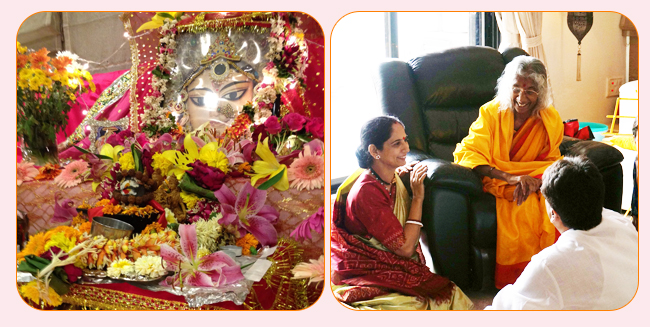 Many of the family members helped her and they quickly made her vision a reality. She decorated it exquisitely with lights, beautiful clothes, flowers and of course the images of the Divine which she always keeps with her while traveling.
Instead of a living room, the first thing anyone saw upon entering the home was Shree Maa's newly created altar, a resplendent depiction of divinity. This altar would become the center for all of our activities and worship.
Each morning we awoke early, performed Puja, chanted the Chandi and other texts together. In the evening everyone in the household, as well as guests from outside, would come to join us in arati, kirtan, and satsangha.
On many nights the living room area was completely packed with people as we sang and danced the evening arati. Such an uplifting energy pervaded the room when Shree Maa sang "Jai Maa, Jai Maa…" and everyone offered their light to the God and Guru.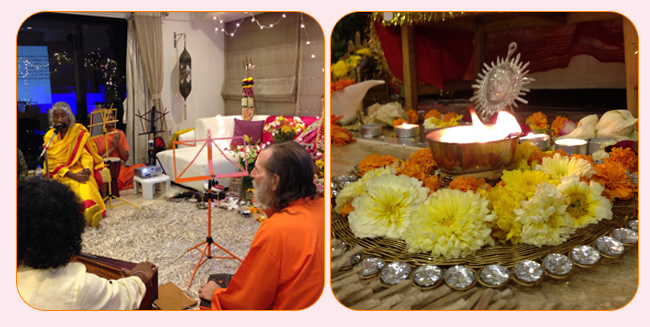 Our hosts had prepared for many months in advanced to perform a Shiva Puja to Swamiji and a Durga Puja to Shree Maa. They had meticulously prepared all of the items for a very beautiful puja. The preparations were extensive — tridents, snakes, tiger skin cloth, ornaments, and Jata (matted hair like Lord Shiva always wears).
All of these items were stored at their Shahapur farmhouse located about two hours from Mumbai because this is where we would be spending most of our time and where the pujas were planned to take place.
It was a Monday and we were still in Mumbai when Shree Maa told Rashmi and Kishore that they should do the puja today because Monday is auspicious for worship of Lord Shiva. They were caught by surprise — all of the puja items were two hours away at the farmhouse.
Rashmi quickly went to a nearby store to try to find the items for the puja. Somehow, even though the items were of a wide variety and normally would require going to many different stores, the one shopkeeper was able to quickly help her get everything for the puja.
She was so relieved that she was able to find everything on such short notice. No doubt, it was the grace of Shree Maa and Swamiji.
It was close to the time of the puja and the family started assembling the items. Shree Maa came to inspect everything, often giggling at some of the items, such as the plastic snake and the matted hair, which when she saw, she immediately began to divide the hair to make a bun at the top, similar to the pictures we see of Lord Shiva.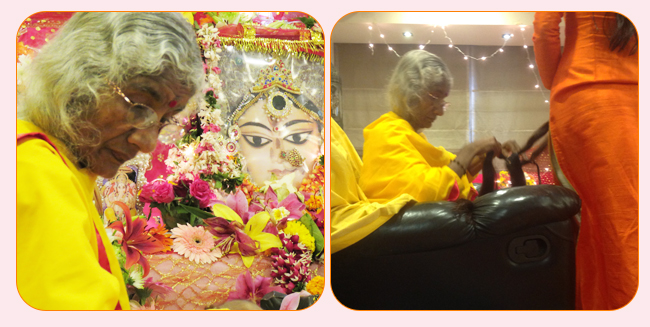 I was unsure at first if Swamiji would accept it, but seeing their family was so full of devotion, Swamiji smiled and said with great love, "I will accept whatever you offer…," then pausing for a moment, he continued, "with mantra."
The whole family participated in the puja and they meticulously orchestrated it, each knowing and performing their assigned roles. We chanted together as a group with Rashmi as our leader.
Full of love and devotion they offered all the adornments to make Swamiji shine forth as the embodiment of Lord Shiva. They had a Trishula (Shiva's Trident), tiger striped cloth, a crescent moon for his hair, bells like Nataraj (the dancing form of Shiva) wears and even a plastic snake (since Lord Shiva always wears snakes as his ornaments).
Shree Maa even joined in the fun and helped to adorn Swamiji.
When they offered the items of Arati (like the umbrella, whisk, fan and mirror) a family member would take hold of it and stand near Swamiji continuing to offer it to him. In-between offerings we would all chant "Om Namah Shivaya" together. It looked like Lord Shiva was surrounded by so many loving attendants.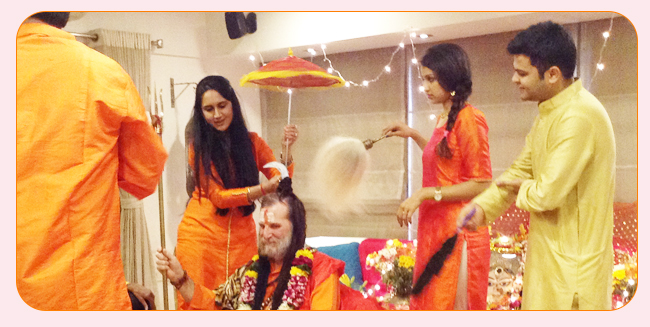 Swamiji shined forth in the Puja as the compassionate form of Lord Shiva blessing his devotees. From the side of the family, so much love and devotion was pouring forth, and Swamiji was equally reflecting that same love back to them.
It was so exhilarating to watch such a genuine depiction of the true meaning of puja, where both the worshiper and the worshiped were filled with love for each other.
Equally, it was so refreshing to see a family move together in harmony, supporting each other in a common goal.
When they had completed the offerings of the Puja, they began chanting the 108 names of Shiva. With each name they offered a lotus flower to Swamiji's feet. Each family member took his or her turn and offered lotuses.
Ultimately, the Puja culminated in Shiva Arati followed by a family photo with Lord Shiva and Shiva bhajans.
Everyone bowed down to Swamiji and took his blessing, remembering the unity of principle of Guru and Shiva, the Consciousness of Infinite Goodness.
Jai Swamiji!
---
Kartika Purnima Homa
We were still in Mumbai on the occasion of Kartika Purnima, the full moon in the lunar month of Kartika. Kartika Purnima marks the celebration of many auspicious occasions like Tulasi's Wedding, Ganga's birth, and the Rasa Lila Dance of Krishna with the Gopis.
In celebration of this day we performed a large homa. Many people came to join us at our host's home, where we performed the homa on the large open roof-top terrace.
Swamiji invoked the fire using the complete Chandi Yajna Vidhi, the same as has been included in the updated Chandi Path App.
We all followed along and performed the invoking of the fire all together. The seating around the Havan Kund was tight as it was a large group of people filling the small area.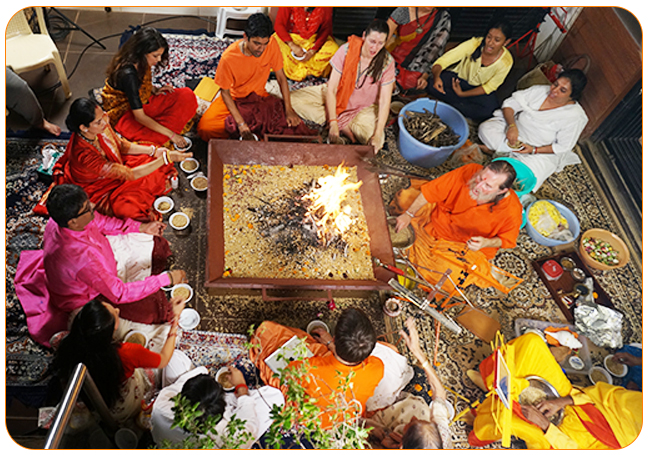 After the fire was invoked, Swamiji led us in chanting the Lakshmi Sahasranam. We chanted the Namavali, giving an offering to the fire with "swaha" after each name. When the Lakshmi Sahasranam had completed, we began chanting the Vishnu Sahasranam, but instead of the Namavali, this time we chanted the stotram, giving an offering with Swaha after each verse instead of after each name.
The energy in the homa grew and grew. When the Vishnu Sahasranam was complete, we still had more mantras to chant. We chanted a mala for different deities commemorating the different events that Kartika Purnima marks. We chanted a mala for Kartikeya, Krishna, Radha and Tulasi.
When we chanted the mala for Krishna, Swamiji remarked, "Whenever you call Krishna, Radha also comes." So we chanted the mala for Radha directly after.
Swamiji was so full of energy, none of us wanted the homa to end. Noticing our enthusiasm, Swamiji kept the homa going and began chanting a mala of "Om Sat Chit Ekam Brahma."
Swamiji explained, "The mantra means there is one Supreme Divinity who is true existence and pure consciousness. It is the purpose of the yagna to unite with the Supreme Divinity."
As Swamiji was chanting the mantra, he slowly began chanting softly and motioned to us to do the same.
The mantra grew softer and softer until it became just a whisper. Everything around us seemed to get quieter as well. Then the mantra was just a movement of the lips, no sound could be heard outside, though we continued to offer oblations to the fire.
Finally, the mantra became completely internal and we stopped offering external oblations to the fire as well. We sat in this internal state for a while, enjoying the mantra and the silence within.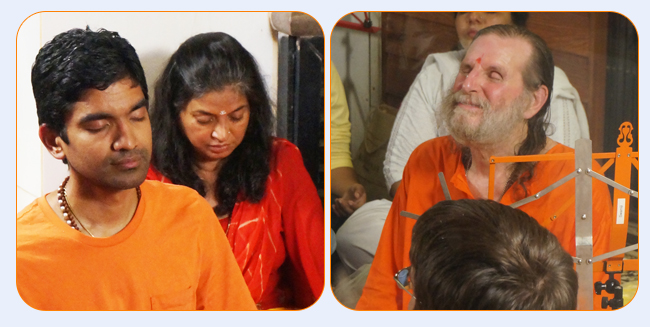 After sometime had passed, Swamiji broke the silence and spoke for a moment, "The meaning of the Yajna is the union of the fire outside with the light of meditation inside."
Swamiji then led us in chanting the Sarvato Bhadra Mandala Devata Homa, as we began the process of bringing the homa to an end.
When we had completed the homa everyone came inside and we began to perform arati, followed by amazing blessings and scrumptious prasad!
Charged with the energy of the homa, everyone was caught-up in singing, dancing and offering their love and light to God. And what a party it was!
Jai Maa! Jai Swamiji!
---
Shahapur Retreat
From Mumbai, we traveled to our host's farmhouse in Shahapur, which is about two hours away by auto. Here we were planning a big retreat where Shree Maa and Swamiji would share teachings, perform sadhana, as well as build friendships.
The area around the farmhouse is rural and completely peaceful. Vehicles rarely drive on the rugged roads nearby, making the area quiet. On the farmhouse property, there are many beautiful trees and crops growing: mango trees, hibiscus flowers, and many other flowering or fruit giving plants. It is a perfect place to perform Sadhana and remember God.
Just as we witnessed in Mumbai, the Rathod family paid attention to every detail to make our visit comfortable. Every day new yellow and orange flowers would decorate the porch.
Every evening Rashmin would light the tea lights and place them all around the outside of the house. Love is demonstrated by the quality of attention to details, and clearly this family is in love with Shree Maa and Swamiji.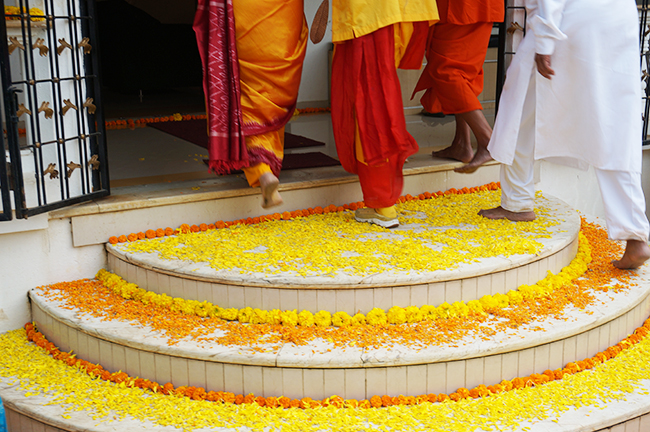 When we had visited here the previous year, Shree Maa was delighted to see their Panchavati, a sacred grove with five kinds of trees planted together.
It was planted as a tribute to the Panchavati in Dakshineswar, where Ramakrishna had performed much of his Sadhana.
Shree Maa had liked it so much last year that she asked them to build a vedhi (a platform for sitting and performing worship) around it. They had made it almost immediately after our departing the previous year.
Shree Maa and Swamiji were pleased to see the area they had made around the tree, as we knew it would make an excellent place for Sadhana.
Shree Maa did Puja to the tree, dressing it in a sari and offering it light and incense. She also sang some songs while sitting in the tree's shade and later painted a decorative design on the concrete platform around the tree as well. It was a truly blessed place.
Of course, as at every stop in our journey, Shree Maa set up an altar in the main room of the house for us to perform worship and arati. During our stay here, this altar functioned not only as the center of our Sadhana, but also as a place of learning.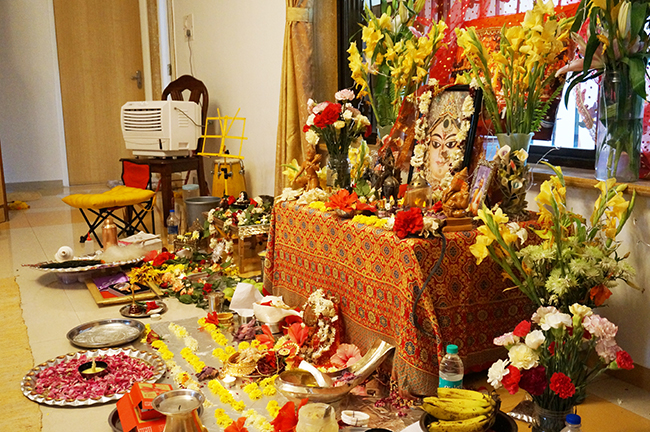 Shree Maa taught several members of the family, as well as some guests, how to perform Shiva Puja.
Other people also studied Cosmic Puja together at this inspired little altar and Swamiji gave a class on the Highest Meaning of the Goddess from the Chandi here.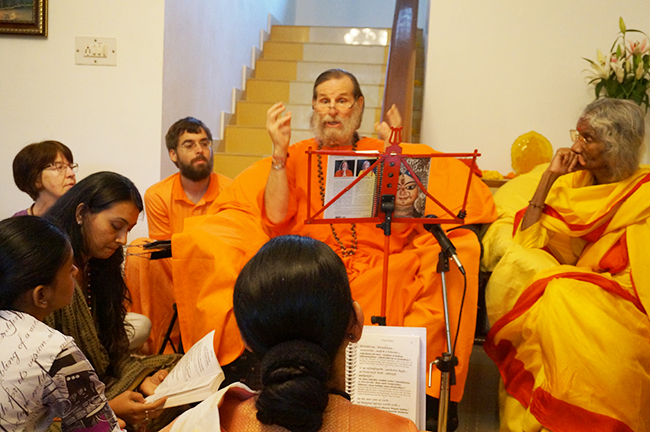 Everyone in the family had the desire to learn Sadhana. We chanted at this altar in the mornings and the evenings without fail.
Each night the room would be filled with people coming for the evening arati and the energy moving in the room was palatable. On a few occasions, Shree Maa stood up and began dancing, sometimes with dancing sticks as well. Everyone would soon follow and become involved.
The room became flooded with divine energy and devotion, as everyone danced along with Shree Maa. Everyone's minds were caught up in the arati as an offering of joyous love for God. When Shree Maa finally sat down and the arati finished, Swamiji smiling said, "Thank you all for another day in Heaven."
Indeed, when everyone was joined together in thinking about and worshiping God, it felt like we were in Heaven.
Swamiji had come up with an efficient plan for growing our Sadhana during the length of the retreat, which focused on the Chandi. We began by chanting the short version of the Chandi together in the morning, just like we do on Sundays at the Devi Mandir.
Then after a short time we began reading the Chandi cover to cover, reading two verses with each exhale, and repeating the Navarna Mantra with each inhalation.
Next we all performed the Chandi Yajna together, still reading the entire book from beginning to end, while offering oblations to the fire.
After that we performed the Ultha Chandi, the reverse recitation in which you begin at the end of Chapter 13 and read the verses in reverse order to come back to the beginning of the first chapter.
Swamiji says that the Ultha Chandi is useful for smoothing out the kinks in our recitations. When we read the verses in reverse order, our minds have a hard time reciting by route, and so we often see mistakes in our chanting we may have grown accustomed to making. By the end of the retreat, we progressed to chanting the whole Chandi at 3 verses to the breath together, smoothly and with ease.
In this way, Swamiji showed us how to build the Sadhana step by step. By progressing steadily, bit by bit, everything was smooth and efficient. Had we just jumped ahead to chanting more verses to the breath, we would have been doing so at the cost of some other aspect of the recitation, be it the smooth inhalation of the Navarna Mantra or the clarity of pronunciation, etc.
By going step by step, we were able to make real meaningful progress, so that none of the other aspects of our recitation were lost as we increased the numbers of verses read per breath or the length of the whole recitation.
This retreat was special because the family and visitors were all eager to learn sadhana. Shree Maa and Swamiji spent time teaching divine wisdom, demonstrating the pujas, and performing sadhana with us. Shree Maa and Swamiji showed that the Guru will answer the call of an earnest devotee.
By the end of the retreat, Kishore and Rashmi gathered on the front porch at the feet of the Gurus. Suddenly the cameras started flashing. Then we all gathered to capture the special memories with friends and family.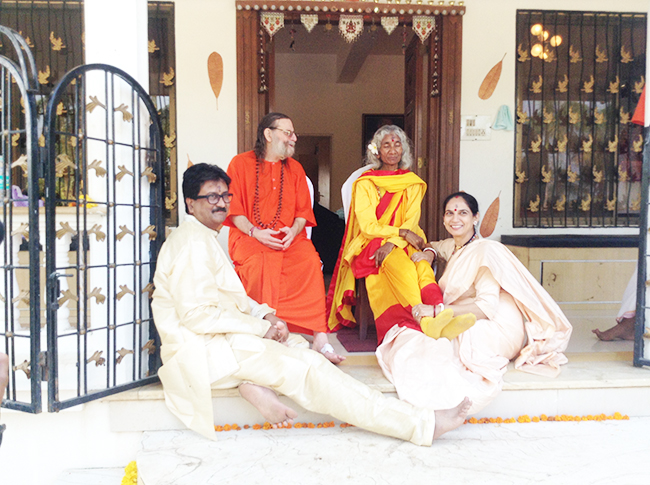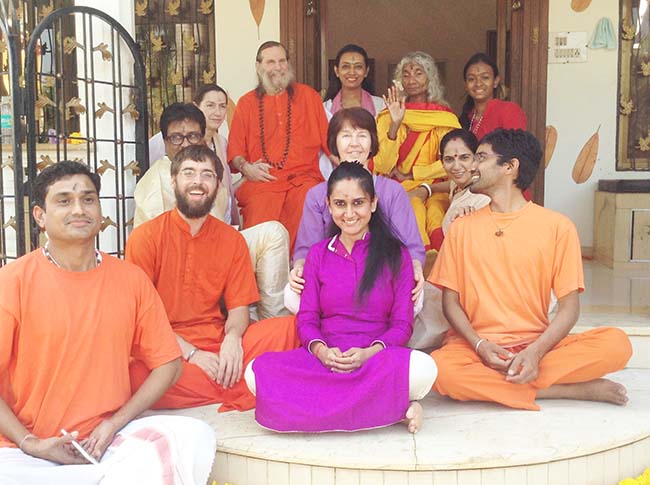 Jai Maa! Jai Swamiji!
---
Durga Puja in Shahapur
During our retreat in Shahapur, we performed a Guru Puja for Shree Maa, much like the one we had done in Mumbai for Swamiji.
Our hosts had prepared all the items to worship Shree Maa as the representative of the Goddess Durga. We prepared everything and then began the Puja in the evening around arati time.
Sometime before the Puja, I had asked Rashmi about the 108 lotus flowers. Rashmi reminded me of a devotional story in which Lord Vishnu once recited the 1000 names of Lord Shiva, offering a lotus flower with each name. To test him, Lord Shiva hid one flower. When Lord Vishnu reached the 1000th name he saw he had no lotus flower to offer.
Lord Vishnu is known as the Lotus Eyed One, so thinking quickly, he found a solution. He decided to offer one of his own eyes as the final lotus flower. As he began to pluck out his eye, Lord Shiva quickly appeared and stopped him. Being impressed with his complete devotion, Lord Shiva gave him the Sudarshana Chakra (Vishnu's Discus, named Excellent Intuitive Vision.)
In line with this story, Rashmi and the family also wanted to offer lotus flowers to the Gurus.
Many guests and local people had gathered there to join in the worship. Shree Maa sat in a large comfortable chair and we began reciting the mantras as a group, led by our hosts, Rashmi and Kishore. Swamiji looked on happily as they performed the Puja.
Shree Maa smiled as they offered their worship. She was enjoying the atmosphere of devotion that pervaded the room on this occasion. When it came time for the Puja Naivedya, the offerings of the Puja, we were all delighted to see the array of ornaments and the beautiful sari with which they worshipped Shree Maa.
Three ladies helped to get Maa dressed in a beautiful red sari sparking with golden thread.
Their whole family worked as a team to dress Shree Maa in the ornaments of various kinds. They had ornaments for the hands, the ankles, the neck and even a nose ring! Then they offered Shree Maa a beautiful Trishula (trident) to hold, like the Goddess Durga herself has.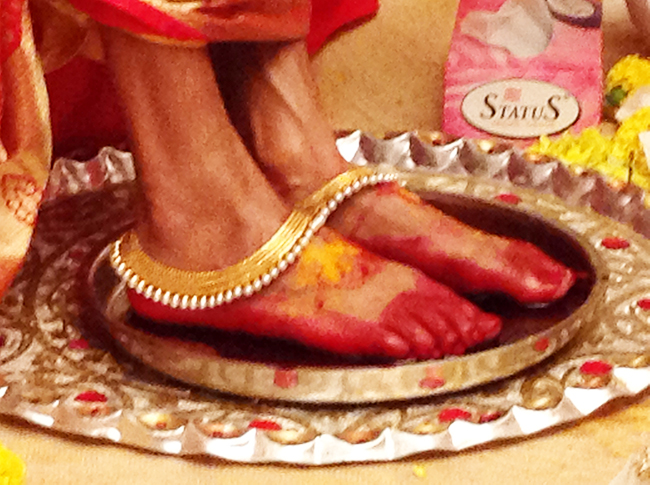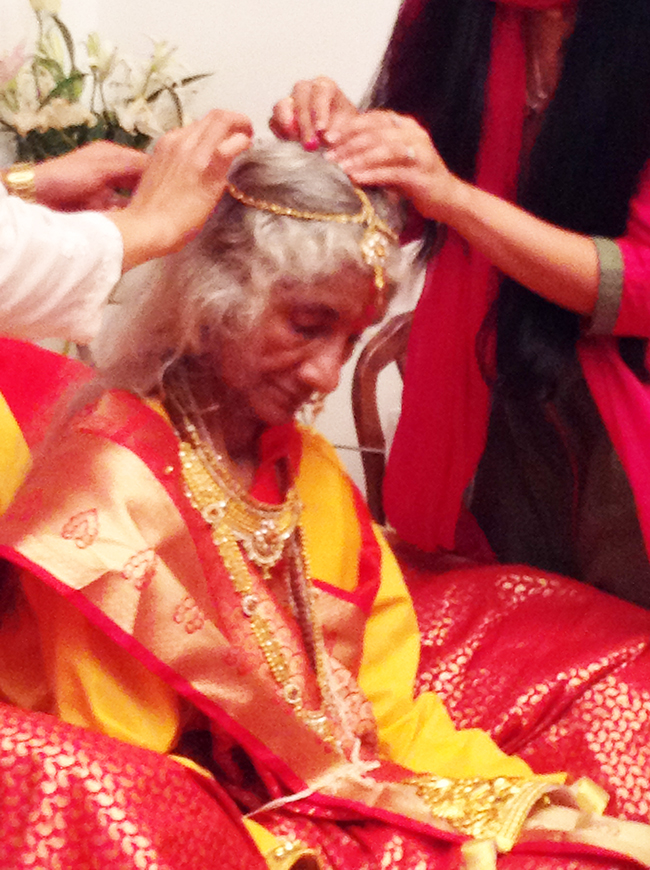 Covered with a red sari, ornaments, a crown and various adornments, Shree Maa shined like the actual form of Durga, the Remover of Difficulties. She resembled very closely the image of her on the cover of our new Durga Advanced Puja App. As they made the offerings, everyone continuously chanted Durga's Mantra: Om Hrim Shrim Dum Durgayai Namah.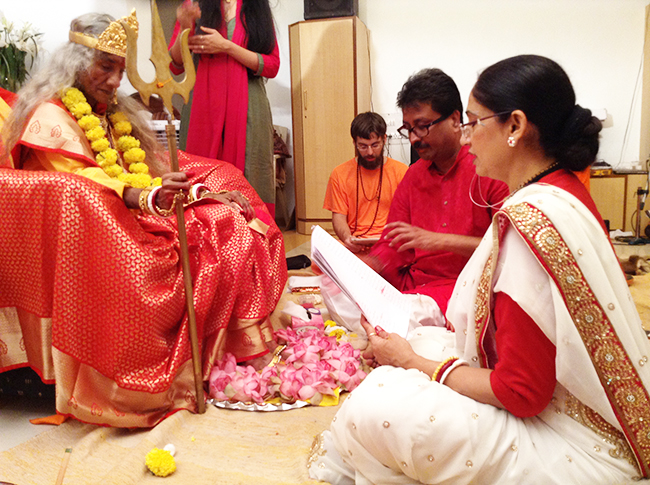 As Shree Maa sat accepting the offerings given with love, she went into deep meditation. Her right hand was both holding Durga's Trident and making the mudra (hand gesture) of blessings. They washed Shree Maa's feet with the five nectars of Panchamrit. Then, after cleaning her feet, covered them with alta (red colored dye).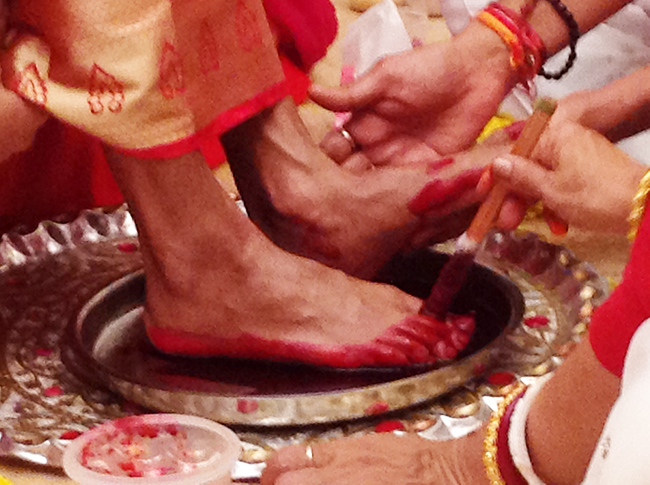 After coloring Shree Maa's feet red, they put her feet on a cloth in order to take her footprints. They wanted to have Shree Maa and Swamiji's footprints to keep in their temple room, so that they could always remember and worship the Guru's feet.
With Shree Maa fully decorated, we began chanting the 108 names of Durga. With each "namah" a member from the family offered a lotus flower at Shree Maa's feet. Shree Maa remained sitting quietly, absorbed in meditation, filled with love, accepting the devotion of their offerings.
Swamiji, inspired by the scene, began singing the song "Devi Mandir Dhama Mem, Shree Maa Guru Nama Hain." Everyone was filled with delight as they listened or sang along with Swamiji.
Next we sang Chandi Arati and everyone offered a light to Shree Maa. Though usually we offer the evening arati to the altar and the Guru, this evening Shree Maa shone as both Guru and Goddess, so we offered the light to her alone. We sang the Chandi Arati as everyone danced and waved the light. When we reached the final verse "Jai Chandi Jaya Jaya," Swamiji repeated it several times. Finally, we concluded with the mantras of the Pranam.
Seeing some bilva leaves and marigold flowers that hadn't been offered, Swamiji took some in his hand and offered them at Shree Maa's feet. Shree Maa was still silently sitting in mediation. Swamiji remained with his head bowed at her feet for a long time.
When he got up, everyone followed his example, offering flowers and bilva leaves at Shree Maa's feet and bowing down, surrendering to both the Guru and Goddess. When everyone had finished bowing, we all sat smiling in appreciation of the Guru and the worship that had taken place honoring her.
After sitting for a short time, Shree Maa broke her meditation and with a radiant smile thanked everyone for their offering of pure love and devotion.
Sometime after the Puja, we were sitting with Shree Maa and Swamiji. She looked at Swamiji and smiled, "I knew you would sing that song (Devi Mandir Dhama Mem)." Swamiji looked at her and said smilingly, "I didn't know I would."
---
Tryambakeshwar Shiva Temple
During our stay in Shahapur, we visited the nearby area of Nashik, which is near to the Jyoti Lingam Tryambakeshwar. We were lucky to be able to take this small side-trip, which was not on the original tour.
We drove directly to the temple and parked in a VIP area in the back, where it was magically orchestrated that we slip through the back door via a temple escort. This allowed us to skip the overwhelming crowd which would have been difficult on Shree Maa.
Shree maa and Swamiji offered flowers, light and dakshina to Tryambakeshwar, then we set up our asana's right in front of the main temple where pujaris conduct pujas for people visiting the temple.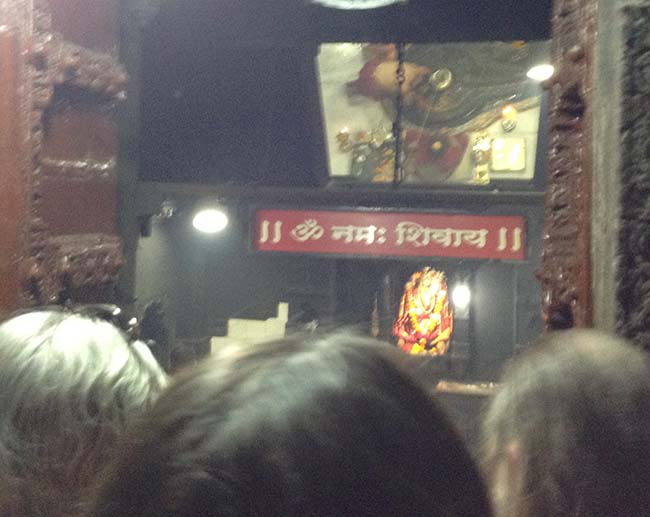 It was loud, but Swamiji led us in chanting the Shiva Sahasranam. If you recall, the pujari from last year was a little upset with us because we wanted to chant ourselves rather than have him chant for us. I giggled as I saw this same pujari, who upon spotting Shree Maa and Swamiji, increased the volume of his chanting trying to be louder than Swamiji.
Some close devotees of Shree Maa and Swamiji live in Nashik, so from Tryambakeswar we went to their house, where we were planning to spend the night. They performed a Pada Puja (worship of the Guru's feet) to Shree Maa and Swamiji. Shree Maa and Swamiji were pleased to accept their devotion and love.
Afterwards, we went to their temple room, where Shree Maa set up her altar. We chanted the Devyarthasirsham, while Shree Maa established life in her altar. It is written in the Devyarthasirsham that if you recite it at the time of Prana Pratistha (establishment of life in the deity), life will be established. With life established in the altar, we all performed the evening arati together, singing "Ramakrishna Sharanam" and "Jai Maa, Jai Maa."
It occurred to me that as soon as Shree Maa and Swamiji entered a home, they began making that place a temple. They made it a temple by giving wisdom and love to the people who lived there, inspiring them to make their lives and relationships divine.
They made it a temple by constructing a beautiful altar, giving God the foremost place in their home. They made it a temple by getting everyone together to perform arati each evening and by showing everyone how to perform Sadhana together each morning.
Wherever Shree Maa and Swamiji go, there is more worship and devotion at that place then can be found at almost any formal temple. The temple that Shree Maa and Swamiji construct at every place they visit is a real temple. It is a temple of the heart, which they place at the center of their lives.
In the evening after dinner our host, Girish, suggested that we should go to the nearby Ram Ghat, through which the Godavari river flows. He explained to us that this year the famous festival of the Kumbhamela had taken place in Nashik, and though the main days of the event had passed, people continued to come through year's end to take a bath in the Godavari river at Ram Ghat.
It is said that when the Amrit came forth during the churning of the milk ocean, the Devas and the Asuras struggled over who would get to drink it. During their struggle, a few drops fell out from the pot (Kumbha) which held the Amrit, the nectar of immortal bliss. The Amrit fell at four different locations, where we now celebrate the festival/gathering (Mela). So the Kumbhamela occurs at one of the four spots once every three years, and it takes 12 years for it to return to the original location.
Swamiji and Shree Maa agreed that it would be a very auspicious opportunity, so we made a plan to go there at 5:00 am the next morning to take our bath there, before all the crowds and tourist buses arrived.
We arrived at Ram Ghat before the sun rose, a large area on the bank of the river in the middle of the city lit by streetlights. There are many temples surrounding the area of the Ram Ghat, so we had also planned to do our morning Sadhana here. Some local people were there taking a bath in the river. One man told me that local people take baths here early in the morning each day during the year of the Kumbhamela.
Swamiji headed to the fountain and took a handful of water for Shree Maa. Shree Maa sprinkled water from the river with mantras over everyones' heads, granting them the blessing of bathing in the river.
Then Shree Maa worshipped the river and instructed Swamiji and the boys present to go in and bathe in the river completely, while the girls stayed back with her.
After our bath at Ram Ghat, we went to the nearby Kapaleshwar Mandir, a temple to Lord Shiva. The temple was just opening to the public when we arrived. Our somewhat large group sat down on one side of the temple to recite the Rudrashtadhyayi together. The temple wasn't small, but with all of our asanas and music stands (to hold our books and iPads), we took up the better part of one of the two sitting areas.
The temple Pujaris didn't mind, but rather they were pleased to see this interesting group of foreigners and Indians chanting their main scripture in Sanskrit together with one voice in their temple. Looking at our group, it was a symbol of the unity of the East and the West. Though we had grown up in different cultures and parts of the world, we were all united together in the love and worship of God.
As we chanted, many people came through to visit the temple and offer their pranams to the deity, Kapaleshwar. Hearing our group chanting, they often paused and looked on for a few minutes. Some people sat down nearby in the adjacent sitting area, listening until the end of our recitation.
Swamiji could have recited the mantras quickly, as he knows them very well, though he purposely chose to chant slowly, empowering everyone in the group to be able to join in. Swamiji had told me on several prior occasions that when we are chanting with a group, our goal is to encourage as many people to chant with us as possible. When people are chanting, their minds will become absorbed in the mantras and in God. If they are sitting unable to participate, their minds are more likely to wander about.
The Guru is always trying to get as many people as possible to focus their minds on divinity. Where everyones' minds are collectively focused on divinity, that place itself becomes divine.
When we had finished the Rudrashtadhyayi, the Pujaris asked Swamiji to come forward. They had appreciated the divine atmosphere we had helped to create in their temple, and the example of Sadhana that we were showing. They gave us coconuts as Prasad from Kapaleshwar, along with their own appreciation for what we were doing.
---
Kolkata: Short and Sweet
After the retreat we traveled by car from Shahapur back to Mumbai, where the next morning Shree Maa and Swamiji boarded a flight to Kolkata for a brief three day trip.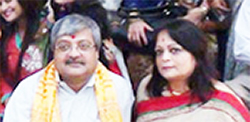 The hospitality in Kolkata was wonderful. We first arrived to the home of one of Shree Maa's family members, Anjan and Urmi Dasgupta.
Here we were fed a lovely meal and chatted for a while, getting up to date on the latest happenings in everyone's lives.
Then we went to KhuKhu and Achyut's home, where devotees from all around Kolkata flocked to Shree Maa. In the evening we had a lively arati and kirtan.
The next morning we went to the Prasad home, where we were invited for puja and lunch. The lady of the house, Parvati, performed a beautiful pada puja to Shree Maa and Swamiji, which included an extensive 15 minute leg massage.
When the pada puja to Shree Maa was complete, she went directly to the deity altar and was pleased with its beauty. It was a large-size white marble stone altar with a beautiful representation of Gods and Goddesses decorated with colorful fresh flowers. She immediately gathered her puja items and performed a Shiva puja, while Swamiji chanted various sahasranams.
The family gathered around Shree Maa's puja and Shree Maa encouraged them to chant "Om Namah Shivaya" as she offered flower petals. In this way, Shree Maa inspired everyone present to perform puja.
We stayed with the Prasad family for a few days, during which we paid a visit to the Sunrise English Medium School, founded by the late Raghunath Prasad, who was a long-time devotee of Shree Maa and Swamiji.
I was particularly struck by the legacy of Mr. Prasad. He was a man ahead of his time, who saw tomorrow. He was a dreamer, a visionary, with great leadership and foresight, but most importantly, a sincere devotee of Shree Maa and Swamiji.
Upon entering the school, the first thing we saw hanging on the wall was a picture of Shree Maa and Mr. Prasad.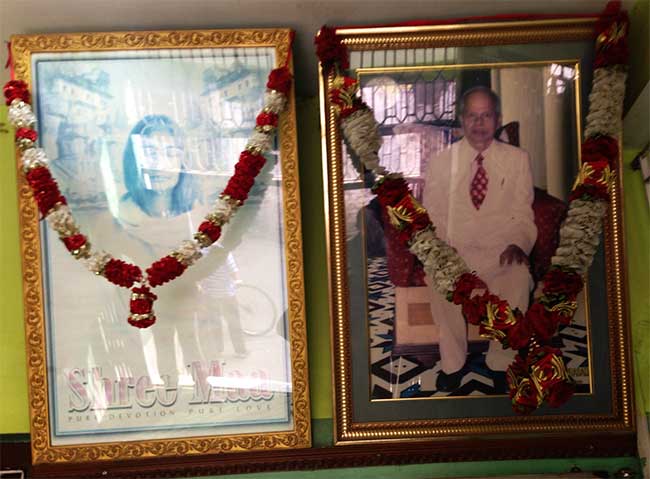 Then we noticed a beautiful memorial on the wall in honor of Mr. Prasad's vision.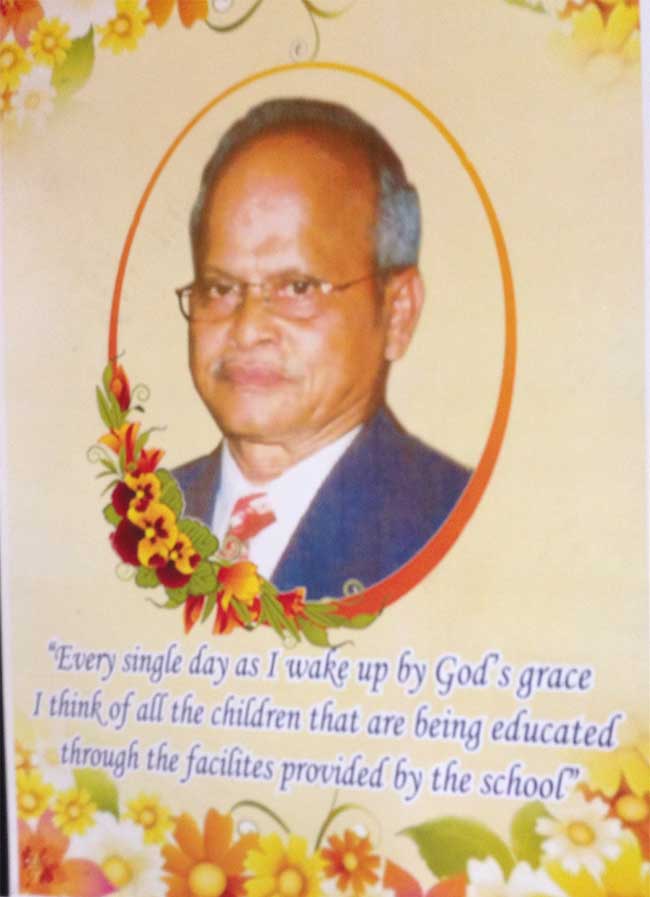 His main purpose was to make a difference in people's lives through offering them proper education. Swamiji remembered that when Mr. Prasad started his school, it was in a one room shack.
Now they have over 2,200 students, and several family members work at the school: Divyansh Prasad is the Secretary, Sunita Srivastava is the Principal, Sarita Prasad and Amita Sharma are the Academic Coordinators.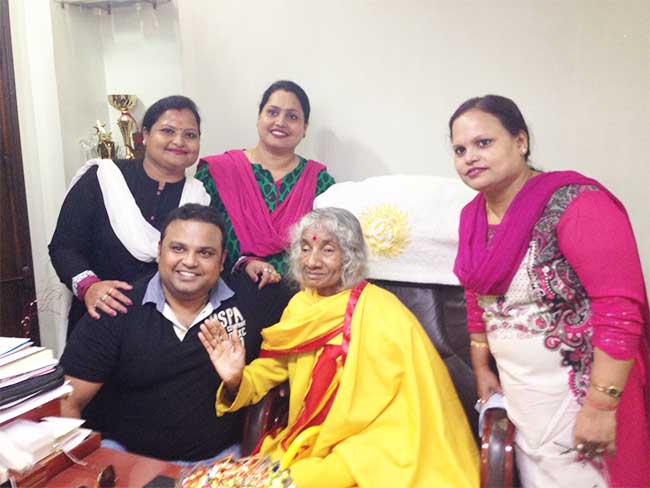 Shree Maa sat at the principal's desk and had fun as she pretended to be reading the newspaper. All the teachers gathered around and Shree Maa patiently blessed each and gave them Prasad.
Of course, everyone wanted a picture with Shree Maa, so we gathered in the foyer of the school and took pictures.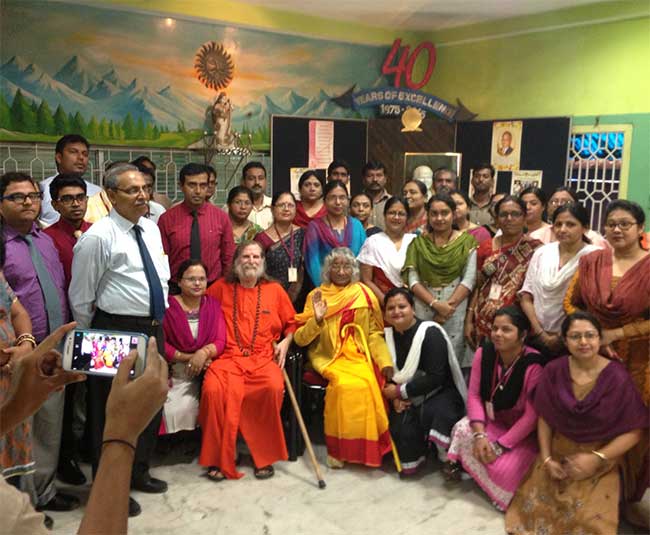 In the evening, Shree Maa and Swamiji attended the wedding of Sumi with Divya Jyoti, where they gave special blessings to the bride and groom. Everyone was in such bliss that Shree Maa and Swamiji attended the wedding.
The wedding was beautiful, and was the last major event in Kolkata, and early the next morning Shree Maa and Swamiji flew to Guwahati to visit a sick devotee, before traveling to Bangalore, the last stop on our journey prior to returning to the United States.
Though the trip to Kolkata was short, Shree Maa and Swamiji efficiently used their time to inspire the worship of God, provide love and compassion to friends and family, and to attend and bless a wedding. In this way the Kolkata leg of the yatra was a major success.
Jai Maa! Jai Swamiji!
---
Beautiful Bengaluru
The final stop in our Yatra around India was the Indian Institute of Management in Bangalore, at the home of Professors Srini and Ramya.
Prior to Shree Maa and Swamiji's arrival, Srini and Ramya set up two chairs and all the Puja items to perform Pada Puja (worship of the Guru's feet). Ramya took the time to make beautiful decorations on the porch as well.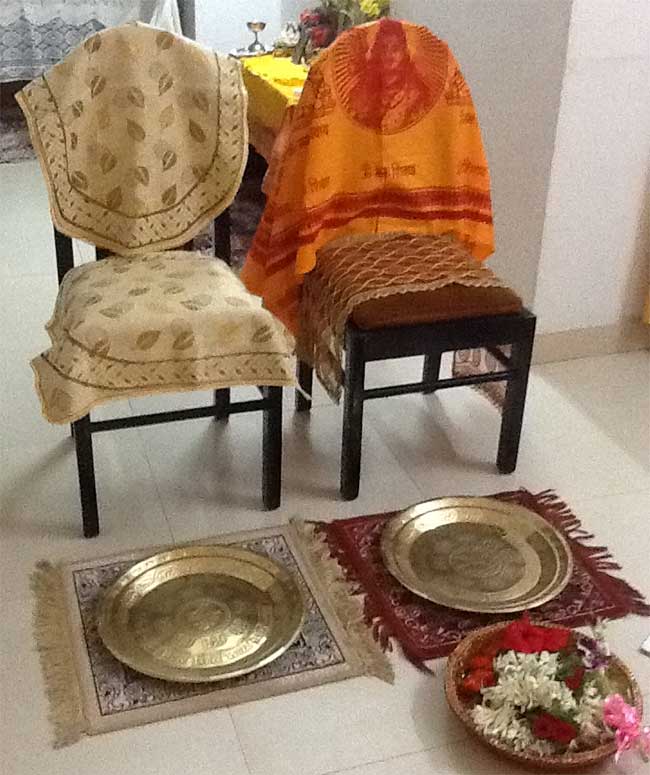 Srini and Ramya discussed, however, that Shree Maa and Swamiji may want to freshen-up or take rest after arriving, since they had been on a plane and had come by car from the airport through traffic.
They both agreed that the point of the Puja was to honor cultural traditions and their Gurus, and if it was more convenient to do the Puja later, or to go without doing the Puja, they would accept it.
They were more concerned with the comfort and convenience of their beloved Gurus then they were with the ceremonial representation of their own love for them.
When Shree Maa and Swamiji came, they freshened-up, got themselves settled in the house, and then returned for the Pada Puja. Shree Maa and Swamiji were all the more happy to accept this expression of their devotee's love and respect, in the form of Pada Puja, because along with it they had shown their real sincere caring for the person of the Guru.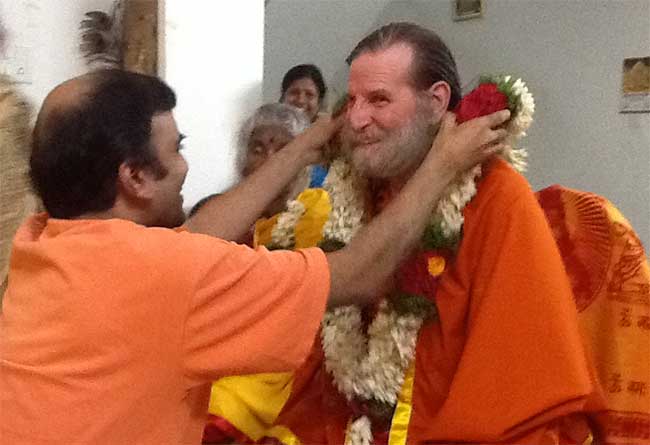 At the end of the Puja, Ramya took the Chandan (sandal paste) from the feet of Shree Maa and Swamiji and adorned her own head with it as Prasad. She then offered the blessed Chandan to everyone else present. Everyone, including the Gurus, was delighted with their worship.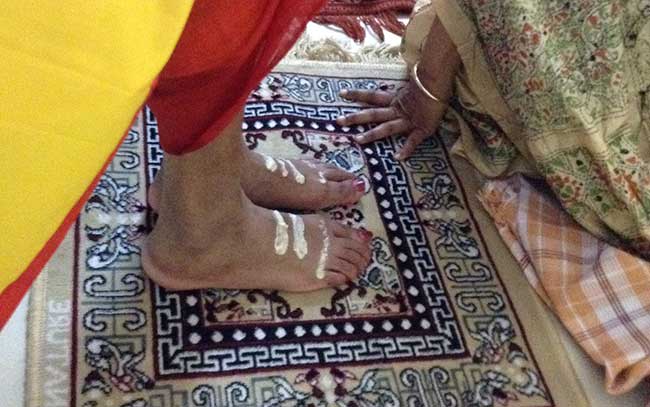 Each morning, we continued doing Puja and chanting Chandi and Bhagavad Gita, as we had become accustomed to doing each day during our travels throughout India. We would chant the stotrams of the Pancharatna appendages to the Gita in the evening and often sing many of the stotrams from the Shiva Advanced Puja.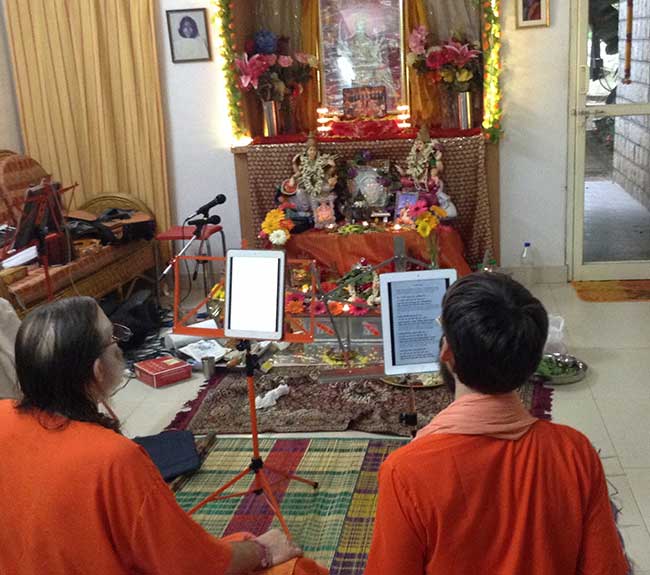 In the evenings, many people gathered for the arati and kirtan, eager to get Shree Maa and Swamiji's blessings. We met several new friends and visited with long time members of our spiritual community.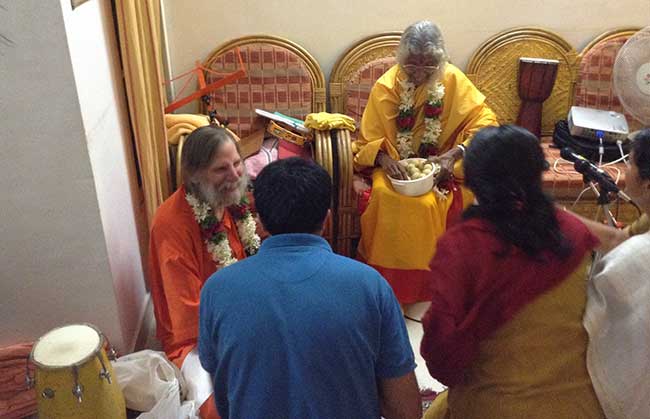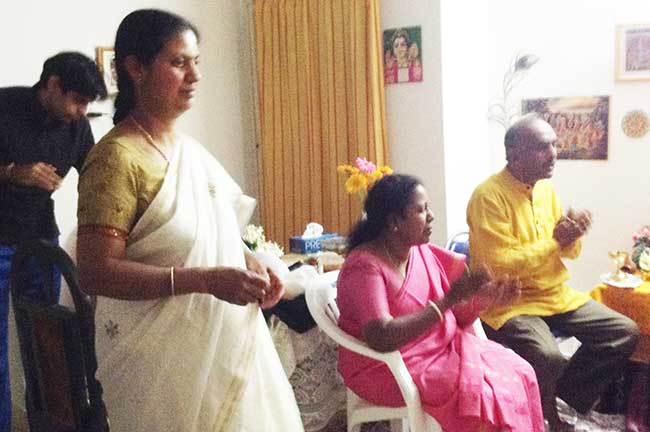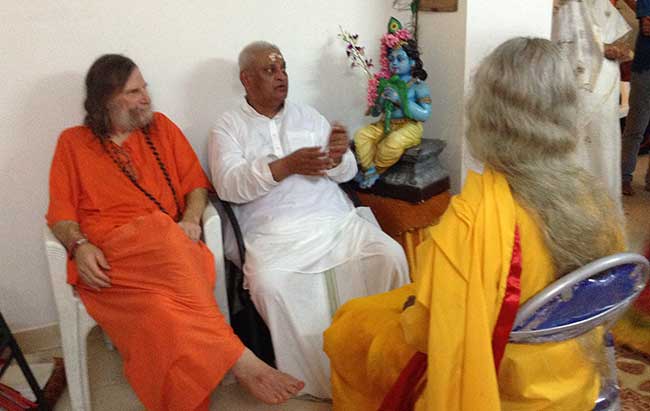 One day during our stay, Swamiji met with one of the professors from the university to discuss Swamiji's Spiritual Business App. She had read the book and had many questions for Swamiji on the subject of being spiritual and relating to money and investing. Also present was a devotee from Malaysia, Mahalakshmi, who was a former asset manager, and Pushpa, who is a business executive in a global fortune 500 company. We recorded the discussion, as a future addendum to the Spiritual Business App, and we will post it on our website when we get back to the States.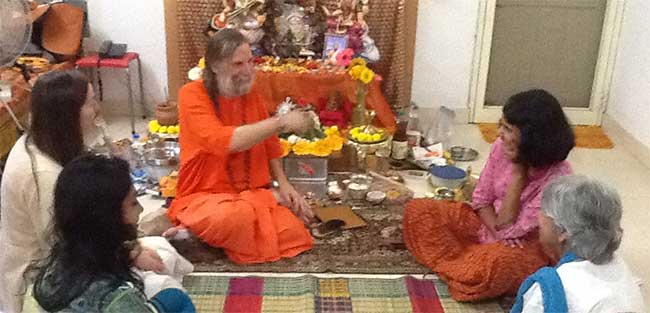 On the same day in the evening, a large group of people gathered in the house for evening arati. The space of the house was completely filled and some people had to peer around the corner to get a glimpse of the altar.
Everyone joined in the arati, offering the light to the images of God. After the arati, a devotee who Swamiji endearingly calls Dancing Ramya (different from Ramya our host) was to dance. She had danced the previous year at Shree Maa's request, so this year Shree Maa had sent her music ahead of time, as well as a dazzling yellow dress, and asked her to dance again.
She was filled with delight to do so. Shree Maa, Swamiji and everyone present looked on as she danced to the music. When she had finished, Shree Maa began to sing some songs. Dancing Ramya had been enjoying dancing so much, that she asked Shree Maa if she could continue to dance, while we all sang other songs. Shree Maa happily agreed.
Shree Maa sang several songs, including "Jai Ganesha Gananatha Dayanidhi," "Ramakrishna Jayashtkam," "Jaya Kali Bhavani Maa,""Jagadambe Jai Jai Maa," and others.
When Shree Maa had finished singing, a young twelve year old girl, who was trained in classical singing, sang for us. Her father was a classical tabla player. She sang the songs from memory without looking at any sheet and her farther played the appropriate rhythm on the tabla. Shree Maa was very happy to hear her singing and asked her to sing another song for Krishna. Everyone in the room listened closely and appreciated this beautiful team of father and daughter singing and playing for God.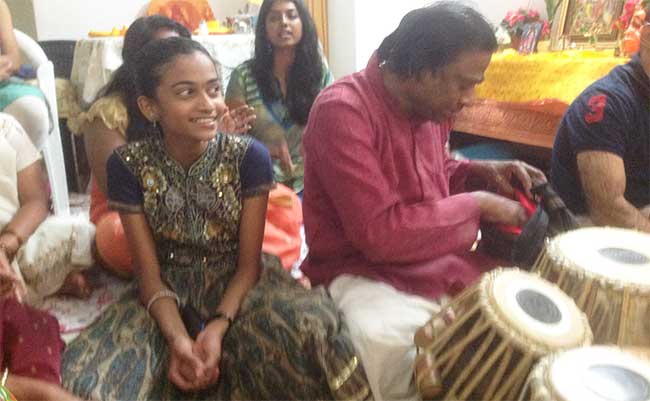 Afterwards, another devotee, Nitesh, sang several songs for Shree Maa as well. She enjoyed his singing very much and cutely asked him two or three times to sing, "One more song." He happily obliged each time. He had been playing the harmonium with his songs, but when Shree Maa asked him for yet another song, he had run out of the songs he had been practicing with the harmonium. He asked Shree Maa if it would be okay to sing a song without any instruments, and she said it would be fine. He sang a song for Gopala (the young Krishna) and when he had finished, Shree Maa, looking at the large murti of Gopala in the room, excitedly said, "Gopala is very happy!"
When all the singing was over, Shree Maa had everyone sit down to eat Prasad. She had cooked kitcheri, labhra, and chutney for everyone to eat. Shree Maa looked on happily, overseeing everyone eat. If she noticed anything missing from anyone's plate, she quickly called out to have it brought to them.
When the night was over, I reflected on the occurrences of the day. I realized that by the Guru's direction, we had performed at least six of the seven limbs of Siddhantachara (activities according to the scripture).
We had done Puja (worship) and Path (chanting) in the morning. Swamiji had given Pravachan (spiritual discussion) in the afternoon with his spiritual business talk. In the evening we had done Nrit (dancing), Sangeet (singing), and Arpan (offering) in the form of Shree Maa's feeding everyone.
The only practice of Siddhantachara we hadn't completed on that day was Homa. I said the same to Swamiji and Shree Maa at dinnertime. Swamiji joked, "Right now we are doing stomach Homa by feeding the fire of the stomach, so all seven practices are complete."
The next day we went to the house of another professor, Ram Nath. They had prepared a wonderful dinner for us. Led by Swamiji, we all chanted the Vishnu Sahasranam together. Many people in the Southern part of India are familiar with Vishnu Sahasranam.
Often people from Brahman families chant it together each day. After our chanting, Shree Maa and Swamiji observed how peaceful the house was. Swamiji said to Shree Maa, "There is so much Shanti here." Shree Maa responded, "It is (their) Guru's blessings." "I think the Guru is blessed to have disciples that follow the teachings. That makes it even more powerful."
Jai Maa! Jai Swamiji!
---
2015 Travelogue Finale
This year's wonderful journey in India with Shree Maa and Swamiji has finally drawn to a close. It was such a great time of learning, performing Sadhana, and observing the Guru's inspiration.
From the North in Uttarkashi to Bengaluru in the South, we visited the varied country of India. We chanted with Swamiji and Shree Maa in Uttarkashi until noon each morning, discussed Spiritual Business at IIM (Indian Institute of Management) in Bangalore, and even had a large kirtan program in New Delhi.
No matter where we went, the Guru's inspiration remained the same. Shree Maa and Swamiji showed people how to perform Sadhana, how to organize their lives efficiently, and how to do everything with a spirit of inspiration and love for God.
They had made sharing and performing Sadhana the central goal of their journey. Swamiji showed us how to build our Sadhana step by step. For example, we would begin in the morning with the Bhagavad Gita, and in the evening we would chant the stotrams of the Pancha Ratna. After sometime had passed, we began chanting the whole of the Pancha Ratna Gita as one.
We then chanted the Chandi, slowly adding more of the limbs until we were doing the complete recitation — cover to cover.
Then we put them both together: the Pancha Ratna first, the Chandi Path next, all in one asana. On some occasions, Swamiji added even more to that, such as a Sahasranam or the Guru Gita.
Before we had left for India, we had worked on several new Apps like Pancha Ratna Gita, Ganesh Advanced Puja, Durga Advanced Puja and not to mention the many additions to other pre-existing apps. While in India, we got to enjoy the fruits of our labors by reciting all of these texts.
Though many scholars translate books that they do not themselves chant, Swamiji chants all the books he has written. His understanding of their meanings comes from a place of experience and intuition, rather than a dictionary. The collection of books he has created spans across all sects of Hinduism, which empowered us to worship in every temple we traveled to.
Shree Maa taught Puja along the way, and Swamiji gave Satsangs, answering people's questions and showing them how to make their lives efficient, so that they too would have time to perform Sadhana.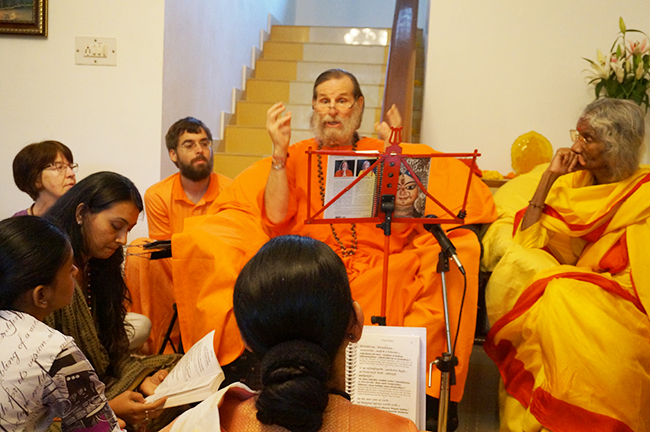 Shree Maa and Swamiji have put Sadhana at the front of their teachings because it is the path they themselves followed to Divinity. As Swamiji often says,
"We follow the same path as the Rishis (sages) of the past followed. If it worked for them, it will also work for us. God isn't biased; he will give us the same fruit as he gave them!"
If you have followed the Travelogues, you know that Shree Maa makes an altar everywhere she goes. She builds an altar, performs Puja and chants the Chandi each morning. In the evening she gathers everyone to celebrate divinity with Arati and singing. Wherever she went, Shree Maa put God at the forefront, trying to show everyone how to make their lives an offering to God.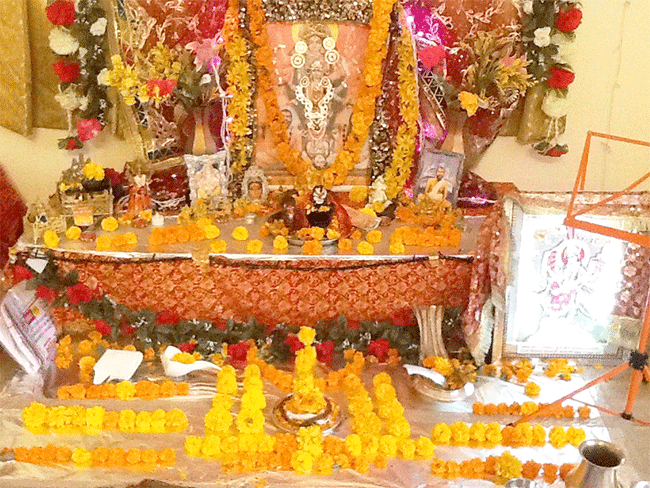 The altars that Shree Maa created always exemplified "Satyam Shivam Sundaram," meaning God is Truth, Infinite Consciousness and Beauty. Rarely were the temples we visited as beautiful as the altars which Shree Maa herself designed.
I remember Shree Maa once saying, "In India you will see so many temples." She paused for a moment, we were sitting in front of our own Cosmic Altar, "but, you won't find any altar like the Devi Mandir."
It is true, the beauty, the color and the energy which Shree Maa and Swamiji have breathed into the Devi Mandir, didn't find a parallel in any of the temples we visited in India. However, Shree Maa brought her inspiration with her, and she beautified many of the temples we visited by giving ornaments and saris for the deity to wear, as she had done at Kali Bari in New Delhi.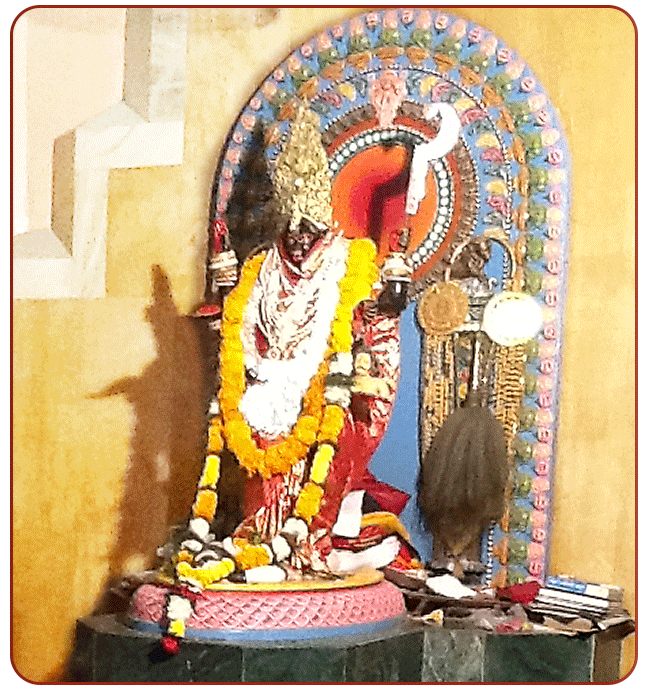 It has been a great joy to capture these stories as we traveled with Shree Maa and Swamiji. We are very grateful to everyone in our Devi Mandir family. You empowered us to be able to journey to India and share Shree Maa and Swamiji's love and inspiration with our larger international family.
These Travelogues are only a small glimpse into the divine examples of Shree Maa and Swamiji's lives. Swamiji himself is the one who recommended that we write these Travelogues as a way to keep connected with everyone as we traveled.
We were very happy to receive several emails from people reading the Travelogues who said they received so much inspiration from them. We were also delightfully surprised to meet many people during the trip in India who told us they were reading and getting inspiration from the Travelogues.
Thank you all for your love, inspiration and support. We hope to see you all very soon at the Devi Mandir for the holiday season!
Jai Maa! Jai Swamiji!