Shree Maa Demonstrates Worship as a Way of Life
Shree Maa never ceases to inspire us towards the highest ideal of perfection, whether in America, India or even on a plane flying between the two.
During our 18 hour or so flight, Shree Maa set up a tiny altar on the plane, complete with an electric tealight she placed on the tiny pull-out table where she was sitting. She then recited the Chandi… twice.
Of course Her inspiration didn't end there. As you would expect we were all quite tired upon reaching India.
I looked outside and saw it was dark, but I had no idea if it was the early morning or if it had just become night. It turns out it was very, very early in the morning (if you can call 2:30 am the morning).
We reached the home of Shree Maa's long time devotees Sanjaya and Neelima, and carried the luggage upstairs.
Everyone, including Shree Maa, was tired. At first Shree Maa said She would take rest, but after a moments consideration, despite over 18 hours of travel, She decided to chant the Chandi one more time before falling asleep.
The next day Shree Maa promptly set up a beautiful altar at which She could perform Her Puja, complete with a picture of our very own Cosmic Altar!
She did Her puja in the early hours of the morning, while some us chanted parts of the Pancha Ratna Gita with Swamiji.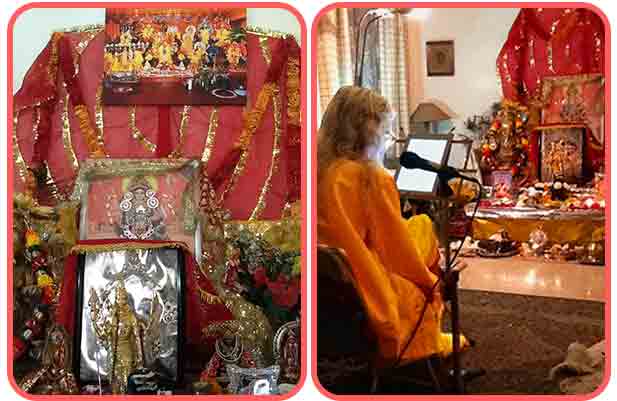 At 5:30 am we all joined together to do Shree Maa's morning program, just as we had been doing (and others are still doing) every day in Devi Mandir.
The room was a little small for us to do Yoga together, so instead Shree Maa and Swamiji opted for the alternative of a walk around one of Delhi's beautiful parks. Quietly we walked the path, enjoying the peace and quiet contentment the oasis of this luscious green landscape afforded to us.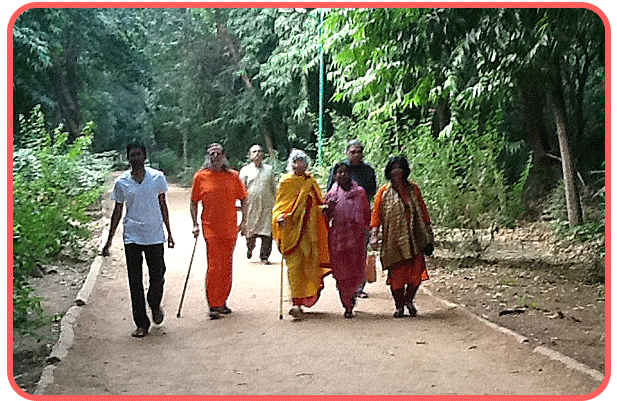 As we walked the park, I knew that this special time is the beginning of a very exciting trip, filled with unknown adventures and packed with new insights and key learnings that I hope to share with you all.
Indeed the trip had already started with one of the most important teachings. Through Her example, She showed that with pure devotion and sincere intent, we can integrate worship into our daily lives wherever we are and no matter how tired we may be.
Shree Maa's every breath is worship, and She seamlessly weaves worship into Her life's circumstances — whether on a plane, at a doctor's office, or at the Devi Mandir!
With this as an example, do any of us really have an excuse for not performing daily sadhana or completing a sankalpa?
May we all be blessed with sincere devotion to follow the impeccable example of our Gurus.
Jai Maa!
---
Kali Bari Mandir: Shree Maa Pleases the Goddess
The first temple we visited on the 2015 tour was the Kali Bari Mandir in New Delhi. Shree Maa and Swamiji visit this beloved Mandir at least once every time they come to India.
The temple and the deities of Kali Bari are all inspired by the Dakshineswar Kali Temple in Kolkata, where Sri Ramakrishna had lived and worshiped.
I too have come to love this temple. The amazing construction depicts what looks to be like a deity crown from the outside.
On the inside, the architecture allows for gentle, natural light to seep through the soaring ceiling, giving the feeling that you are floating in heaven.
Then, looking straight ahead is a majestic murti of Kali Maa, the Goddess Who Takes Away Darkness. It is breathtaking!
Shree Maa had made special preparations before visiting the Kali Bari Mandir. While still in the United States, Shree Maa had us assemble a very large Marigold flower mala, which we carefully packed in our luggage and transported to India.
Personally, I did not feel the mala would survive the trip, but the cool elevated temperatures on the plane protected the mala from degradation on our long journey to India.
Shree Maa also brought a big dazzling necklace embellished with radiant jewels, similar to those worn by the deities at the Devi Mandir's Cosmic Altar, and a beautiful red sari with a traditional design weaved out of golden thread. She had personally chosen this red sari for Kali Maa while shopping in New Delhi.
Such care Shree Maa took — such careful attention to every detail — such meticulous planning!
We arrived at the temple and the Pujari, who has known Shree Maa and Swamiji for many years, was filled with delight. Repeating, "Jai Maa, Jai Maa!" he came and bowed to Shree Maa and Swamiji's feet, and then embraced them with a loving hug.
Shree Maa carefully assembled the items to be offered to Kali Maa and handed them to the Pujari, hoping he would adorn the Goddess while we were at the temple. Even though they had already dressed Kali in a new sari earlier in the day, they were so happy to receive Shree Maa's offering that they briskly walked over to Kali, closed the curtains, and began to re-dress Her.
Meanwhile, Swamiji led our small group of ten in chanting the Kali Sahasranam.
We were almost half-way through when we heard the sound of SWISH…it was the Pujari opening the curtain!
Looking up, we were awestruck by the beauty before our eyes. Kali Maa had come alive in Her sparkling necklace, Marigold flower mala from Napa, and shimmering red sari.
Spontaneously, Swamiji softly inserted a "wow" in the middle of a mantra, but quickly refocused his attention to the chanting and finished the recitation with even more vigor than before.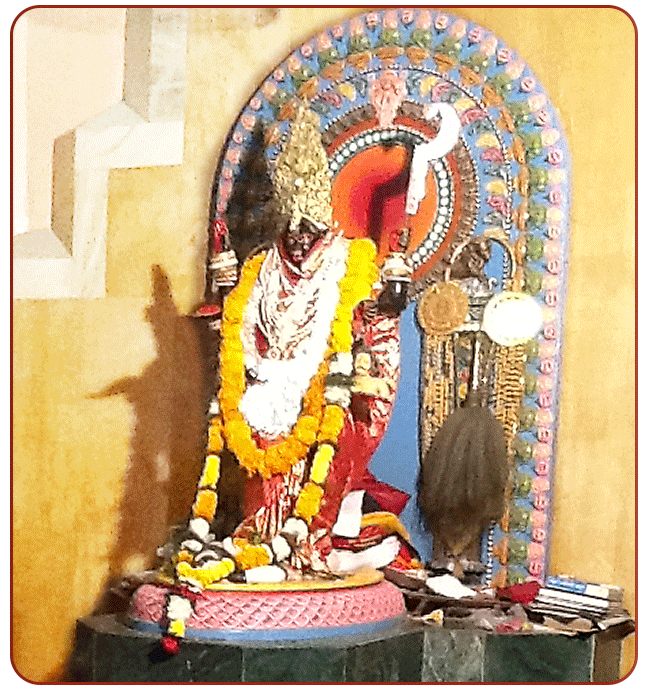 We all felt the desire to sing to this beautiful Kali, and Shree Maa, who is now nick-named the "iPad Maa Maa" (or iMaa abbreviated), efficiently flipped her iPad to the Kali songs and led the group through three songs: Jaya Kali Bhavani Maa, Jaya Kali Maheswari, and Prabhate Utiya.
I recall that Shree Maa had once told us that if three songs are sung after the completion of worship, then Mother will definitely come and be present with us. Indeed, after our worship and singing, we could all feel and bask in Mother's presence.
But I felt that Mother was with us for another reason as well — because the Goddess was pleased!
The Goddess was pleased with the sincerity of love, the attention to detail, and the pure intention that Shree Maa demonstrated with Her offerings.
Think about this: how many people do you know would make a mala and have it flown half-way around the world to be offered to the Goddess? How many people have the purity of devotion and the attention to detail to plan this out and to follow through with it?
Shree Maa, whose many teachings are revealed through the way She lives, pleased the Goddess today! That is why the Goddess came alive. That is why we all felt showered with Mother's blessings and grace.
Paying attention is Love. Pure Devotion is Love.
Shree Maa, the Ideal of Perfection, is also Love!
Jai Maa!
---
Arrival in Rishikesh
It was very early morning and still dark outside when we departed from Sanjay and Neelima's comfortable home in New Delhi to embark on a five to six hour car journey to Rishikesh, located in the foothills of the Himalayans.
It was a pleasant morning which had an air of peace and contentment, and not far into our journey we were afforded a spectacular view of the sun peeking over the horizon. The Sun is a loving reminder of our true divine nature. It gives and gives with total equanimity, it denies nobody its light and warmth, it performs its karma efficiently and timely, and it never complains. I have always found that Nature's greatest gift is that it is a reflection of divinity, untainted and uncorrupt.
Though we will only be in Rishikesh for a few short days, surely our time here will be filled with love and laughter as we will be staying with Shree Maa and Swamiji's long-time friend, Swami Ramkripaluji. Many of you have had the great fortune to meet him in Napa at the Devi Mandir, and I am sure you will agree his personality is delightful.
Upon arrival we were joyously greeted by Swami Ramkripaluji, and Shree Maa and the two Swamis went into a cozy living area where they chatted, laughed, and told stories as they caught up on each other's lives.
In the meantime, I took a moment to appreciate the Ganga, whose serene waters pass right in front of the ashram. The view from the third balcony, where we reside, is even better. Here in Rishikesh the Ganga is especially beautiful, and it becomes increasingly so as you travel upstream.
I carried the luggage up to the third floor and, as we were all unpacking, I noticed that Shree Maa was not setting up an altar. After all, we were only staying in Rishikesh a few days before journeying further north to Uttarkashi, and in that time we would be visiting temples. So, knowing that Shree Maa would not need my assistance, I went into my room and managed to sneak a short nap.
Upon awakening, much to my surprise, I saw that Shree Maa had created the most adorable little altar for Puja! When she saw me, she flashed a big grin and said, "It did not feel right without an altar."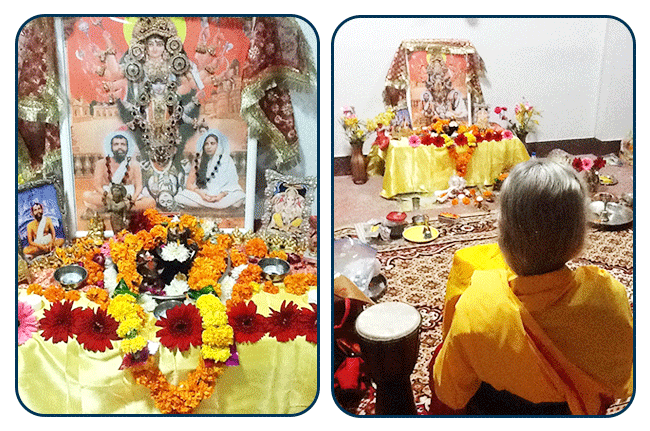 Indeed, wherever Shree Maa goes she always makes a place for God first, and before we knew it, we were all doing arati in front of our newly constructed altar.
I was struck by the purity and sincerity of our arati. At several large ashrams in Rishikesh, and other holy cities situated on the bank of the Ganga, there are grand aratis performed with many pujaris holding large 108 wick arati trays. I have watched many of these aratis myself, but I appreciated this small arati performed by our little group who had no other motive other than to worship God with 100% of our capacity. There was no one there for us to impress (other than God of course)!
In the morning several of us joined Swamiji in chanting various parts of the Bhagavad Gita, while Shree Maa performed her puja. Then we chanted the Chandi Path together as a group.
Most evenings we performed arati at our own altar, while Swami Ramkripaluji had his own separate program downstairs. However, on one of the evenings we joined Swami Ramkripaluji's kirtan. It was a fun evening, with people from various places around the world. There were people from London, Iran, India, and, of course, the United States. Despite our geographical differences, we all had one thing in common — devotion to God!
On this particular evening the power went out, but fortunately a battery provided enough electricity for a few lights and a mic. The power outage didn't stop anyone from performing the evening arati and singing.
Much like at our own Devi Mandir, Swami Ramkripaluji began his singing with a song to Ganesh. When he had finished his songs, he asked Shree Maa to please sing, commentating to everyone present that he (and everyone else) was truly blessed to be in the presence of Shree Maa and Swamiji and to have the opportunity to hear her "nectarine voice."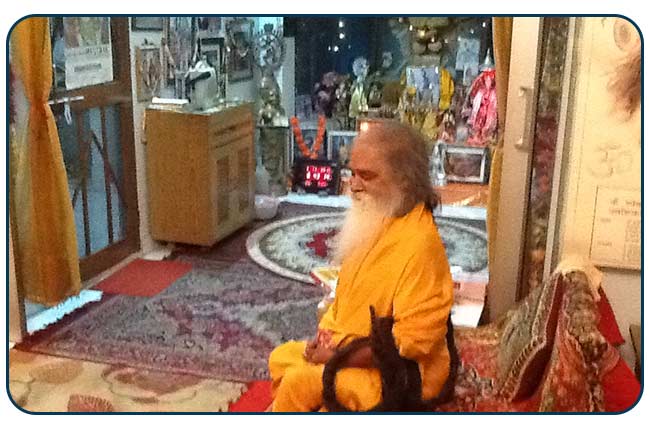 Swami Ramkripaluji was certainly right, but he left out one person! It was a real privilege to be in the presence of all three of them: Shree Maa, Swami Satyananda, and Swami Ramkripaluji.
The room fell silent and all eyes were on Shree Maa as she set-up her music stand and iPad for her first song. She began to sing, and her angelic voiced filled the room and touched everyone's heart.
It did not matter what part of the world we were from. It did not matter if we knew the meaning of her words. For, in the presence of her divinity, we felt the unity and the commonality amongst ourselves. That is where Shree Maa took us — to the center of our hearts where we are connected as one.
The experience with Shree Maa this evening drew my mind back to that beautiful sunrise on our journey to Rishikesh. For it occurred to me that Shree Maa is just like the Sun. Like the Sun, she gives her love and light with total equanimity, denying no one. Like the Sun, she efficiently performs her work in this world with no complaints.
Her gift is her light, and in her light, we are drawn inward so that we too can blossom and inherit the divine qualities of the Sun.
Pranam!
---
Worship at Sri Daksheshwar Temple
The temple of Daksha's Yajna, in the city of Kankhal near Haridwar, is believed to be the location where Daksha showed great disrespect to his daughter Sati's husband, Lord Shiva, by not inviting Him to a special Yajna (fire ceremony). The Yajna took place here and this is where Sati Devi left Her body.
This temple, which is also referred to as the Daksha Prajapati Temple, the Daksha Mahadev Temple, and the Shri Daksheshwar Temple, is a Shakti Pith and a very special place to worship the Divine Mother.
Like New Delhi's Kali Bari Temple, Shree Maa and Swamiji visit Daksheshwar every time they stay in Rishikesh, and the time was ripe for us to go. We awoke early in the morning to beat the crowd and journeyed by car about a half hour to the temple.
Shree Maa and Swamiji are well acquainted with the Pujari here, so upon arrival we had no problem setting up our asanas in the main temple area. Of course, it also helped that we arrived earlier than the flock of people that will inevitably visit the temple today.
As we assembled our asanas and made preparation for worship, Swamiji turned to me and said,
"If you go to a temple consistently to chant to God, set a pure example, and give pure love, who wouldn't want you to come? They will gladly give you the keys to the temple."
This was exactly what happened at the Daksha Mandir. They were more than happy to let us come in and do our sadhana.
The sun was slowly rising over the temple, providing welcome relief from the chilly early morning temperature, as we began chanting the Chandi Path. As predicted, people started to trickle into the temple and by the time we reached the middle of the Chandi, it had become quite crowded.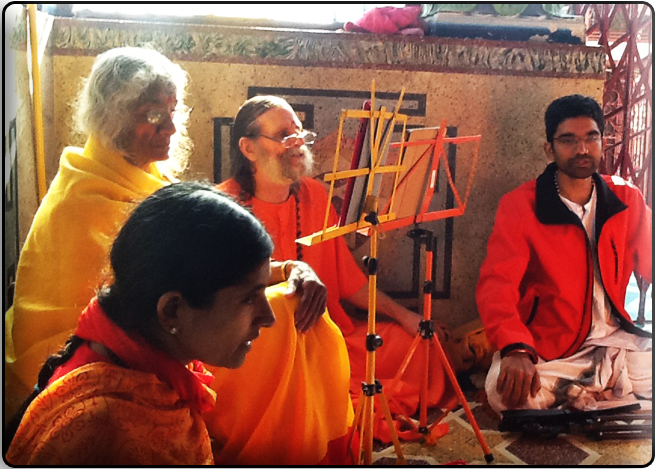 Some of the people who saw us chanting pulled out their cameras and smart phones for a good photo op. We stayed focused though, not letting any of this distract us.
Everyone appreciated that we were worshiping, and one person appreciated it so much so that he gave us 10 rupees each! This isn't much in terms of US dollars, but it is a huge gesture of respect and appreciation for what we were doing.
When we finished chanting, the Pujari, who is Swamiji's friend from long ago, came to greet us. Swamiji chanted the mantras of offering and gave him a cloth, sweets, and dakshina.
In a temple the pujaris are often paid for chanting mantras and doing puja. The uniqueness of Shree Maa and Swamiji is that not only do they give to the temple and its visitors through chanting and worship, but they also are the ones making a donation to the temple itself.
This is a beautiful example of what being spiritual really means — giving more than we take.
Shree Maa and Swamiji remind us that making a positive contribution through giving can feel rewarding and be a lot of fun, especially if we are doing what we love or applying creativity to enhance the community.
For example, if you also love to chant and worship, then you too can follow in Shree Maa and Swamiji's footsteps and use this as an avenue to contribute.
Even the smallest of things, like a simple smile, planting a tree, or helping the elderly, can enrich someone's life.
There are countless ways to make a positive impact, and I believe we are all equally empowered to do so, and in doing so, we will perpetuate our Guru's teachings and make their loving sacrifices all the more worthwhile.
Jai Maa! Jai Swamiji!
---
Saurabh Demonstrates the Power of Devotion
While visiting temples is always enjoyable, Shree Maa and Swamiji also cherish the special time they spend with their devotees in India. On this trip to Rishikesh, Saurabh, a very dedicated and long-time devotee of Shree Maa and Swamiji, had been unable to visit us because he was busy managing a store that he owns. I am sure it is an occurrence many people can relate to.
Formerly, Saurabh would spend many days and evenings with us at the Rishikesh ashram and frequently chanted the Shiva Sahasranam with Swamiji at some of the small Shiva temples in the area. Unfortunately, during this 2015 trip, he was unable to do so and Shree Maa and Swamiji very much missed his presence.
On one occasion, Shree Maa suddenly said to Swamiji, "Can we go to Saurabh's house unannounced?"
Swamiji replied, "Certainly!"
Before the blink of an eye, we all found ourselves climbing into the car and off we were to Saurabh's house.
What spontaneity!
When we arrived, Saurabh was still at his store, which was located just a few blocks away. Shree Maa asked Saurabh's son to call him. His son only had the chance to speak a few terse words to his father, "Maa is here," before the call ended. As soon as Saurabh heard those words, the conversation was done!
Saurabh bolted out of the store like a streak of lightening and arrived very quickly at his home. He was deeply touched that Shree Maa and Swamiji had come to see him, and immediately bowed to them and embraced them in turn with a loving hug.
They joyfully exchanged stories and got caught up, and then we all found ourselves clustered together on Saurabh's bed and felt the inspiration to sing.
Swamiji took out his iPad and we all sang the Hanuman Chalisa!
We sang and clapped with such fervor that it echoed through the house and out to the street.
We then strolled over to Saurabh's store and hysterically, we noticed that Saurabh had dashed out of the store so quickly that two of his customers were still standing in queue waiting to complete their purchase! And all the while we had been singing the Hanuman Chalisa at his home!
Dedication and devotion are the only words I can think of to describe Saurabh's impetus for his immediate departure from the store. With complete trust he left the store wide open for the public and put aside guaranteed profits from the customers in line — all done at the calling of his Gurus. He didn't even delay to complete the transactions or close the store. Now that is pure devotion!
The lucky customers who patiently waited for Saurabh to return were rewarded handsomely, as they received the darshan of Shree Maa and Swamiji. So this was a win-win for everyone!
After the customers were handled, Saurabh gave us a quick tour of the store. I was surprised to see how the store had grown over the past few years. Only a few years ago, Saurabh's store was a very small one room store in the main bazaar. Now, not only did he have four rooms on the ground floor, but also a warehouse in the back which was stocked with inventory.
This all manifest after Saurabh spent a few months driving Swamiji from temple to temple in the Himalayan foothills. The two chanted together in every temple they visited, and along the way they had several meaningful discussions on business concepts, the dharma of business, and the importance of fulfilling family obligations. Since that time, Saurabh's store has grown immensely.
Having toured the store, we all sat down at the counter top on both sides of the cash register. The store front was completely open to the street, which was on the main road. Sitting there looking out to the noisy street, Shree Maa again felt compelled to sing!
So, right then and there, Swamiji pulled out his iPad and we all began to sing many songs, including the Mahishasura Mardini Stotram. Shree Maa playfully became our percussionist as she conveniently located a plastic rice spoon and hit it against a tiffin bowl.
The bhava was contagious and many of the other shopkeepers left their stores and gathered at the front to enjoy our mini-kirtan!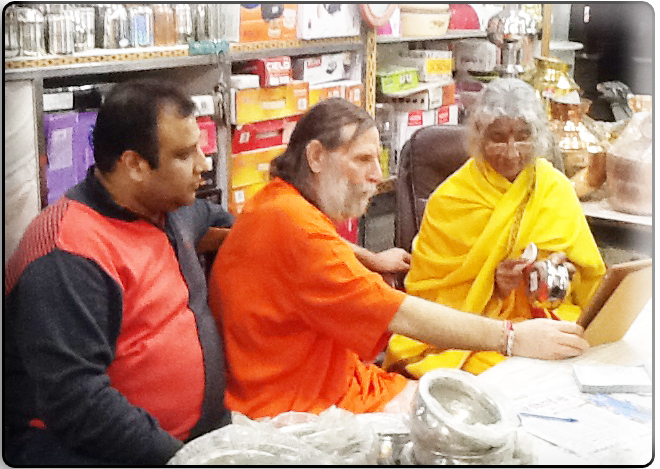 I always take note of the things that happen in India that would never take place in the United States, and this was definitely one of them!
Before we left, Saurabh asked Shree Maa if there was something that she would like from the shop.
Saurabh was more than ready to give anything to Shree Maa that she wished, but she only requested a small Ganesha murti.
Saurabh was so excited for the opportunity to give Shree Maa a gift that he gave her not just one Ganesha, but a whole dozen!
Shree Maa was thrilled and I was inspired by Saurabh's generosity! Jai Ganesha!
Walking back to Saurabh's home, we took note of another unique site. Inside the Bharat Mandir Complex, about 100 yards distance from Saurabh's shop, was a beautiful Shiva Lingam open for public viewing. I love how spirituality permeates into every aspect of Indian culture.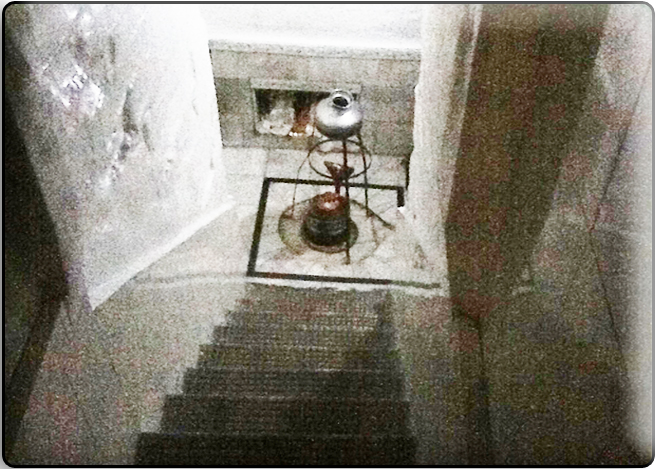 I felt so happy that my brother Saurabh received the unexpected gift of precious moments with Shree Maa and Swamiji. Surely the circumstances that transpired today would not have occurred had the freedom to act spontaneously been absent.
Spontaneity is action with no thought, and can come to us through intuition. When combined with love or devotion, spontaneity becomes a divine virtue.
Shree Maa and Swamiji perfectly demonstrated spontaneous love when they acted upon the intuition to make an unexpected visit to Saurabh.
Saurabh in turn reacted with spontaneous devotion which took him completely beyond himself, as he bolted out of the store with no thought about the consequences.
It is my belief that Saurabh's Guru-Bhakti (Devotion to Guru) was the magnet which drew Shree Maa and Swamiji to his house.
It was the strength of his devotion that set up this play of spontaneous love, which may have had to wait for another year to express itself had the opportunity been missed.
Saurabh Ki Jay!
Jai Maa! Jai Swamiji!
---
The Two Ingredients of a Powerful Temple
As we left Saurabh's place, the sun was slowly fading on the horizon and it was quickly getting dark. During our jaunt home, Swamiji was quick to point out the local temples, and feeling like there was no time better than the present to worship and pray, we found ourselves visiting two of them.
The first temple was a very small Mandir for the Goddess. This temple was so small that seven to eight people could hardly fit inside, but the tiny physical size was overshadowed by the enormity of the divine bhava that permeated the atmosphere.
This temple was active! Even though it was getting late, there were still several people worshiping here — one person was chanting, some others were meditating, and another was giving his Pranam to the Goddess.
We were here just long enough for Shree Maa and Swamiji to chant a few short mantras for the Goddess beginning with, "Jayanti Mangala Kali…" During this time, devotees continued to consistently dribble into this sacred little spot to offer their prayers and to do parikrama (walking around the deity/inner sanctum). I was inspired by the devotion and hoped that maybe someday we would come back here to worship.
Next we went to visit a much larger and well-known temple called the Bharat Mandir. As we walked in, we noticed the temple was nearly empty, except for one priest who came to greet us. He gave us prasad from the day's Puja and explained to us the history of the temple.
He explained that the temple was the most ancient and sacred temple in the center of the city, and Rishikesh came into existence after the temple was built. The deity here, Lord Hrishikesh Naranyan, a form of Lord Vishnu, came from an auspicious place. It is believed that seeing the deity here in this temple is akin to seeing the deity at the famous place of pilgrimage of Badrinath. In addition, the Shiva Linga they worship here is a Svayambhu (meaning it came to be naturally and was not created by human hands).
Even though the Bharat Mandir was grand, and the claims about it and its deities were impressive, there was no one present here worshiping, making it feel a bit barren and quiet. Compared to the small Devi temple, it was lacking the devotion, sadhana and prayer that inspired me so.
As we left, I contemplated on the ingredients that make a temple powerful and inspiring. Does the location that the deities come from really matter? Was a Svayambhu Shiva Lingam in itself an important thing? Did the grandness of the structure really make any difference to God's presence in that place?
I concluded that the most important ingredient must be the Sadhana being performed.
The heart and soul of the people worshiping in that temple is what truly matters, and far outweighs the uniqueness of the dieties.
Still I was unsure, and finding an opportune moment after our return, I asked Shree Maa her thoughts on what makes a temple powerful. "Only prayer and Sadhana," was Shree Maa's brisk reply.
I wanted to be absolutely certain that I understood correctly, so I continued to question Shree Maa if special kinds of deities or anything else could matter more than prayer and Sadhana. Quickly the same reply came "No, only the Sadhana and prayer that has been done in that place matters."
Later, I told Swamiji about this conversation with Shree Maa and he added,
"It is true. Prayer and Sadhana is what makes a temple powerful. It is about the intensity of worship the people have done there, that inspired others to maintain their devotion."
Thinking back to our own Devi Mandir, so much Sadhana, prayer, devotional bhajans and dance have been offered within the four walls of our Mandir, making it a gem of a temple for the community.
It is the love of worship which will create a space for future generations to come visit, become inspired, and express their devotion. I cannot think of a better vision than to create this as our future for the Devi Mandir.
With Shree Maa and Swamiji's blessing, it shall be.
Jai Maa! Jai Swamiji!
---
Road to Uttarkashi
Our stay in Rishikesh had drawn to a close, and we set out for Uttarkashi early in the morning. Uttarkashi is a five to six hour car ride through the winding roads of the Himalayas. These roads are often riddled with problems, so we wanted to make sure to get an early start.
Shree Maa made sure we all had sandwiches and snacks for the drive. No one ever goes hungry on Shree Maa's motherly watch!
Our car had left first, since the car carrying Shree Maa and Swamiji would need to go slower because of the bad roads. We ascended into the mountains quickly. As we drove along the roads, considering the curving nature of these roads, it seemed like we were going very fast.
The scenery was beautiful here — peaking mountain tops, winding roads, large green trees and foliage, all complemented by the Ganga cutting through the mountains. As I looked down, I saw the water curving through the mountain as it peacefully flowed between the banks of the river. I thought to myself:
Our lives should flow like the Ganga, moving effortlessly through the middle path without getting stuck on the river banks with unnecessary attachments.
After reaching about half way, we stopped for a break and called to see how far away Shree Maa and Swamiji were. We thought that surely they would be far behind us so we could leisurely stretch our legs, snap a few pictures, and walk around a bit.
As we were talking to them on the phone, lo and behold, Shree Maa and Swamiji's car zipped by us in a flash. So much for our plan of going faster!
We hurried into our vehicle and drove fast to catch up, and soon found their car parked suspiciously on the side of the road with nobody inside!
We quickly parked the car and jumped out to scan the scene. Looking across the street we spotted a golden yellow sari and a bright orange robe looking to be sitting at a table! Walking toward them, there they were, Shree Maa, Swamiji, Ramya and Sanjay, sitting comfortably eating stuffed paradas at a roadside dhabha (a small outdoor food stall).
Walking closer, Shree Maa smiled when she saw me and had the look of a small child getting caught sneaking sweets without permission. She laughed as a I took out my iPad and started to take pictures of their meal.
Chomp! Chomp! Chomp! Yum, Yum! They gobbled their food down as they giggled at my earnest attempt at capturing the moment. Then, of course, we were all invited to sit down and partake as well. It was so delicious that I soon forgot about the sandwiches Shree Maa had packed for the trip.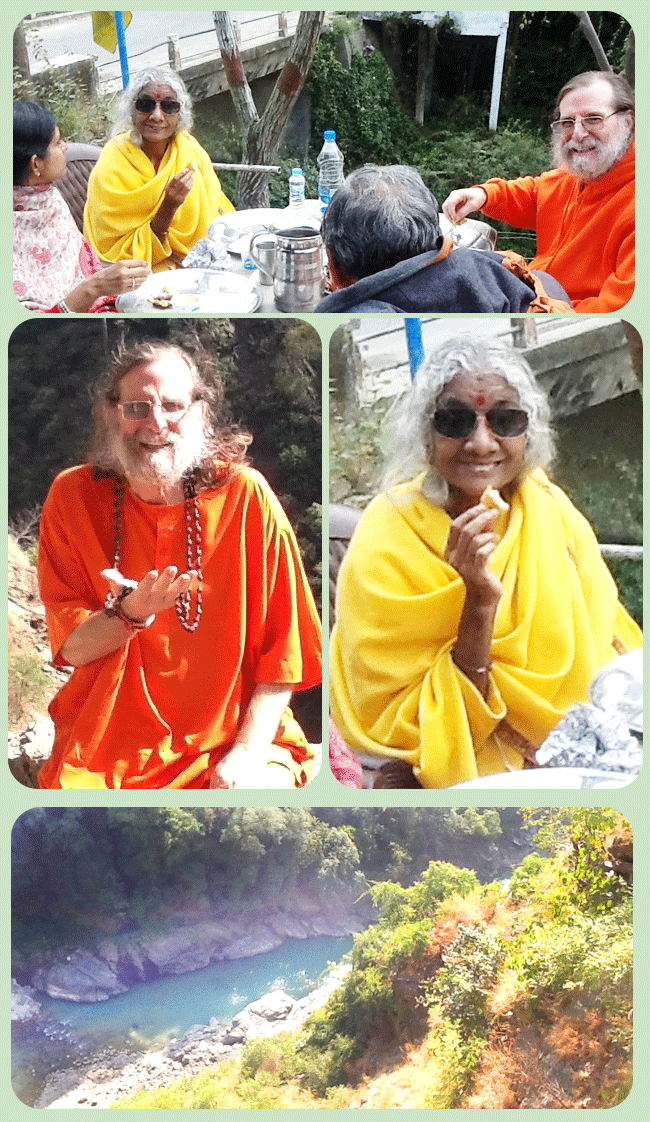 This was a beautiful place to sit, located amidst the Himalayas with a small stream passing by in the back. We walked around briefly after the meal, but we could not stay long. Soon we were back on the road.
It took us a little longer than expected to reach Uttarkashi due to the occasional delay caused from the roadwork. None of us seemed to mind these delays, as it afforded us another great chance to enjoy the beauty of the Himalayas and the Ganga weaving its way through it.
---
Swamiji Expands Sadhana
Amongst the wonderful landscape of the Himalayas, the Ganga flowing nearby, and the quietude of Uttarkashi, Swamiji found the perfect place for us to expand our Sadhana. Swamiji had begun the process in Rishikesh, where he led us in parts of the Bhagavad Gita before chanting the Chandi altogether.
We awoke early in the morning and were sitting in our asanas to begin chanting by 4:30 am. We took the Sankalpa, the Bhagavad Gita and the Chandi together in one asana. Chanting the entire Bhagavad Gita was a somewhat new Sadhana for most of us, but following along with Swamiji, it was easy to learn quickly. After about two hours we reached the 18th and final chapter of the Bhagavad Gita. Then we immediately began chanting the Chandi. It was a powerful experience; somehow the mantras of the Chandi were clearer having already chanted the Gita before.
When I asked Swamiji about it later, he described that the more we chant the more clear everything becomes. The meaning, the Bhavana, the feeling, the meditation, and all aspects of life! I could really feel what he was saying.
The next day Swamiji lengthened the recitation by adding more parts of the Chandi. The day after he added more parts of the Pancha Ratna to the Bhagavad Gita. In this way Swamiji led us in increasing our Sadhana everyday. Before long, we were reciting the entire Pancha Ratna Gita (the Bhagavad Gita plus its five stotrams) and the cover to cover Chandi as well.
Still, Swamiji didn't stop there. He added sahasranams and stotrams until the total time of our recitation reached a little over six hours. In the evening we would also do arati, sing Shree Maa's Sadhana program and chant various Sahasranams (1000 names).
Swamiji had described many times that the Bhagavad Gita describes the goal, and the Chandi is the path to get there. Reciting them both together brought us from an intellectual understanding of his words to an experiential one. Reciting the Gita reminded us of the qualities we were trying to obtain, while the Chandi offered the path for going beyond all negativities and obtaining those qualities.
It was such a wonderful feeling to expand our Sadhana with Shree Maa and Swamiji in this way. All we wanted to do was keep making it longer! One day, when we completed our morning recitation, Swamiji was filled with Bhavana. He turned back some pages in his Chandi app and read the translation of Devi Mayi:
Oh Mother! Is there any vibration that is not your song? Your body is the form of all sound. In cognizing your imminent form of divinity, my mind has moved beyond thoughts and reflections.
Oh Destroyer of all Obstructions, Grantor of Welfare! Recognizing you as such, as She who gives birth to all that moves and moves not, even these brief moments of my appearance in life should be spent without other thoughts in singing your praises, chanting your names, and offering of my devotion.
Swamiji smiled, "This is a biography about our selves. These stories describe our own lives, they describe what we are doing." We all sat silently in blissful contemplation of Swamiji's words. As I gazed at Swamiji and the altar, I thought within my self, how amazing that our lives are a reflection of the story of the Gita and the Chandi!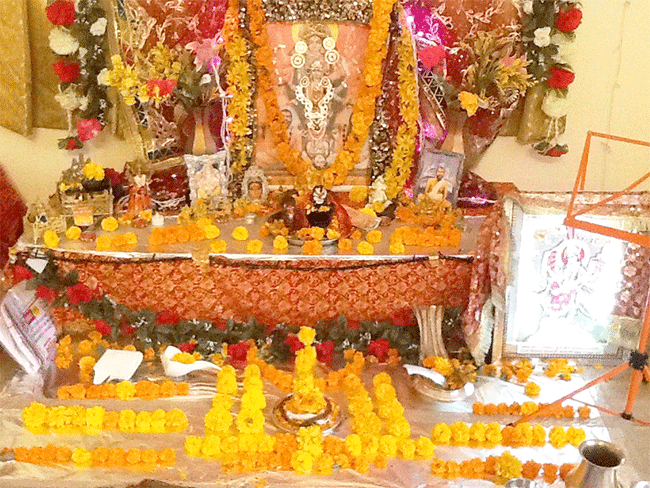 Jai Maa! Jai Swamiji!
---
Swamiji Performs Kali Puja and Becomes Absorbed in the Goddess
We celebrated both Kali Puja and Diwali in Uttarkashi. We began early in the morning by performing the Cosmic Puja together.
In the afternoon, many people came to join us for the Kali Puja. The room holding Shree Maa's Altar isn't very large, so it was quickly filled by those joining us. We sat down and took the sankalpa to perform the Puja, and then chanted all of the stotrams from Swamiji's Kali Puja book, including the Kali Kavacham, 108 names of Kali, Adya Stotram and then the Kali Sahasranam.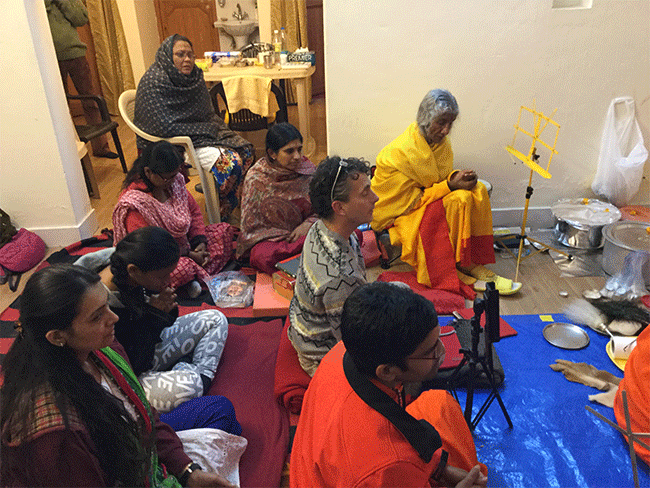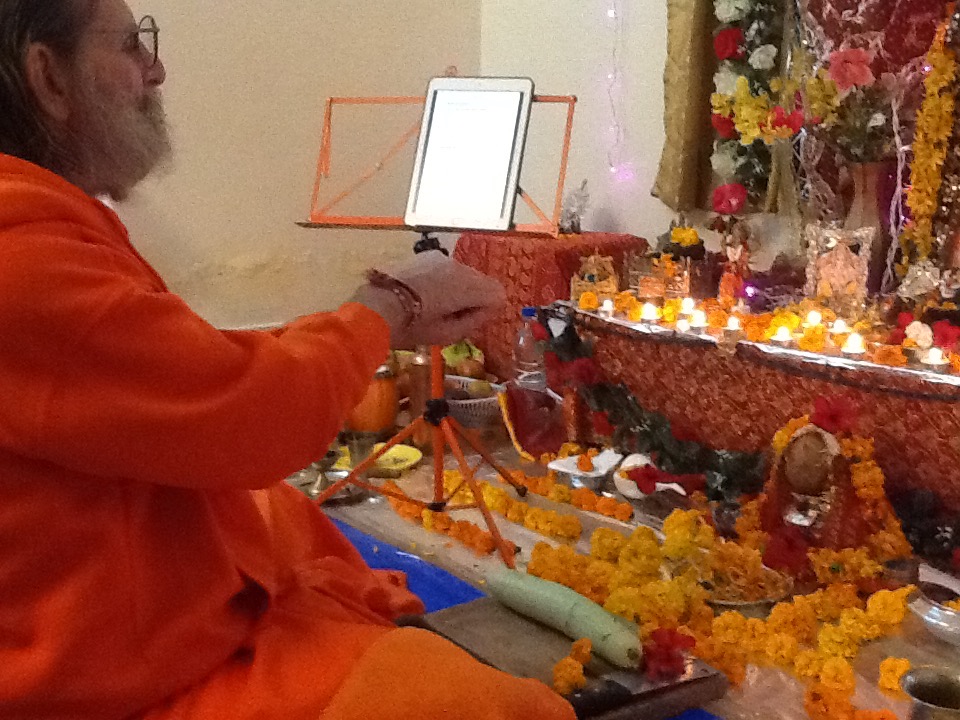 As we chanted and chanted, night gently descended outside. Kali Puja takes place on the 14th day of the dark fortnight of Ashvin, meaning the moon is almost completely dark. The next day would be the celebration of Diwali, the festival of lights. The chanting of Kali Sahasranam came to an end, and the puja reached its climax as Swamiji took the sankalpa for the offering of Bali, our animal nature and egotism, in the form of a Lauki (a kind of squash).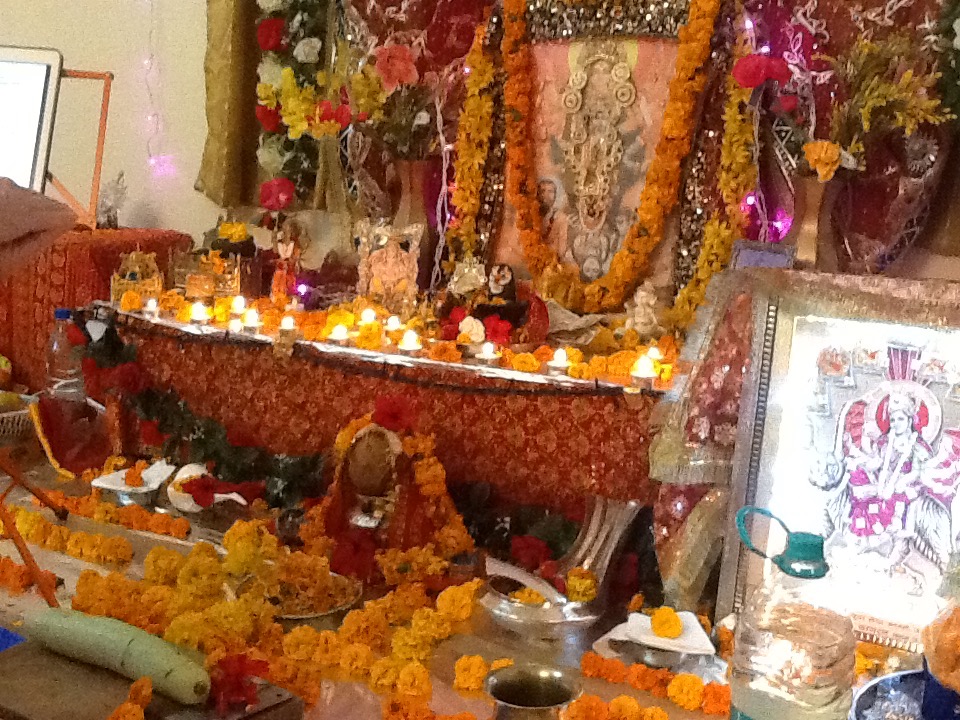 I paid careful attention as Swamiji chanted the mantras. First was the squash:
"Om We meditate upon the bondage of the life of a beast…"
The squash represented our bondage, our attachment, and our animal nature. Next, the mantras focused on the knife, with which Swamiji would sever the squash of Egotism. We all listened attentively, we wanted to know, what did it represent? The mantras clearly explained. The end of the knife was worshiped as Brahma and Saraswati, the middle, as Lakshmi and Narayana, and the handle, as Shiva and Uma. The Knife was the representative of the supreme divinity, which was being held firm in the hands of our pujari and guru, Swamiji, as Shree Maa quietly looked on with intent.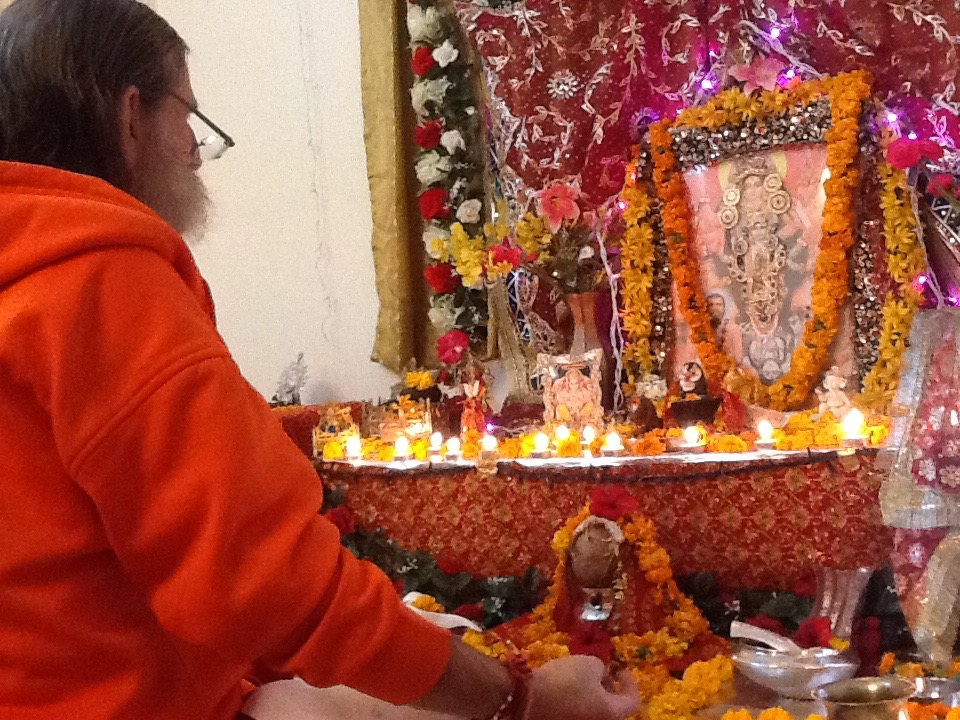 Swamiji raised the knife with the greatest care, as he meditated upon its role as the supreme divinity. The squash lay quietly below, becoming the container for all us to offer up our egotism and attachment. Swamiji's hand, which was firmly holding the knife, remained still in the air for a long time.
Swamiji has said that the knife will only come down when She, the Divine Mother, wills it. Otherwise, no matter how hard you may try, you can't bring the knife down. We all continued to meditate on the meaning and power that was palatable in the moment: the knife as the Supreme Divinity in the hands of the Guru, awaiting the order from the Divine Mother, to sever our bondage to egotism in the form of the squash.
The meaning became more and more real as we awaited the moment the knife would come down. The meaning became a feeling, ceasing to be just a concept in our minds. Even so, Swamiji remained still for a long time. Then suddenly he brought the knife down with the mantra "Phat!" and placed a candle on the squash, representing the light that dawns within when we sacrifice our egotism and attachments to God.
We all sat with the greatest delight, feeling the beauty of that sacrifice and the splendor of that light.
Swamiji was completely absorbed in the devotion of the moment. His mediation became very deep and he did not move.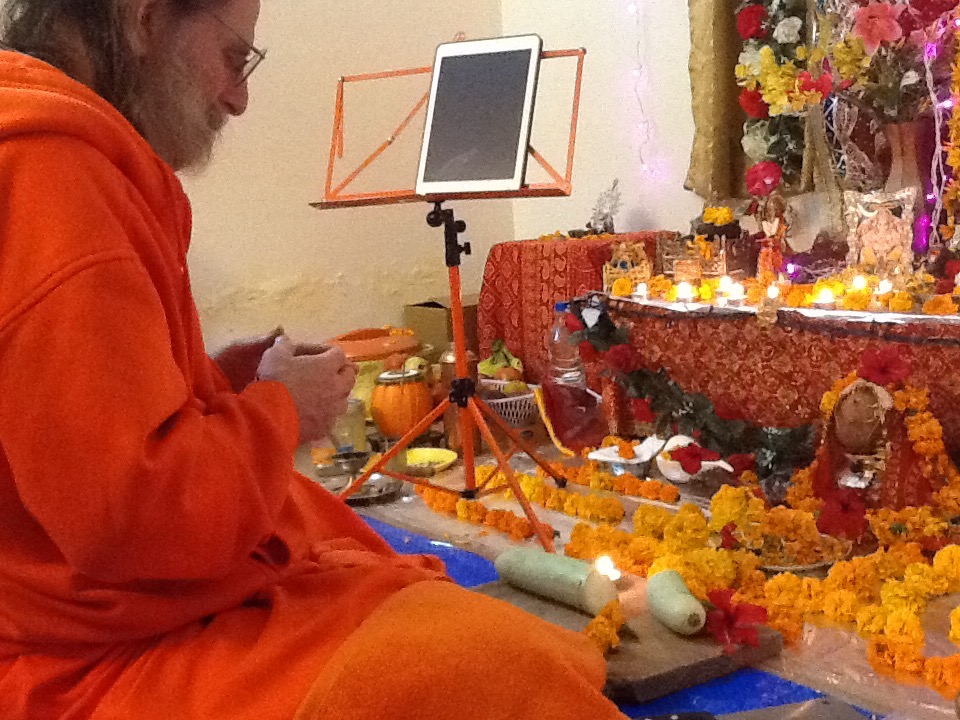 After some time had passed, Shree Maa tried to tell him to continue and finish the Puja. No response came from Swamiji, he was completely absorbed in Divinity. We all continued to sit meditating with him, inspired by the depth of his absorption and love for God. Finally the moment came, Swamiji broke his meditation, and we chanted the closing mantras of the puja together, still contemplating that light and joy within that had sprung forth from our worship led by Swamiji.
Jai Swamiji!
---
Shree Maa and Swamiji Light Up Uttarkashi on Diwali
As the finale to Shree Maa and Swamiji's wonderful Kali Puja, Swamiji performed a very short and sweet Kumari Puja. In a Kumari Puja, a young girl is worshiped as the representative of the Goddess.
The next-door neighbors had a young daughter, around 2 or 3 years of age, who was chosen as the Kumari for our Kumari Puja. She was very shy in crowds and so her mother held her in her lap during the Puja. Swamiji playfully, softly, and sweetly chanted the mantras for the offerings as he gave them to our tiny Goddess. Occasionally the mother would take the offerings when the child was too shy to take them herself. Everyone was smiling and laughing as they watched the adorable scene of Swamiji's playful and sweet puja.
At the end of the puja, we all bowed to our little Kumari to get her blessings and offer her flower petals. Swamiji was the first to get her blessing, by playfully taking her hands and placing them on his head as he bowed down before her.
In her shyness, only a few other lucky people were able to obtain the proper blessing of her placing her hand on their head, but everyone felt blessed to join in this special form of worship for the Goddess. The child's grandmother also came and bowed down to her, and last her mother picked her up out of her lap, sat her down in the chair, and smilingly bowed down to her daughter herself.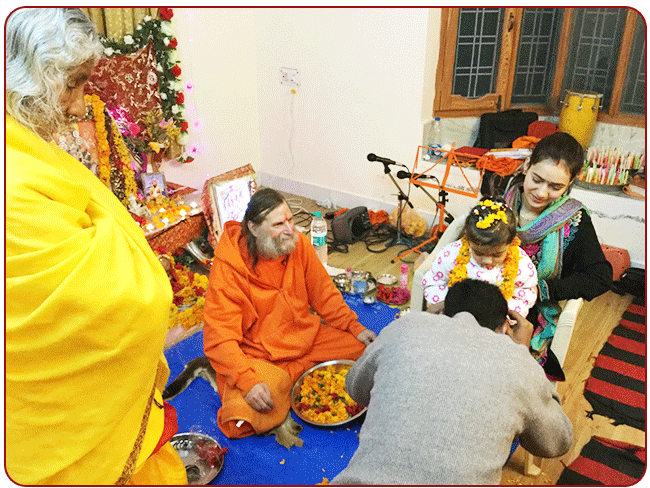 The next day was Diwali, the festival of lights. In the evening, we all gathered together to perform the Lakshmi Puja and the Lakshmi Sahasranam. Shree Maa had directed us to place 108 lights on the altar. As is a common tradition in India, the house had also been decorated with lights. Soon, we began our worship together, in celebration of the coming of the light.
Shree Maa had received a small murti of Lakshmi from Saurabh in Rishikesh. Shree Maa purchased a small decorative orange dress and pearl jewelery for the murti, which made her shine happily as the tiny representative of the Goddess of True Wealth. Shree Maa moved the Lakshmi to the front of her altar in front of her murti of Surya, the Sun God.
Lakshmi, with the sun shining behind her, was the center of our worship. Swamiji led us in chanting the mantras of the Lakshmi Puja. When the time came for the Lakshmi Sahasranam (the Thousand Names of Lakshmi), Shree Maa offered flower petals with each "Namah" as we all chanted the names. The pile of flower petals quickly accumulated around Lakshmi and Surya.

When the Puja had finished, we all began to perform the Arati. We had split the 108 candles between two plates. They were a little heavy, as we had dug clay from outside to hold the candles. I had imagined that Shree Maa would just sing and play her drum during the Arati, I was hopeful that she wouldn't try to lift the heavy plate. Nonetheless, Shree Maa was the first to pick up one of the plates! She was smiling, and to my surprise, moved it with ease. She was filled with such energy and a child like enthusiasm. Everyone was inspired to join in the Arati with a similar enthusiasm, paying no mind to the weight of the plates.
When the Arati had concluded, we all followed Shree Maa and Swamiji in chanting the closing prayers. They then gave Prasad and blessings to everyone present. Looking at the room, I realized that we spanned all parts of the age range. From a 2-year-old girl, a young boy, a teenager, young adults, adults and even a grandmother, everyone was delighted to be united together in this worship. Shree Maa and Swamiji's inspiration was far beyond the limitations of a specific age group or culture. It was completely universal.
As the finale for our night of worship, we went outside and lit up the sky and the earth with fireworks. Shree Maa and Swamiji sat looking on, as devotees launched the fire works. Shree Maa would lead everyone in shouts of "Jai Mata Di!" when they were fired.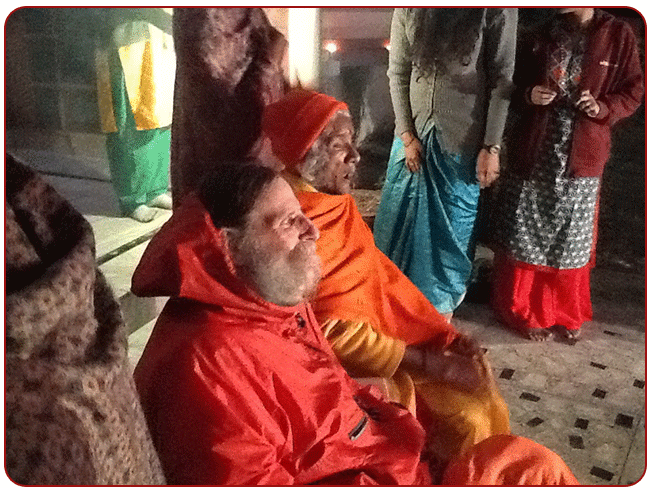 Then came the sparkles – Shree Maa and Swamiji jumped out of their roles as observers and picked up the sparklers and began to dance, singing "Jai Maa, Jai Maa!" We were all delighted and joined in their Arati of sparklers that was lighting up the night.
Shree Maa and Swamiji showed us the real meaning of Diwali. They brought the celebration of lights from the external world, through their sincerity and enthusiasm, into the internal world inside of each of us.
Jai Maa! Jai Swamiji!
---
Two Special Temples in Uttarkashi
The city of Kashi, which is also referred to as Varanasi and Benares, is the City of Light, and Uttarkashi means the Uttar (northern) Kashi (City of Light). The main deity of Kashi is Kashi Viswanatha, one of the Jyotir Lingams (sacred places of worship for Lord Shiva).
Uttarkashi also has a temple for Kashi Viswanatha. It is a very old temple and one of the most sacred places to worship in Uttarkashi.
When we arrived, it was a bit chaotic as this tiny temple is currently undergoing construction to expand the temple complex. The entrance to the temple was in the center of a busy market and we entered inside passing by the construction going on around us.
It was the middle of the day, and most people were busy with their daily lives, so the temple wasn't crowded. We entered inside the inner sanctum of the temple, where the Shiva lingam was located.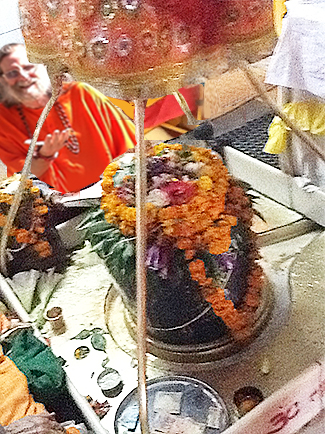 A pujari was sitting next to the Lingam, waiting to chant mantras for anyone who wanted to make offerings.
Of course, we didn't need any help, as we had Shree Maa and Swamiji to lead us in the offerings.
It was a small room, but we all managed to fit in as best as we could and offer flowers and water to the Lingam.
As other people were waiting to come in, and the room was small, we had to exit from the inner sanctum and sit in the room beside it to do our chanting.
This room offered a nice view of Nandi, whose relentless gaze at Lord Shiva reminded us to stay focused with devotion toward God.
We all sat down at the sides and corners of the room, so people could still pass through, and began to chant the Shiva Sahasranam Stotram, along with a few other parts of the Shiva Puja.
While we chanted, there were some distracting elements. People were walking towards the main inner sanctum, though there wasn't much room for them to pass by. Outside the sounds of construction were going on as we chanted. Nevertheless, we completed our recitation of the Shiva Sahasranam.
Thankfully, when distracted, I would turn to Nandi for an example of how to keep my attention focused on Shiva.
Later we went to another temple which is less well-known, the Laksheswar Temple. It was beautiful and quiet, and the structure was no less impressive then it had been at Viswanath.
When we entered, no one was present, not even a pujari was on site. Walking inside there was no noise other than the soft sound of a recording of the mantra "Om Namah Shivaya."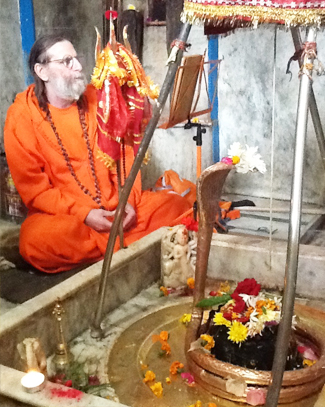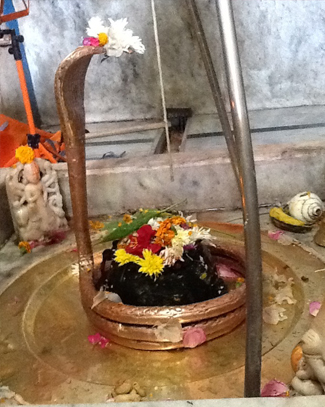 We were able to sit inside right next to the Lingam and chant with gusto as there were no people around and there was no noise to distract us.
Here we performed a Shiva Puja and recited the Shiva Sahasaranam and other stotrams.
It was a blast having this temple to ourselves!
It was a wonderful recitation, and I was left with a great admiration for the temple, which was a wonderful place to perform Sadhana.
As we were leaving, I went to fetch water from the Ganga nearby for Shree Maa's Puja.
On the way there I felt so happy that the Laksheswar Temple was so suitable for sadhana. Located close to the Uttarkashi Ashram and to the Ganga, it was absolutely ideal.
When I returned with the water, I told Swamiji that I enjoyed the quiet temples more than the hustle and bustle of the busy temples because it is easier to do sadhana in the small, less well-known temples.
I asked Swamiji if there was ever a reason to go to the larger busier temples.
Swamiji replied, "When we go to quiet places and temples, we get a chance to focus and immerse ourselves in the Sadhana.
When we go to the larger temples, that may be noisier or have many disturbances, we get a chance to tune out everything and focus inside.
We focus on the feeling and the vibration of the mantra inside, unconcerned about what people are hearing outside.
When we can do that, we will be real Sadhus."
Wow! I loved this response because literally everywhere we go, we train ourselves to focus. We can use every situation as an opportunity to improve our sadhana.
Even the temples that I had thought were too crowded or full of distraction had an important place in our Sadhana. It was a beautiful perspective and I immediately realized that I was wrong about the two temples: they were both great places for Sadhana.
Swamiji continued, "Everything can help us to progress in our Sadhana one way or another." Swamiji paused for a moment and smiled, "It is as if God has made India specifically for doing Sadhana."
---
The Devotion of the Bengali Community in Delhi
From Uttarkashi, we returned to New Delhi, where we had a program planned in the Kali Temple in a local Bengali Community housing complex, that we had visited the year before.
When we were welcomed into our host's house, it was already completely filled with devotees and their devotion. Most people in the community here hold a special place in their heart for the Divine Mother, and I could tell they were eager to meet Shree Maa and Swamiji.
First, Swamiji and Shree Maa performed a Puja in the flat's small temple room. There are two to three doors leading to the temple room, and from all sides people were crowding in at the doors to try to get a peak inside, as Swamiji led the Puja.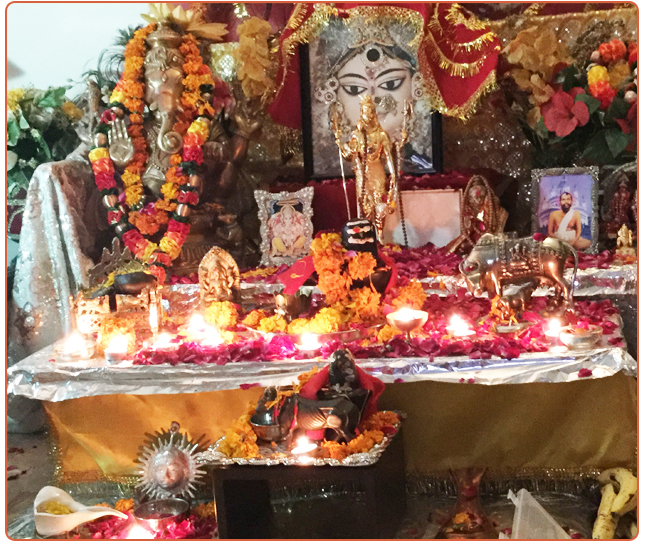 Everyone was so inspired by the Puja that they crowded the room as they earnestly awaited Prasad and the chance to get a blessing from Shree Maa and Swamiji. We proceeded upstairs and continued to share the love and joy through a delightful kirtan, which filled the small room with bliss.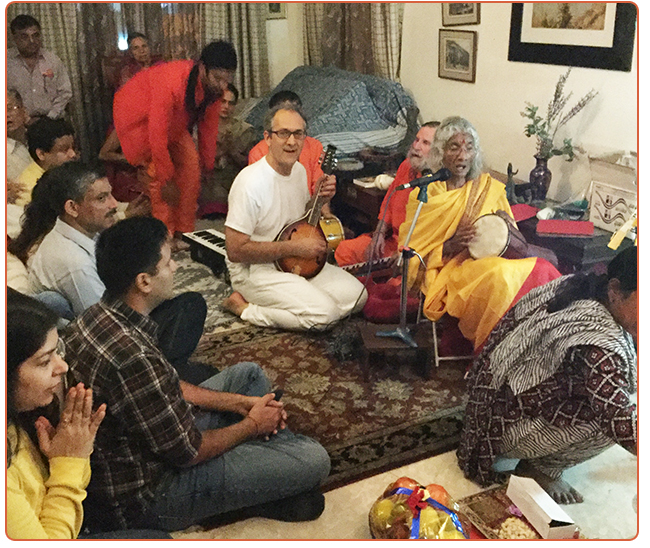 Early the next morning we came again to the small Puja room. Shree Maa performed her morning Puja with no shortage of flowers and helpers. Meanwhile, Swamiji led us in chanting the Bhagavad Gita.
When we had finished the Puja and the Bhagavad Gita, we all went to the Kali Temple that was located inside the Bengali community headquarters. The priests were very happy to hear that we had come to recite the Chandi together. They laid out blankets for everyone to sit upon, and several people came to join us.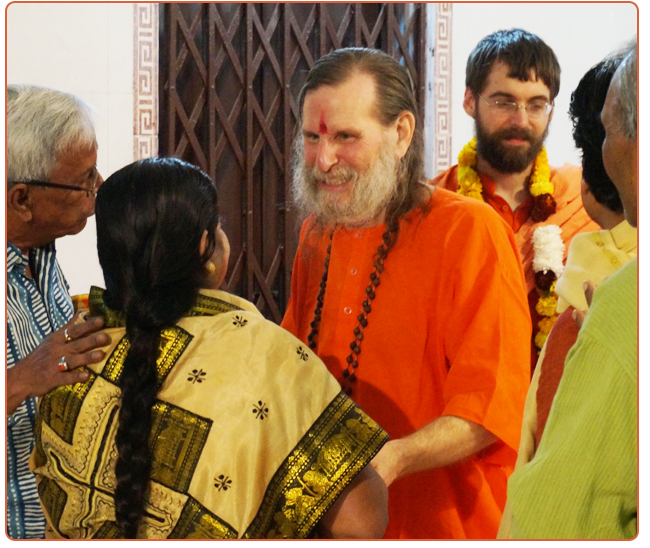 Before we began chanting, one lady came and asked Shree Maa if she could perform Pada Puja to her, the worship of the Guru's feet. Shree Maa accepted and with reverence the lady performed a short puja to Shree Maa and offered a tilak to each of us before we began.
It was still early and light had just begun to break outside as we started. Slowly the sun rose higher in the sky, and when it rose over the trees, it began to glare on our iPads. The priests were standing by as we chanted, listening respectfully. They noticed that the light was both in our eyes and on our screens, so they took a sari that had been offered to mother Kali and hung it in such a way as to block the light. I was very impressed by their respect and consciousness to be so helpful.
With the obstruction removed, we continued and completed our recitation with ease. The temple priests were very impressed by our pronunciation and style of chanting with Pranayama. They accompanied us as we walked around the temple complex, offering a short worship to each of the deities present.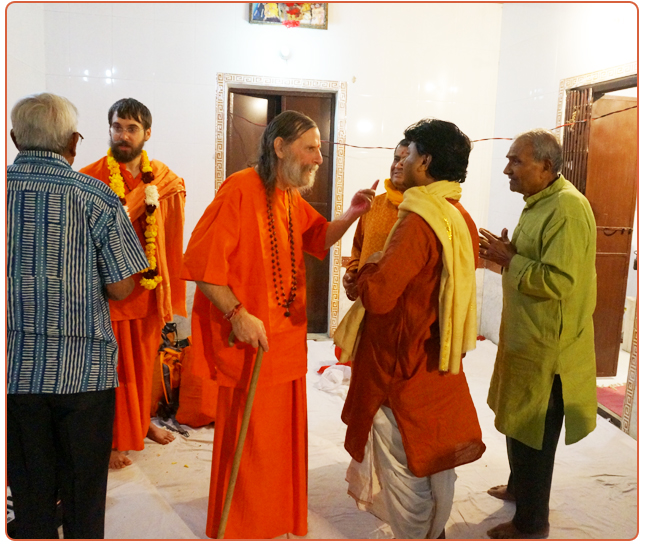 In the evening, our hosts had made plans for a bigger program, where Shree Maa could sing. They set up 100 or so chairs in addition to mats where people could sit. They also had a mic system for us. We sat in the center of the temple and faced the outside. When the time for the program came we were amazed. All of the seats became filled, as the entire community seemed to come out to join our program.
With the mic, Shree Maa's love-filled voice pervaded the entire area, and people sang along with her. There was so much devotion present that it was tangible. The community showed so much respect and appreciation to Shree Maa and Swamiji through their devotion and attention.
Shree Maa sang around ten songs and ended with Mahishasura Mardini Stotram. When the last line of Mahishasura Mardini stotram came, Shree Maa continued singing the refrain and got up and began to dance! Many people joined with her, inspired by the atmosphere of devotion. When we had finished, the line for taking Prasad and blessings began to form. It extended on and on. Shree Maa managed to exhaust three large boxes of laddus and some additional boxes of other sweets in giving prasad.
While people took blessings, others sang songs to the Divine Mother and Ramakrishna in honor of Shree Maa and Swamiji. The priests, who had been so impressed by our chanting in the morning, were now even more impressed. They brought their whole families to get Shree Maa and Swamiji blessings. The priests introduced their children and spouses seeking blessings for them all, which Shree Maa and Swamij were more than happy to give.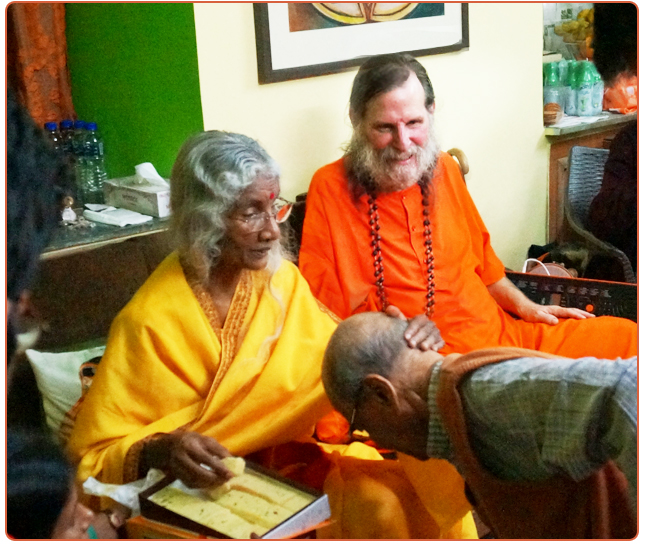 When the line for blessings and Prasad had finished, most of the people were still lingering nearby hoping to get one more word with Shree Maa and Swamiji. Someone remarked to me as they were leaving, "Shree Maa is amazing! She is a singer, a dancer and a Divine Mother!" I completely agreed with her.
When we returned to our host's house, we found that a neighbor had cooked a gourmet meal for us all with loving devotion. We all happily partook of the food. Soon the time came to leave, with everyone trying to get at least one picture with Shree Maa and Swamiji. Sometime after we had left, we received an email from our host, he said, "Since you have left, everyone is feeling very sad, because we miss you so much. We are all beginning plans for your next visit!"
Beginning plans for our next visit? We had only left a few days back; it was something like planning for the next Christmas the day after this years had finished. Shree Maa and Swamiji were touched and sent a message back to them, "Your devotion is surrounding us and always with us."
Click Here For Travelogue 2015 Part II