Wedding in Mumbai
We again returned to Mumbai, but this time to the home of Kishor and Rashmi Rathod.
Many of you will remember Rashmi as she visited the Devi Mandir a few years ago.
Their son, Dhruv, had been engaged for a number of years to his fiancé, Utsavi.
While at the farmhouse in Shahapur, Shree Maa had suggested they do the wedding on Kartik Purnima, which was in just a few days.
Swamiji had described to them the meaning and symbolism behind the Divya Vivaha (the Divine Marriage) which he performs and asked them if they wanted that kind of wedding.
They enthusiastically agreed!
As such, we prepared to perform the wedding when we returned to Mumbai.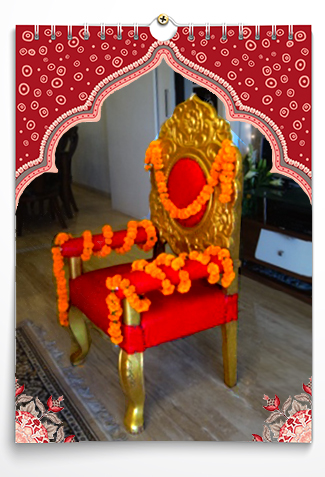 As it was on short notice, and the ceremony would take place in their home, they only invited close family and friends to attend.
The house was decorated with colorful paper flags and strings of marigold flowers.
Two beautiful chairs were brought for the bride and groom to sit on, which Shree Maa decorated with strings of marigolds as well.
A henna artist came to decorate the hands of the bride and all the women in attendance — including Shree Maa! Shree Maa even colored her fingernails red.
Kishor and Rashmi's daughter, Pooja, drew a small "Aum" on Swamiji's hand with henna.
It was certainly fun watching everyone else prepare and I was relieved that I was not dragged in as an active participant to get my nails painted and flowers drawn on my hands.
As is traditional before a wedding, a Haldi or Pithi Ceremony is performed on the bride and groom.
As the Vidhi (method, procedure) goes, a short puja is first performed to the bride and groom, and then they get covered with a special paste of turmeric, sandalwood powder, and rose water.
There are various reasons for this ancient tradition. Not only does the Haldi mixture make the skin glow, but it is believed that the turmeric has powerful properties against negativity and purifies the body, mind, and soul prior to the wedding.
Also, those who rub the paste onto the bride and groom, are blessing them with a healthy, happy, and auspicious married life. It is a beautiful blessing.
Swamiji performed a short puja to Dhruv and Ustavi, and then the fun began!
Shree Maa and Swamiji, along with Kishor's family, did the honors of smearing Dhruv and Utsavi with turmeric paste.
Then everyone else took turns applying the paste. This was an occasion that was full of smiles and joy.
One the Haldi ceremony was over, the bride and groom departed to separate quarters to bath and get dressed for the wedding ceremony, which took place soon thereafter.
Shree Maa took care of many of the details of setting-up the wedding herself. For example, in India the groom often wears a stylishly tied turban during the wedding.
One devotee looked up a Youtube video on how to tie the turban and showed it to Shree Maa.
She sweetly and lovingly tied the turban on Dhruv's head herself for his wedding. What a blessing!
In front of the altar that Shree Maa had constructed for Puja, the bride and groom sat on two pillows facing each other.
Swamiji sat adjacent to them and led them both in performing Puja to each other.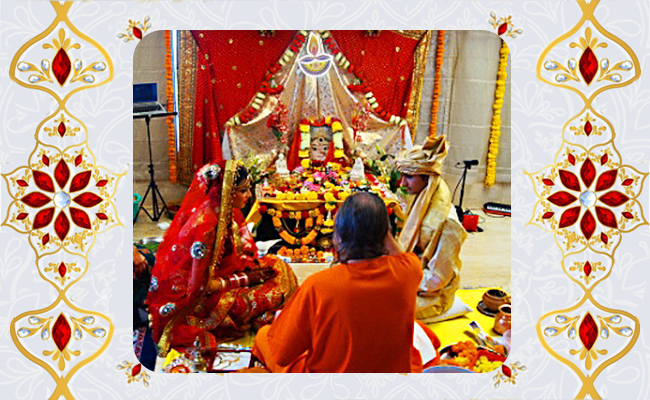 Utsavi worshipped her soon to be husband, Dhruv, as Shiva.
Equally and reciprocally, Dhruv, with the help of Swamiji, properly worshipped her as the Divine Mother.
It was a beautiful exchange of love and inspiration, between both the bride and groom, as well as the devotees and their Gurus.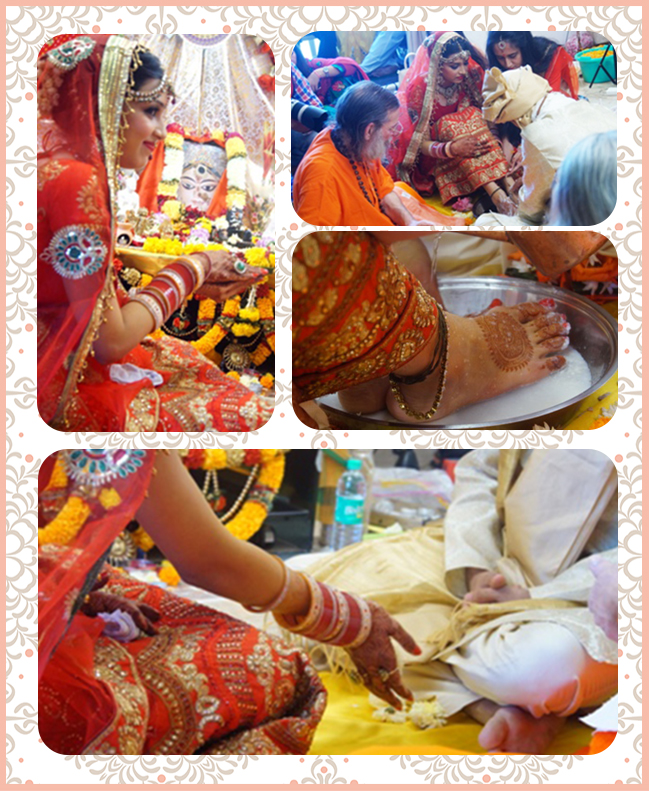 Swamiji's loving and playful antics made everyone to smile and laugh, and created a joyful atmosphere that pervaded everyone present. Smiles could be seen on faces all around.
Swamiji's playfulness coupled with his perfection in understanding and chanting the Sanskrit mantras of the ceremony is something totally unique. Dhruv and Utsavi could not have hoped to find anyone else who could inspire such a mirth in the wedding while also executing the ceremony so perfectly.
Next Swamiji took Dhruv and sat him in one of the decorative chairs and proceeded to blindfolded him.
Utsavi and Swamiji then walked around him seven times offering a rose at his feet each time.
Swamiji explains that Shiva accepts blindly whatever the Divine Mother wants to give him, and she in turn only wants to give him her surrender.
Everyone present showered the bride, groom and Swamiji with flowers as they walked around. Some flowers even got stuck in Swamiji's hair and everyone enjoyed the sight.
How enthusiastically and lovingly everyone showered flower petals on the soon to be husband and wife!
Swamiji then stood Dhruv up and asked him if he was ready to remove the blindfold and see what he got. Dhruv replied, "Yes!"
Swamiji removed the blindfold and Dhruv saw Utsavi standing before him. They both lovingly gazed at each other.
When the Divine Fire had been duly invited and worshipped, the couple stood up and, led by Swamiji, walked around the Divine Fire seven times.
Then came the vow of the seven steps with the Divine Fire as the witness.
After taking the seven steps together, and making seven promises to one another, they again sat back down together.
Swamiji tied his mala around their hands and pronounced the mantra saying, "Not Brahma, not Shiva, nor Vishnu, so long as the sun and the moon shine in the sky, no one can untie this knot."
I could see Dhruv intently looking at Swamiji when he spoke these words.
Dhruv told me sometime after the wedding that he had a lot of faith in this Vidhi (part of the marriage) and was very eager to get such a guarantee of their union from Swamiji.
Then they exchanged the flower garlands that they were wearing, put sindhur in her hair, and both bowed down to each other and blessed each other and then received the blessings of their families as well.
The families on both sides, as well as the bride and groom, were brimming with joy, inspired by the atmosphere of happiness which Swamiji and Shree Maa had created, as well as their love for one another.
At the end of the wedding, Dhruv and Utsavi sat together on two decorative chairs as the images of Shiva and Shakti sitting together. Shree Maa was first to pick up the arati plate and wave the lights before them. Then everyone else followed suit. Near the end of the arati, Swamiji put down his keyboard, and dancing and smiling, waved the lights before them. Now the marriage was really complete.
We were able to broadcast this event live and even have a video. Watch the two-part video below:
Mumbai Wedding Part 1
Mumbai Wedding Part 2
Swamiji and Shree Maa tried their utmost to convey the bhavana (spiritual feeling) of divine marriage throughout the ceremony. They tried to give the couple, and everyone else present, the feeling that they are divine beings, in a divine union, which is for the express purpose of mutually inspiring each other to remember God and divinity all the time.
If she could respect him as Shiva, then he would be inspired to respect her as Shakti, the Divine Mother. Likewise, if he would respect and love her as the Divine Mother, then she would be inspired to remember him as Shiva, the Consciousness of Infinite Goodness, and together they would obtain the highest goal.
Please join me in blessing Dhruv and Utsavi with a happy, prosperous and divine life together!
Jai Maa! Jai Swamiji!
Ambaji Temple in Gujarat
After marriage it is traditional to take the blessings of the family deity of worship, the deity most highly regarded in the traditions of that family. Dhruv and Utsavi were raised under the blessings of Ambaji, located in Gujarat, so the entire family invited all of us to come along to share in the blessings.
We traveled to Ambaji, the Shakti Peeth where Sati's heart was said to have fallen. Ambaji is both the name of the town as well as the name of the temple. After arriving at the airport by plane from Mumbai, we had a five to six hour drive by a mini-bus to reach there.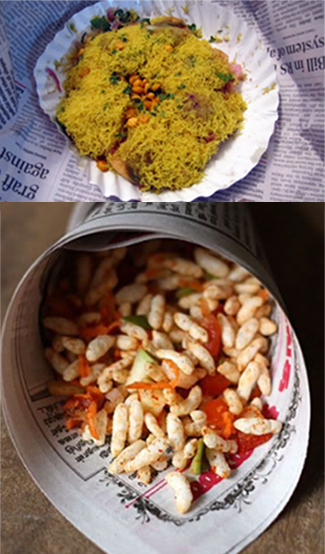 We stopped along the way and ate a traditional Gujarati standing roadside breakfast.
Gujarat is a mostly vegetarian area, as such they have an incredible variety of vegetarian foods.
Needless to say, it was an impressive breakfast, standing at tables, eating off of newspapers, as our hosts, Kishor and his family who are Gujarati, made sure we tried all the traditional roadside foods.
Fully fed, we continued our journey and reached to where we would be staying in Ambaji.
It was getting to be dark outside, but we still wanted to visit the temple before the day was done.
Interestingly, there are two temples for Ambaji. One is in the town and is a large temple complex where her murti resides.
The second one is on the top of the mountain and is known as her Jyoti Swarup (her intrinsic form as light), where she exists as a flame they always keep burning. We visited Ambaji's Jyoti Swarup temple first.
There are two ways to ascend the mountain to Ambaji's Jyoti Swarup. The first is to walk the winding path up the mountain, which has small temples placed all along the way.
The second is to take the gondola ropeway, which takes you directly to the top of the mountain where the temple is located.
We took the gondola ropeway as it was already late and we were hoping to visit both temples before the end of the day.
It was an incredible view looking out at the scenery of the town and plains far below as we ascended the mountain in the gondola.
When we arrived near the top, we still had a short walk to reach the temple. There was one young boy near the temple, singing bhajans for the Divine Mother. His singing was beautiful and his musical technique was incredible for someone of his age. Shree Maa smiled as she watched him sing.
Seeing the top of the mountain, I could imagine that at sometime, some great sadhu had cherished this location as his place of worship. Sitting far above the world, one couldn't help but think of divinity.
We made our way to the temple and Swamiji led us in chanting the mantras of worship before the flame form of the Divine Mother.
There were two lion-like figures in front of the temple to which people offered sindur. Swamiji took some sindur from them and gave it as a tilak to everyone present. We soon descended the mountain and made our way to the Ambaji temple in town, which is the main temple.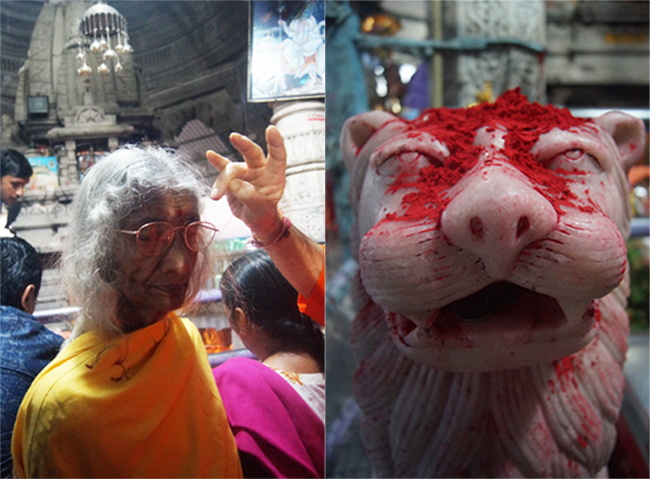 We had hoped to chant in the Ambaji temple, but due to it being a highly trafficked area, for security reasons, no electronics are allowed inside.
We had to content ourselves with chanting mantras and stotrams that we knew by memory since our iPads were not allowed inside and we didn't bring any books.
We sat outside chanting for a short time, and when the darshan line had cleared up, entered the temple.
The temple is normally very busy. You can rarely stand before the shrine of Ambaji for a few moments.
Since we were visiting during the evening, after the line had cleared up, they made an exception and let us stand long enough to chant the mantras for all the offerings we had brought.
It was a delight to visit the Shakti Peeth, but we wouldn't be content until we got to chant for her properly. So, the next day we went to a nearby temple for Chamunda, the form of the Divine Mother who slays passion and anger.
It was a pleasant open air temple, and we sat together with Shree Maa and Swamiji to recite the Chandi Path there.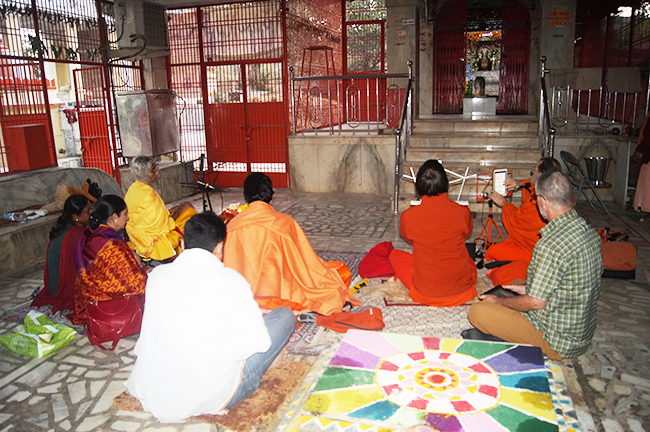 It was in a rural area and was very quiet and peaceful. One female Sannyasini lived there and maintained the temple. She was happy to open the main temple area up for us to sit and chant.
The previous night, Shree Maa had bought a small murti of Ambaji, and she had brought it to the temple with her to establish her life. Shree Maa set up an adorable little altar for Ambaji and before beginning the Chandi, we performed a short puja and prana pratishta to the small murti.

After this small puja, we began our recitation.
There was no disturbance in this small temple. It was perfect for Sadhana. It is often the case that the larger well known temples, while useful for the general public, are rarely the best places to perform Sadhana. It is often the smaller and lesser known temples that serve as ideal places to sit and perform the kind of longer Sadhana that we enjoy doing.
When the next day came, we still wanted to chant more in the Ambaji temple. Accordingly, around noon time, Swamiji and a few of us departed to the temple with Chandi books in hand. We found a shaded place outside the main temple, as the main temple doesn't have any area for sitting, and sat to chant various stotrams from the Chandi.
As we chanted, many people stopped and gazed on for sometime. We are always an interesting sight to the normal temple goer. Most people simply go and stand in line, wait to see the murti and then depart, content that they have received Ambaji's blessing.
People get a certain inspiration when they see Swamiji surrounded by devotees, sitting and chanting, instead of just leaving after seeing the murti. In that way Shree Maa and Swamiji help to keep the real heart, the sadhana, of the Santana Dharma alive, reminding and inspiring people to give more mind and to spend more time with God.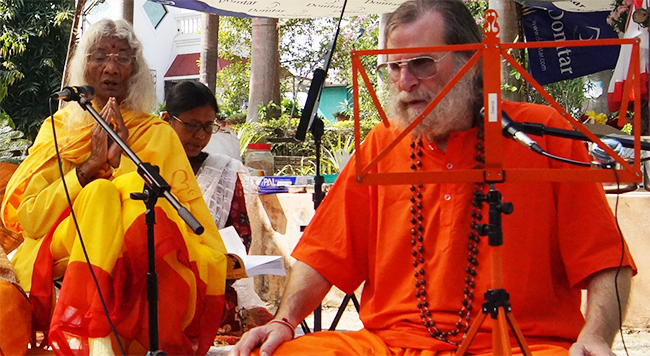 Our visit to the Ambaji temple was very short, just lasting two days. We were still on a bit of a whirlwind tour!
We began the drive back to the airport and along the way stopped at the house of one of Shree Maa's sisters, Ambika, who lives in the state of Gujarat. It just so happened to be her wedding anniversary. Shree Maa brought with her two flower malas and had her and her husband exchange them, as is also performed in wedding ceremonies. They had prepared an amazing Bengali meal.
After eating we departed and made our way back to Mumbai, where we would stay for a few days before traveling further South.
---
Return to Mumbai
We would be in Mumbai for a few days before traveling to Coimbatore, located in the state of Tamil Nadu, in the far south of India.
When we were previously in Mumbai a devotee named Pradeepta had invited us to visit his home. Shree Maa and Swamiji accepted the invitation and after our return from Ambaji we went to his home for an evening Satsangha.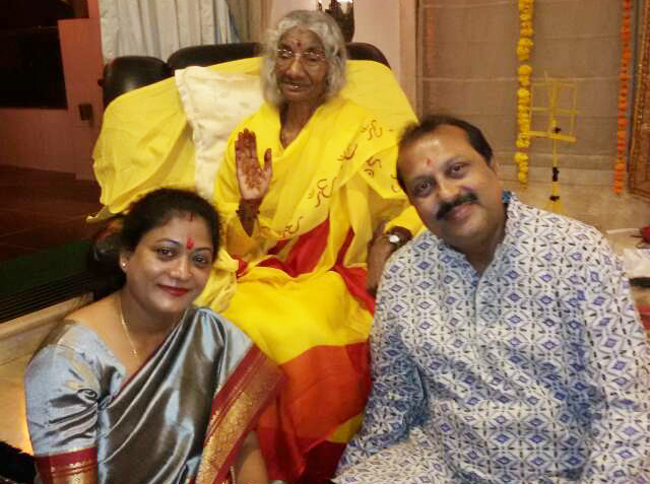 Predeepta is a musician by profession and had previously visited the Devi Mandir in Napa, during a tour in the US.
His home has an altar in the front room with a picture of Kali and Ramakrishna, which Shree Maa had previously given to him.
It was duly decorated and shined as the center piece of his home.
I respected greatly his love and devotion for Shree Maa and Swamiji and found him to always have a kind and cheerful disposition.
We performed puja to the picture and then sang songs for Mother Kali.
He, his wife, and his son all sat attentively listening to all of the mantras and songs.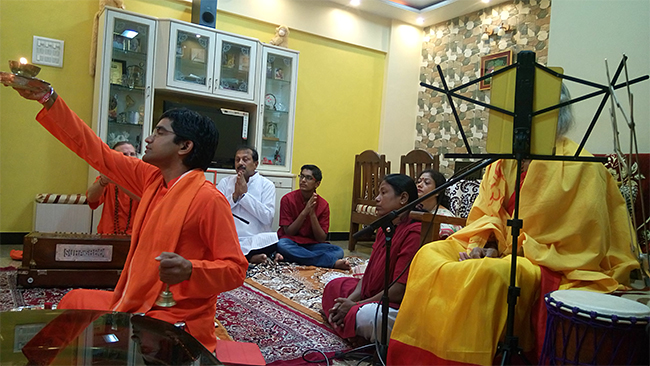 Before the singing Swamiji had been discussing, by chance, how he plays the keyboard with one hand because he learned first to play the harmonium, where one hand is needed to pump the air.
It had been such trouble to carry the harmonium around that he had switched to an electronic keyboard sometime back. Pradeepta was there during the conversation and brought Swamiji his harmonium. Swamiji smiled and delightedly played it during the singing.
As is often the way of Indian hospitality, and especially Bengalis in particular, they prepared a meal with many different dishes and many of Shree Maa's favorites.
Shree Maa and Swamiji then sat together with Pradeepta as he played for them some of the music he had recently composed. They were very delighted to listen.
We all greatly appreciated their expression of devotion and enjoyed sharing in satsangha with them.
Another devotee, Chitra, had told us about a small Shiva temple, named Kileshwara, in a more rural area, away from the busy urban center of Mumbai.
She told us it was a small and quiet temple, maintained by the local fishermen. It sounded like a temple right up our alley.
We traveled to the temple and could see the ocean and fishing boats nearby.
There were only a few people there near the temple when we arrived. The inner sanctum where the Shiva Lingam was located had a lock on it. Prashant, who was with us, went and asked the caretaker of the temple and he happily opened the lock so we could sit and chant inside.
We entered into the inner sanctum and laid out our asanas, began our radio broadcast and started chanting.
The Shiva Lingam was quite large, though not so big as our Napeshwara, and was at ground level.
The temple had a dome shaped ceiling and had tiles inlaid along the floors and walls. This created a beautiful reverberating effect that made the sound of the mantras resonate and echo throughout the small inner chamber.
We chanted various stotrams for Shiva and his thousand names.
Exiting the temple, we again saw the ocean not far away, and also the places where the fishermen were drying their fish on large racks. It did smell a bit fishy, but we really didn't mind in the slightest.
We felt blessed to find this jewel of a Shiva temple off the beaten path, where few people visit.
This would be our final outing in Mumbai for this year's trip before we left for Coimbatore. It had been such a wonderful stay in Mumbai. From home to home, we had seen so much love and devotion, so much sincere seva, that it really delighted our hearts.
At Kishor's home, he and his whole family performed seva with such dedication. They all moved out from their rooms and slept on sofas, floor mattresses or in one small room remaining in the back of the house. They gave the living room to be our temple room, and the rest of the rooms for us to stay in.
It was a beautiful example of what it means to do seva and to show respect to the Guru. We departed from Mumbai with hearts full of appreciation for everyone we had visited there, who had shared with us in real Satsangha.
Cidatmananda (John Embrey) was also with us in Mumbai. He was also inspired by the hospitality and love we received there. I asked him to share his experience: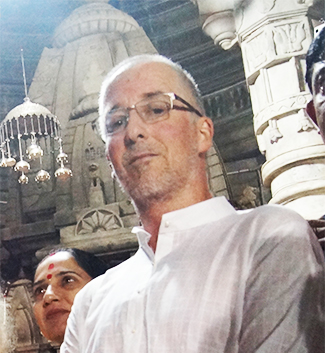 "I was asked to write a small piece on my stay in Mumbai with the family of Kishor and Veena. I was simply amazed at their hospitality.
Always looking for new ways to serve the Guru, Shree Maa and Swamiji. The service did not stop with the Gurus. Even a humble man like my self, they were always watching and waiting to serve.
My whole adult life I have read stories in the Puranas about the duty of a householder to serve others. For me this family embodies this type of service. They stood by during meals. Waiting and watching to see if any thing was needed.
Even when the Gurus were not around, they treated the guests the same way, always with kindness and efficiency.
If your chai cup was empty, you never needed to ask for it to be filled. One family member was fasting during the day while she worked tirelessly to serve the needs of her Guru.
We western devotees have much to learn from our Indian brothers and sisters. They have had centuries and centuries of Vedic culture passed down to them. We in the west with our ideals of the rugged individualism, lends it self to more difficulty when trying to serve others in a selfless way.
The concept of seva is central to the spiritual life. It is a real help to see what it looks like in the lives of others.
It is a great blessing to travel with the Guru. To see and be with the Guru is always helpful in spiritual life.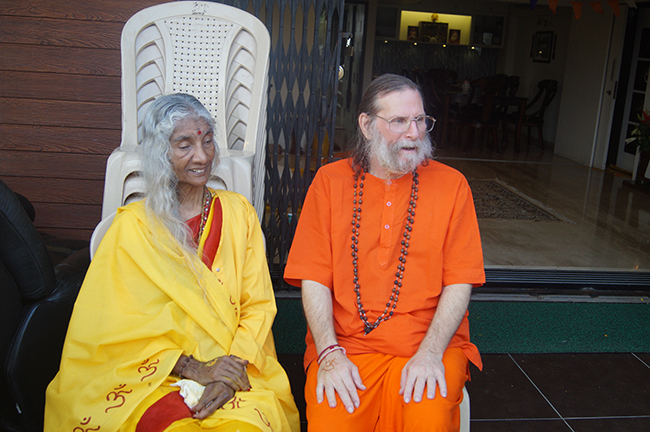 It is also helpful to see the spiritual attainments of our brothers and sisters. Those people who reflect the attitude of our teachers in their real day to day life. I bow to Kishor and Veena and hope and pray that someday I will learn to serve others like they do. With a heart full of love.
With pranam to all"
~Chidatmananda
---
Adventures in Ooty
From Mumbai we came to Coimbatore, in the state of Tamil Nadu in the far south of India. Coimbatore would be a temporary stopping point for us on our way to the Nilgiri hills, just an hour or so away.
The place where we stopped in Coimbatore was the home of Vasant and her family, beloved devotees of Shree Maa and Swamiji. She had recently purchased a home in a retirement community called Vriddha, founded by the Divine Life Society of Swami Shivananda of Rishikesh.
The entire area of Tamil Nadu, and especially Coimbatore and the Nilgiri hills, are extremely concerned with ecology. There are signs everywhere about not littering, keeping the area plastic free, and protecting the environment. It was very nice to see such clean and well-kept places. The area in terms of environmental conservation is well ahead of many other parts of India, for that matter, many places in the world including the US.
The community where Vasant has her house is a planned community with all of the houses falling into a few specific designs and is meticulously well-kept. It is a very beautiful area, just at the base of the Nilgiri hills. Looking from the rooftop, I could see a very famous temple for Kartikeya.
From there we drove to the home of Selvaraj and Parvati in Ooty, which is a city in the Nilgiri hills. It is an incredibly natural and beautiful place, with rolling hills and mountains.
There are many tea estates, as well as beautiful plants and trees growing on the green hills. Located at almost 9,000 feet, it stays quite cool.
There is also an array of wild life living in the area, such as the Indian Gaur (the largest bovine mammal in the world), tigers, monkeys, barking dear, large rabbits, the endangered Indian Giant Squirrel, and many other animals. Much of it is untouched pristine forest.
When we entered the home, Parvati and Vasant performed Pada Puja (worship of the Guru's feet) to Shree Maa and Swamiji and offered them flower malas (garlands).
Afterwards, as is her way of life, Shree Maa began turning the front living room into a temple with an altar. Only when the altar was complete did she retire to her own room. Each morning Shree Maa performed puja to this newly constructed altar, and then we sat there to chant the Chandi Path together.
Most of the local people, including Vasant who was chanting the Chandi with us each morning, do not read Devanagari/Sanskrit. As such Vasant and another devotee named Venkat had taken on the project of translating the Chandi into Tamil quite some time ago. Each morning Vasant sat with her Tamil Chandi book and chanted along with us without omission. It was a wonderful project that empowered many to understand and perform the sadhana of the Chandi Path.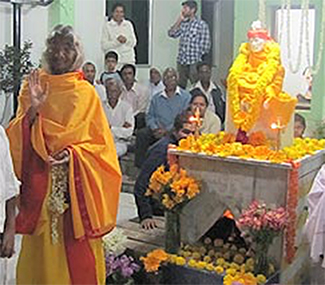 Just behind Selvaraj's house is a temple dedicated to the Shirdi Sai Baba, a saint who is widely worshipped all over India and in the Nilgiris in particular.
In the temple there are also altars for Ganesh, Shiva, and Devi (the Divine Mother).
Selvaraj conducts a satsangha there every Saturday evening, which we had the privilege to attend.
They began the satsangha with a simple homa chanting a mantra which Shree Maa had given them some years back for Shirdi Sai Baba. The mantra is "Om Sai Ekaatma Parabrahmane Swaahaa," meaning Om Sai Baba, the One Soul, the Supreme Divinity, I am One with God.
They chanted the mantra slowly and melodically.
As people arrived, they each took a turn offering oblations of ghee with the mantra into the fire. When the homa first began only a few people were present. However, as it continued, more and more people came to attend the satsangha. The homa would only be the first part of their program.
Many people came. A great majority of them were women. When they had finished with the homa, they began reciting the Shri Rudram, which is two chapters from the Rudrashtadhayayi which we chant. The chapters are known as the Namakam and the Chamakam.
They chanted them with the Vedic system of Udgita, which has a low, middle and high tone added to the chanting. They were simply local people who had come there out of their love for God, not trained priests, and yet they chanted the Shri Rudram with such precision.
As a part of their satsangha, led by Selvaraj, they had all dedicated themselves to learning to chant the Shri Rudram. Selvaraj later told me that this particular Saturday had been their first complete recitation of the text, as before they had been practicing it part by part. He told me they had been waiting for Shree Maa and Swamiji to do their first complete recitation.
It may not be automatically understood just how amazing this is. It is often the case in South India that only male Brahmins can enter a temple or do worship there, like at Jagannath Puri.
Many people think that mispronouncing sanskrit is dangerous and do not attempt to chant it. However, this temple was filled with local people, not Brahmin priests, on top of that mostly women, all chanting the Shri Rudram together, not for money or respect, but simply because they wanted to make an offering of their love to God.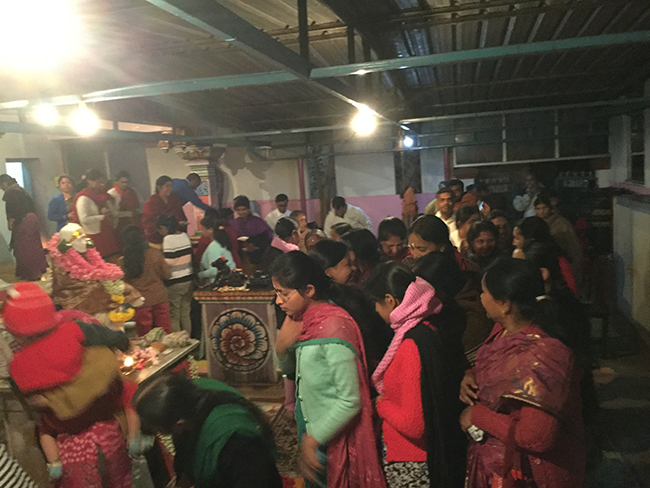 It was such a beautiful and inspiring sight. In such cases, where we are only there to offer our love to God, mispronouncing does not negatively effect us in any way, though of course we could benefit from increased understanding if we pronounce it correctly.
When the chanting was finished they invited Shree Maa to sing some songs. Shree Maa began with the song "Narayana, Narayana, Narayana". She edited the words and made the song as an offering for Sai Baba, using the words "Sai Ram, Sai Ram, Sai Ram".
Everyone present sang along with great enthusiasm and joy. Shree Maa sang several other songs and then they continued with the normal routine of their satsangha, singing their own songs.
Swamiji addressed everyone, telling them how much he appreciated what they were doing and how much he appreciated the way they were conducting their satsangha.
He told them that it was because of these kinds of efforts and this kind of devotion that the Sanatana Dharma is Eternal ("sanatana" meaning eternal). It is the efforts of all of us to learn, practice, and understand the meaning of the sanskrit scriptures, as well as employ the meanings in our lives, that keeps the tradition alive and thriving.
When the satsangha came to a close, Shree Maa and Swamiji gave everyone blessings of sweets and a tilak. The people attending the satsangha had also brought food that they offered to Sai Baba and then gave to everyone as prasad.
We returned home, a short walk away, with hearts full of joy and appreciation for the beautiful satsangha we had been privileged to share.
Selvaraj told me that this satsangha and homa were directly inspired by Shree Maa and Swamiji, who had told him to conduct them and showed him the way. He and everyone present were so grateful to Shree Maa and Swamiji for their example and inspiration.
Reciprocally, Shree Maa and Swamiji were also so grateful to them for really following through and acting on that example and inspiration. Such is the beauty of the relationship between the Guru and their disciples.
---
Travel to Nigiri Hills
From Selvaraj and Parvati's home in Ooty, we traveled to the Siddha Giri Sai Baba Temple, only about thirty minutes away. This temple was constructed under the direction of Nandu, a long time disciple of Shree Maa and Swamiji.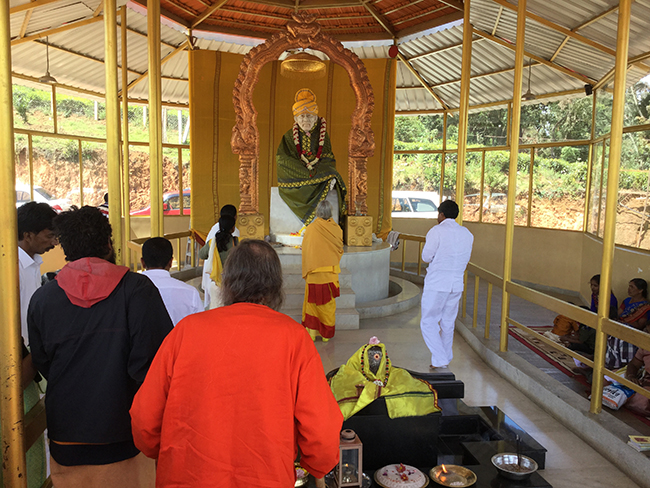 We had seen this temple on two previous trips to India. Each time we visited it had expanded, as Nandu was ever busy constructing improvements on the ashram as well as new temples.
It has been two years since our last visit, and I was thoroughly surprised to see just how much the infrastructure of the ashram has grown in that time. The ashram has gained a lot of support from the local community and was empowered in both terms of volunteers and funds whenever they took on a new project.
The night before we were to go to his ashram, Nandu and the owner of a local television channel came to meet Shree Maa and Swamiji. After talking with them for sometime they took their leave so they could appear on the local TV channel to announce Shree Maa and Swamiji's coming to the ashram. They also planned to talk about the programs that Shree Maa and Swamiji would perform and introduce them.
It was an impressive hour long talk on both the Chandi Path and the lives of Shree Maa and Swamiji! We watched on the TV during their talk, which took place in the local language. Occasionally Selvaraj or other people watching would translate what was being said for us.
Nandu and the community had constructed a large number of individual temples on the ashram property.
The main temple is dedicated to Shirdi Sai Baba and Lord Shiva, with a large murti of Sai Baba and a natural rock Shiva Lingam. On one special occasion Shree Maa dressed Shirdi Sai Baba in her brand new sari!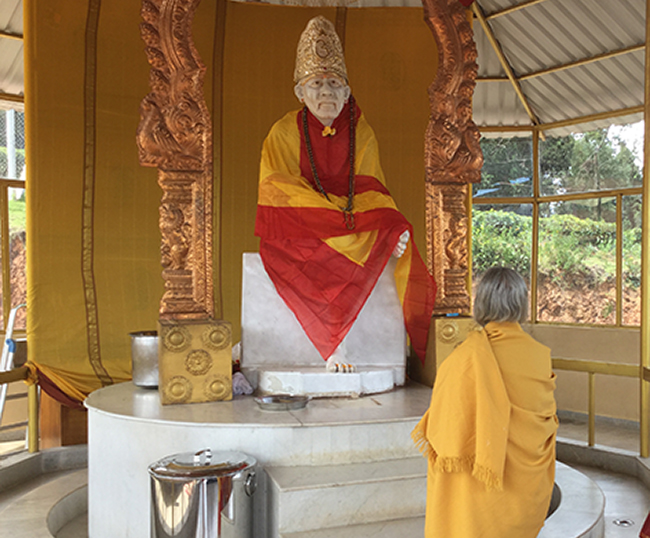 Nearby the main temple is a smaller temple for Dattatreya, and next to it a temple for Rama and the ten avatars of Vishnu. The property is on the slope of a large hill so down from the main temple is a temple for Mahalakshmi, which also includes a picture of all the deities of the Cosmic Altar.
The Mahalakshmi temple also has a small Havan Kund behind it. A short distance away there is a temple for Ganesh, and then a little further a large Havan Kund area and a stage for Kirtans and special events.
Aside from the temples there is a large kitchen area where they cook food and give it freely as prasad to anyone and everyone who comes to the temple. They also have several cows and water buffalos, as well as sheds for them to live in.
The temple is surrounded by a tea plantation and beyond that, not far away, is raw forest land. There is also a dormitory style Dharmshalla on the property, where people can stay over night at the ashram, as well as a guest house where Shree Maa and Swamiji would be staying while we were at the ashram.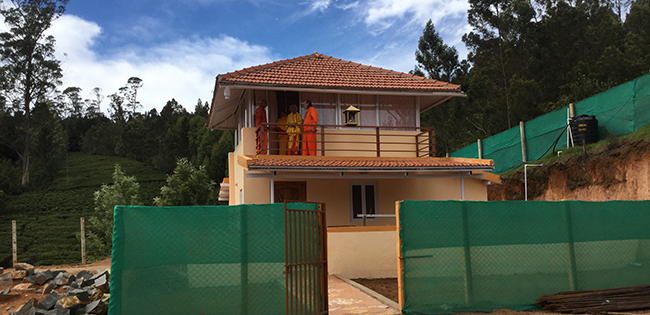 One of the ashram's recent and more ambitious projects has been the construction of a new hospital, which would be free to the public. It was a cause close to the hearts of many of the local village people, who regularly visited the temple.
Nandu told me that often if the local people needed more complex medical care, it was not available in the Nilgiris, and they were referred to the nearest major city, Coimbatore, about three hours away by car. However, it was apparently too often the case that in order to be able to afford the care they could receive in Coimbatore, they had to sell their ancestral land, jewelry handed down through the generations, or take on debt.
Nandu, inspired by this issue, took on the cause of constructing the hospital. Incredibly, thousands upon thousands of volunteers from the local villages came up to help in the construction. Within one month, they had completed the initial frame work of the hospital building. I saw the building myself and was shocked to think it could have been constructed so quickly.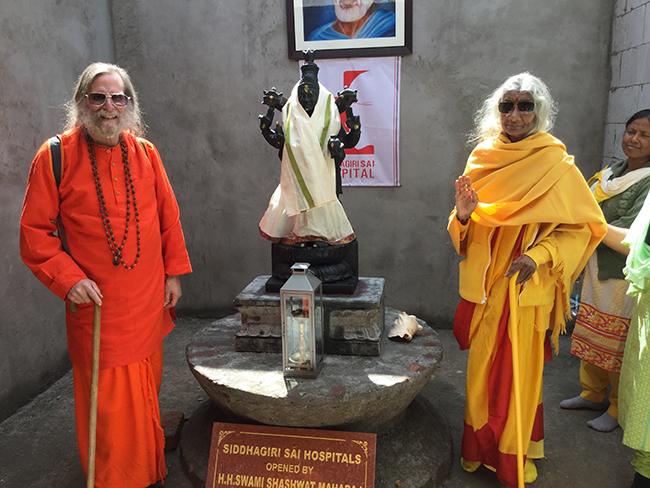 When we first arrived at the ashram, we all made our way to the newly constructed Mahalakshmi temple and then to the main Sai Baba Mandir.
There was a large crowd of people waiting to meet us (after all they had announced it on TV the night before!)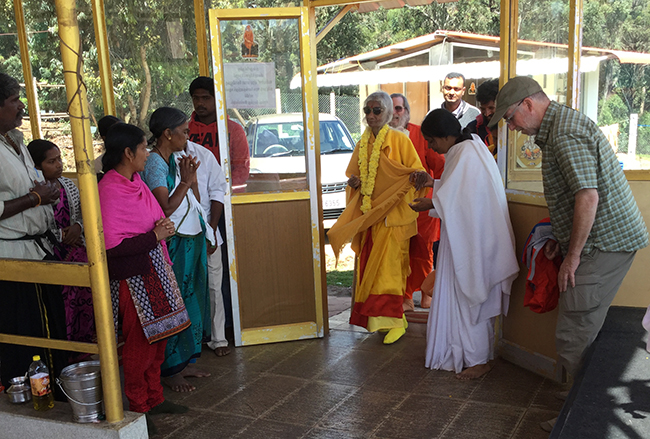 Shree Maa and Swamiji recited some mantras and offered flowers to Mahalakshmi.
One man, a devotee of Ramakrishna, led the greeting party in singing songs for Shree Maa and Swamiji. Next Shree Maa and Swamiji came to the Sai Baba Mandir and recited some mantras before the murti and offered him flowers.
Many people were present in the temple at that time. Shree Maa and Swamiji then sat giving them all blessings and prasad.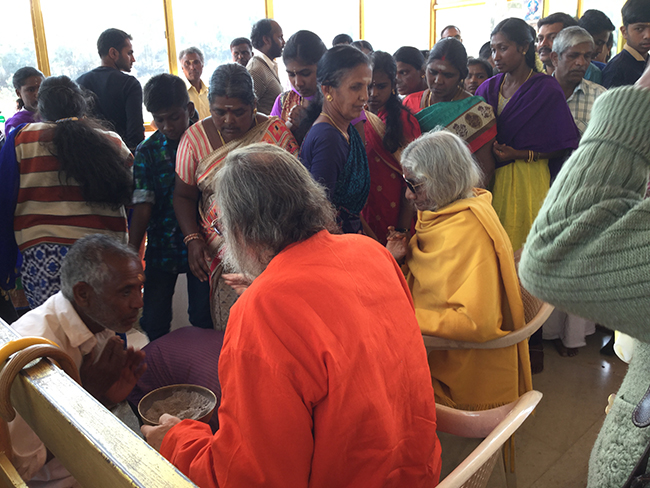 As the guest house was some distance away from the area of the temples, Shree Maa set up an altar in her own room and performed Puja there each morning.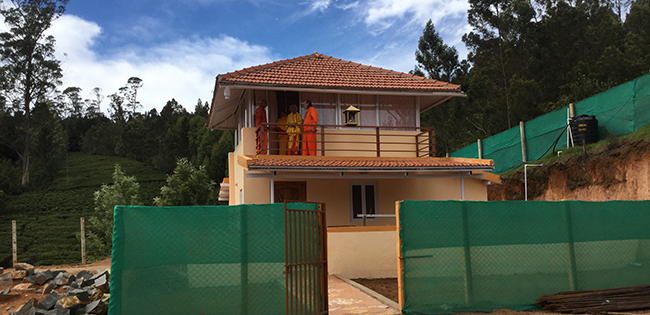 When her puja was complete, we all went to the Mahalakshmi temple, which became our regular place of morning Sadhana, and recited the Chandi together there. Some devotees from the temple also came and joined us for chanting each morning.
One evening we sat to recite the Lakshmi Puja and Sahasranam at the Mahalakshmi temple. They supplied Shree Maa with an abundance of flowers and she offered three or four with each name of Lakshmi. It was evening time and a crowd of people sat just outside the temple, as the inner space of the temple is small, listening or chanting along with us.
When the puja and sahasranam were complete, Shree Maa sang several songs for the Divine Mother. Everyone was quite joyful to observe the worship and listen to Shree Maa's singing.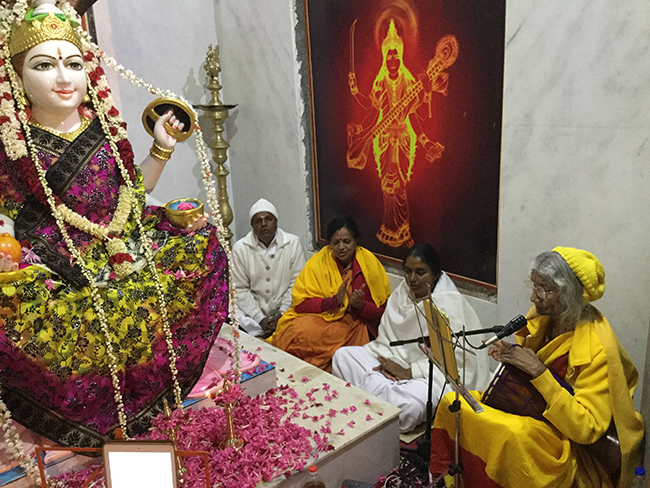 Swamiji, while looking at the large smiling murti of Mahalakshmi remarked, "It looks like she is laughing!" Shree Maa smiled and agreed. I am sure Swamiji was right, of course the Divine Mother would be laughing with joy to see all of her children happily and devotedly engaged in her worship.
On another evening we performed a similar program at the main Sai Baba Mandir, which has a Shiva Lingam in addition to the murti of Sai Baba.
There was a crowd in attendance, awaiting the beginning of the Puja.
Additionally, the local TV channel had come to broadcast our worship!
Shree Maa and Swamiji were becoming quite famous in the Nilgiri hills.
Shree Maa performed Shiva Puja, giving all the various offerings of the Pancha Amrit Snana to the Lingam (the Pancha Amrti are milk, yogurt, ghee, honey and sugar).
Afterwards we recited the Shiva Sahasranam. Shree Maa offered flower petals with each name.
By the end of the sahasranam the lingam was quite well decorated with the pile of flowers that had accumulated around and on top of it.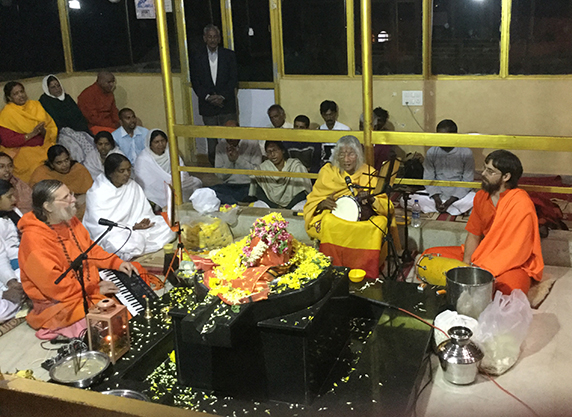 We sang songs for Lord Shiva and then began performing arati as a group.
The group was large and so we had more than enough time to sing the Shiva Arati and then keep going with chants of "Om Namah Shivaaya". Eventually the exuberant arati drew to a close.
After the arati, Swamiji gave a satsangha describing the seven limbs of Siddhantachara and other concepts related to how we perform sadhana and worship.
Shree Maa and Swamiji then gave everyone prasad and blessings as the evening drew to a close.
One day after our morning Chandi at the Mahalakshmi temple, Shree Maa decided to perform a special ceremony for Nandu. She made Nandu sit on a chair, and then Shree Maa, Swamiji and Nandu's relatives all did Puja to him and gave him Snanam (bath) like you would normally be done for Shiva.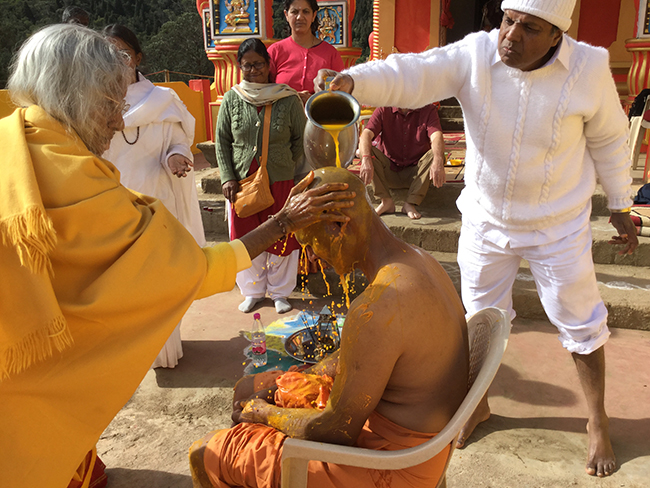 They poured milk on him and a turmeric mixture and then washed him off with water. Just before the ceremony Nandu had shaved his head, before which his hair and beard were of a medium length.
Nandu had normally been wearing an orange dhoti and a black colored shirt. When Nandu's Shiva bath was complete, Shree Maa asked him to only wear orange thereafter, and gave him the name Nandishwarananda.
Later in the day we went to visit Madhavan, a devotee who lives in nearby Coonoor. He has a tea plantation with a beautiful view of the mountains, which you can see when looking out from his porch.

Shree Maa and Swamiji performed puja in the small temple in his house.
A few other people were present from the ashram, as well as another visiting guru, Swami Shashvat.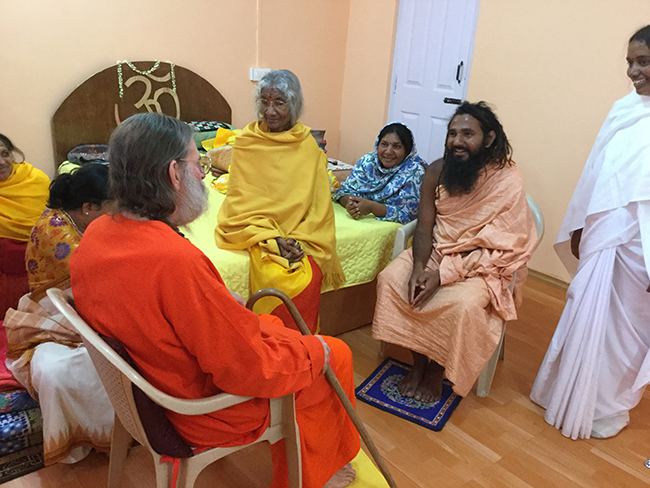 We sat together in Madhavan's living room and Shree Maa sang several songs. After we had enjoyed singing together, we sat down to eat lunch, which Madhavan and his family had prepared for us.
Afterwards, Shree Maa, Swamiji, Swami Shashvat and another devotee sat talking in a room that overlooked the tea plantation. They were discussing various spiritual topics, and the lady devotee present asked Shree Maa about her spiritual experiences.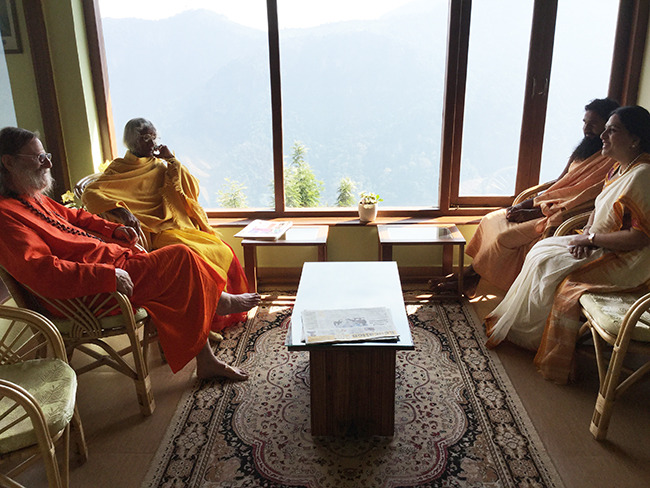 Shree Maa explained how early in her life, she would constantly enter into samadhi, but now she is different. She said that again there would come a time when she would be in that state.
She described it to us simply saying that we were in the US and flew to India, and after staying in India for sometime, we would fly back to the US and be there again.
For Shree Maa it is all a very simple matter. It is certainly difficult to understand fully Shree Maa's experience as contrasted with our own, yet I still appreciated her simple explanation.
While we were staying in the ashram we also performed a homa. There had been a new havan kund constructed behind the Mahalakshmi temple, which was yet to be used. Nandishwarananda (as Nandu is now called) had requested Shree Maa and Swamiji do the first homa there.
They accepted. We began performing a Chandi homa there around 7am, trying to give sufficient time for others to come and join us. The local TV channel was also present to broadcast the homa, it seems they had become quite enamored of Shree Maa and Swamiji.
With each chapter of the Chandi, Swamiji paused and gave an energetic and spirited explanation of the meaning of each of the chapters, so everyone could really understand what we were doing. The people present loved it and were inspired to pay ever greater attention to the worship at hand. After the homa was over, many people told me how much they had enjoyed it and benefited from it.
The Nilgiri hills had been suffering from a lack of rain. Shree Maa had heard of it and told me before the homa that she had been praying for them to get rains. The next day after our homa was complete, it began raining all over the Nilgiri hills. Shree Maa and all of the residents of the Nilgiris were delighted. It continued to rain for most of the next three days we stayed in the area, and thereafter as well.
Our staying in the Nilgiri's was drawing to a close, and after the homa we returned to the home of Selvaraj. We were again blessed to be able to join his weekly satsangha in their local temple and enjoyed worshipping with them greatly.
One day before leaving we visited a nearby ashram located in the midst of the forest. The guru there is a Mataji whose name no one knows, nor does anyone know what part of India she is originally from.
There is a large Shiva Lingam on her property and we came there hoping to perform Shiva Puja. When we first arrived she herself had been performing a Shiva Puja and she was glad we had also come for that purpose.
She was very quiet and extremely humble. She only asked a few questions of Shree Maa and Swamiji and otherwise was quiet. She wore only white clothes.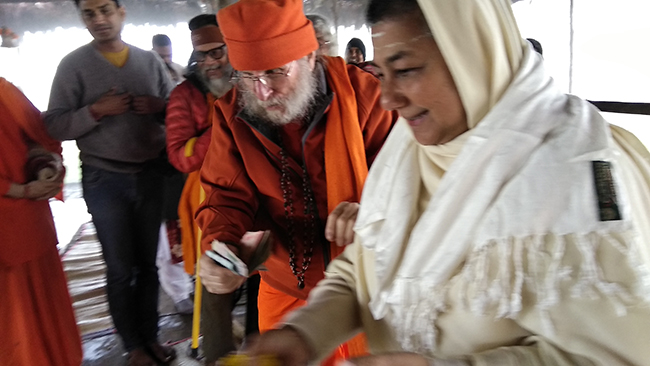 The temple has a very simple construction, with mostly woven palm leaves and support beams made of wood. It is completely open to the outside air with no walls on three sides. It was a cool and damp morning, so the openness of the temple was a little troublesome for Shree Maa, but still she was resolved to perform her worship.
We decorated Shiva with flowers, malas and cloths and then sang songs for him. For the whole length of the Puja, the Mataji of the ashram sat quitely looking on with attention and a certain meditative attitude. When the worship was finished we all performed arati.
Before leaving, they served us chai and snacks. When the time came to depart, Shree Maa and Mataji hugged each other. Shree Maa said to her, "I love you," and the Mataji with traces of tears in her eyes also said to her, "I love you as well."
It was a beautiful and pure moment of communion between two great souls. It reminded me of something I had consistently seen when we met real spiritual teachers. They had such a humility about them. Swamiji always quotes, "Satya Vidya Vinay Bhavati" true wisdom bestows humility.
I had seen Shree Maa, Swamiji and other gurus sitting together and all humbly listening as someone new to the spiritual path would try to explain to them about Vedanta or some other spiritual subject. They would all simply listen appreciatively and encourage the person to move further on the path. Never did they counter the person telling them they should not be lecturing people far advanced from them.
The amount of humility shown by Shree Maa and Swamiji, as well as other real spiritual teachers, is so extraordinary that often their greatness is completely hidden from normal eyes. For those who do not follow the spiritual path, it is often hard to understand what at all is so great about them.
People often have grandiose ideas about what gurus should be like, but I have repetitively seen, in the case of Shree Maa, Swamiji and others, that where there is real spiritual illumination, there is an incredible, egoless, humility. By living in that humility, the guru invites us all to equally give up our egotism and follow their example.
---
Shiva Temple on the Mountain
Swamiji asked me, Cidatmananda, to write about the beautiful experience of walking through a South Indian subtropical forest to a small Shiva temple on top of a hill. This quaint temple is located just outside of Ooty, in the Nilgiri Hills.
This adventure made a deep impression on me, with both its scenic beauty and the wonderful devotion expressed on the trail.
We started from the amazing Shirdi Sai Baba temple of Nandishwarananda, formally known as Nandu for the old timers at the Devi Mandir.
The local devotees started by creating a palki for Shree Maa. A palki is a chair on two poles used to carry someone. This palki was to make the pilgrimage through the rough terrain comfortable and easy for our precious Mother.
They ingeniously created her vehicle by lashing a lounge chair to two long poles. Shree Maa's palki was hoisted up by four local men, who were using their day off to perform this seva.
At first we had to walk through a tea plantation.
At times, the walking path was extremely uneven and narrow – less of a trail and more a furrow!
I was worried about Shree Maa being held aloft by four strangers. The men, however, were able to expertly handle the situation. Very soon it was clear to me that my Teacher was in very good hands.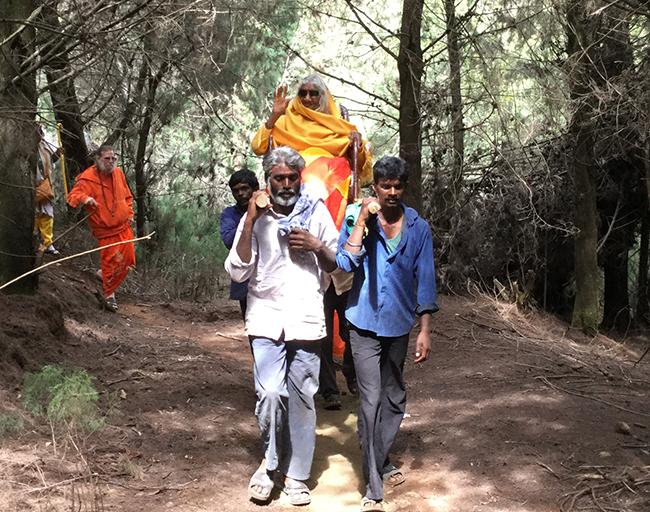 As soon as we made it to the woods, the local devotees broke into spontaneous call and response chanting. The lead women called out with a loud melodious voice, "Om Namah Shivaaya!"
The group of about 50 devotees responded by chanting back, "Shivaaya Namah Om!"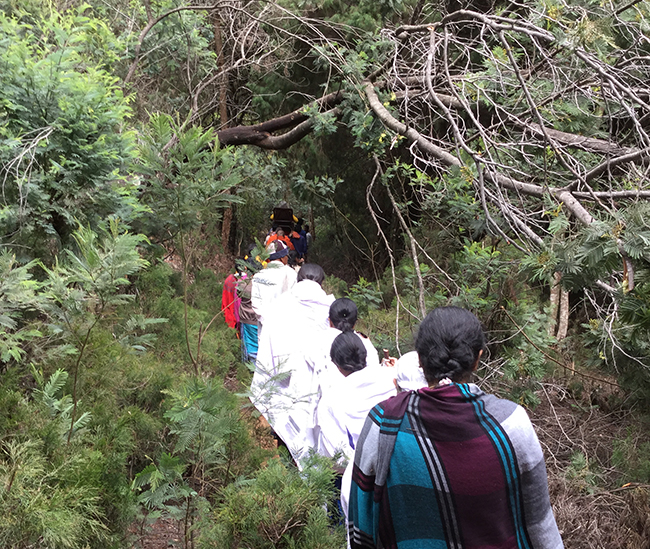 A long line formed behind, consisting of maybe 50 or so local devotees.
This chanting continued through the entire yatra (journey) to the temple. This walk embodied the mantra Satyam Shivam Sundaram, with emphasis on the word Sundaram or beauty during the hike to temple.
The beauty of the forest, the beauty of the voices calling out to Shiva, and the beauty of the name of God itself, were all examples of Sundaram. God himself has become all of this beauty.
On we went chanting through the thick green woods with light shining between the branches highlighting the forest flowers. These delicate forest flowers kept reminding me that the Divine MOTHER Herself is worshiping Lord Shiva with the woods' own natural puja of flowers! What beauty!
After a slow walk uphill for about a mile and a half, we came to a small Shiva temple on granite clearing in the woods. When we walked over to the temple many became dejected upon seeing that it was locked and we had no key.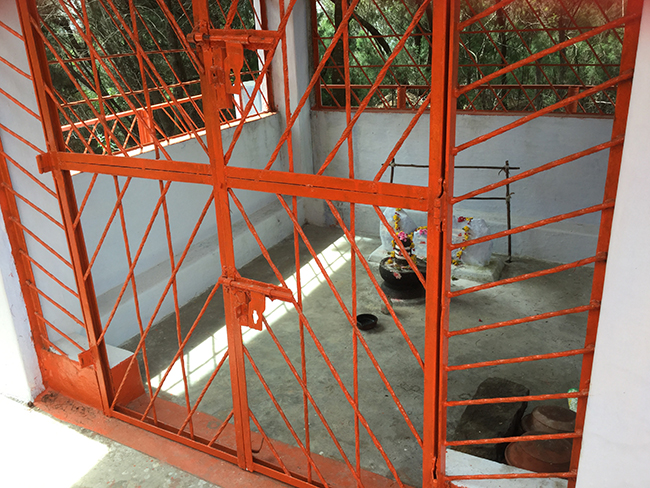 Our Gurus were not deterred in the slightest. Swamiji started chanting the Puja with the hundred names of Shiva as Shree Maa made offerings between the bars of the temple door to the Shiva Lingam.
The group became transfixed on the worship of the Lingam in this mountain retreat. This part was a reminder of the same mantra all over again Satyam Shivam Sundaram. With an emphasis on Satyam, or Truth meaning reality, what really exists.
The mantras are Real and True because they accurately reflect the Truth.
The mantras take you to a place of bliss and beauty that is more Real and True than the pain and pleasure that most of us live with daily.
At the end of the puja, like always, everyone had prasad.
It was an experience I will never forget.
It seems to me that nature Herself conspired with my teachers to teach us these lessons in life.
But, it did not end there.
During our walk to the temple there was a lovely married couple along with a friend who just happened to be a Shinto Priestess with her own temple in Japan (no kidding, yes this really happened).
They invited Shree Maa and Swamiji to bless their meditation hut on the way down the mountain.
So on the way back down the hill, we all made a slight detour to see this wonderful little hut in the middle of the forest. Seeing it, it was clearly created for the sole purpose of sadhana.
When we arrived, the couple performed arati to Shree Maa.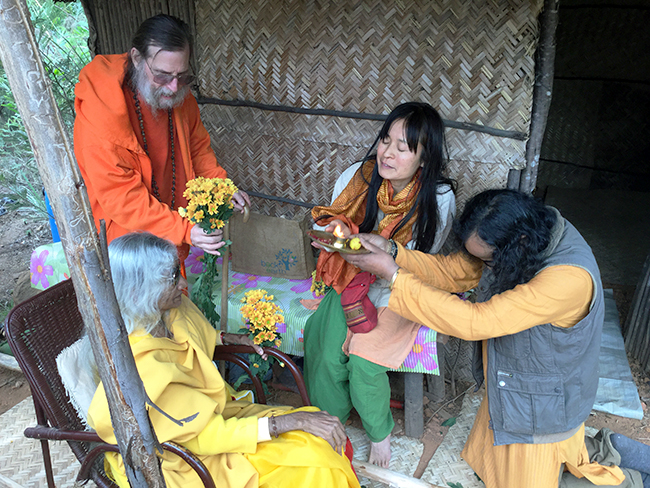 Then, Shree Maa sat for some time in front of their tiny altar and offered yellow flowers with mantras.
This reminded me of that mantra Satyam Shivam Sundaram once more – this time with the emphasis on Shivam. Not only is Shivam the name of the beloved deity, it also means Infinite Goodness.
Going out of our way to support and bless others is a reflection of Shiva. When we harmonize our lives with the Truth of Reality and the Beauty of Existence how can we not spread this Goodness everywhere we go? That is part of the example that Shree Maa and Swamiji give us.
For me, this was one of my favorite experiences with Shree Maa and Swamiji in India. It spoke to me on so many levels.
I feel blessed to have experienced the special beauty of the walk to Lord Shiva's temple, reminding me of the nature of God, Satyam Shivam Sundaram.
---
Mysore is No Eye Sore!
From the beautiful Nilgiri hills we traveled to Mysore, known locally as Mysuru.
There we stayed at Shiva Shailam, a temple complex constructed by Rishi and Narendra, who are father and son.
It is located outside of the main city of Mysore in a rural area.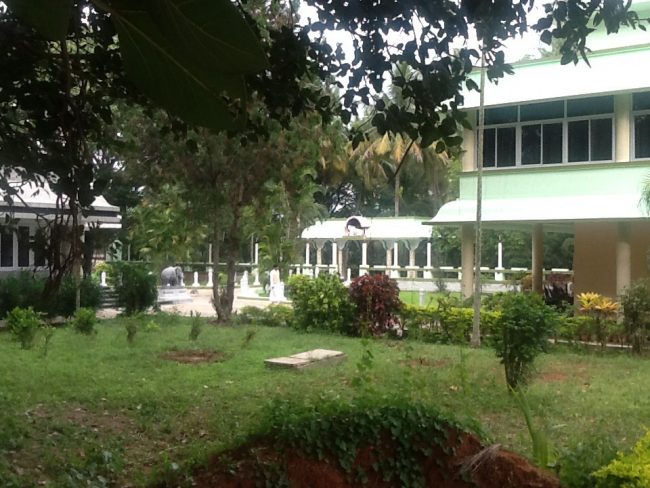 The temple grounds and the Mandirs located on it are themselves exquisitely designed and constructed.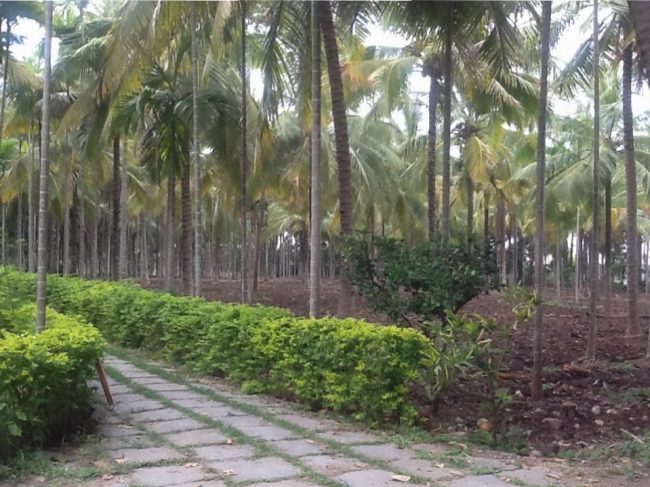 There are a total of five different Mandirs on the property. The largest of the Mandirs on the property are the Chandramouleshwara Mandir, for Shiva, and Guru Bhavan, which is for Ramakrishna.
There are also Mandirs for Kamakshi (a form of the Divine Mother), Hanuman, and a smaller one for Kala Bhairava.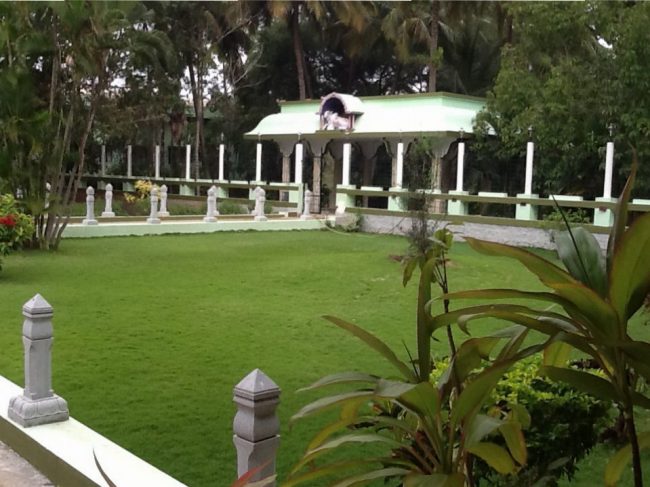 Just past the Kala Bhairava temple is a tributary stream of the river Kaveri, one of the seven sacred rivers of India.
Presently the area has not received much rain and the stream was very calm, though in previous years I have seen the water of the river rushing, more like a small river.
It is a private temple complex, though it is open to the public. During normal days only a few people come there, though on big festivals it becomes quite busy there.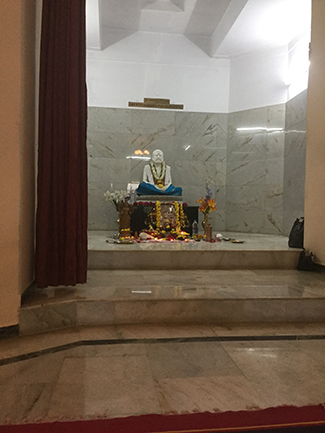 Guru Bhavan has a large murti of Ramakrishna, and it became our main place of sadhana during our stay there.
Shree Maa also set up her own altar in front of the murti of Ramakrishna, thus creating an altar that looked like it was from our own Devi Mandir, in terms of the variety of deities.
It was a convenient place for Shree Maa's morning puja as it was very close to her room. Each morning after Shree Maa's puja, we all sat in front of the murti of Ramakrishna and chanted the Chandi Path together.
The Guru Bhavan temple was constructed much like the temples for Ramakrishna that you see in the Ramakrishna Math. The pictures of his sannyasi disciples were hanging on the walls, and there was another small temple for Sarada Devi as well.
Rishi and Narendra both joined us each morning to chant the Chandi Path.
In the afternoon we made our way to the Chandramouleshwara Shiva Temple.
All of the temples are close by to each other, so it was a very short walk.
We sat in the inner chamber and performed puja to the Shiva Lingam, offering milk, flowers, garlands and all the other articles of worship.
We also chanted many stotrams (hymns) for Shiva and then recited the Shiva Sahasranam (the thousand names of Shiva).
With each name Shree Maa offered flower petals to the Shiva Lingam.
Then we performed arati and Shree Maa and Swamiji gave everyone blessings.
There is also a Panchavati (a spot with five sacred trees planted together) on the property.
It has a concrete vedhi (raised platform) to sit on with a huge old banyan tree in the middle.
You can often see monkeys playing on its branches.
Around midday Swamiji and I sat there to recite the Durga Sahasranam and other stotrams.
The beauty of nature, palm trees and various flowering plants adorning the property was the only thing in our view.
The breeze was blowing softly and everything was quiet.
When the chanting was finished, Swamiji sat quietly smiling, letting the sacred vibrations of the mantras sink in.
We enjoyed the serenity of that uplifting spot under the Panchavati.
There is a special building on the property for Homa.
Shree Maa decided that the next morning we should perform Chandi Homa there.
There were three different sizes of Havan Kunds (fire pits) there and Swamiji selected one of mid-size for our Homa, as we were a small group of people.
The sun was just starting to rise when Swamiji began invoking the fire.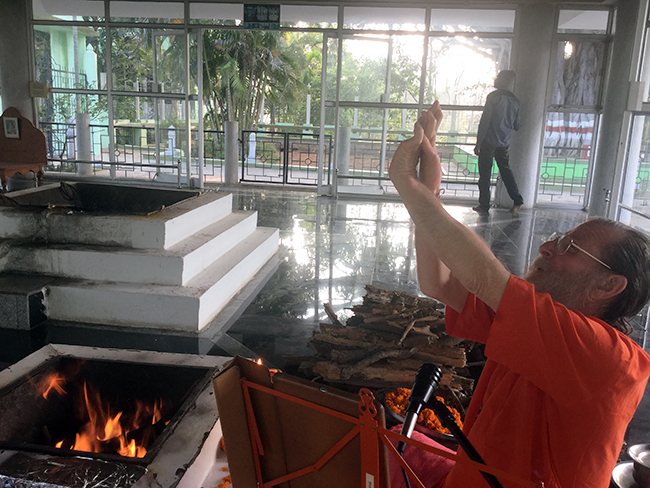 Shree Maa offered oblations of ghee while the rest of us, led by Swamiji, offered masala.
Our hosts were very pleased that we performed this homa. They felt that Shree Maa and Swamiji had really blessed Shiva Shailam (the temple complex) with their presence and worship.
Naren collected a handful of ash so that he would have it to put on his forehead for a long time to come.
Though we had stayed extremely busy trying to worship at all the temples in Shiva Shailam, we decided to travel to another temple the next day.
Just outside the city of Mysore, there is a well known temple named Chamundeshwari, located on the Chamundi Hill. It is said to be the place where the Divine Mother slayed Mahishasura, the Great Ego.
The famous Mysore Palace faces the Chamundi Hill, as the king wanted to first look at the temple of the Goddess each morning before beginning his day.
The temple is a very tall building and the hill is also very large, so it can be seen from a great distance.
We first entered the temple and offered flowers to the Murti of Chamundeshwari, who is the same as the Mahalakshmi of our Cosmic Altar in Devi Mandir, having 18 arms, the slayer of Mahishasura.
After offering our pranams to the form of the Divine Mother, we found a place just outside the temple on a raised veranda to chant. We recited the Kali Sahasranam and other stotrams for Kali.
It seemed appropriate as Chamunda is the form of Kali which slays Passion and Anger. The veranda where we were sitting was not far from the place where people come out after taking darshan of the Goddess.
Many people stopped and looked on to see what we were doing, lingering for a few minutes. A handful of other people, fully inspired to see Shree Maa and Swamiji's worship, sat and remained with us until the end of the recitation.
When the recitation was over, the people who had stayed with us bowed down to Shree Maa and Swamiji and took their blessings before departing. We then departed as well.
On the day of our departure from Mysore we awoke early. Shree Maa performed her puja, and then we chanted the Chandi Path together.
Traveling or not, we have to keep our priorities in order, first worship, then travel.
After puja and chanting the Chandi Path, Shree Maa decided to decorate the murti of Ramakrishna with a new cloth and mala.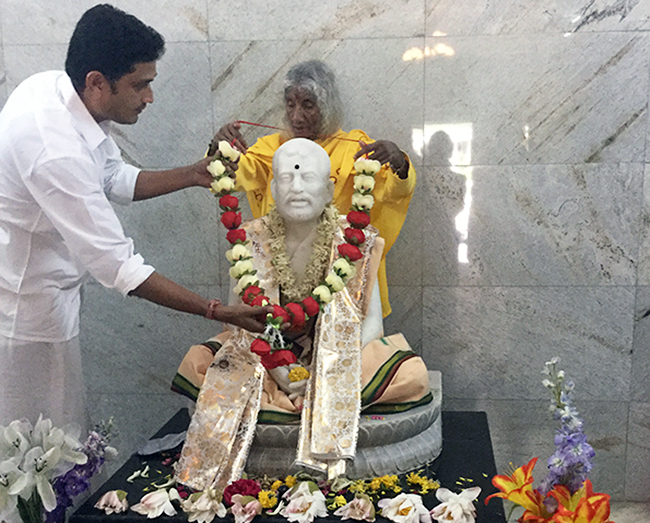 Shree Maa was smiling so happily to give Ramakrishna the cloth and mala.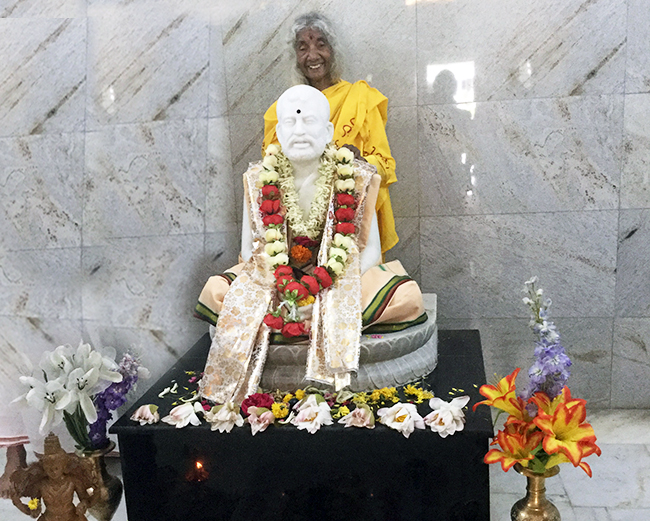 When Shree Maa had finished decorating the murti of Ramakrishna she and Rishi posed together behind it.
Jai Maa!
---
Bangalore
Bangalore, known locally as Bangaluru, would be the final destination of Shree Maa and Swamiji's Yatra (pilgrimage) around India before returning to the US.
While in Bangalore we stayed at the home of Srini and Ramya, two long time devotees of Shree Maa and Swamiji.
Srini and Ramya are professors at IIMB (Indian Institute of Management Bangalore), one of the most prestigious and highly regarded schools in India.
Their home is in the faculty housing located on the campus.
Bangalore is a large city and has little greenery due to the abundance of buildings and roads.
However, the IIMB campus has preserved much of the natural greenery and looks almost like a school in the midst of a jungle.
There are many beautiful flowering plants and trees all over the campus.
It is a preservation of what Bangalore looked like before it was covered with urban sprawl.
Srini and Ramya always take such good care of every detail.
This year they decorated the front entrance with yellow, orange and red flower garlands and a large Kolam or Rangoli design made from chalk and rice powder.
These chalk designs are a traditional form of art in India and are often drawn free hand. The design is believed to produce positive energy for those who live there, but in modern days it is also a form of welcoming people into the house.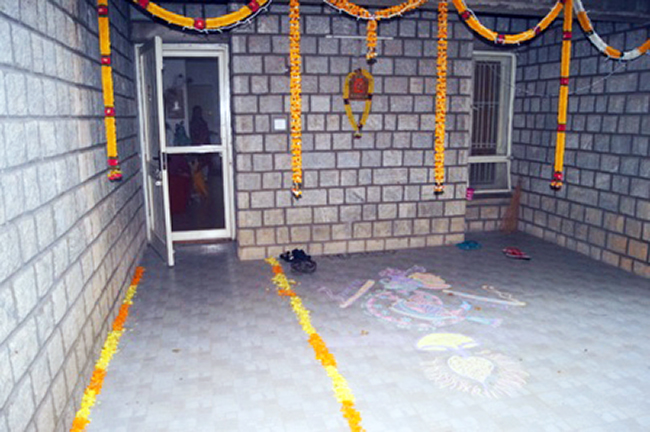 Shree Maa and Swamiji always enjoy staying on campus. They like the campus grounds so much that each morning after puja and before chanting the Chandi Path, we would all go for a short walk around the campus.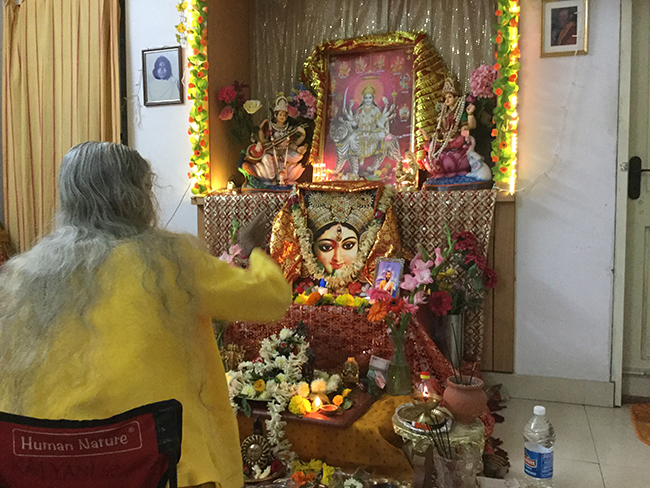 Just before we had left from Shiva Shailam in Mysore, Shree Maa had decorated one large pot holding a tulsi plant, as she was worshipping that tulsi plant as a part of her puja each morning during our stay.
When we arrived at Srini and Ramya's house in Bangalore, I was surprised to see that recently Ramya had also made and decorated an altar for a tulsi plant just outside her house as well, and had been worshipping it each day.
As Swamiji always says, the true disciple is a reflection of the Guru. Just as Shree Maa had been inspired to decorate and worship tulsi while we were in Mysore, Ramya in Bangalore, without having heard anything about it, was also doing the same thing in her home.
Srini blew the conch shell as Shree Maa and Swamiji arrived and Ramya joyously welcomed them. They had prepared a pada puja to worship Shree Maa and Swamiji's feet, but they knew very well that Shree Maa and Swamiji had just traveled quite a distance to come there, and so they asked the Gurus what they would like to do first.
Shree Maa and Swamiji greatly appreciated the gesture and decided to first freshen up and then eat something. After they were rested and fed, Shree Maa came and smiling requested them to do their pada puja.
The puja to the Guru, which truly has their comfort in mind, is a real puja. Shree Maa and Swamiji sat happily enjoying Srini and Ramya's expression of devotion as they chanted the mantras and performed the worship.
Naren, who manages the Shiva Shailam Temple in Mysore, has his home in Bangalore. He invited Shree Maa and Swamiji to come to his house. They readily accepted.
In Naren's home there is a lovely temple room. It has an altar featuring Ramakrishna, a Shiva Lingam, and several other smaller murtis. Shree Maa helped us set up the puja and then went to the kitchen to help cook, as she wanted to make prasad for Naren and his family.
Swamiji led the rest of us in performing puja to Lord Shiva.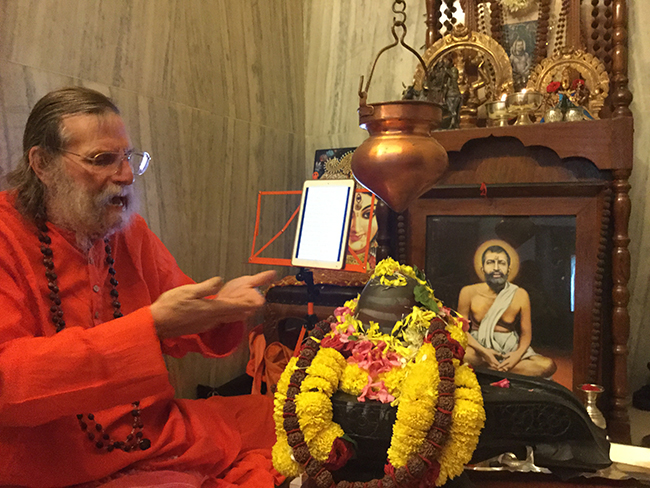 We chanted various Shiva Stotrams and then the Shiva Sahasranam, as well as making the offerings of worship.
We were having such a wonderful time in this protected private temple that we didn't want to stop chanting. So we didn't!
When we had finished the thousand names of Shiva, Swamiji opened up the Sundar Kanda and we continued chanting to God. It was just such a perfect place for us to perform our worship.
Eventually Shree Maa returned when all the cooking was finished. Swamiji chanted the mantras for the prasad and we drew our worship to a close.
We all ate the meal prepared by Shree Maa and Naren's wife. During the meal, Shree Maa noticed a hand painted picture of Krishna hanging on the wall. She asked Naren where he had gotten it from. He told her that his son, who is maybe 12 or so years old, had painted it. The style was very unique and it looked very professionally done.
Shree Maa smiling told Naren that she wanted his son to give her that picture. Naren was very excited to hear her request and told his son to give the picture to Shree Maa, which he happily did. We departed from the house soon after that.
Despite being an urban area, there are still many temples in the city of Bangalore. Each day after chanting the Chandi Path, we took the opportunity to visit one or two of them and to do some worship there.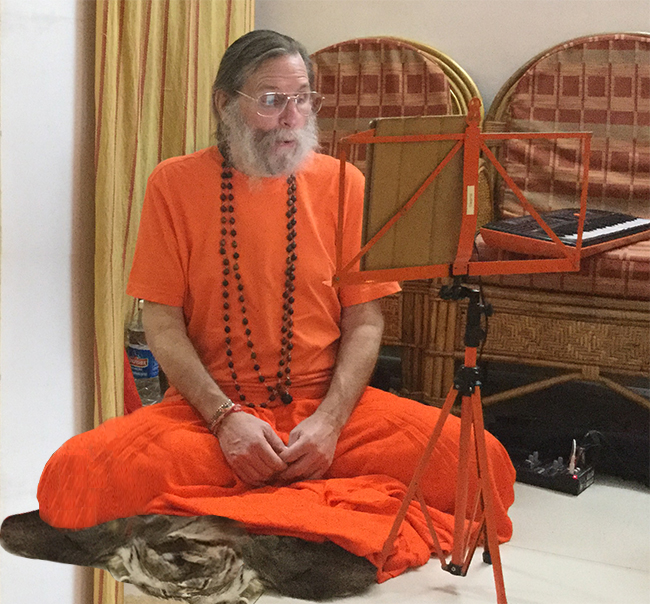 The first temple we visited was the local temple for Ayyapa, who is widely worshipped in the South. He is said to be the son of both Shiva and Vishnu (in his form as Mohini).
The temple also has altars for Ganesh, Hanuman, the Goddess and Kartikeya, each having there own separate compartment in the temple. Just outside the main temple building there is a covered area with plenty of shade. We sat there and chanted the Lalita Trishati, led by Swamiji.
The Ayyapa temple was the beginning of our temple going spree. The next day we visited the Dodda Ganesha Temple (dodda meaning large in Kannada the local language, as the murti is big!). We chanted the Ganesha Sahasranam as well as other stotrams for Ganesh there.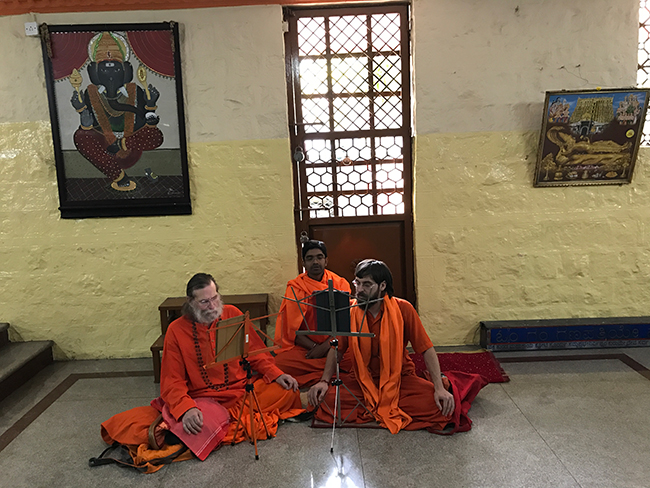 Just next to the Dodda Ganesha Temple is a temple know as the "Bull Temple" where there is huge murti of Nandi and a Shiva Lingam. Just after finishing our worship at the Ganesh temple, we made our way to the Bull Temple and chanted the Shiva Saharanam and other stotrams.
People always take notice of us when we are chanting at temples, as you don't often see people other than the pujaris doing so. One man saw us and asked someone in our group how Swamiji's Sanskrit pronunciation was so good.
He told him how Swamiji excelled at everything he did, and how he had spent many years in the Himalayas performing sadhana.
The man responded saying, "It's just nice to see people doing puja where puja is supposed to be done, and its really unbelievable that it is foreigners who are doing it!" He was very pleased and inspired to see us.
On the way to the Ganesha Temple, Swamiji had noticed a sign for another temple named Banashankari. We looked up the location online, and the next day after chanting the Chandi Path, made our way there.
We took darshan of the diety and then found a suitable place on the temple grounds to chant the thousand names of Durga. When the thousand names of Durga was complete we chanted the Durga Chalisa.
Swamiji had no interest to desist from worshipping and neither did we. We next sang the Saraswati Chalisa.
By time we were done chanting we had done Durga, Saraswati, Kali, Lakshmi, Shiva and Hanuman Chalisas, as well as Bajranga Bana.
Swamiji sat quietly for a while and then said to us, "As soon as we sit down and put our minds on God we become free from all the worldly thoughts.
Each evening we performed arati and sang together. We usually kept it as a small event, though on Sunday night, we invited anyone who wanted to come to attend.
Many professors from IIMB came to attend, as well as other devotees in Bangalore who knew Shree Maa and Swamiji.
We began with our usual group arati and then Shree Maa began singing. Shree Maa sang song after song and everyone was so delighted to join. She sang for Ganesh, Shiva, Vishnu and the Divine Mother.
When she had finished, one little girl, the daughter of a devotee, sang a song with her parents for Shree Maa. She was a little shy seeing so many people present, but aided by her parents, found the courage to sing the song.
Shree Maa and Swamiji were very pleased, gave prasad to everyone present, and talked with several devotees who had questions.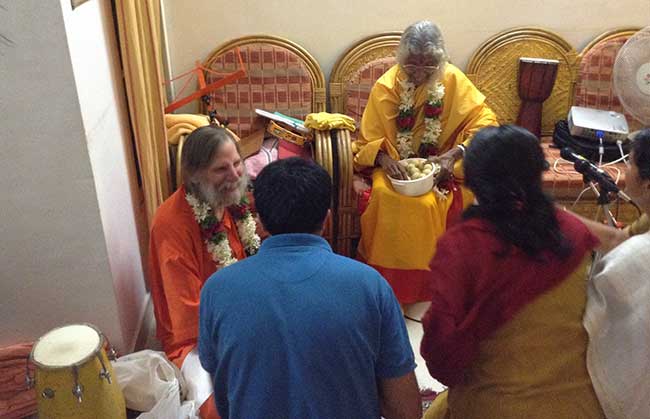 Of course as is the nature of our Divine Mother Shree Maa, she made sure everyone sat and ate before they left. The space was small compared to the number of people present, so we had to rotate who was eating, so that everyone had a chance to have their prasad.
Our stay in Bangalore came to a close and we prepared to depart back to the US. What an adventure it had been!
So full of worship and so full of love. The loving service we received from devotees all along the way was incomparable.
People respect Shree Maa and Swamiji's example of living a life of worship so much! They wanted to empower them to continue it with whatever resources and abilities they had.
From the north of India to the South, from the West to the East, we met with the same love and respect for this way of life, everywhere we went. We performed Sadhana in the cities, in the mountains and in the plains.
Shree Maa and Swamiji show us that it doesn't matter where you go, so long as you always keep God and love as your priorities.
As I have written here many times, the first thing Shree Maa did anywhere we went was to create an altar for worship. The first thing Shree Maa and Swamiji did every morning was worship and chant the Chandi. The last thing they did every evening was arati, celebrating God.
The topics they discussed with devotees in every place were how to make our lives divine and filled with worship. They taught the knowledge and techniques of how the Rishis became Rishis.
They encourage everyone to keep up and increase their efforts, organize their lives and to realize God.
Everyone who had the privilege of meeting with them during this journey, or traveling with them like myself, was deeply grateful for their presence and examples in our lives.
---