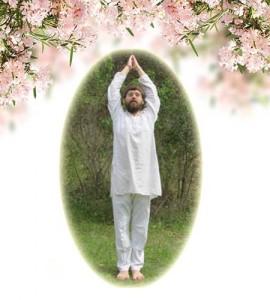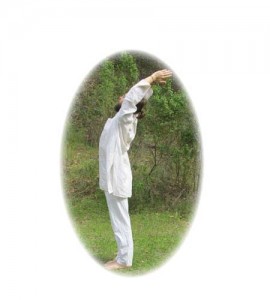 Some call Uttiha Tadasana by the name "Hasta Utthanasana." The naming of asanas often varies according the tradition or sadhu.
The Pose
From a standing position, reach both arms upward in front of the body. If it is more comfortable, you may sweep the arms out to the sides and then up.
Let the hands meet and reach back as far as is comfortable. For those with back problems, reach the arms up vertically straight up into the air. For those without back problems, this posture can be extended into a slight backbend by continuing to reach the arms further back.
Effects and Benefits
Physical Benefit – This posture helps to stretch the arms and the entire torso. It opens the area of the heart and stretches the shoulders. It allows the lungs to begin to open more fully and for breathing to become deeper.
Spiritual Benefit – This posture helps to wake up the entire body and our awareness. It is like a large wakeful stretching from head to toe. It also opens the region of the heart and causes it to shine out.
Many of us spend the day slouching forward and thus compressing the area of the heart. This creates a subtle feeling of being closed up emotionally and spiritually. This posture annihilates that feeling. In one moment, we are reaching toward the sun, toward the universe and the energy in all, and at the same time we are opening the heart and all of our body to receive the light.