From Assam, we returned to New Delhi. We arrived in the night, and had a flight to Mumbai in the morning. We were now leaving from North India and going progressively southward.
Our initial stay in Mumbai was also just a short pit stop, arriving midday and leaving before noon the day after. However, that didn't stop Shree Maa from building an altar in the center of the living room, nor did it stop devotees from all over Mumbai, new and old, from gathering together to join us for arati, singing and satsangha.

While in Mumbai, we stayed at the home of Manish. He is an actor by profession.
We had met him perhaps two years back in Tryambakeshwar. This time we were only with him for a short time. Still, he and his family performed the fullest seva they were able to during Shree Maa and Swamiji's short stay at their home.
Many devotees gathered in the small living room and joined us for arati, somehow squeezing in and finding a place to stand or sit. Each person took a turn waving the lights before the altar, which is how Shree Maa and Swamiji usually perform arati when visiting people's homes. When the arati had finished, Shree Maa and Swamiji gave everyone prasad and blessings.
There was one new devotee present who lived in Mumbai and had seen one of Swamiji's video classes on Youtube. He had sent Swamiji an email and was delighted to find out that Swamiji and Shree Maa would soon be visiting Mumbai. Shree Maa and Swamiji were filled with delight to meet this young enthusiastic man, who, if not for the Devi Mandir's Youtube channel, would not have known about them.
It was impressive to think how the Devi Mandir has a presence much beyond its physical location. Through the website, webcams and various social media outlets, Shree Maa and Swamiji are able to share their love, blessings and wisdom with devotees, who they have met and others they have not, all over the world.
The program came to an end, and we began organizing our things for the next day's journey. Our next destination was in the rural areas of Shahapur, roughly halfway between Mumbai and Nashik.
Kishore, a close devotee of Shree Maa and Swamiji, owns a farm house in Shahapur. It is situated on top of a hill, surrounded by beautiful flowering and fruit giving plants and trees.
There is also a Panchavati, a spot with five sacred trees planted together, which is an excellent and auspicious place to perform Sadhana (spiritual practices).
Ramakrishna had similarly practiced Sadhana under a Panchavati. As such, Shree Maa always duly worships the Panchavati at Kishore's farm house, whenever we visit there.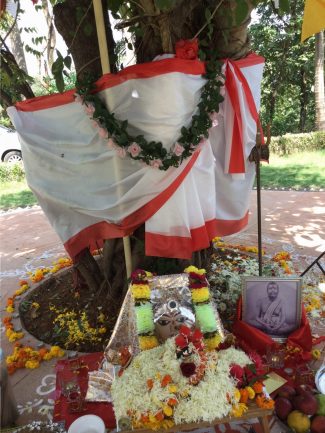 When we arrived, Shree Maa set up and decorated an altar just in front of the Panchavati. She then dressed the trees in a sari, and offered them other items of worship.
The Vedas proclaim, "Paropakara Vriksha Devah, The Divinities in the trees are always performing actions for the upliftment of others." Hence, in honor of Ramakrishna and the divinity in the five sacred trees, Shree Maa is always enthusiastic about worshipping at the Panchavati.
Shree Maa had planned ahead and brought 108 small cloth flags of red, white and yellow color. She had them hung in the trees, thus enhancing the beauty of the tree.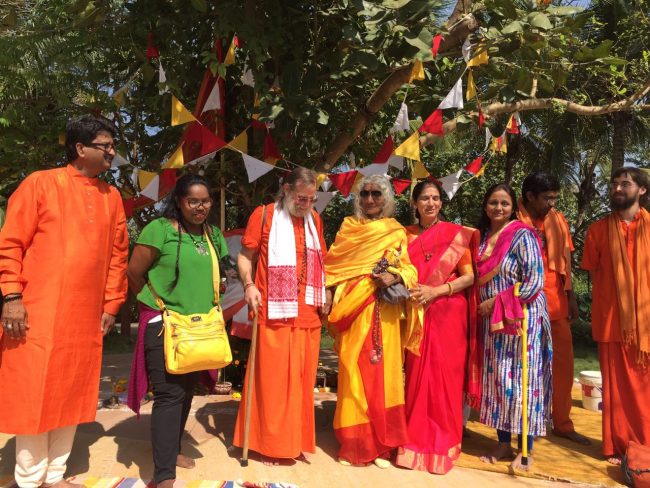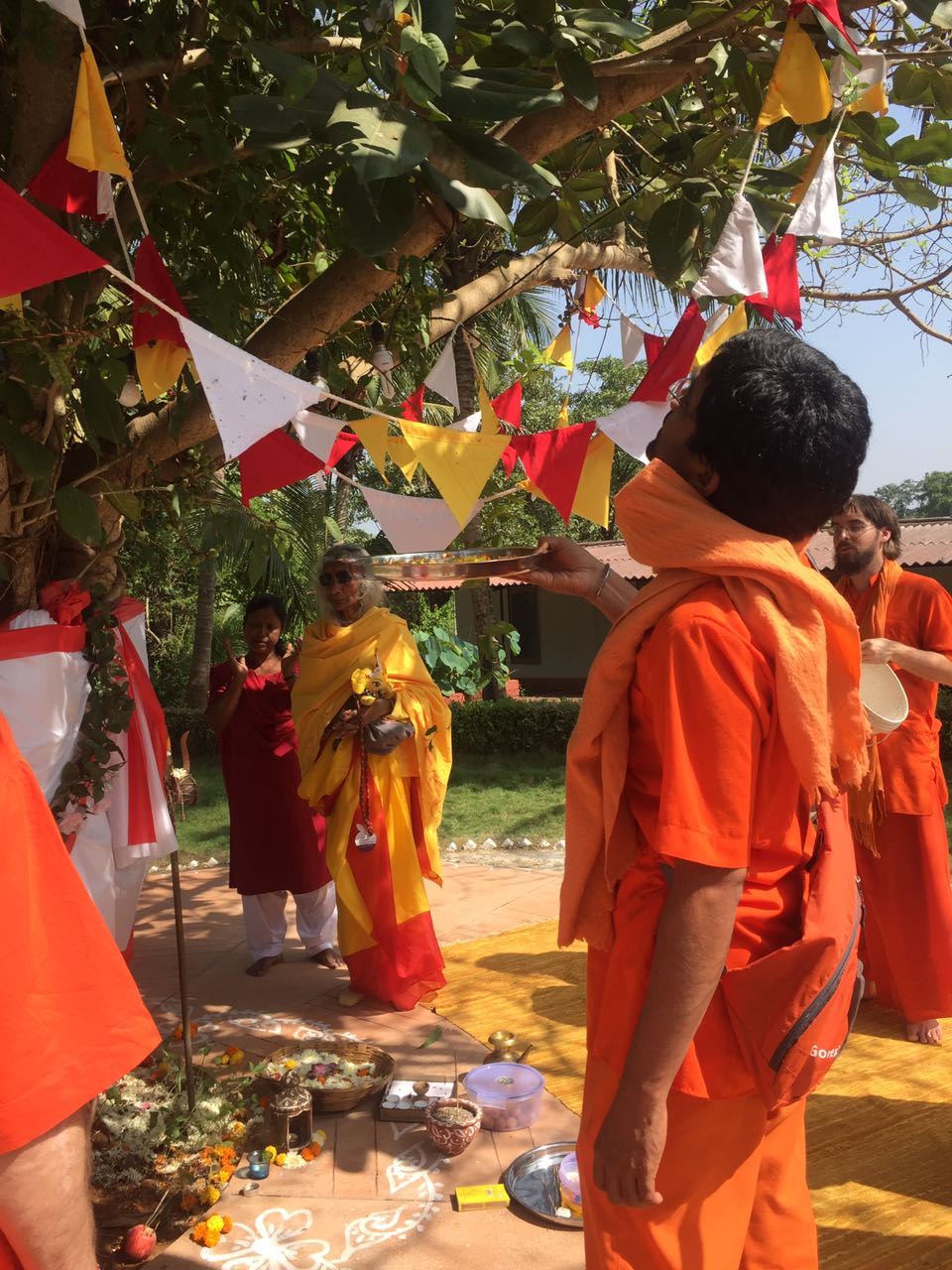 It was very fitting to give so much attention to the Panchavati, since it would become our main place of worship during our stay in Shahapur.
When we sat worshipping under the trees, I sometimes felt, very strongly, that this was the same Panchavati where Ramakrishna had himself performed Sadhana. From a material standpoint, it of course was not, but sitting together and worshipping with Shree Maa and Swamiji, it became true from the spiritual standpoint of Bhavana (spiritual feeling).
Each morning we awoke early before the sun rose and sat to chant the Chandi in the cool morning air, sitting around the Panchavati. It was a wonderful delight.
Everything was fully auspicious: the time (when everything is still before sun rise), the place (quiet beneath the sacred trees and surrounded by nature), the Satsangha (in the presence of our Gurus and fellow devotees), and the activity (the recitation of the Chandi and the worship of God)! It is hard to imagine a more blessed occasion.
When the Chandi was finished, Shree Maa would sit under the trees where she had constructed her altar and perform her daily puja.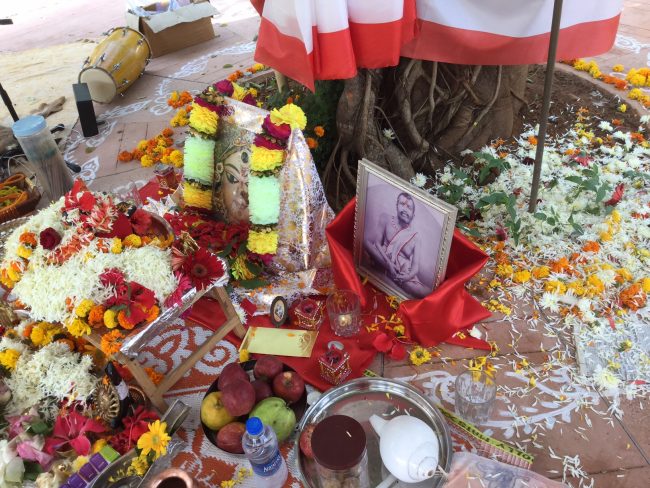 Many devotees had come to join us in Sahapur and they would sit with Shree Maa as she performed Puja. Swamiji would sit nearby with others, chanting various scriptures. The atmosphere of the place was so peaceful and so filled with the love of God.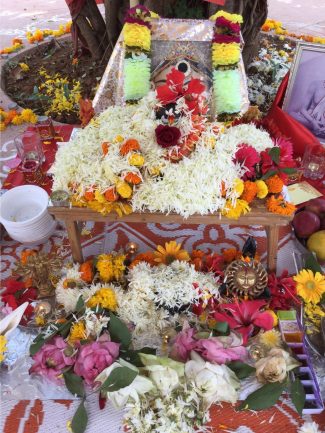 On one particular day Shree Maa decided we would perform Homa (a sacred fire ceremony) near to the Panchavati.
Swamiji, hoping to not have to sit too near to the smoke, and in order to give his disciples an opportunity to practice performing Homa in public, asked me to invoke the fire, after which we would chant the Chandi together.
I felt very honored to have the opportunity. Sitting amongst so many devotees, and with our Gurus looking on, the fire really came to life as we performed the Avahana (invitation to the Divine Fire).
When the fire was properly established, Shree Maa and Swamiji led us all in reciting the Chandi Path and offering oblations to the Divine Fire. It was a powerful recitation and the mantras really seemed to come alive as we chanted and focused on their meanings. When the Chandi was complete, we performed the Visarjan of the Divine Fire and gave tilaks of ash to everyone as blessings.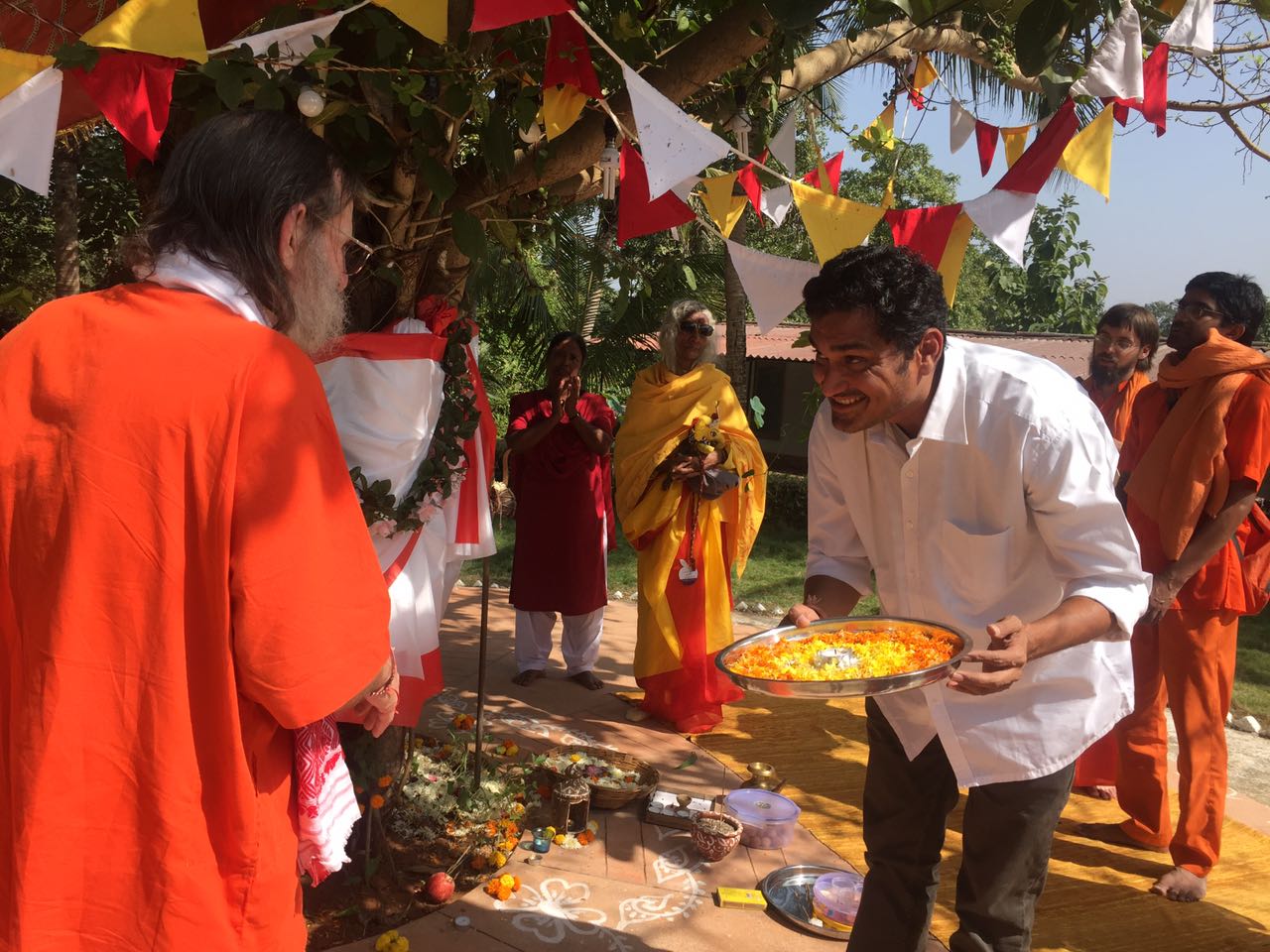 In the evening, Swamiji began giving a new class on the generals in the army of the Ego in the Chandi Path and Tattva Jnana in Hindi.
We broadcasted it on our online radio and also recorded and posted it on our website. It was our first fully Hindi class posted on the website. It was of course the right language for the audience present.
Chandi Path Class in Hindi
Tattva Jnana in Hindi
Many of the devotees present thanked Swamiji afterwards for his clear and powerful teaching on the subject.