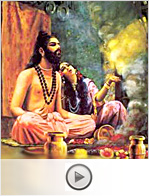 There are 15 verses given by the great sage Kashyapa known as the Kashyapa Sutra. They describe the concept of enlightenment and the method of its attainment.
Though the Kashyapa Sutra itself is not well known, the Rishi Kashyapa himself was one of the Sapta Rishis, the 7 Seers of Divine Truth or Wisdom. Legend says that Kashyapa shone so brilliantly with inner light, that his contemporaries called him a human Sun.
Rishi Kashyapa is the father of Creation, which is called Kashyapa Srishti, after him. At the beginning of Creation, Kashyapa and his wife Aditi took birth together on three occasions having won the boon of having Lord Vishnu as their son. First they took birth as Svayambhuva Manu and Satyarupa, the first human couple of exsistence. Then as King Dasharatha and Queen Kaushalya, the parents of Lord Rama; and finally as Vasudeva and Devaki the parents of Lord Krishna.
The sacred Kashyapa Sutra will appeal to all those who follow the path of jnana yoga and bhakti yoga, alike. This series of video classes goes deeply into the meaning of every word the Kashyapa Sutra. The classes offer us both the original Sanskrit verse and their translation, with practical explanation of how they apply the sacred teachings in our daily lives.
Get your copy of the Kashyap Sutra, which is included in the text Shree Maa: The Guru and the Goddess, and listen in! The Kashyap Sutra is also available to download here: Shree Maa: The Guru and the Goddess iPad App.
---
New HiRes Classes – July, 2013
---
LoRes Classes – November, 2006
---