When our stay in Sahapur was complete, we made our way to Nashik. It would again be a short stay, arriving around noon and departing the next day.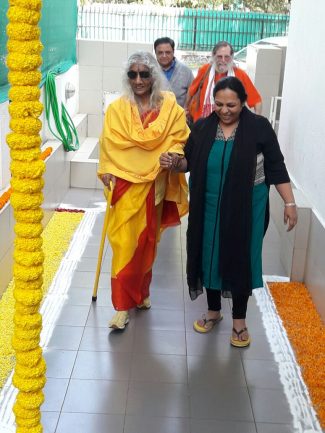 We stayed at the home of Girish and Kumudini, two close devotees of Shree Maa and Swamiji, who we visit every year when we travel to India.
When we entered through the gate, I could see they had decorated the walk way artistically with flower petals in honor of Shree Maa and Swamiji's arrival.
When Shree Maa and Swamiji entered inside, they offered them a seat and performed a short Pada Puja (worship of the Guru's feet) to both of them. They then offered them each a large flower mala.
Since we were only in Nashik for a short time, many devotees in the local area took the opportunity to join us for arati and satsangha in the evening.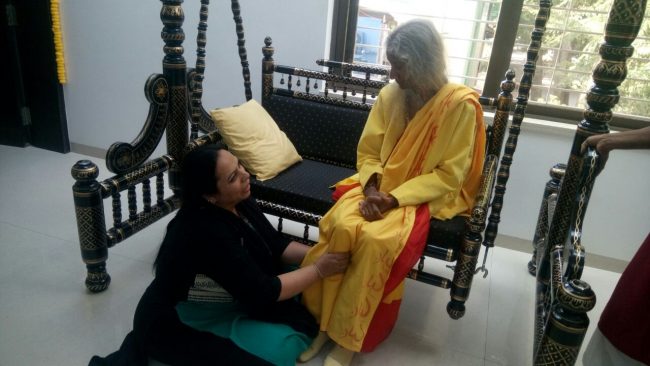 They had a small temple room in their house, and as was often the case while we were traveling in India, it became packed full of devotees, with some lingering outside the door looking in.
Many people played drums and other instruments during the arati including Ish, Girish and Kumudini's young son.
When the arati had finished Shree Maa began singing songs. At one point, an older women and her family stood up, getting ready to leave.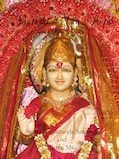 Shree Maa asked her why they had to leave. The women said that it was Friday and she had to go and perform Santoshi Maa Puja at her home.
Shree Maa was very excited to hear this, as we also do Santoshi Maa's Puja on Fridays at our own Devi Mandir.
Shree Maa asked the lady to please stay and told her that we would perform Santoshi Maa Puja together.
In a few minutes, all the items for the Puja were ready. Swamiji, ever resourceful as he is, got his projector and put the mantras on the wall so we could all chant together. Soon we were all performing Santoshi Maa's worship together.
After the Puja we all sang Santoshi Maa Arati together, and then brought the program to an end. The older women and her family were very delighted and pleased.
Shree Maa always loves to uphold the traditions of worship, like worshipping Shiva on Mondays, Kali on Tuesday etc. She is also so pleased whenever she meets someone in India, or any where else for that matter, who also maintains a similar discipline.
Look at how steadfast the women had been in maintaining her vow of worship!
It is no secret that almost no one will leave when visiting a saint until they get their blessings. Again, almost no one will depart from a Puja without first getting some prasad.
People often come to see Shree Maa and Swamiji just for a blessing, and after receiving it, depart fully satisfied.
Yet, without having gotten to speak with Shree Maa and Swamiji, without having gotten their blessings (directly anyway) and without getting any prasad, this women was ready to depart in order to maintain the discipline of her vow to worship Santoshi Maa, every Friday, at a specific time and place.
It may seem like a small sacrifice to some, but this lady knew full well that this may be her only chance to see Shree Maa and Swamiji and get their blessings.
However, we can see how greatly Santoshi Maa rewarded her for her steadfastness in maintaining her vow. She not only got to do the Puja, she got to do it with the very saints she had come to see!
Of course she also received prasad and blessings as well. Santoshi Maa, the Mother of Satisfaction, blessed her in such a way that she was fully satisfied in heart and soul.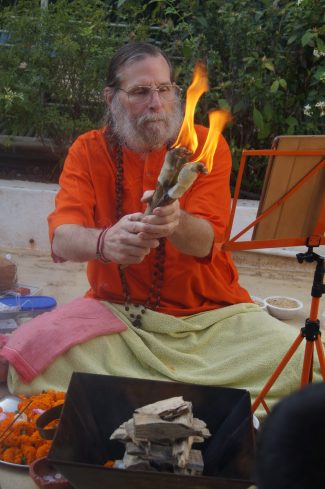 The next day, we awoke early and began preparing for Homa. Shree Maa had wanted to perform Homa on the roof of Girish and Kumudini's home before we departed from Nashik.
We gathered before the sun had risen in the sky. Swamiji began chanting the mantras for invoking the fire. We recited along with him.
Our hosts, as well as several members of their family and other devotees, all joined together with us in performing the homa.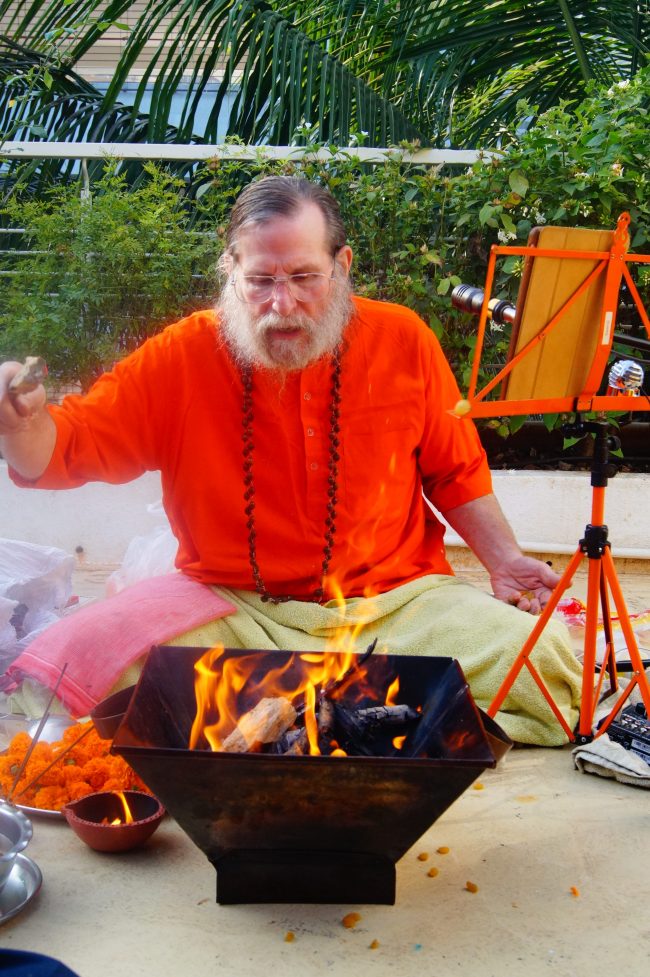 When the sun had risen it became quite warm on the roof, sitting next to the fire, but still we continued undisturbed.
The fire ceremony came to a close and after giving everyone prasad, we again packed our bags to head to our next destination.
Unfortunately we did not stay long enough to visit some of the other places in Nashik. Last year we took a holy dip in the Ramkund, where it is said that Lord Rama bathed when he was in Nashik.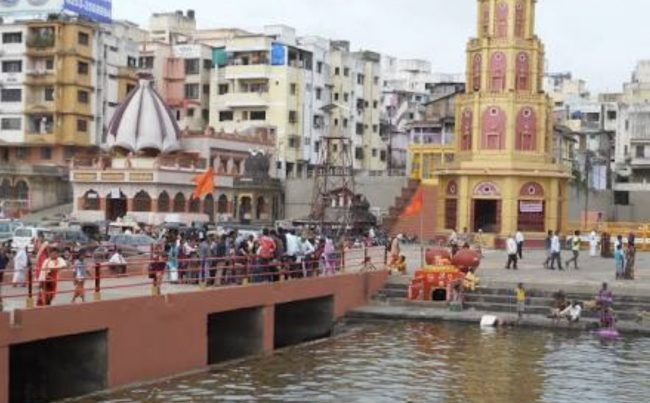 The Ramkund is on the Godavari River and is also a location for the Kumba Mehla celebration.
Another place we often visit is the Kalaram Temple in the Panchavati area. This temple is dedicated to Lord Ram and provides an excellent facility for group Sadhana.
Though our trip was short, it is always a delight to reconnect with old friends, and to worship in inspiring places.