One day Shree Maa called me to her kitchen, "Here taste this! Now write down this recipe!" In popped a delightful savory pakora made out of soy protein. It was out of this world, and I immediately wrote down the recipe to share it with you all.
Excellent! Simple, Fast, Tasty!
This is another fun, easy, and healthy recipe from Shree Maa. It can accompany any meal, or even be a snack for the kids when they come home from school. Tasting much like french fries, they will never guess it is a complete protein.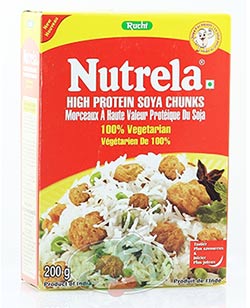 The main ingredient is Nutrela, which are soy chunks that can be purchased at an Indian Store.
I had never cooked with Nutrela before, nor had I heard of it, but I easily found a box at my local Indian store, and within twenty minutes of reaching home, I was enjoying this mouth-watering dish.
The simple recipe calls for boiling Nutrela for about ten minutes. When soft, simply drain the water out, taking care to squeeze the excess, then dip it in a batter and fry for a few minutes. You're done!
Ingredients:
1 cup Nutrela
1 cup white flour
1 cup milk
1/2 tsp salt
1/4 tsp hing (Asafoetida)
1/4 tsp red pepper
Soy Sauce to Taste (I used 2 Tablespoons)
Oil for frying
Directions:
1. Boil the Nutrela for 10 minutes. Shree Maa said you can use a pressure cooker, but it is not necessary as Nutrela cooks quickly using a regular pot on the stove.
2. While the Nutrela is boiling, combine in a small bowl the flour, milk, salt, hing, red pepper, and Soy Sauce. Mix thoroughly.
3. When the Nutrela is soft, drain the water and strain the excess, meaning squeeze out the excess water from the soy chunks.
4. Put oil into a shallow frying pan and warm to medium-high temperature.
5. Dip each soy chunk into the batter and fry until brown.
Enjoy!