Our journey took us south to the beautiful Nilgiri Hills (also called Nilgiri Mountains) in the state of Tamil Nadu. The Nilgiris are home to majestic mountain ranges that touch the clouds, colorful flowers, amazing wildlife, and expansive tea gardens.
We planned a short, few day visit to the Nilgiri Hills this year, but remembering what a wonderful time we had here last year, I was sure it was going to be a great experience.
On our way we visited a devotee's home for a quick meal. Upon arrival these precious devotees gently washed Shree Maa and Swamiji's feet, and then fed us a hearty authentic Indian meal served on banana leaves! We were very satisfied and so grateful for their hospitality.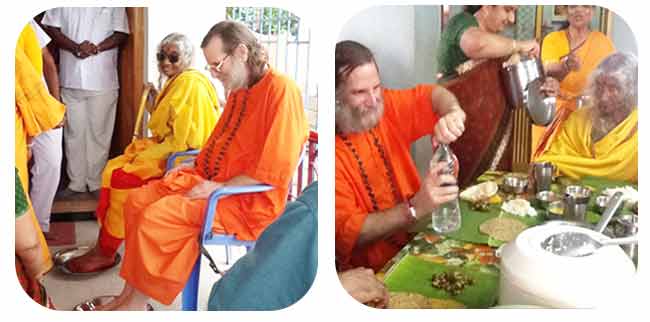 Proceeding forward, we soon arrived at Nandu's ashram, which is located deep in the forested Nilgiri Hills. Nandu, a longtime devotee of Shree Maa and Swamiji, built a temple and ashram in a beautiful natural area just outside of a small town by the name of Yedapalli.
The ashram has one main temple with a large statue of Shirdhi Sai Baba, a well-known and loved Indian saint, and a Shiva Lingam. In addition, there are many smaller outdoor mandirs scattered all about the ashram property.
When we arrived many devotees were waiting to welcome us to the temple. As is the custom in India when the guru arrives, they welcomed Shree Maa and Swamiji with a short puja consisting of waving of lights and offering flowers.
We then entered the main temple to perform a Shiva Puja and to recite the Chandi Path. Shree Maa was very pleased that all of the articles of the panchamrit: milk, yogurt, ghee, honey, and sugar, were readily available for her worship of the Shiva Lingam.
As it is a rare opportunity to witness Shree Maa and Swamiji perform puja, all of us watched with utmost attention as Shree Maa made the offerings while Swamiji eloquently chanted the mantras. At one time during the puja, Swamiji led everyone in reciting the "Om Namah Shivaya" mantra.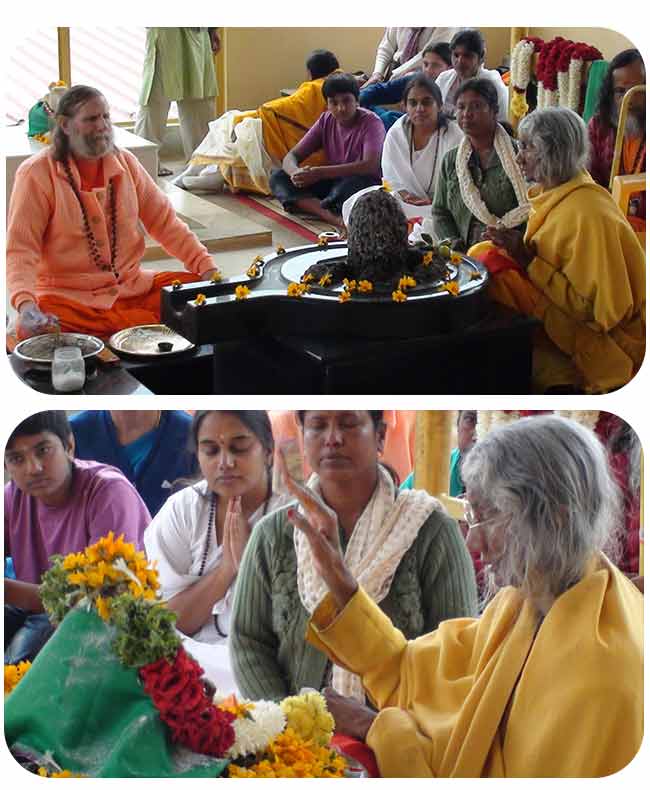 Before beginning the Chandi Path, Swamiji asked someone who spoke Tamil, the local language, to make an announcement that the chanting would take around one and a half hours and that anyone who liked could leave. If they wanted to stay, they were asked to please maintain silence. To our surprise, hardly anyone left! They all stayed and listened to the recitation, soaking in the vibration of the sacred mantras.
We then walked around the grounds of the ashram and came upon a new outdoor murti of the Goddess Chandi. This murti was newly installed this year, and so it was perfect timing for Shree Maa and Swamiji to breathe life into it with a puja. When Swamiji came to the Prana Pratistha part of the puja, Shree Maa simultaneously chanted the Devyarthashirsham, thus invoking the deity.
When the program was complete, we went to the home of a devotee who grows tea plants in the Nilgiri Hills. It was a completely serene location. The only sound one could hear was the chirping of birds.
Upon arrival, Shree Maa and Swamiji's feet were washed yet again! (Shree Maa and Swamiji must have the cleanest feet in town — two washings in one day :)!)
We ate a hearty meal and took rest prior to returning to Nandu's ashram for an evening program of singing and arati.
We were thrilled that several devotees showed up to join the kirtan that evening. It reminded me of our kirtan here last year, where nearly everyone present stood up and danced in joy around the havan kund. I was hoping for this to happen again, but this year we held kirtan on a newly constructed stage, making it a little more difficult to dance.
Shree Maa sang several songs and then asked a devotee to sing a few local bhajans as well. Everyone was inspired and clapped along, but sadly, nobody danced.
Then, arati began and everyone waved the arati lights in front of Shree Maa and Swamiji.
During arati, Shree Maa and Swamiji sat on the stage, performing the double roll of singers and recipients of everyone's devotion.
As arati proceeded, everyone's devotion amplified and their bhavana grew and grew — but still nobody danced.
The program was coming to an end and it was now time for final blessings.
Shree Maa offered everyone wonderful prasad, directly from her hands. This inspired everyone to no end.
Having received Shree Maa's blessing, their devotional battery got a "jump-start!"
Finally, a few devotees began to dance!
I too joined in the fun!
Soon we had a group of dancers!
Suddenly, almost everyone was dancing, including Pranavananda!
Then, when Shree Maa was finished giving out prasad, She too was inspired to join us!
It didn't take long for this group of devotionally "charged" devotees to form a circle around Shree Maa. We danced and danced from the bottom of our hearts around our Mother in complete joy! What a fantastic evening it turned out to be.
Shree Maa's bhavana is contagious! Watch this video and soon you too will be dancing:
Jai Maa! Jai Swamiji!