Travelogue: Worship at Annapurna Mandir, Varanasi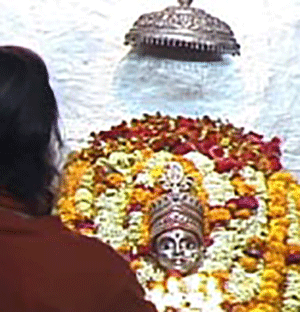 While in Varanasi, very early in the morning and prior to the temples being open to the public, we visited the Annapurna Mandir.
On this special day, Shree Maa and Swamiji were given the rare honor of performing puja to the Divine Mother Annapurna, the Goddess who is full and complete in food and grains, and getting Her ready for public worship.
Shree Maa and Swamiji bathed the murti in water, milk, yogurt, ghee, and sugar. They then dressed Her with a red and gold sari that Shree Maa had specifically chosen for the Goddess from a devotee's store in Berkeley, California.
She was adorned with numerous flower garlands as well and offered fruit from a huge basket that Shree Maa personally selected.
The group was privileged to be able to watch this puja in close proximity. The temple priests were so kind that, after the puja, each one of us individually was allowed to enter the inner sanctum. We received darshan of Annapurna Devi, while the priest offered each of us a flower garland and a piece of fruit.
It was the most touching puja I had ever seen as the Divine Mother was definitely present. But equally touching was the heightened level of respect I have for our two divine saints, who are so respected throughout India, that they were given the opportunity to perform this puja, as they have in temples wherever we have visited.
After the Puja we sat in the temple area and performed a homa with the Annapurna Sahasrnam.
Please share in the power and beauty of this occasion by watching the video
below.