In Astrology Chapter 5 and Chapter 6, we learned about the significance of the Sun and the Moon.
Chapter 7 discusses Mangal (Mars), whose influence is also significant upon human beings. While the Sun creates and the Moon dwells within, Mangal is the great protector.
The main authority of Mangal is in the protection of the body. Mangal defends against both external enemies, and enemies that come from within. As part of his protective nature, Mangal seeks to remove all negativity from the body, and also protects the body from outside influences.
Mangal is always alert and awake. Day and night he remains watchful with his protective nature. Wherever there is the possibility of inappropriate action, there he remains vigilant in his role as protector.
Mangal always wants to be completely independent. He desires to wield his energy independently, and does not wish to give up even one small aspect of his authority.
Of all the planets, Mangal has the greatest influence on the life force and breath.
In our physical body, Mangal presides over excretions from the body — stomach, anus, urinary track, sweat, liver, feces, and urine. He also presides over the circulation of the blood.
In the external creation he is responsible for hot and cold temperatures, rain, and accidents.
Mangal in Relation to Astrological Charts
If Mangal is weak in an astrological chart, it creates a tendency for inner forces to revolt, or even for external forces to attack. Such forces include ego, pride, anger, suffering, stubbornness, attachment to others, enmity with others, conflict in debating with others, sudden infatuation, impoverished behavior, and the tendency to experience suffering and pain.
However, if Mangal is strong in an astrological chart, then there will be a tendency to display extraordinary courage and a strong desire to manifest results. There will be no demonstration of fear or weakness of any kind.
In fact, there will be such a strong desire to achieve that the person will not take rest. They may even become impatient in achieving their desired outcome.
Such a fortunate person will also experience illumination, strength, heroism, abundance of energy, independence and the ability to create.
Other Planet's Influence on Mangal
Mangal protects his virility, and has no desire for the bonds of marriage. However, when Mangal is influenced by Rahu (North Node of Moon), or Shukra (Venus), and in union with a member of the opposite sex, then his energy becomes very strong and is difficult to control.
Even in such circumstances, his original nature remains formidable. He becomes invested in his ego, and only desires his own pleasure.
Obtain Strength and Courage by the Worship of Mangal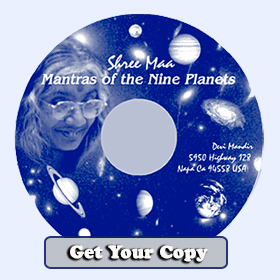 Protect your body, emotions, and intellect.
Manifest strength, courage, and independence.
Learn more about the worship of Mangal and get your copy of the Mantras of the Nine Planets to chant along with Shree Maa!
Jai Maa! Jai Swamiji!