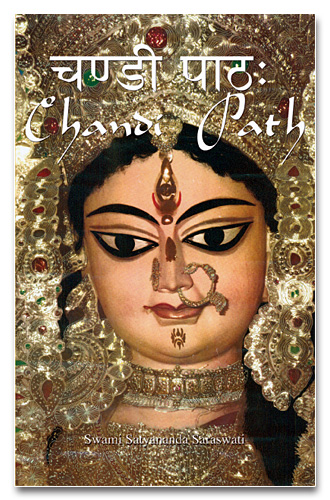 The Chandi Path is an ancient Sanskrit scripture originally found in the Markandeya Purana.  It tells of the Glory of the Divine Mother Goddess and how She comes to existence to restore balance and harmony to Her creation.  Shree Maa's recitation of this powerful story comes to life with her unbound love and impeccable grace.
---
Track List
Chandi Path Preliminary Mantras
Chandi Path Chapters 1-5
Chandi Path Chapters 6-13
Chandi Path Devi Shukta, Kunjika Stotram, Bhagavati Stuti and Pranam
CD Disc or Download: 70 minutes
Publisher: Devi Mandir (1997)
ISBN-10: 1-886088-26-8
Product Dimensions: 4.75 x 5.0 x .25 inches
Shipping Weight: 3.5 ounces
Reviews of "Chandi Path"
By Neelakanth
What a pleasure to listen to Shree Maa's recitation of the Chandi Path! I am so inspired from hearing this CD, now I must get the book so I can read the translations praising the Divine Mother. Shree Maa, you chant with so much enthusiasm and energy… You are such an inspiration.
---
By ShankarSwami Satyananda Saraswati's translation of Kali Sahasranama, Sri Sri
Chandi and other texts are Inspired/interpretive translations. Only an
Advanced Upasaka like him can come out with such Inspired/interpretive
translations.
Podcast: Play in new window | Download