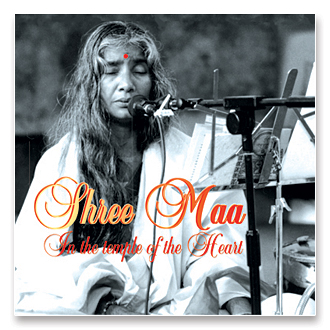 "In the Temple of the Heart" contains rich songs and stotrams that are tender and loving. Every song that Shree Maa sings emanates from the temple of Her heart. This collection of songs invites the heart of the listener to melt into the joy of God's love.
Available in Digital Download or Compact Disc
---
Track List
Ramachandra
Pratah Smarami
Suryashtakam
Prabhater Alo
Madurashtakam
Ganga Stotram
Bhavanyashtakam
Annapurna Stotram
Mahalashmyashtakam
Daridrya Dahana Stotram
Saraswati Stotram
Gurubina Rahana Jai
Om
Product Details
CD Disc or Download: 70 minutes
Publisher: Devi Mandir (1997)
ISBN-10: 1-886088-26-8
Product Dimensions: 4.75 x 5.0 x .25 inches
Shipping Weight: 3.5 ounces
Reviews of "In the Temple of the Heart"
By Aashna
I love this disc. It has some very well know stotrams that are executed with so much grace. I am rarely brought to tears over recordings, but the renditions of these songs melt my heart, and they never get old, no matter how many times I listen. Shree Maa, your voice is precious…truly rare indeed.
---
Podcast: Play in new window | Download