Surya, the Sun, represents the Light of Wisdom, he is the Dispeller of Ignorance.
Surya (Sanskrit: सुर्य, surya) is the Source of life in our Solar System, and likewise represents the life force of the individual's 'Soul System'. Surya is the King of the Kingdom of 9 gates and he is considered to be the Paramatma, or Universal Self.
He is the Light of Wisdom, and the power, confidence and sense of identity in an individual's birth chart. He rides a chariot pulled by seven horses, representing all the sevens including: the seven days of the week, the seven levels of consciousness, the seven colors of the rainbow, chakras etc.
The symbol of the Surya, the Sun, is a circle with a dot in the middle. The circle is the manifested existence and the dot is the bindu, or the point of creation. Surya as the Sun is the largest of the planetary bodies, His gravitational pull keeps the other planets in balanced harmony.
---
Surya's Mantra (from Navagraha Stotra)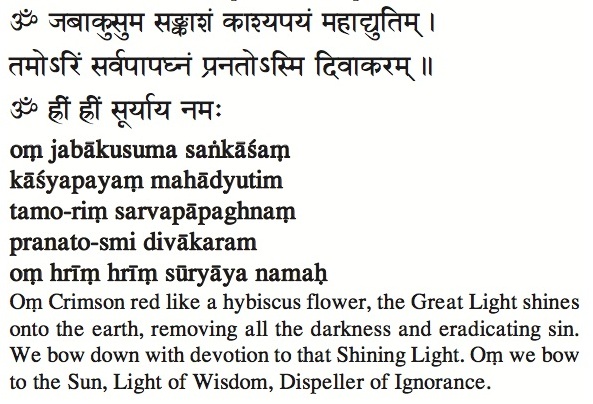 ---
Listen to the Mantra
Podcast: Play in new window | Download