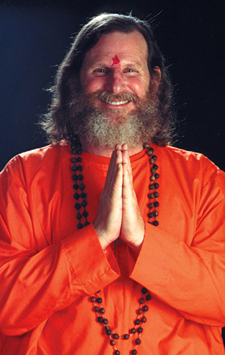 Geboren en getogen in Amerika, werkte Swami Satyananda Saraswati voor verschillende grote bedrijven in leidinggevende functies voordat hij op reis naar India vertrok in het midden van 1960. In een tijd waarin reizen door heel Midden-Azië op zijn best zwaar was, reisde hij een ongeslagen pad in het interieur van India en bleef daar gedurende vijftien jaar, lopend over de lengte en breedte van de Himalayas.
Op zijn reis werd hij bedreven in tal van talen, waaronder Bengaals, Hindi, Latijn, Hebreeuws, Pahari, Urdu en verschillende dialecten van de Indiase talen, en ontwikkelde hij een diepe passie voor het Sanskriet. Overal waar hij kwam leerde hij de lokale systemen van verering. Als gevolg van zijn kennis van de bergpaden, samen met zijn begrip van de Sanskriet wortels, zorgt ervoor dat de verzen van zijn vertalingen tot leven komen met ervaring.
Swamiji werd ingewijd in de verering van Chaṇḍī en het heilige vuur ceremonie, de Yajña, als zijn primaire systeem van Sadhana, door zijn Guru in 1971. Hij oefende aanbidding en meditatie en ondernam vele vormen van tapasya en grote ascese. Hij oefende de recitatie van de Chaṇḍī iin de sneeuw van de Himalayas en in de warmwaterbronnen van Bakreshwar, en verwierf de Asana Siddhi voorbij warmte en kou. Swamiji heeft de Sahasra Chandi Yajna (duizend dagen aanbidding van Chaṇḍī, zonder het verlaten van het tempelterrein) zeven keer volbracht, vier keer in India en drie keer in Amerika, voor een totaal van 21 jaar.

image2image3image4image5image6image7image8image9image10
Swamiji's leringen combineren om intellectueel begrip een stevige basis te geven waarop wij onze godsdienstige praktijken kunnen oprichten. Hij heeft de gave om Jñana, wijsheid, met Bhakti, devotie te weven. Hij leert een aspirant hoe te bewegen van de intellectuele beschouwing van het waarom en hoe van het creëren van een discipline, naar de praktische toepassingen van het daadwerkelijk zitten voor het reciteren van de teksten in het Sanskriet. Hij legt duidelijk uit hoe te zitten, hoe te ademen, hoe u één wordt met de Goeroe en de Godin.
Swamiji heeft zijn hele leven aan verering gewijd. Zijn onbaatzuchtige liefde is zichtbaar in al zijn daden. Hij is mateloos gul en heeft echt een goddelijk gevoel voor humor. Hij inspireert door voorbeeld en om Swamiji Puja uit te zien voeren creëert een verlangen in de gezegende waarnemer om ook het Goddelijke te aanbidden. Door hem te horen zingen gevuld met de Bhava van geïnspireerde enthousiasme, creëert een verlangen in ons naar het leren van de mantra's; door hem te zien, schept een verlangen om diezelfde diepte van absorptie te ervaren.
Net als een vakkundig meester, maakt Swamiji gebruik van alle hulpmiddelen van het chanten: Mantra, Pranayama en Asana; met gerichte aandacht en diep respect, hij transformeert elk ritueel in een offer van liefde en overgave. Elke ademhaling, elke Shloka, elk offer, brengt hem dichter naar de aanwezigheid van de Goddelijke Moeder.
Het is nog bijzonderder dat hij in staat is om dezelfde Bhava in alle daden te handhaven. Wanneer hij een Puja uitvoert, zingt bij het altaar, onvermoeibaar op de computer werkt om de teksten te vertalen, hout hakt voor de Homa (Hawan) of helpt bij de bouw of het onderhoud van de Ashram, hij handhaaft dezelfde liefdevolle Bhava, aangezien zij alle aanbiedingen voor de Geliefde Moeder zijn. Swamiji zegt spiritueel zijn betekent meer te geven dan wij nemen.
Zijn diepe liefde, zijn intuïtief begrip en zijn spirituele ervaring is zichtbaar in elk Schrift dat hij heeft vertaald. Hij vertaalt niet alleen, maar hij is een levend bewijs van de idealen en filosofie. Hij brengt elk karakter in de Schriften met zo'n intensiteit tot leven, dat wij beginnen te beseffen dat deze zelfde karakters binnenin onszelf bestaan. Wij zijn dan in staat om te leren hoe wij onszelf kunnen zuiveren totdat ook wij onze eigen Goddelijkheid realiseren!
Swamiji's vertalingen uit het Sanskriet zijn vertaald in het Hindi, Bengali, Tamil, Frans, Duits, Roemeens en Portugees, naast het Engels.
ॐ ऐं ह्रीं क्लीं चामुण्डायै विच्चे