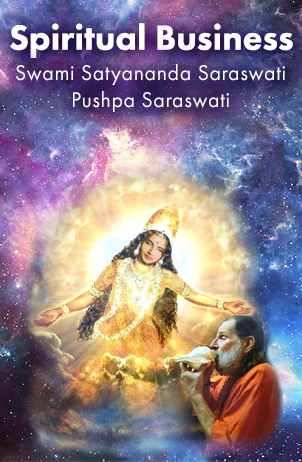 Spiritual Business App
by Swami Satyananda Saraswati & Pushpa Saraswati
Price=$4.99

Coming Soon to iOS
---
Spiritual Business tells stories from the life of a wandering mendicant, which taught him how to organize his material life, and he was ultimately blessed with such success, that he was able to finance a series of ashrams around the world, as well as the spiritual pursuits of a number of seekers by following the rules of financial analysis and stock trading.
As well as being an entertaining presentation of fundamental analysis for investments, the App also defines technical trading indicators, and shows how to employ them. It includes videos, links to free online classes, and it is a fabulous resource for anyone trying to harmonize their spiritual life with their material responsibilities.
Product Details
App: 239 pages
Publisher: Devi Mandir
Reviews of Spiritual Business App
---
"Gentle, soft and very delicately enriched with the experience of self-realisation, Swamiji's words inspire the rich tapestry of mythical weavings that his body, mind and soul gleam. Swami's contribution conveys inspiration, joy, and the love of one who has enjoyed the experience of spiritual fellowship around the world." ~ Dhruv Ramnath, Swarajya Magazine …read full review
"Thank you for your help and thank you for our 10% gain in the stock market(!!!!!!!!!). Our family's brand new portfolio is up $6,000 currently, all thanks to you."
"This is a really good book! The stories and teachings are tremendously inspiring and engaging! I'll be reading and re-reading it for years to come! In fact, this weekend is a great time to do the goal setting workshop again." ~ Ramya Ranganathan
"When I read the beginning pages I could barely make out the words my eyes were so full of loving and inspiring tears!!!!
Vivek and I actually have a date this morning to re-do step one- Goal setting. We are always evolving so it's so improtant to go back and check our goals to see what has been accomplished and what needs to be refined!
Thank you Swamiji and Pushpa Maa for this exquisite piece of art!" ~ Sadhana Shakti