Shree Maa & Swamiji have just blessed us with a new group sankalpa for Chaitra Navaratri 2016, to continue our efforts in praying for world peace. They lovingly choose these powerful mantras in order to create a specific benefit in each of our lives.
The collective effort in chanting the sankalpa at the same time as hundreds of other devotees also creates special benefits for the whole universe. Please read further below on what the participants are saying on the value of a group sankalpa
This sankalpa involves chanting the powerful "Durge Smrtaa" verse from the Chandi Path and contributing the number of recitations to the group total.
Read below for more details:
---
Dates of the Sankalpa
Start Date: Apr 7th, 2016
End Date: Apr 16th, 2016
---
Goal of the Sankalpa
Our group sankalpa is to complete 10,008 recitations of this verse from the Chandi Path as a group during this time period. So, every recitation counts! Whether you want to chant once or many times all are welcome to participate in this prayer for World Peace.
---
The Sankalpa Mantra
Chant these verses as many times as you can during the sankalpa period. Each complete recitation will count towards the sankalpa total.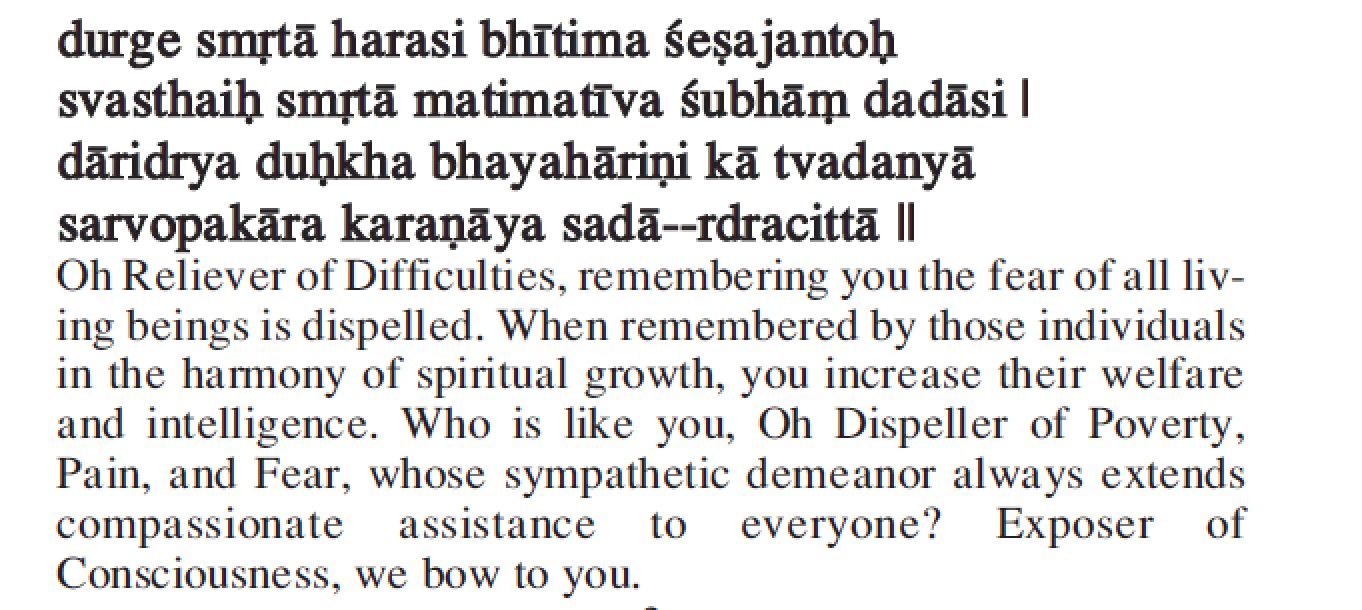 ---
The Audio Clip of the Stotram. Chant along to learn the pronunciation !
---
Interested in participating in the sankalpa?
This sankalpa is now complete. Please contact Nanda Maa at sankalpa@shreemaa.org with any questions regarding the sankalpa.
---
What is the Value of a Group Sankalpa?
Here is what some of our participants around the world are saying: Please read their feedback.
---
Your Group Sankalpa Affirmations
Visit this page to remind yourself why Sadhana is important to you and especially Sadhana in the form of a Group Sankalpa. When motivation flags, this is the page to read and get strength. Here are the collected affirmations of many who have participated before.
Sankalpa Counts Tracker
Goal – 10,008 recitations of the "Durge Smrtaa" verse from the Chandi Path.
Status –